When it comes to playing Don't Starve Together the first question many players have is who are the best survivors to team up together?
While Klei has done a great job trying to balance out all the strategies and perks of all playable characters, minus the obvious being "hard-mode" Wes, players can essentially mix and match who they team up with reaping the benefits of the other survivors.
At this point in game development, there are only a few obvious team compositions that have a good amount of synergy, meaning that there are only a few characters that specifically boost each other or provide each other with the resources the other character needs in order to obtain the tools or recipes that make them outstanding.
The way I like to look at choosing characters is that there are a number of characters that add benefits to game play, meaning that some characters that will provide players with great defences, while others will provide them with good amounts of farming tools.
The following guide will take you through some of the more obvious team compositions and the best characters to think about placing on your team for the specific needs you may come across along the way.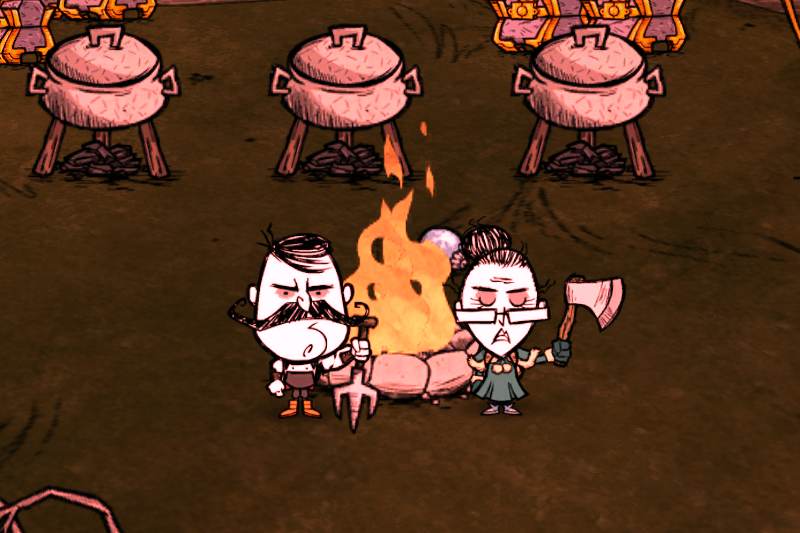 WICKERBOTTOM, WOLFGANG, WORMWOOD & MAXWELL [+WIGFRID OPTION]
For players looking for some epic strength that comes from the player themselves, there's no better team than Wickerbottom, Wolfgang, Wormwood and Maxwell.
Starting with Wolfgang, Wolfgang has access to a higher yield of damage than all other characters, though he must remain well fed in order to obtain the 2x modifier at all times. This is where Wormwood, Wickerbottom and Maxwell come in.
Wormwood will be able to plant seeds into the ground in order to help fuel Wolfgang's insatiable appetite, though being that Wormwood's plants will take as long as a Basic Farm to grow, players will want to speed up the process by using Wickerbottom's Applied Horticulture book.
The only issue with using Applied Horticulture regularly is the insane amount of Sanity loss it will bring to Wickerbottom players.
Though Sanity loss can be easily managed with the right foods, players may instead want to use Maxwell to read the books as he be able to recuperate the Sanity loss much faster, already having a base 6.6 Sanity regeneration per minute, which is higher than any other character in the game.
Players can also pair Maxwell up with Sanity regeneration clothing in hopes of allowing the team either get more yields out of the Applied Horticulture book in one go or to prevent players from being endlessly attacked by Shadow Creatures.
Similarly, players can add Wigfrid to this team to amplify damage, simply because Wigfrid has a 1.25x damage increase, though Wigfrid is not as good with Wormwood, simply because she is purely a Meat eater and cannot simply munch of Wormwood's fruits and vegetables like Wolfgang can.
Wigfrid will also help the team by providing unlimited Battle Helms for protection and can essentially act as a tank due to her ability to heal when damaging mobs.
WARLY, WICKERBOTTOM, WORMWOOD & MAXWELL
If players are looking for a similar form of synergy, but don't really care about the initial damage output, they should really think about pairing Warly up with Wickerbottom, Wormwood and Maxwell as the trio have a similar growth synergy with the additional benefit of pairing Warly up with some essential foods to cook some of his best meals.
Warly is a commonly overlooked character in Don't Starve Together as newer players tend to be uncomfortable with the fact that he cannot tolerate spoiling food and must eat Crock Pot dishes, but when players have a good enough knowledge to get around with Warly, they will soon realize that his character specific recipes are ultimately the best in the game, providing players with more amounts of Hunger, Sanity and Health, with the additional benefit of his Spices being able to increase the damage output from characters.
As is with the matchup above, players can add Wolfgang and Wigfrid to the mix to maximize their damage output, however, this group of survivors will still pack a punch and will never go Hungry.
WEBBER, WENDY & WORTOX
One of my favourite match-ups involves teaming Webber, Wendy and Wortox up.
While admittedly, Wendy and Webber do not hold much synergy, being that Webber requires a number of Spiders in order to become powerful and Wendy's sister Abigail tends to lose her shit and kill all the Spiders, both can be used in tandem with Wortox in order to allow Wortox to collect enough souls to heal them up.
Essentially, Wortox is a group healer, releasing his souls in order to release AoE healing when players are facing a tough battle or when players do not have enough resources to heal.
Wortox players can essentially stand back and allow either Wendy or Webber to rip through Spiders, each dropping a single soul which can be recycled into healing players on the team.
Alone, Wortox can feel a bit squishy, especially if he gets hoarded by Spiders, though since Webber will be able to befriend groups of Spiders in order to attack non-friendly Spiders and Wendy will be able to summon her sister Abigail, who has one of the easiest times single-handedly taking down Spiders, Wortox will be able to stand back and just make collections of souls in hopes of supporting his teammates.
This trio is also very useful when trying to take down stronger mobs as Abigail can act as a tank, Webber can bring a number of befriended Spiders and Wortox can continuously heal while providing some extra damage to the team.
I would strongly recommend getting yourself a mod for Wortox that allows you to release souls quickly as the in-game soul release can be a bit time consuming and may leave players in sticky situations that could have been avoided with a simple keybind.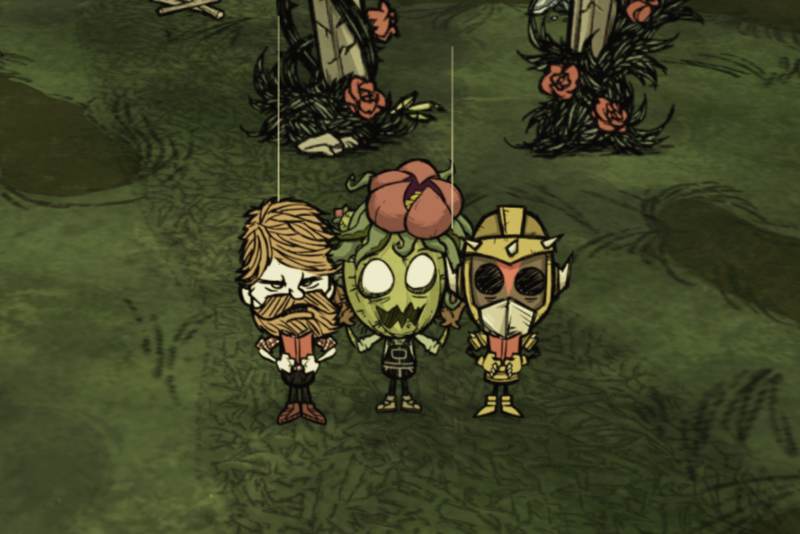 WICKERBOTTOM & WX-78
Although there isn't much to this team, it needs to be noted that Wickerbottom players have a fairly good synergy with WX-78, simply because Wickerbottom players have access to the End is Nigh! book which summons Lightning bolts in order to damage mobs around players and essentially be able to force WX-78 to gain System Overload from anywhere.
System Overload will provide players with multiple perks such as being a portable light source, gaining movement speed as well as Immunity from Freezing. While not hindered without System Overload, all players will benefit, especially as they can gather around WX-78 when battling big baddies like the Deerclops, Moose/Goose, Antlion, Bee Queen and Bearger without the need of having Miner's Hats, Torches or Lanterns on hand.
Having a WX-78 with System Overload early on will also make it easier to farm resources throughout the night and deal with Mobs that do not sleep such as the Spider Queen.
WORMWOOD & WURT
For you fellow Wurt players, try finding yourself a Wormwood friend, as not only will you be able to get a hold of Dragon Fruit and Durians early on, but you will also be able to munch of any of Wormwood's fruits or veggies straight out of the ground for a higher yield of stats.
While Wurt and Wormwood's synthesis doesn't really go much beyond always being able to munch, it can be difficult for Wurt players to survive on their own without the use of Farms simply because Wurt is a Vegetarian and often does not have access to high tier Crock Pot dishes that will provide her with the vegetarian options she requires in order to survive.
Wurt and Wormwood can always use an extra Wickerbottom on hand, however, they tend to do well on their own, especially when players get to the point where they can train a Merm army to defend them against the harder mobs.
WOODIE, MAXWELL & WARLY
When it comes to collecting resources, there are no characters better than Maxwell and Woodie.
Maxwell will be able to create Shadow Diggers and Shadow Miners in order to chop down Trees and break Boulders quickly, while Woodie can transform into the Werebeaver in order to chop down Trees and break Boulders quickly.
Both characters can become even more powerful when paired up with Warly who has the ability to help improve the speed in which players can mine and chop down trees, essentially making Woodie and Maxwell the masters of getting all the resources players need before Winter so they can get more important things done throughout Winter than farm resources.
I especially like the Warly-Woodie mashup as players can feed Warly's Chili Flakes or Volt Goat Chaud-Froid before transforming into Woodie's Werebeaver form in order to have him deal a minimum of 20% more damage and when paired with Garlic Powder, Woodie will take 33% less damage, meaning that Woodie can act as the ultimate tank in situations where he is faced with some of the strongest monsters.
The most notable use of Warly's Chili Flakes, Volt Goat Chaud-Froid or Garlic Powder is eating some right before a seasonal giant as Woodie will be able to single-handedly take them down without even backing up.
Now, you may be asking "well then what about Maxwell? Is he just for chopping?" Nope, Maxwell, while having extremely low health, will prove to be a great asset for players, especially when Woodie and Warly around.
Unlike the majority of other characters, Maxwell can indefinitely wield a Dark Sword, which is one of the highest damaging item in Don't Starve Together, and will not receive any Sanity penalty, meaning that this glass cannon can essentially rely on Woodie to tank while he shreds through bosses. When paired up with Volt Goat Chaud-Froid and Chili Flakes, Maxwell will be dealing more damage than Woodie with no repercussions, essentially making him the star player for the team.
Un uncommon match up, but truthfully one of the most respectable teams in my opinion.
WENDY, WILLOW & WICKERBOTTOM [+MAXWELL OPTION]
For those of you who are looking for an all girl's team, you may want to match Wendy, Willow and Wickerbottom up as they do see a decent amount of success together.
Unfortunately all three characters don't see any overlaying synthesis, though all of them are successful in their own rights to help provide players with a good amount of resource farming.
Wendy is known for her ability to shred through Spiders, destroy Beehives and can use Abigail as a pseudo tank until players have gotten used to the various kiting patterns they will need for defeating Mobs.
Willow, though not played as often, is a fairly strong character when folks stay insane enough for her bear Bernie to start wreaking havoc against mobs and bosses.
Essentially Willow can sew a plethora of Bernies, one for each player and all can become insane together in order to deal damage to big bosses.
After a while the biggest BERNIE! Will become the tank of the team while Abigail deals AoE damage.
So why Wickerbottom? Well, Wickerbottom is one of the only characters who can lower her Sanity quickly while dealing damage with her books like On Tentacles or The End is Nigh. Players can essentially use Wickerbottom as a tool to begin the Insanity while players get themselves ready for the summoning of a million Bernies.
Essentially all three of the characters can wield Dark Swords, dealing maximum damage while being able to protect themselves with their passives.
Players can obviously also choose to bring Maxwell into the mix, if they really want, as he can deal some extra damage without the fear of being killed as Abigail and the Bernies should be able to hold aggro for the most part, leaving an open space for players to deal some harsh damage using Maxwell.
Maxwell can also be useful for this team as he will help make sure all resources are covered when collecting as Willow and Wendy will be able to sort out the smaller mobs like Spiders, Wickerbottom will supply endless amounts of food, and Maxwell will be able to collect Rocks and Logs with indefinite ease.
These four together make a fairly noob friendly team, though admittedly, the person playing Maxwell will probably have some difficulty starting out, especially if they are a newer player.
INDEFINITE WEBBERS
I can't say that I'm thrilled by the idea of having a full server of Webbers, both because I'm a bit of a brat who doesn't like it when two people are playing the same character and the lesser obvious fact that Spiders and Spider Dens will really lag your whole server if you let it get too far.
Arguably a full Webber team is the best option for newer players as technically player could set up indefinite Spider Dens by crafting them in hopes of granting a player protection from all mobs, including seasonal giants.
The Webber base plan works best at night as Spiders will make their way out of Spider Dens and will begin attacking all mobs, granting players with all the protection they could possibly want from the majority of mobs.
The only issue with having a base filled with Spider Dens, other than the lag it might incur, is the fact that Red Hounds have the ability to burn down your whole base if players do not have Ice Flingomatics ready to turn off the fire.
Depending on where the players' base is, players may also have difficulty dealing with random Wild Fires as these too tend to be problematic and will set all Spider Dens ablaze without the use of an Ice Flingomatic or two.
Arguably the best part of having a full Webber team with a plethora of Spider Dens is the fact that they will regularly spawn in Spider Queens which will deal more damage than regular Spiders and will also tank mobs in hopes of giving players the space to learn kiting patterns to deal more damage to larger mobs without getting hit themselves.
BEST CHARACTERS FOR GENERALLY SUPPORTING OTHERS
As mentioned earlier, there are some characters that don't really fit into a "Meta" though they provide a substantial amount of support for other players, especially in Don't Starve Together.
While some of these characters have been mentioned in some team comps, I can say with confidence that the following list of characters are the best characters players can team up with any team comp in order to help support any team.
WICKERBOTTOM
Wickerbottom was known as the best character to play for many years, and while Wickerbottom is still one of the most powerful characters, players don't seem to need to rely on her as her biggest perk is being able to make Trees, Berry Bushes, Saplings and other types of plants grow immediately upon reading Applied Horticulture.
Wickerbottom does have a decent amount of damage output, being able to read books like On Tentacles and The End is Nigh, but in my opinion her usefulness tends to decline in the mid-to-late game as players really get their bearings.
If players are getting through their first play through of Don't Starve Together, I would recommend having a Wickerbottom player on your team, however, if you're a veteran player I would recommend steering clear of her.
Wickerbottom can also be optimal for players who aren't very interested in adventuring in the world and instead want to remain at base. For this reason, Wickerbottom is often referred to as being the base bitch as her tasks commonly involve her designing and setting up a base by placing Turfs and Structures that are deemed necessary to the team.
WARLY
Warly is regularly overlooked simply because of how complicated it can feel to learn new recipes, especially for players who have not gotten a hang of any of the basic recipes as it is.
Warly is arguably one of the best choices players can make especially if they are already good at kiting enemies as Warly will essentially be used as a buff machine that will be able to provide players with bonus stats and will be able to help make all of of his teammates attack with more power, essentially being one of the strongest characters in the game as even a server with 6 players will deal a great deal of damage if Warly steps in and buffs his team.
While I wouldn't really suggest using Warly when a server has less than 3 people, simply because his bonuses will not be as useful as another survivor. Still, players can use Warly on his own or in a duo, because some of his recipes can really pack a punch for more advanced player.
WINONA
Winona is by far one of the most useful characters players can choose to play when players are playing on any Don't Starve Together server. Reason being? Winona is able to set up a group of catapults that will essentially protect all players on the server as long as players have enough Gems to fuel her G.E.M.erator or enough general fuel for her lower-tier Generators.
Although not as substantial, Winona provides players with the ability to craft items much faster, making her useful for battles where weapons or armour are about to break, or for situations where players are wanting to get multiple things crafted before heading out.
As a side note, players can use Winona's Trusty Tape in order to repair items for a cheaper cost than a Sewing Kit.
All around, Winona is one of my favourite characters to have on any Don't Starve Together team.
WORTOX
Wortox is the ultimate support class character players can select when heading into a new Don't Starve Together game.
While Wortox does not really provide players with any new crafting recipes, players will essentially want a Wortox on their team to help heal them especially in tough boss battles.
Each soul will heal a maximum of 20 Health if players are healing a single person and players will experience diminishing returns up to a minimum of 13 Health if there are 8 players nearby.
Even though 13 Health is a sharp decrease in healing, players aren't really missing out on much as this is essentially providing the team with 104 total healing with a single soul.
In many situations, Wortox stands back and simply heals players, though it is obviously advisable for Wortox players to deal damage in between healing.
Wortox is by far the most noob friendly character, his only downside being that he does not receive as many stats from eating food and instead requires the use of his souls for nutrition. This isn't that big of an issue really, especially because Souls are extremely easy to gather.
Players will also benefit from Wortox's ability to quickly explore The Constant by using his souls to teleport ahead, making early day exploration a breeze.