Wickerbottom is one of the most powerful characters you can play in Don't Starve and Don't Starve Together. It seems the general consensus is "have a Wickerbottom on your server, never starve and never have a problem killing the bosses," and this belief has real bones.
Not only does Wickerbottom have access to all of the Science Machine recipes upon spawning into a world, but she also has some of the most powerful items in the game that help prepare you seasons ahead. Due to this, Wickerbottom has a bit of her own "Meta," unlike most other characters.
Being that Wickerbottom is the fifth character you acquire from XP in Don't Starve, it makes sense that Klei allows players to understand more about the game before playing Wickerbottom as some of her mechanics require some extra work out of your base. The best thing about Wickerbottom in single-player is that she can always be on the run; however, in Don't Starve Together, she takes more of the passive role, becoming the base queen.
The following guide will cover all the basics you need to know about Wickerbottom and when it is suggested or necessary to use them in both Don't Starve and Don't Starve Together.
WICKERBOTTOM'S STATS, ADVANTAGES & DISADVANTAGES
Wickerbottom has 150 Hunger, 250 Sanity and 150 Health. Her Health and Hunger stats are fairly defaulted. However, her Sanity is the second-highest in the game.
Though Wickerbottom's stats are lovely, she is unable to sleep, making regaining Sanity a bit trickier to do. As you can guess, Sanity is a significant aspect of Wickerbottom's playstyle and players will need to understand the mechanics tied to Sanity to bounce her back in times of danger.
Wickerbottom also takes reduced effects from food that is not fresh, although this doesn't seem to be a considerable disadvantage. Pair Wickerbottom up with a WX-78 or just let food rot because Wickerbottom is an endless supply of food. I would recommend leaving lots of food to rot with Wickerbottom as you're going to be moving around lots of resources.
Wickerbottom has excessive knowledge due to her age, allowing her to craft all recipes from the Science Machine without one. Wickerbottom can also use a Science Machine as an Alchemy Engine, though she will still require an Alchemy Engine for one of her books.

WICKERBOTTOM'S BOOKS
Wickerbottom is the only character in Don't Starve who can craft books, though Maxwell and Wurt can also read them. Wickerbottom will spawn in with 2 Papyrus (8 Reeds) in her inventory so that players can craft their first book without needing to find reeds.
Although reading one of Wickerbottom's books will reduce her Sanity, Sanity isn't much of an issue to get back if you know what items to use. Nonetheless, you can actually spam Wickerbottom's books even when you have 0 Sanity.
Wickerbottom has access to 6 different books that give her access to magical abilities for the cost of Sanity. They include Birds of the World, Applied Horticulture, Sleepytime Stories, On Tentacles, and The End is Nigh.
Players will not have access to Applied Horticulture in Don't Starve Together and instead must craft Horticulture, Abridged and Applied Silviculture.
BIRDS OF THE WORLD
Crafting Recipe: 2 Papyrus + 2 Eggs
Uses: 3
Sanity Cost: 50
What it Does: Calls down between 20-30 Birds, however, the birds must be trapped, frozen, or killed before they fly away.
Birds can be caught in by Eye Plants and a Meat Bulb; however, other books Wickerbottom has can also kill the birds that she summons.
Bird type will depend on the season, where the character is and the biome.
Birds will not spawn during Hurricane Season in Shipwrecked, so save yourself some Sanity.
APPLIED HORTICULTURE
Crafting Recipe: 2 Papyrus + 1 Seed + 1 Manure
Uses: 5
Sanity Cost: 33
What it Does: Berries, Farms, and Saplings will grow to their final state, while trees will only progress by one stage. Note that Applied Horticulture can only be used on fertilized berry Berry Bushes as dead bushes will remain dead.
Applied Horticulture should be used freely, though it will do nothing in Winter, so stock up little buddies!
SLEEPYTIME STORIES
Requires: Prestihatitator
Crafting Recipe: 2 Papyrus + 2 Nightmare Fuel
Uses: 5
Range: 30
Sanity Cost: 33
What it Does: Sleepytime Stories will put all players and mobs in the area to sleep. It's a great pairing with Birds of the World and can also be useful in battles with big bosses.
Sleepytime Stories can also be used to put birds to sleep after Birds of the World is used. Killing a Bird with a Melee Attack will allow them to drop a feather, though it will raise your Naughtiness Meter.
ON TENTACLES
Needs: Alchemy Engine
Crafting Recipe: 2 Papyrus + 1 Tentacle Spots
Uses: 5
Range: 3-8
Sanity Cost: 50
What it Does: Creates 3 Tentacles that will attack any hostile mobs in the area.
On Tentacles comes in very handy during boss battles, especially if you are playing Reign of Giants or Don't Starve Together.
Every Tentacle that is spawned by On Tentacles has a 20% chance to drop Tentacle Spots or a 50% chance to drop a Tentacle Spike, which is a pretty heavy-duty weapon.
You can use Tentacles to farm Spiders, Walrus Camps, Hound Mounds and Pigs regularly. You can also use Tentacles to keep you safe from hound attacks.
Tentacles that spawn are permanent until killed, this is why you will commonly get more tentacles from using On Tentacles as Tentacles with no Wickerbottom are actually finite.
THE END IS NIGH
Crafting Recipe: 2 Papyrus + Red Gem
Uses: 5
Sanity Cost: 33
Range: 3-15
What it Does: Summons 16 Lightning bolts that deal damage in the surrounding area.
In Realm of Giants and Shipwrecked Wickerbottom can take lightning damage from The End is Nigh, so it is recommended that you wear an Eyebrella (RoG) or Snakeskin Jacket/Hat (SW), or the Dumbrella (SW) while reading the book. Wearing either should keep you safe from any lightning damage. You cannot use The End is Nigh near a Lightning Rod as it will absorb your attack.
The End is Nigh can be used on birds after Wickerbottom uses Birds of the World. Killing a bird with The End is Nigh will not raise your naughtiness meter.
The End is Nigh can also be used to charge WX-78's System Overload in Don't Starve Together.
WARNING: The End is Nigh will burn down trees and other flammable objects, so please don't use this in your base!
JOY OF VOLCANOLOGY (SHIPWRECKED)
Requires: Prestihatitator
Crafting Recipe: 2 Papyrus + 2 Obsidian
Uses: 5
Sanity Cost: N/A
What it Does: Summons 4 Dragoon Eggs to fall at the player's location. Dragoon Eggs will create Lava Pools that do damage when stepped on. Lava Pools can be frozen with Ice and will leave Obsidian.
When Lava Pools have timed out on their own, they leave Ash, Charcoal and Rocks.
HORTICULTURE, ABRIDGED (DON'T STARVE TOGETHER)
Crafting Recipe: 2 Paper, 5 Seeds and 5 Manure
Uses: 5
Sanity Cost: 33 Sanity
What it Does: Horticulture, Abridged acts very similar to Applied Horticulture, however, it is limited to growing 10 plants at a time that produce edible harvest.
Affected plants include Farm Plants, Berry Bushes and Stone Fruit Bushes.
Horticulture, Abridged must be used within 7.5 tiles of a plant in order to activate.
APPLIED SILVICULTURE (DON'T STARVE TOGETHER)
Requires: Alchemy Engine
Crafting Recipe: 2 Papyrus + 1 Log
Uses: 5
Sanity Cost: 33 Sanity
What it Does: Applied Silviculture picks up where Horticulture, Abridged leaves off, essentially being the way players can help grow plants that provide non-food resources.
Players must stand in a 7.5 radius of Trees, Saplings Grass Tufts and Reeds and will only help progress them by one stage, essentially meaning that players may need to give it a couple of reads if they hope to mature Trees enough.
Similar to Applied Horticulture, Applied Silviculture may cause Trees to become old if read too many times.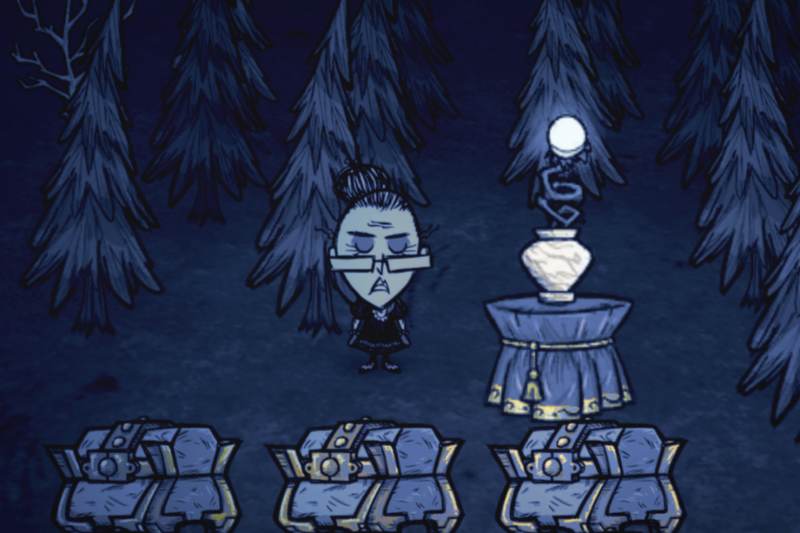 PRIORITIES FOR WICKERBOTTOM
One of the most helpful perks of Wickerbottom is the fact that she does not require a Science Machine to craft any of its recipes. Having access to Science Machine recipes makes it possible to acquire a Backpack quickly, making resource collecting trivial. Players will only need 4 Grass and 4 Twigs to craft backpacks.
Wickerbottom should also craft herself a Shovel, Spear, and Logsuit as early as possible.
If you are playing Don't Starve Together, it is advised that you craft the same items for your pals as this will help you all gather enough resources and postpone base setup. Map discovery should be the main priority of your group, so don't be surprised if you're eating roasted berries on a Campfire for the first few days.
Begin using your shovel immediately, prioritizing Berry Bushes, Saplings and Grass Tufts. Make sure that you have at least a stack of each in your backpack, as this will be all you really need to survive the four seasons. You also have the option to build bases all over the map this way, especially if you're someone who likes to adventure a lot.
Once you have built your base, have planted and fertilized your Grass Tufts, Berry Bushes, Saplings and potentially some Trees, I would craft yourself Applied Horticulture or Horticulture, Abridged using it as necessary. Don't be scared to abuse Applied Horticulture, whether it be for rot or food, as you can easily use some clothes or food to bounce your Sanity back immediately.
If you have access to Improved Farms, I would recommend also building yourself a Bird Cage to acquire Dragon Fruit Seeds. Dragonfruit is an ingredient used to make Dragonpies, which, although vegetarian, is one of the best meals in the game. Being that Wickerbottom can use Applied Horticulture or Horticulture, Abridged at any point, she can stock up on Dragon Fruit instead of berries, which is arguably a better use of the book.
Note that Improved Farms are only accessible in single player Don't Starve and Don't Starve Together players will not need to use a Garden Rigamajig instead. Players will also lose access to feeding a bird… boo!
If you are playing Don't Starve Together, I would recommend stocking an Ice Box up with Berries or Dragon Fruit, a full chest with Grass and another with Twigs before Winter. Wood can always be collected during Winter, so it is less of a priority, especially if you have a Woodie.
Once Winter hits, your main priority is to find a Walrus camp and kill MacTusk for his Tam o' Shanter. The Tam o' Shanter lasts for 25 days and will give you +6.7 Sanity per minute and delays freezing.
The Tam o' Shanter can be repaired with a Sewing Kit, though MacTusk respawns every 2.5 days, so you may want to kill him a few times in Winter if you've got buddies playing along!
WHO IS BEST TO PAIR UP WITH WICKERBOTTOM?
Truthfully there isn't anyone who doesn't work well with Wickerbottom since she is basically the gift that keeps on giving. My favourite matchups include Wickerbottom and Maxwell, as this gives you unlimited crops and general access to Wickerbottom's Books.
Pair Wickerbottom up with Wormwood to plant unlimited fruits and vegetables with no farm. Chances are you're not going to need to collect Berry Bushes either unless you want to use Roasted Berries to help craft Wormwood's Compost Wrap.
However, thinking about it from another perspective, you may want to team Wickerbottom up with a Wolfgang, since he needs to be fed much more than other characters. With Wolfgang spending all of his time fighting for meat, and you staying at base Horticulturing it up, taking over The Constant shouldn't be too difficult.
Wickerbottom can also be useful for WX-78 Players as her End is Nigh book can force WX-78's System Overload.
A pairing I didn't originally think of was Wickerbottom and Wortox. Reason being? You can summon all the birds using Birds of the World and kill them to get Wortox more souls. The more souls you give Wortox, the more healing Wickerbottom gets… and who doesn't love some healing?
WICKERBOTTOM'S FAVOURITE FOOD (DON'T STARVE TOGETHER)
If players are looking for more stats from food when it comes to Wickerbottom, they should really feed her Surf 'n' Turf
Surf 'n' Turf requires:
2.5 Meat
1.5 Fish
Instead of providing 37.5 Hunger, they will provide Wickerbottom with 52.5 Hunger.
MY LAST THOUGHTS ON WICKERBOTTOM
I would absolutely recommend Wickerbottom for a new player, although I will say that you should already know some of the basics of Don't Starve. Wickerbottom doesn't have any stat bonuses, and her books will require you to have the courage to farm out some initial materials, so if you don't know what you're doing… well, then she's not overpowered!
All-in-all Wickerbottom is fun, but she's absolutely not necessary for playing on a server of Don't Starve Together. She does make it a whole lot easier to survive food-wise, but do I think she's game-breaking? No. Playing Don't Starve Together, in general, can be game-breaking, dependant on what characters you play and how many players are on a server.
On her own, yes, Wickerbottom is very powerful. However, characters like her are necessary if Klei wants replayability. Nothing is worse than starting over a new world and having to do everything over again. Wickerbottom is the way that we start over without having to do absolutely everything over again.
So I'm curious, what do you think about Wickerbottom? Do you think that she's overpowered? What's your favourite skill that she has? Let me know in the comments below!