Adventuring in Don't Starve Together is one of the most enjoyable aspects of the game. Sometimes as you adventure you'll find a new food resource like Beehives and other times you'll find strange objects like the Stagehand.
The Stagehand is an interesting entity because it is seemingly harmless during the day, but at night it will move towards any nearby sources of light.
If you watch the Stagehand intently as it moves or set the Stagehand on fire with a torch you will see what appears to be a Shadow Creature under the table. The Shadow Creature will always put out the fire as the Stagehand cannot be destroyed.
So, is the Stagehand innately evil? No, in fact, the Stagehand is completely harmless to players and is merely an easter egg that gives players access to the blueprint to craft the End Table.
WHAT IS THE END TABLE?
The End Table is a structure that looks identical to the Stagehand. The End Table is static and does not have any animations, unlike the Stagehand.
End Tables are not flame retardant and will burn down if set on fire by a torch or a mob. It's probably a good idea to keep End Tables away from Camp Fires.
WHY WOULD I WANT AN END TABLE?
At first, you might think that End Tables are useless and should only be used if you have resources to waste, however, the End Table is an extremely useful object.
Stagehands can be used as light sources by placing Light Bulbs or Glow Berries in them. Light Bulbs and Glow Berries can be used for about two and a half days and are most useful around tree farms or farms that require tools.
Standing still in Don't Stave Together can be deadly, especially when you're running low on resources.
HOW DO YOU GET THE END TABLE BLUEPRINT?
To acquire the End Table blueprint, players will have to hammer the Stagehand 86 times. As the durability of a hammer is 75, players will have to craft two hammers.
WHERE IS THE THE STAGEHAND?
There is no set location for the stagehand, however, it will always be surrounded by a circle of roses.
HOW MANY STAGEHANDS ARE THERE IN THE WORLD?
There can only be one Stagehand in a Don't Starve Together world. Even though there can only be one Stagehand per world, the Stagehand may not spawn into every Don't Starve Together world.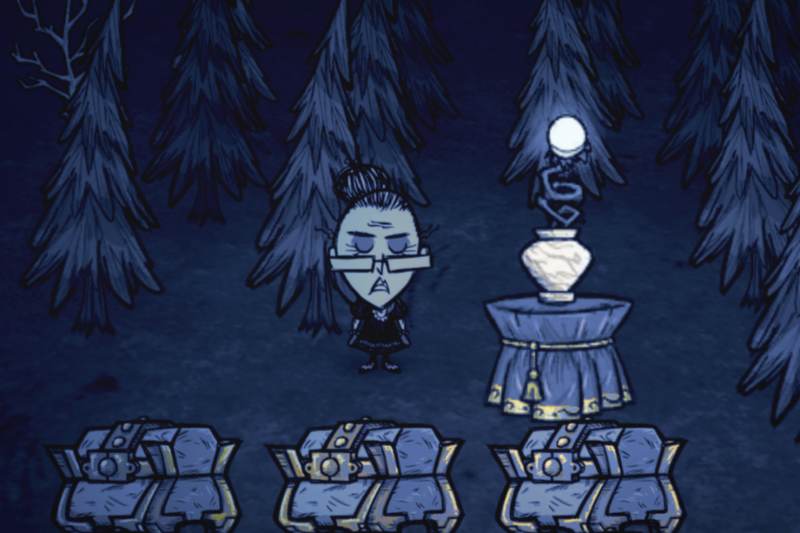 DOES THE STAGEHAND EVER DESPAWN?
No, the Stagehand cannot despawn, so feel free to travel as far as you'd like from it.
The only issue with staying far away from your Stagehand is it tends to wander throughout the night so there's a chance you will lose it. Stagehands can be difficult to find since they do not have an icon on the map, so make sure you hammer it as soon as you find it.
My best advice when you've lost your Stagehand is to stay active during the night. If the Stagehand is nearby chances are it will come crawling your way.
THE STAGEHAND IS WOODY'S BEST FRIEND
By far the best use of the Stagehand is the unlimited fuel it can provide Woody when he is in his Werebeaver form. Chewing on the Stagehand raises Woody's Log Meter and may give you that extra little time you need to chew down the forest.
It may be a good idea to plan your transformation into the Werebeaver to make sure you're close enough to the Stagehand. If your Stagehand is nowhere near a forest lead it to the area you'd like with a torch or begin planting trees around it.
THE STAGEHAND WON'T GET OUT OF MY BASE, WHAT DO I DO?
As useful as the Stagehand is, sometimes it gets pretty annoying and won't leave you alone. Since the Stagehand is only active at night this will be the only time you can move it.
Lead the Stagehand out of your base with a torch, but make sure that there are no other light sources nearby. Once your Stagehand is in the area you want it to stay in set an object or tree on fire. The Stagehand should remain near the burning object though to be safe you can put your torch away until you're far enough.
Another option is telelocator staff it… but you know… why would you do that?