Bee Boxes are by far the most convenient method of farming honey in Don't Starve and Don't Starve Together.
If you're a player who finds it challenging to kite enemies, chances are you are turning to Bee Boxes to solve your health problems. Although there are a few foods that use honey, which will restore a good amount of hunger, the primary use for this sweet stuff is getting your health up!
But, how do we get our hands on the honey? Are there safer ways than others? Are there any characters who excel at farming bees, or do we all have to suffer from the Killer Bee stings?
The following guide will cover everything you need to know about Bee Boxes and the most common questions players have about them.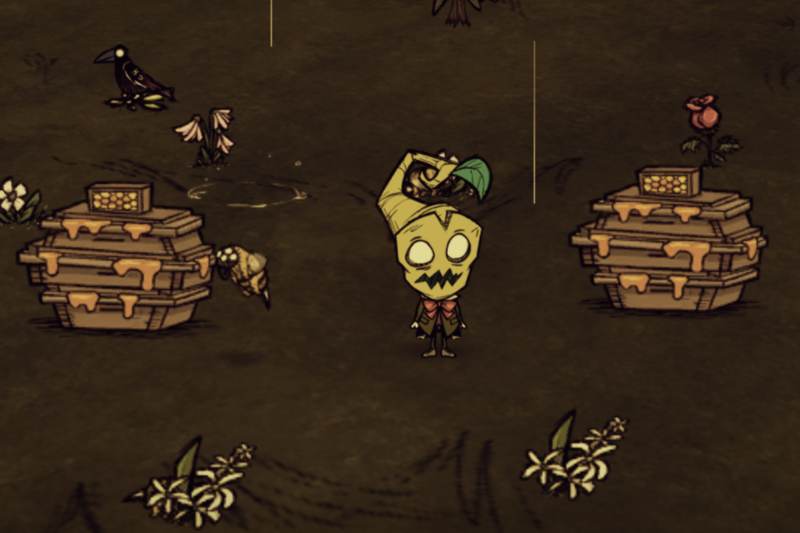 HOW EARLY CAN YOU MAKE A BEE BOX?
A Bee Box can be as made as soon as you find Beehives and Killer Beehives. You will also need a Science Machine that needs Gold Nuggets, Logs and Rocks to craft.
Bee Boxes should not be the first priority, and I wouldn't recommend destroying Beehives until you're ready to craft and place them.
In Don't Starve, you may not be able to gather enough resources for a fully functioning Bee Box farm until the Summer. In Don't Starve Together, you may have a functioning Bee Box farm by the end of the first week, dependant on your spawn and amount of players with you.
HOW DO YOU MAKE A BEE BOX?
Bee Boxes take a few steps to make, so get ready to put a little bit of armour on. I recommend bringing a Log Suit at minimum, simply because damage in the early game can be fatal.
If you're playing Don't Starve Together I would recommend someone play Wendy since Abigail makes general mob farming easier. In strong second ties, I would recommend Wigfrid or Wolfgang since they both do a ton of damage and Wigfrid has access to better gear early on.
Although Wendy, Wigfrid and Wolfgang excel at farming bees, it's a job that any character can do.
HOW TO MAKE A BEE BOX
To prototype a Bee Box, you will need:
2 Boards (8 Logs)
1 Honeycomb
4 Bees
It's important to note that you can only use regular yellow bees when crafting the Bee Box as Killer Bees are not considered the same thing.
Bee Boxes can be crafted from the Food Tab, which looks like a carrot. The Bee Box requires a Science Machine to prototype unless you are Wickerbottom.
WHERE ARE HONEYCOMBS FOUND?
Players can receive a Honeycomb by destroying a Beehive or a Killer Beehive. In single-player Don't Starve Honeycombs are a limited resource, so all the Beehives that you get when you spawn are all the Honeycombs you're going to have to use.
It's going to be a good idea to ration out your Honeycombs to make sure that you have enough for Bundling Wrap to keep your food fresh. Though you Don't Starve Together players don't have to worry as much.
DST players see the addition of the Gigantic Beehive, which has a 1% chance to drop Honeycombs when hit with a Hammer and a 49% chance to drop Honey. Players will also be able to summon the Bee Queen to get even more Honeycombs when in need.
HOW DO YOU CATCH BEES?
Bees can be caught with a Bug Net, which is crafted in the Survival Tab. A Bug Net requires a Science Machine and is crafted using 4 Twigs, 2 Silk, and 1 Rope.
Bees will appear first thing in the morning and will pollinate six different flowers before returning home. If there are no available flowers nearby, a bee may wait for one to become available by lying on the floor or will wander. Players can catch a bee in either position as long as the bee is not moving.
DO I NEED TO PLACE MY BEE BOX NEAR FLOWERS?
Yes, but not exactly. While you must have flowers near your Bee Boxes, you can also transfer flowers by planting Butterflies.
I would plant as many flowers as you can since flowers come in handy when it comes to micromanaging your sanity. The more flowers you have, the more butterflies, which also means more health!
Get to catching! And godspeed, those critters can be annoying to hunt!
You can read more about how to make a Flower farm and how to passively plant Flowers here.
HOW LONG DOES IT TAKE FOR BEE BOXES TO BE FULL?
Bee Boxes are filled based on the amount of time it takes a bee to pollinate six flowers and return home.
Every 2 minutes, one bee will emerge from a Bee Box to pollinate the closest flowers to their Bee Box. Once the bee has successfully pollinated six flowers, it will return to the Bee Box with one honey.
Bee Boxes have four different sprites that will let you know how full the Bee Box is. You will want to make sure that you harvest the Bee Box when the honey is dripping all over the floor.
WHEN SHOULD YOU COLLECT HONEY FROM BEE BOXES?
Since bees will aggro players when a player tries to harvest their honey, I strongly recommend harvesting the bee boxes about 8 to 9 minutes into the day. At around 8 minutes, the last bee will exit the Bee Box for the day, making the Bee Box easy access for the player.
Players can also craft themselves a Beekeeper Hat with 8 Silk and 1 Rope, which will reduce the amount of damage players take from bees by 80%.

Beekeeper Hats are only accessible once an Alchemy Engine has been constructed.
Beekeeper Hats are not necessary, in my opinion, especially if you are playing a strong character or our darling Wendy.
DO BEE BOXES WORK IN WINTER?
No, unfortunately, Bee Boxes don't yield any honey during Winter since it will be too cold for the bees to pollinate flowers. So don't take Willow out for a winter stroll, because she sure won't appreciate it by the time she gets to the empty Bee boxes.
Though Bee Boxes won't be yielding any honey, you should have plenty to last you Winter since most recipes that need honey only take one. Not only do most recipes only take one honey, but honey also takes 40 days to rot, making it one of the longest-lasting foods in Don't Starve.
Honey can be preserved for even longer if left in an Ice Box, though I recommend saving Ice Box space for more important food than honey.
On our server, we leave honey in chests at all times.
KEEP YOUR BEE BOXES NEXT TO YOUR MAIN BASE
You must place your base by your Bee Boxes since Bee Boxes will only produce honey consistently if players are nearby.
If a player is too far from the Bee Box, bees will reduce production to 1 honey per day versus the maximum of 4-6 you can typically get.
CAN BEE BOXES BE MOVED?
Yes, Bee Boxes can be removed with a Hammer, which is found in the Tools Tab, which looks like an Axe and Pickaxe.
Upon breaking a Bee Box with a Hammer, it will return 1 Honeycomb and 1 Board. At the same time, all the bees will become Killer Bees, releasing them from the Bee Box.
Moving a Bee Box isn't the worst thing in the world as all you're losing is a Board. Bees are relatively infinite as long as you don't destroy all of the Beehives and never make a Bee Box.
BEE BOXES ARE FLAMMABLE!!
I'm not going to spoil too much, but Bee Boxes are flammable, and if you've never encountered the various ways your base can set on fire, I recommend checking how you can prevent them.
Hint: Things like Lightning Rods and Ice Flingomatics may come in handy.
CATCH THE STUCK BEES!
There seems to be a glitch in Don't Starve and Don't Starve Together that causes bees to remain stuck outside of their Beehives and Bee Boxes.
Bees will continuously smash their heads against the outside of their homes until they are killed or caught. Either is okay, in my opinion, since you're not going to be able to get the honey it collected anyways.
A bee that is stuck outside of it's Bee Box is still considered an entity and will reduce the overall amount of honey the Bee Box yields until dealt with.
Similarly, sometimes bees will glitch and will spin in circles above flowers. Give these guys a love tap for me.
CONCLUSION
All in all the Bee boxes are a reliable source of honey in both Don't Starve and Don't Starve Together.
While foods made with honey don't guarantee much hunger replenishment, honey is one of the best ways to get health back. I wouldn't necessarily recommend eating honey on its own, but it does create a few great Crock Pot meals and can make Honey Poultice.
Honey Poultice is one of the easiest items to craft that give players a good chunk of Health and may be the best way to heal characters like Wormwood.
I would definitely recommend letting Wendy, Wigfrid, or Wolfgang deal with the bees if you are new to combat since they are pretty unstoppable against bees.
So, I'm curious, how many Bee Boxes do you like to have around your base? Do you have catching butterflies as much as me? Let me know in the comments below!