Health is one of the three main statuses you must manage while playing Don't Starve and Don't Starve Together. Unlike Hunger and Sanity, Health does not drain overtime unless the player is under an aggressive status effect.
Health is arguably the most crucial status that you will need to manage since once a player's health hits zero a standard, Don't Starve single-player game is deleted. Even in Don't Starve Together, a server must be rolled back in time unless players have taken measures to prevent themselves from experiencing a true death.
A player can manage health in a variety of ways and strategies to maintain health will differ from character to character. You will notice that some characters' health can be more challenging to manage. Some characters who are more challenging to manage include Maxwell, Wurt and Wormwood.
The average character in all versions of Don't Starve will have 150 health, though some characters have as low as 75 Health (Maxwell) or as high as 400 Health (WX-78 when fully upgraded). The maximum health a character has upon entering a server is 200 Health.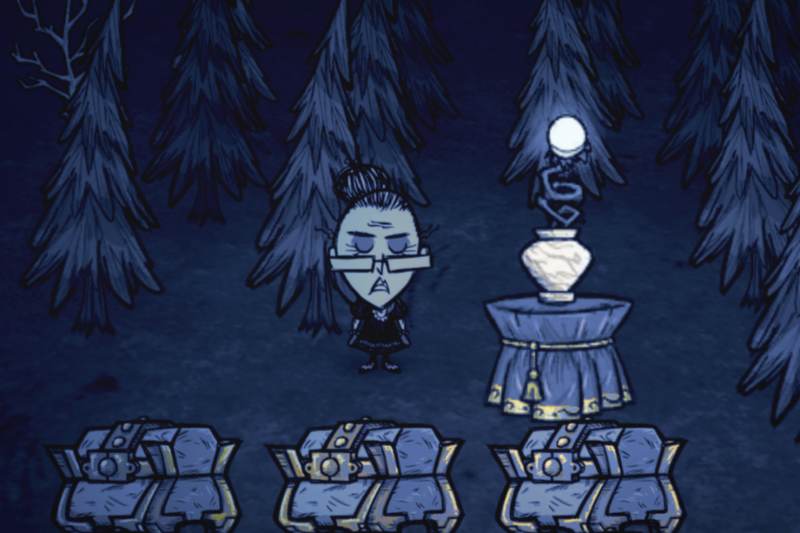 THE BEST WAYS TO REGAIN HEALTH
There are multiple ways players will be able to heal themselves in Don't Starve and Don't Starve Together. Although most of the recipes will be similar, if not the same, across all versions of the game, Shipwrecked and Hamlet do have some expansion specific recipes.
The way you choose to heal yourself will heavily depend on how much damage you've taken and what resources you've managed to gather before taking the damage. I will say if you want to prepare yourself for damage, make yourself some Bee Boxes in the early game. Honey is the key ingredient in several healing recipes, and you're going to want to make sure you have access to it before you're very low on health.
The following list is organized by methods that give you the least health back but are easiest to farm to the methods that give you the most health back but tend to be more involved.
EATING RAW & FIRE COOKED FOODS
During early-game gameplay, players will find themselves gathering resources like Berries and Seeds. Raw resources that do provide health will typically give the player 1 to 3 health per resource, however, when some resources are cooked, they will often increase the health output to 4 or 5 per resource.
Although raw resources and fire-cooked meals don't give a massive boost to health restoration, it is still viable for you to collect and eat them, especially if you do not have access to a crockpot. Using raw resources or fire-cooked meals will not be as useful in late-game content or in situations where players receive burst damage.
Players can also choose to eat picked flowers to receive one health per flower. I would only recommend using flowers as a health resource in dire situations. Since flowers don't respawn naturally will require a Butterfly to place, you may find yourself in a world that depletes of flowers too quickly. Since flowers are an essential part of running successful Bee Boxes having no flowers will be an issue.
USING SPIDER GLANDS OR MOSQUITO SACKS
While Spider Glands and Mosquito Sacks aren't ideal ways to heal yourself, they do both give 8 Health and never rot or spoil. The other thing to keep in mind is that they will give players a Sanity debuff if they are playing certain characters.
I would recommend only using Spider Glands or Mosquito Sacks if you are in the early game and do not have access to any other healing resources, though Spider Glands can be made into Healing Salves, which restore 20 Health.
BUTTERFLIES
If you choose to get into the beekeeping business, chances are you're going to collect yourself dozens of flowers so your bees can freely pollinate the flowers and go back to their Bee Boxes as quickly as possible. Use the butterflies you catch to your advantage if you're running low on health.
Killing a Butterfly by hitting it with a weapon or snapping its wings after you've caught it with providing Butterfly Wings, which heals players for 8 health.
Butterflies also have the chance to drop Butter. While butter only has a 2% chance to drop, it does heal players for 40 Health. Butter can also be used to make Waffles, which have one of the highest heal in Don't Starve. Waffles will heal players by 60 health.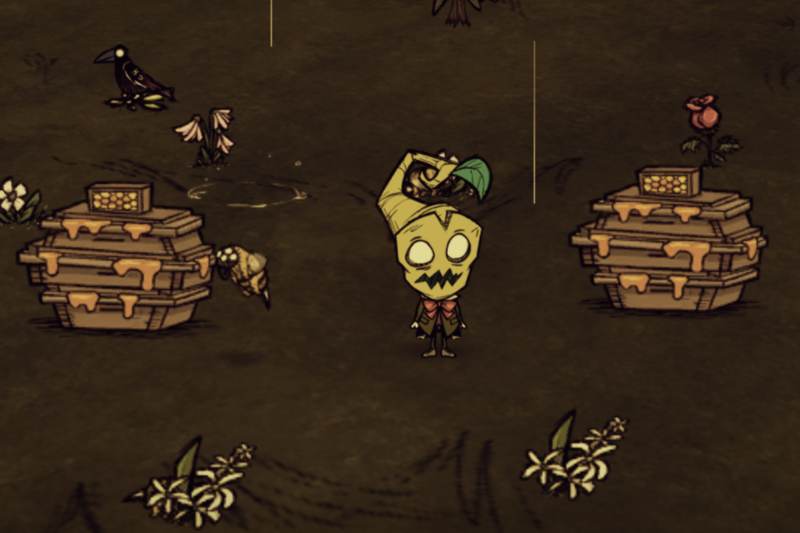 HONEY POULTICE
Costing 1 Paper (3 Reeds) and 2 Honey, Honey Poultice is the best method of healing, in my opinion. Reeds are only used for Papyrus and dependant on where you spawn reeds may surround you.
The biggest perk of Honey Poultice is that it does not rot or decay, allowing players to carry stacks of Honey Poultice for days. Having items that don't rot or decay comes in extra handy, especially when you are exploring the caves.
Honey Poultice provides players with 40 Health.
BLUE MUSHROOMS
While Blue Mushrooms can provide players with 20 health, they can be unreliable because they can only be picked at night. If fed raw, Blue Caps will also cause players to lose 10 Sanity.
The benefit of using Blue Mushrooms is that they can be planted in a Mushroom Planter, which requires Living Logs. If you are not ready to farm a steady supply of Living Logs or do not have a character who provides you with Living Logs from one of their perks, Blue Mushrooms will not be the way to go.
USING THE CROCKPOT
The crockpot tends to be the most commonly used method to restore health as many foods, including Fishsticks, Pierogies and Dragonpies, will give players 40 Health. Another excellent food option includes Trail Mix, although it is not as filling as some of the other options.
Often foods that focus on giving players health will provide players with less hunger or sanity, which is why I tend to stay away from using the crockpot to heal. There are, however, some foods that will give a decent boost to both. The most important thing to note when cooking in a crockpot is that some foods actually heal much more when ingredients are split up, versus when ingredients are together.
The only foods that I use to heal myself on occasion are Pierogies because I tend to have the ingredients on hand, or Jerky because they last for an insanely long time.
TAKING A SNOOZE
One of the simplest ways players can recover health is by sleeping. Players can sleep in objects such as the Fur Roll, Tent and Siesta Lean-to, which will exchange hunger for health. Snoozing will also return Sanity to players making the only downside the fact that players can starve if they do not have food on hand.
Whenever you sleep, I recommend cooking some meatballs or a food with a higher amount of Hunger saturation. You can read more about the best foods for hunger here.
LIFE GIVING AMULET
The Life Giving Amulet is an End Game item that will heal players for 5 health in exchange for 5 hunger. Healing will trigger automatically and will reduce the Life Giving Amulet's durability by 5%.
The Life Giving Amulet is best used when players are in battles against difficult bosses, such as the seasonal bosses in Reign of Giants. Since the Life Giving Amulet loses 5% durability per heal, equipping it too early may cause it to break before the player truly needs it.
The primary purpose of the Life Giving Amulet is to resurrect the player upon death, also providing the player with 50 health upon respawn.
Note: The Life Giving Amulet can only trigger once every 30 seconds.
ALTERNATIVE WAYS TO HEAL IN SHIPWRECKED
I can't pretend to be the expert of Shipwrecked since I've only played a few hours of it, but I do know that Bisque is the easiest and best food you can cook in a crockpot for health.
I also know that Poison Mosquitos, which are only found in Shipwrecked, have a 50% chance to drop Yellow Mosquito Sacks. If a Yellow Mosquito Sack is consumed, it will give players 20 Health. I wouldn't go out my way to farm Mosquitos, but if they are every around, make sure you give them a little tap.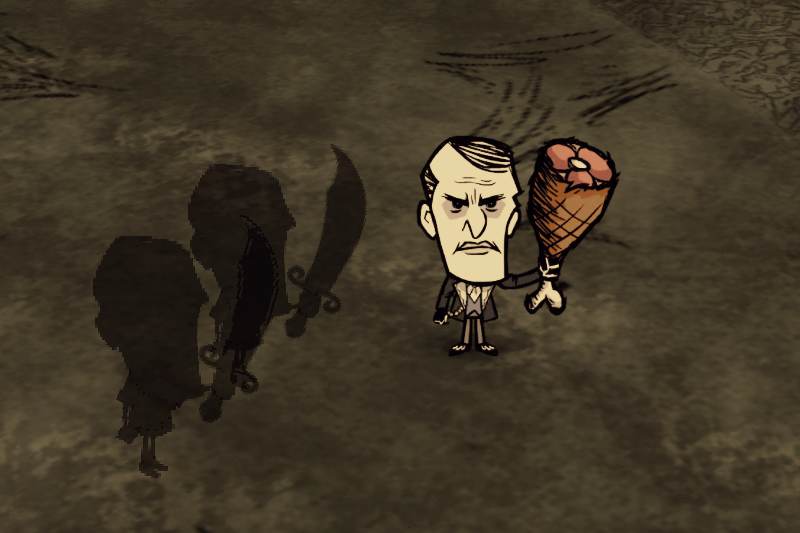 COMMON WAYS TO TAKE DAMAGE
A significant part of playing Don't Starve and Don't Starve Together is learning about the various ways you can take damage, especially as some methods of taking damage aren't the most obvious.
The following are some of the most common ways players take damage and die without realizing it.
STARVING
At first, it may seem like keeping your hunger up isn't a pressing matter, and that hovering around 30 health is safe. I'm here to let you know that it is absolutely not safe for you to hover around low hunger.
Knowing when your next meal is coming is never guaranteed, especially when you are out collecting resources or if you get stuck fighting a mob too late in the night.
As soon as players hit zero hunger, or are considered starving, they will lose 60 health per minute. Although damage from hunger can be quickly stopped by feeding your character any food, even Berries, having long-lasting foods like Jerkey can be vital or even game-changing.
Remember, the game is called Don't Starve for a reason.
FREEZING & OVERHEATING
The Summer and Winter seasons are by far the most severe seasons in Don't Starve simply due to the fear of players Freezing or Overheating. In both situations, players will take 75 damage per minute.
Willow is the only character who is affected differently to temperature. Willow will take 150 damage and -60 hunger per minute if she is freezing. In the summer, Willow will only take 50 damage per minute from the heat if overheating.
OPEN FLAMES ARE DANGEROUS
Setting trees on fire and using Campfires can be dangerous, especially if players are standing too close to the fire. There are a few things that factor into how much damage players will receive. Factors include the size of the fire, how close a player is to the fire, and what character the player is using.
Players using default characters will lose 4 Health per second if they are by a small open fire. Players will lose 8 health for being next to a large open fire. Players will also receive 4 damage from Larvae and 8 damage from the Dragonfly.
If you find yourself taking lots of fire damage, I recommend taking Willow, who is immune to fire damage and to stay away from Wormwood, who takes 1.25x more fire damage.
DAMAGE OVERTIME
Aside from being set on fire alive, poisoning is the only other current Damage Over Time. Poison can only be found in the expansions Shipwrecked and Hamlet, so for you, Don't Starve Together players, you're safe. Poison damage can range between 6 DPS to 48 DPS.
GOOD CHARACTERS FOR PLAYERS STRUGGLING WITH HEALTH
If you are struggling with health, there are a few characters who may be better for you to try. Sticking with a character will ultimately depend on whether or not you enjoy their playstyle. However, there is no shame in starting out with a character and swapping them out later.
WENDY (ALL GAMES)
Ultimately, I think Wendy is the best character a new player can choose since she has a much more passive attack style. Wendy has full-time access to her sister Abigail, which is unlike any of the other characters in Don't Starve and Don't Starve Together since Abigail is pretty much a full-time AoE machine.
Coming in hot with 600 HP, Abigail can do the majority of the tanking, which will allow the player to focus on other concerns in the game, such as resource farming.
Although Wendy has a standard 150 Health, you won't see it dip too low, especially with Abigail and some gear.
WIGFRID (REIGN OF GIANTS / DST)
Although it might seem weird to suggest a character who can only eat meat and must engage in combat to keep her sanity up, Wigfrid is not as difficult as she seems on paper. As soon as you build a crockpot, you will see that keeping your hunger up is and making meat-based meals is really not that difficult.
The biggest perk with Wigfrid is that she receives health as she attacks. What is, in essence, life steal will allow you to tank hits until you properly learn to kite.
WX-78 (ALL GAMES)
WX-78 is the Don't Starve equivalent to having an Easy Mode, though it may take you a bit of time until you can fully upgrade him. WX-78, being a robot, can eat Gears to become more powerful, boosting stats such as its damage, hunger, health and sanity.
WX-78 starts with 100 health in Don't Starve and 150 health in Don't Starve Together. When fully upgraded, WX-78's maximum health is increased to 400.
I wouldn't say that WX-78 is the best starting character if you're having issues with health; however, the other perks that it has definitely make it an excellent choice for beginners.
WOLFGANG (ALL GAMES)
Wolfgang is a character that I haven't completely vibed with though I will admit having his 300 Health when he is well-fed is awesome. Even if Wolfgang is not well-fed, he has a maximum of 200-health, which only drops to 150 if he is starving. Similar to the point I made with Wigfrid, food should not be an issue, especially with a character who can take some massive hits.
Wolfgang makes taking damage a lot more forgiving, especially if you make sure to carry around some health-oriented foods or Honey Poultice.
HOW TO RESURRECT YOURSELF
One of the most frustrating things that can happen in Don't Starve and Don't Starve Together is death. Upon dying in single-player games, the current map with be deleted and players will be sent back to the main menu. The same is not true when playing Don't Starve Together as players will always respawn as a ghost immediately upon death.
Players in all game modes will have the option to construct a Meat Effigy, which will resurrect a player immediately upon death. Upon constructing a Meat Effigy in single-player mode, a player's maximum health will be reduced by 30 for every effigy built. The player's maximum health will only return to normal if the Meat Effigy is destroyed or if it is used.
In Don't Starve Together, building a Meat Effigy will not reduce a player's maximum health. Though players will not receive a penalty for using a Meat Effigy, players in Don't Starve Together will receive a 25% maximum health reduction if they use the Florid Postern to resurrect themselves. The 25% health debuff is also not permanent in Don't Starve Together; however, it will require you to craft yourself a Booster Shot.
The last way to resurrect yourself, other than the already mentioned Life Giving Amulet, is by using a Touch Stone. Touch Stones are a single-use mechanic, though if you're lucky, multiple Touch Stones can spawn in one world.
Touch Stones should always be activated as soon as they are discovered, as there are no negatives to having a Touch Stone activated preemptively. Upon death, players will respawn to the closest Touch Stone. If there are multiple touchstones in the world, the remaining Touch Stones can also be used.
It's important to note that Touch Stones cannot be reused, so make sure to keep track of whether or not you've already used a Touch Stone.
ZERO HEALTH DOES NOT MEAN DEATH
While yes, you're going to want to make sure you're never as low as zero health, having zero health doesn't actually mean that you are dead. For some reason, the developers of Don't Starve and Don't Starve Together decided that zero health still means you're good enough to continue running around. Players will only die once their health has dropped below zero.
CONCLUSION
Though there are plenty of ways to heal yourself, some methods are going to be much easier for you to use than others. My favourite way to heal myself is by using Honey Poultice, especially since I'm currently a Wigfrid main who simply needs a health top-up from time to time.
Try to make sure that you always have at least ten healing items in your backpack or general inventory, as you never know when you will find yourself in a sticky situation.
If you're ever stuck in a tight spot, start picking some Flowers or killing/catching Butterflies as any health can be game-changing.
So I'm curious, what are your favourite ways to heal yourself? Do you have a better method? What's the thing that kills you the most? Let me know in the comments below!