If you're a player who doesn't mind a grind to help power them up, look no further than WX-78.
WX-78 is often placed in the same God-tier category as Wickerbottom and Wolfgang, though unlike either, WX-78 starts with less than ideal stats.
WX-78 is the fourth character players can unlock with experience in Don't Starve and is playable immediately on Don't Starve Together. WX-78 is also the only Agender character in Don't Starve due to the fact that they are a Robot.
While WX-78 starts off fairly weak, they can quickly become the character with the highest stats in the game.
The following guide will take you through everything you need to know when playing WX-78 and some of the ways you can easily manipulate WX-78's Special Powers.
WX-78'S STATS
As mentioned, WX-78 starts with relatively low stats, but their stats can be upgraded easily with Gears. Gears will upgrade Hunger, Sanity and Health stats.
Unlike Wolfgang and Wigfrid, who also get Damage Modifiers on their kits, WX-78's upgrades seem to be more defensive. WX-78 seems especially useful when you add their System Overload, which we will cover later.
WX-78 has the lowest stats characters can have when starting in Don't Starve (DS, SW & HAM). The following are the stats WX-78 starts with in single-player Don't Starve:
Hunger: 100
Sanity: 100
Health: 100
WX-78 has fairly default stats characters have when starting in Don't Starve Together (DST). The following are the stats WX-78 starts with in Don't Starve Together:
Hunger: 150
Sanity: 150
Health: 150
In all forms of Don't Starve (DS, SW & HAM and DST) WX-78 can be upgraded to the following stats:
Hunger: 200
Sanity: 300
Health: 400
WX-78'S GEAR UPGRADES
As mentioned before, eating gears will give WX-78 a boost on their maximum Hunger, Sanity and Health. Gears will provide a different stat boost in Don't Starve (DS, SW & HAM) and Don't Starve Together (DST).
In single-player Don't Starve, WX-78 needs a total of 15 to receive maximum stats. Each gear will provide 6.66 Hunger (spooooky), 13.33 Sanity, and 20 Health, meaning that no stat will max out before another.
In Don't Starve Together, each gear will give 3.33 Hunger, 10 Sanity and 16.66 Health (less spooooky). Players will still need to provide WX-78 15 Gears to upgrade their stats to maximum, even though the end result is the exact same.
Gears will also provide players with an instant 75 Hunger, 50 Sanity and 60 Health Meter, making feeding Gears to WX-78 beneficial even after they are fully upgraded.
My advice? Don't use Gears unless you're low on Hunger, Health or Sanity. Allow Gears to be another "form of food" for yourself.
WX-78 LOSES UPGRADES UPON DEATH IN DST
When WX-78 dies in Don't Starve Together, they will return to their base stats; however, they will drop a random number of gears upon death.
Players have reported that the gears dropped upon dying are between 1/3-1/2 of the Gears used to upgrade. Dying and losing Gears is going to be something you want to avoid, as farming Gears can become complicated once you've killed all of the Clockwork mobs.
WX-78 CAN EAT SPOILED FOOD WITH NO NEGATIVE SIDE EFFECTS
A perk of WX-78 that I thought would be more helpful is their ability to eat spoiled food. I'll admit, being able to eat spoiled food with no side effects is excellent as a new player, but when you get used to always having fresh food available, this perk falls off.
The only other time being able to eat spoiled food is going to come in handy is if you don't want to build Ice Box and instead use the Gears to upgrade yourself. Delaying making an Ice Box won't make a difference for you since Crock Pot recipes usually take more than a week to rot. So, get to exploring instead of basing!
The best food for WX-78 is arguably Meaty Stew, because of it's high stats.
WX-78 HATES RAIN AND BEING WET
Because WX-78 can get so tanky, they were given a debuff that causes them to take damage when under Rain. WX-78 will take 0.5 Damage per rain droplet when directly under the rain.
WX-78 Players can avoid taking damage by hiding under a tree, or by building a hat. In the early game, the Straw Hat will be your best friend, especially if you have a Spring start. Straw Hats only require 12 Grass, so as useful as they are, they can be pretty costly for what they provide.
I would recommend building an Umbrella as soon as you can, which will require 6 Twigs, 1 Pig Skin, and 2 Silk. Umbrellas are much more cost-effective for what they provide to players, especially WX-78.
Umbrellas negate all Sanity loss from Rain and prevent players from being struck by Lightning, although WX-78 can still be hit by Lightning in the DLCs. Umbrellas are infinite unless used as a melee weapon while playing the base game of Don't Starve; however, Umbrellas have a lifespan when used in Shipwrecked, Hamlet and Don't Starve Together.
Umbrellas are still the better choice as they also help prevent Wetness by 90% and Overheating by 120 in the Summer.
It's essential to be aware of how much Wetness WX-78 Players receive as WX-78 receives 0.05 to 0.5 Damage every 3-5 based on how wet they are.
SYSTEM OVERLOAD
WX-78's most important buff is the System Overload they experience when struck by Lightning. WX-78 will lose 33 Sanity for every Lightning Strike that hits them, as a trade-off WX-78 will also receive 100 Health back.
System Overload will last about 1 Day, but WX-78 can be struck by multiple Lightning Strikes to extend the length of System Overload. System Overload can be forced by Wickerbottom as her The End is Nigh book summons Lightning.
If you are trying to be struck by Lightning as WX-78, make sure that you are not near a Lightning Rod or wearing the Eyebrella as both will absorb the Lightning Strike. If there is no Lightning Rod in a base and WX-78 is around, WX-78 will act as the Lightning Rod, absorbing the majority of the Lightning Strikes.
When under the effects of System Overload, WX-78 will begin glowing, acting as their own portable light source. WX-78 will also have a 1.5x Speed Modifier and Immunity to Freezing. As WX-78 nears the end of their System Overload, the Light they emit will reduce, turning off at the same time as all of their other buffs.
Although WX-78 can be used as their own portable light source, it is not always recommended, as doing so will cost you Sanity. If you are going to take WX-78 for a midnight stroll, I would advise keeping some Cooked Cactus Flesh on you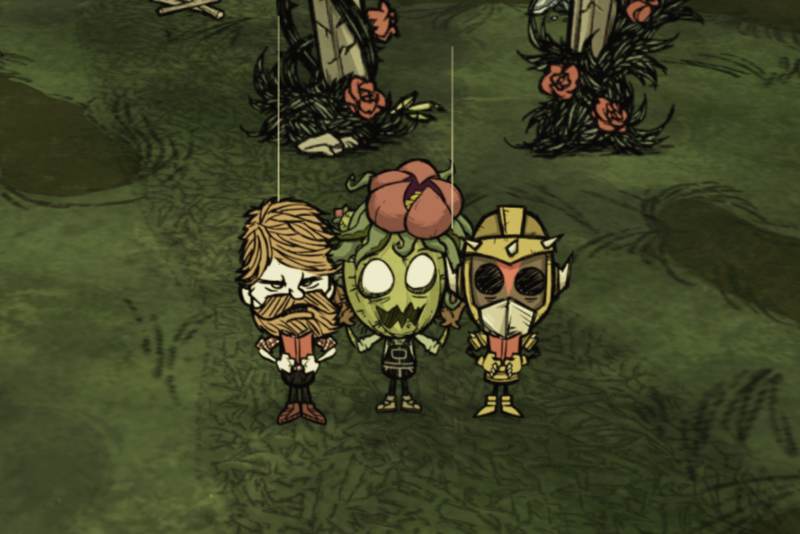 WAYS TO FORCE LIGHTNING STRIKE
Players can manufacture Lightning Strikes in a variety of ways, though some ways have a higher Lightning yield than others. The following are all of the ways players can force a Lightning occurrence in Don't Starve (DS), Don't Starve Together (DST), Hamlet (HAM) and Shipwrecked (SW).
A Lightning Strike will always be summoned when players use a Telelocator Staff. While Lightning Strikes would usually strike a mob when a Telelocator Staff is used on them, WX-78 will always absorb the Lightning Strike. WX-78 will also get struck by the Lightning if a Telelocator Saff is used by other players in Don't Starve Together (DST). The Telelocator Staff can be used in all version of Don't Starve (DST, SW & HAM)
Lightning Strikes may be summoned when players resurrect using a Touch Stone in all versions of Don't Starve (DST & SW) except for Hamlet (HAM).
In Don't Starve (DS) and Don't Starve Together (DST), players can "storm the Ruins" and Hammer the Ancient Pseudoscience Station with a Hammer, causing WX-78 players to take 1 Lightning Strike per Hammer swing. Since Ancient Pseudoscience Stations are technically renewable in Don't Starve Together (DST), there is no real negative to destroying the Ancient Pseudoscience Stations. If you do not want to destroy the Ancient Pseudoscience Station, then make sure that you only hit a Broken Science Pseudoscience Station one time as it will break after two hits. A repaired Ancient Pseudoscience Station will break after 10 hits.
Note: Striking the Ancient Pseudoscience Station with a hammer will not only summon Lightning but will also have a chance to drop loot or spawn enemies. Use this method at your own risk.
Although not a reliable way to spawn Lightning, Moslings have a 10% chance to be struck by Lightning when using their Whirlwind attack. Do with this information as you please, but for the love of god, kill that Moose/Goose! Moslings only appear in Reign of Giants (RoG) and Don't Starve Together (DST)
As mentioned, if you are teamed up with a Wickerbottom in Don't Starve Together, make use of the overpowered The End is Nigh book to overcharge yourself!
In Hamlet (HAM), a charged Thunderbird has a chance to summon Lightning on WX-78. If WX-78 is too close to an Iron Hulk, the Iron Hulk will absorb the Lightning Strike instead.
WX-78 IS IMMUNE TO POISON (SW & HAM)
If you are a Shipwrecked or Hamlet player, rejoice in knowing that WX-78 is immune to poison. Although immune to Poison, WX-78 will still receive damage from the Gas Rainforest.
WX-78'S FAVOURITE FOOD (DON'T STARVE TOGETHER)
If players are looking for more stats from food when it comes to WX-78, they should really feed it Butter Muffins.
Butter Muffins require:
1 Butterfly Wings
1 Vegetable
2 Fillers
Instead of providing 37.5 Hunger, they will provide WX-78 with 52.5 Hunger.
MY LAST THOUGHTS ON WX-78
I think that WX-78 is a very powerful character in all versions of Don't Starve. At first, I found it odd that WX-78 doesn't have any Damage Modifiers, but I quickly realized that WX-78 would be ridiculously easy to play if they got any other perks.
Being that Gears both upgrade WX-78 and provide players with top-ups on their Hunger, Sanity and Health starving or even dying from low Health becomes a lot less of a concern.
WX-78 can also act as a tank when playing Don't Starve Together, being that they have 400 Health at Maximum. Take aggro of the large mobs for your team and kite, coming back in for a few hits here and there. Other than that, there are no other significant perks WX-78 will provide a team… well maybe being able to eat spoiled foods and getting easily overloaded by Wickerbottom. Realistically, neither of those are significant reasons to choose WX-78.
While WX-78 may need some Gears to get started, once you've got a few in your system, you're well on your way to World Domination of the… er… Constant!
So, I'm curious, what do you think about WX-78? Do you find them overpowered? Do you struggle to survive before you get your first few gears? Let me know in the comments below!