Wes, the one character in Don't Starve and Don't Starve Together that seems to have no purpose in the game. Sometimes called the "hard mode" of Don't Starve, Wes is one of the six playable characters in Don't Starve that cannot be unlocked with Experience, although he used to be unlockable through experience.
Wes is a playable character in Don't Starve Together who does not need to be weaved and is playable upon purchase.
Similar to Maxwell, who is another character who cannot be unlocked with Experience, it seems like Klei was saving Wes for more experienced players.
HOW TO UNLOCK WES
Wes can be unlocked in the third chapter of Don't Starve Adventure Mode as long as the player is not on the Two Worlds map.
At that point, there is a chance that a set-piece may spawn that contains two chambers. In one of two of the chambers, there will be a Maxwell Statue; however, in the third one, Wes will appear.
If the player chooses to break one of the statues near Wes, multiple Clockwork Monsters will spawn, which you must defeat to transport to the chamber Wes is encased in.
Inside of this chamber, players will find more Clockwork Rooks, Knights and Bishops. Players must clear all of the mobs spawned to free Wes.
WES'S STATS
Wes comes in with a Maximum Hunger of 113, Sanity of 150 and Health of 133. Wes' stats place him among the lowest tier of characters, further defending the belief that Wes is meant to be a "hard mode."
If you dig a bit deeper into Wes' stats, you'll also notice that he has a Damage Modifier of 0.75x and a Hunger Modifier of 1.25.
Wes' Damage Modifier makes him as strong as Wendy without Abigail, which is most frustrating because it takes a bit longer to kill small mobs like rabbits.
WES'S SPECIAL SKILLS & POWER
Wes is spawned into both Don't Starve and Don't Starve Together with a Pile o' Balloons. The Pile o' Balloons has infinite uses; however, it will cost 5 Sanity for every Balloon inflated. (Side note: I typed Bloon way too many times right now because of BATTD.)
Balloons act as decoys in Don't Starve, and while they only do 5 damage when attacked, they can be helpful when trying to kite mobs. Balloons will also trigger each other once exploded, making groups of Balloons more powerful.
Balloons will lure and distract mobs that are closeby, though mobs might need a helpful nudge.
Although not really a special skill, in my opinion, Wes is unable to speak, further making his gameplay more challenging. Players who choose Wes will have to play with their volume up to be warned of Hound attacks or the bosses in Reign of Giants as Wes will not display any attacks, even in times of danger.
Wes's silence carries on into all aspects of gameplay, including examining objects, being at a low Hunger level, that night is approaching or even that you are in the darkness.
Wes shouldn't drain too much Sanity unless you choose to use lots of Balloons. In the case that you choose to use lots of Wes's Balloons keep some Sanity boosts on hand.
I repeat, Wes's gameplay is not meant for beginner players as cute as he is!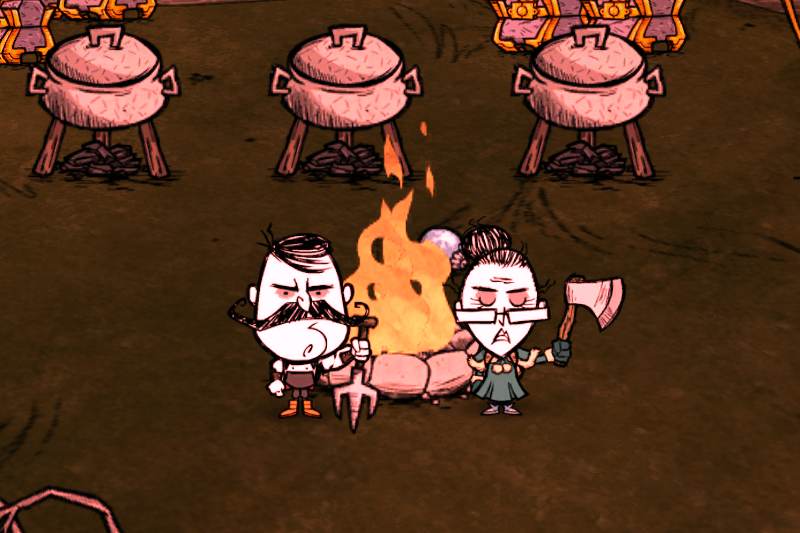 HOW TO DEAL FULL DAMAGE WITH WES
Similar to Wendy, there are a few ways you can avoid being hit by Wes's Damage Modifier, and that's with weapons that indirectly deal damage. Weapons like the Fire Dart, Poison Dart, Electric Dart, or even Gunpowder will become your best friends.
Otherwise, you're just going to have to build yourself the strongest weapons, learn to kite and smack enemies because your life depends on it!
HOW TO NOT STARVE WITH WES
If you are running into difficulties with Wes and keep starving to death, grab 2 Nightmare Fuel, 2 Rope, 6 Slurper Pelts and craft yourself a Belt of Hunger.
The Belt of Hunger will grant 2 Sanity per minute and will reduce hunger loss by 40%. Using the Belt of Hunger will cause Wes to lose only 56.25 per day, while a default character would regularly lose 75 per day.
The Belt of Hunger is a reasonably late-game item as it will require a Shadow Manipulator and for you to head down into the caves. Being that it is late-game, I personally don't find it the most useful, though it will depend on your playstyle.
I prefer to use my backpack in situations where I would use the Belt of Hunger, though you can use a backpack mod.
It's not a good idea to craft multiple Belts of Hunger, especially because Slurpers do not respawn. Instead, craft yourself a Sewing Kit to fix your gear. Sewing Kits come in handy for any mid to late-game equipment, especially when associated with a boss like the Eyebrella.
If you are playing Reign of Giants, you will have the option of building the Hibearnation Vest, which slows down hunger loss by 0.75x. Although the Hibearnation Vest will not help as much as The Belt of Hunger, it will still make sure that Wes players only lose 70.3 Hunger per day, putting his Hunger drain a bit better than the default.
I prefer the Hibearnation Vest to the Belt of Hunger simply because it's more useful for Winter. The Hibearnation Vest will grant players 4.4 Sanity per minute and will last 7 Days. To use the Hibearnation Vest in Hamlet, players must purchase the Blueprint from The Tinkerer's Tower and Thick Fur from 'The Sty' Oddities Emporium.
IS WES REALLY THAT TERRIBLE TO PLAY?
No, I wouldn't say that Wes is that terrible to play, he's just a more complicated character for beginner players or players who haven't gotten the handle of kiting or regaining Health. If you've played as Wendy before, he's relatively comparable as you are not guaranteed, Abigail and will often have to battle without her.
I will say, don't expect Wes's Balloons to save you, because while they are fun and offer a great new mechanic for gameplay, they aren't the easiest to use or most helpful.
So, I'm curious how many of you have played Wes before? Do you enjoy playing with him? What's the best advice you can give a Wes player? Let me know in the comments below!
BUT WHO SHOULD I PAIR WES UP WITH?
Wes can be paired up with a variety of characters, it just depends what players want out of their friends.
Since most people who play Wes like a challenge, it would seem counter-intuitive to pair Wes up with any overpowered characters, though… these are the characters I think would be most beneficial.
Wickerbottom, being the most obvious as she is able to provide Wes with an endless supply of food. Though Wes' hunger will not be completely satisfied, WIckerbottom players can also provide Wes with some extra support with her books like On Tentacles.
On the same vein as Wickerbottom, Wormwood may be a good matchup for you as he can provide Wes players with endless supplies of munchies to snack on. Though fruits and veggies aren't the most filling foods in Don't Starve, they are useful at the end of the day.
Wendy is always handy for new players, whether you're playing with her or have her on your team. Quite frankly, I think having multiple Wendies on a server can be loads of fun because they can protect players from the majority of the low to mid-tier baddies of The Constant. Use Abigail to your advantage while playing Wes and make sure that you're not taking extra damage for no reason.
Speaking of helpful characters to avoid taking damage. Wes players can rely on Winona players to help build Catapults to protect them from the dangers around them. Winona characters come especially handy for Wes players, as Wes can lure enemies with his balloons to help enemies avoid damaging players.
Need some extra stats to run around with? Team up with Warly who can help give you extra health, damage, and damage resistance. Warly won't completely break your experience as playing Wes, but he will be handy in many situations.
Wortox is always a character that can be useful to team up with, no matter who you are playing. Wortox has extreme healing capabilities and will help sustain any Wes player through difficult situations.
WES' FAVOURITE FOOD (DON'T STARVE TOGETHER)
If players are looking for more stats from food when it comes to Wes, they should really feed him Fresh Fruit Crepes.
Fresh Fruit Crepes require:
1.5 Fresh Fruit
1 Butter
1 Honey
Instead of providing 150 Hunger, they will provide Wes with 165 Hunger.