One of my favourite things about Don't Starve and Don't Starve Together is the ability to mod both games. While I will admit, some mods are built for each specific game that I wish were compatible for both, there are hundreds of other mods that can fill in the gaps.
Using mods is going to be based on personal preference and based on how much you want to alter gameplay. So, the following list will cover some of the essential mods you will need when playing Don't Starve Together, some that simply make gameplay more straightforward, some that make gameplay overpowered and some that simply help the social aspect of Don't Starve Together.
Note: Watch me play Don't Starve Together with my community and similar games on Twitch! Always happy to answer questions there!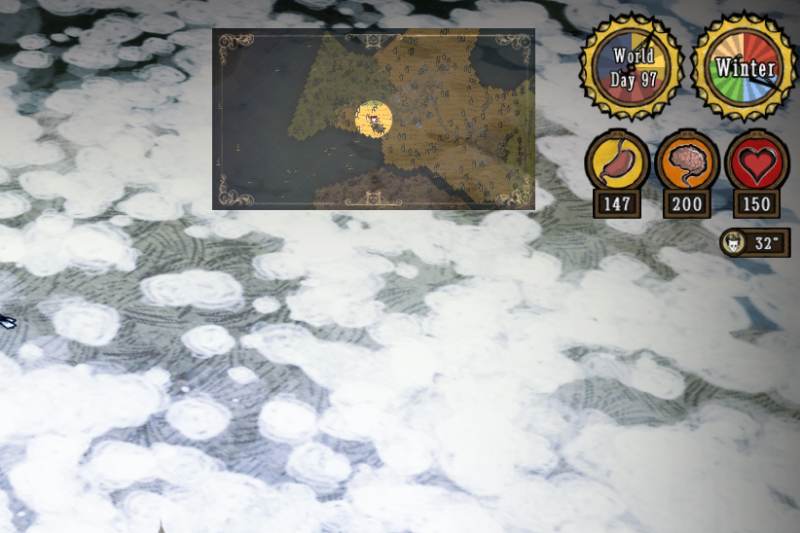 MODS THAT ARE ESSENTIAL TO DON'T STARVE TOGETHER (DST)
While I understand why Klei chose to make it so you can't see teammates on the map in Don't Starve Together, I think it's idiotic.
Global Positions will allow you to see an icon for each of your allies in real-time and will also let you to see the parts of their maps that they have revealed. I know, I know, cheating!! But, I at least recommend using Global Positions the first time you play through Don't Starve Together with your friends.
While players can use the in-game Cartographer's Desk to share the parts of the map that they have explored, the Cartographer's Table just seems like an unnecessary barrier. Get to cheatin' folks!
I hate games that don't have Minimaps, and I especially hate that Don't Starve Together don't have a built-in minimap since the game requires you to be pretty much always moving.
I'll admit that the Minimap HUD isn't the most fantastic Minimap, and it doesn't allow you to interact with the Minimap as smoothly as a game like FFXIV, but it's still better than no Minimap.
I use the Minimap most when I'm trying to figure out how close I am or far away from an area. The Minimap HUD isn't designed for players to do a lot of exploration on. Instead, players should look at their main Map using "M" and revert to their Minimap once they are already en-route to the destination.
Although the Minimap HUD allows players to scroll through the whole map, there is no trigger to re-center the map, making you lose your placement often. Although losing your placement on the Minimap isn't the absolute worst thing a player can do, it does get annoying if you're trying to be as efficient as possible.
Alright, alright, Geometric Placement isn't absolutely necessary for Don't Starve, but it does make planting so much easier in the game, especially if you are trying to align everything.
The cool thing about Geometric Placing is that players can hyper customize their settings, which can be altered to make planting particular objects even easier.
Players will be able to choose what shape grid they can plant on, how far the grid expands, the colour of the grid, and whether or not they want to see a ghost of the item before it is placed.
Geometric Placement is the only way you're going to make sure your world is beautiful!
Honestly, Ice Flingomatics confuse me. I don't understand why Klei didn't make it so you can an Ice Flingomatic's range at all times. Well, I guess not being able to see the Ice Flingomatic's range at all times makes it more challenging to ensure that your bushes and resources are safe, but is that really much of a problem?
The Ice Flingomatic Range Check allows players to make the Ice Flingomatic show its range for as little as 10 seconds, but can also leave the range on indefinitely. Again, I'm not sure why this wasn't the case, to begin with. So get to downloading and enjoy your Spring/Summer!
If you want to take things one step further with the Ice Flingomatic, consider getting yourself the Better Ice Flingomatic Mod, which will allow players to customize a variety of options on their Ice Flingomatic including:
🎮 Adjusting fuel consumption
🎮 Adjusting the range of the Ice Flingomatic
🎮 The ability to ignore Campfires, Fire Pits, Night Lights, Endothermic Fires and Endothermic Fire Pits without using emergency mode.
There are a few customizations players can make using this mod that will require players to go into game files, so I would recommend reading the full description to learn your capabilities.
There are tons of mods that help give players information about food and resources, but I feel like the Display Food Values mod does a great job of making it pretty and also share all the information I personally want.
Display Food Values shows players the amount of Hunger, Sanity and Health a food will give players. Players can also click Alt on their keyboard to see how long until food rots. If players want a more specific
One of the most infuriating parts of playing Don't Starve Together is the amount of lag that players will potentially experience, especially if they are running servers off of their computers.
Less Lags provides players with a variety of options that will help reduce the lag, the majority focus on allowing items to rot and in turn disappear or get deleted if they are not picked up off the ground.
Make sure you spend some time configuring this Mod because you will end up with deleted items that you didn't expect to say goodbye to. Well, that is, unless you turn certain settings off first.
I'm a huge fan of being able to see how much health enemies have, especially when they have large pools of health.
Simple Health Bar provides players with a variety of styles of health bars that allow players to indicate whether players will be able to kill the enemy they are up against soon or will die to them.
MODS THAT MAKE GAMEPLAY IN DON'T STARVE TOGETHER (DST) EASIER OR SMOOTHER
For players who are fed up with the amount of servers they are allowed to have on their computer, fret no longer as 50 Saveslots does exactly as the name says… provides you with 50 Saveslots.
I know as a blogger I've found it disheartening when I've had to delete an old world and while players can save or backup their files in other folders, they no longer need to do the manual labour with this mod.
Please do be careful when using this mod though as is with any mod that affects save files as there is always the chance that your save files will get corrupted. I know, I know, I just said that you won't have to do manual labour, but back up your files at least the first time you enable this mod (and of course, if you ever disable it)
Although not completely necessary, the Show Me (Origin) mod is a mod that gives players a ton of helpful information about mobs and resources they will be interacting with.
Show Me will give players information about a mob's HP when hovering over, how many uses an item has, spoilage rates, Insulation value and more.
The Show Me (Origin) mod is not absolutely necessary, mainly because other mods can fill its place, though it's going to depend on what your personal preference for display is.
The Combined Status mod is the first mod I ever installed while playing Don't Starve Together (DST), and I have to tell you sometimes I forget that the Combined Status hud isn't the original HUD in DST.
Combined Status is a client mod that allows players to customize the size of the HUD and whether their HUD displays the following information:
ENABLED BY DEFAULT:
🎮 Show what season the player is in
🎮 The current moon cycle
🎮 A prediction of the future Full Moon
🎮 The player's exact body temperature
🎮 Shows players Hunger, Sanity and Health stats without the need to hover over
🎮 Shows players Hunger, Sanity and Health maximum when hovered over
🎮 Reveals what day the player is on and how many days until the next season
DISABLED BY DEFAULT:
🎮 The world's exact temperature
Although I have to admit that the Combined Status mod isn't a requirement to play on Don't Starve Together, it does make gameplay a lot easier, especially when you're just starting out and learning mechanics. Combined Status is most helpful for the temperature information it provides, although players can also use their Thermal Stone as an indicator for body heat.
Combined Status is especially useful for those who are playing on a more static server where players hop in and out as they desire. Using Combined Status will always ensure that players who jump into the server know what season is currently in progress and whether or not one of the seasonal Giants is on the way.
Players will also be able to make the most use of Full Moons and will always make sure that they are appropriately dressed for Winter, Spring and Summer.
I'm sure anyone who plays Wickerbottom will appreciate Combined Status as players will always know whether or not they have to spam Applied Horticulture before the Winter.
The Backpack Slot mod is by far one of the most controversial mods we use while playing Don't Starve Together. If you're a purist and refuse to give yourself extra inventory, then don't use the Backpack mod. However, if you're like me and you hate taking off equipment and moving it around, then the Backpack Slot is a great mod that doesn't make players too overpowered.
In reality, the Backpack Slot will give you one extra inventory slot and will make it so you don't have to drop your backpack whenever battling mobs.
For players who find it difficult to remember which chest they placed an item in, the Finder Mod (Server version and working) is a great mod addition for you as it will highlight chests that contain the item you are currently holding.
Players will also be able to hover over items while in a crafting tab in order to find items, which many similar mods are unable to do.

I'm such a big fan of the Smart Cock Pot mod, but the Smart Crock Pot + Portable is updated to include Warly's recipes as well.
The Smart Crock Pot + Portable allows players to receive a prediction for what their meal will be after placing 4 Ingredients into the Crock Pot. It goes without saying that the Smart Crock Pot mod is beneficial for players who are unfamiliar with Crock Pot recipes and want to make sure that they are correctly using their ingredients.
Players are also able to change out ingredients after the Smart Crock Pot has predicted a recipe. Changing out ingredients can help make sure you don't end up with the wrong meal, or may also help you test out other recipes.
It's important to remember that Smart Crock Pot does not do the work for you. Players will have to already know the basics of creating a Crock Pot meal before using the mod.
I have a terrible memory and always have difficulty remember where Wormholes lead to. Well, that's not completely honest. I usually remember where Wormholes lead when I'm playing single-player Don't Starve, but if I'm playing Don't Starve Together once a week or less, expect me to lose lots of Sanity trying to figure out where Wormholes lead.
Wormhole Icons is a client mod that changes the colours of Wormholes on the map. Wormhole Icons will not appear for all players, however, can be useful for those forgetful players… like me!
ZOOM+ by coryinthedank
If you're anything like me, you're someone who hates how close the camera is on your character in Don't Starve Together. While I can tolerate the camera the majority of the time, there are some boss battles where I want to be able to see more of my screen and Zoom+ does just that.
Players will be able to use their mouse wheel, or whatever trigger they have chosen to zoom in and out, to zoom as far as they can as if they are looking at themselves on a world map.
Zoom+ is especially useful for Wurt players who have to build structures for Merms, Winona players who have to build Catapults and Generators, and Wickerbottom players who have to stay in the base and farm, just kidding!
I'm going to warn you in advance, having Zoom+ on will allow you to Telepoof or Soul Hop much further than without it. Having that kind of places this mod in the "over powered" category.
If you're as lazy as me, you're someone who built pressure plate doors in Minecraft and you're someone who would get excited by a Mod that opens and closes doors for you.
Nothing makes me feel more like a princess than this Mod and truthfully it comes in really handy when you have Pig Farms or other forms of Mobs behind gates.
I have to admit how awesome it is to have the Stop Stumps mod installed on my servers because it makes all uses of the Shovel, other than transferring resources, obsolete.
I know, I know, it's a bit overpowered to not need to use a Shovel to dig up stumps, but I can't tell you the number of times I've built extra shovels just because I keep forgetting them at the base.
Down with Shovels. STOP STUMPS!!!
Unravelling items can be extremely tedius, espcially if have a number of items with duplicates.
While Klei recently added the capability to unwravel multiple duplicates of the same item, what Klei didn't add was a single button that allows players to unravel all items.
Skin Queue does both that and allows players to queue the items that they do wish to weave.
I will say, the one downside to this mod is the fact that it does not unwravel all types of skins, leaving the skins which can be sold on the Steam store. So while I love the Skin Queue, I will say there's still a few things I wish were better.
In cases where players are left with duplicates, they can manually select them and put them into the queue.
For players who are upset by the fact that they cannot host more than 6 friends on a computer run server, fret no more as the Server Size mod now allows you to host up to 64 players.
The only issue with the Server Size mod is the fact that most PCs will not be captable of handling 64 players, so please use at your own risk.
I would strongly recommend capping your limit at 10, though this will really depend on how powerful your computer is.
OVER POWERED MODS IN DON'T STARVE TOGETHER (DST)
Are you new to Don't Starve Together? Well, I have the absolute best Mod for you. Although Display Attack Range is a newer mod, I would say that I'm very impressed with the results.
Not only does the Mod provide players with information about how large the attack range is of enemies, but it will also show players when enemies are about to attack and when players have a chance to give the mob a beating.
Display Attack Range is an extremely powerful Mod to have on your server.
I will say, I hate the fact that this is a server Mod… I think it should be a client mod because it's so invasive, but since I don't fully understand how Mods work, I can't tell you whether or not it would be possible to get this mod working from the client end.
By far, one of the most powerful mods you can get in Don't Starve Together is the DST Where's My Beefalo mod which initially only added Beefalo icons to the Map. Still, the mod has expanded to show the following resources and mobs on the map:
🎮 Animal Track
🎮 Bat
🎮 Bearger
🎮 Bishop
🎮 Bishop Nightmare
🎮 Blue Mushrooms
🎮 Bunnyman
🎮 Carrots
🎮 Chester's EyeBone
🎮 Dirt Pile
🎮 Dragonfly
🎮 Fire Hound
🎮 Fireflies
🎮 Flint
🎮 Green Mushrooms
🎮 Hound
🎮 Ice Hound
🎮 Knight
🎮 Knight Nightmare
🎮 Krampus
🎮 Leif Sparse
🎮 Mandrakes
🎮 Minotaur
🎮 Molehill Burrows
🎮 Moose Egg
🎮 MooseGoose
🎮 Pig Head
🎮 Rabbit Holes
🎮 Red Mushrooms
🎮 Rocks
🎮 Rocky the Rock Lobsters
🎮 Rook
🎮 Rook Nightmare
🎮 Skeleton
🎮 Spider Dropper
🎮 Spider Hider
🎮 Spider Queen
🎮 Summer Koalefants
🎮 Tentacle
🎮 Tentacle Pillar
🎮 Volt Goats
🎮 Walrus
🎮 Warg
🎮 Winter Koalefants
🎮 Worm
In reality, I think that the DST Where's My Beefalo mod is unnecessary since, in reality, players will not need to know where the majority of the resources and mobs mentioned in the list above are. I will say, having DST Where's My Beefalo with the Map Revealer Mod, makes gameplay ridiculously easy. I'll also admit that I've done that a few times when I first started playing Don't Starve so that I could have an easier time surviving.
In my opinion, there's no shame in spoiling some things for yourself to start off with. In Don't Starve, there's enough to do for you always to be surprised with. Not only that, once you get bored of the base game, some mods add new characters or creatures into the game, making replayability virtually endless.
Can you say overpowered? The Map Revealer for DST is exactly as it sounds and takes out all surprises from playing Don't Starve Together.
While exploring and discovering is a big part of why Don't Starve Together is such fun, sometimes when you're playing with others, it's a lot better to have the whole map revealed, especially if you want to relax while you play.
Players will be able to reveal the map on command and can choose to rehide the map if they would like, though I don't see why you'd want to waste time revealing it just to hide it again.
I'd say use this mod sparingly, but it can really enhance gameplay for new group players.
Although I don't use it often, Stacks V2.0 can come in especially handy for those of you running your own public servers who are struggling with griefers who either steal resources or burn down chests that have resources.
Stacks V2.0 is customizable and will allow players to choose how many of certain objects players will be able to hold in their inventory at a time, though, players should be aware that these settings must be changed before entering the server.
I usually turn the amount up to 150 for every type of object, that way players can have a healthy amount of stuff in their inventory without the need to leave too many objects on the floor.
Say goodbye to server lag, hopefully!
Have you ever wanted to change characters and couldn't figure out how? Well, I'll cover the legit way to change characters in Don't Starve Together on a later day. Until I write a guide for how to legitimately change characters in DST, enjoy your time changing characters using Restart.
Players can type in #restart in their chat window, and after a few seconds of charging, players will be transported back to the character selection. Players will lose all the items in their inventory and will return back to the Florid Postern.
Warning: Don't change character in the Winter unless you are going to be able to get back to your base with minimal resources or have a friend to come pick you up. Restart isn't as streamlined as you wish it were, but if you really think about it, all Restart does is force the character change/player kick command.
For those of you who have had any experience with the sweet, sweet Shipwrecked, you know all of the joys of crafting the Ice Maker 3000. Well, with this Mod, players will be able to have their very own Ice Maker 3000 that provides them with endless supplies of Ice. Say goodbye to needing to run out in Winter to mine Glaciers. No need anymore mama!
I kind of feel scummy for sharing this mod because I feel like it is completely game-breaking, though before I even start talking about the Gears Making Machine I have to say that you will only be able to use this or the Ice Maker 3000, in my opinion the Gears Making Machine is more useful, especially if there is a WX-78 player on your server.
Gears come in handy when trying to keep food fresh or when trying to build powerful weapons so make sure you start saving.
Players will have the option to be able to build the Gears Making Machine with an easy recipe or a more advanced recipe that will also require players to use more items to craft is and provide it more fuel.
Players looking to use the Ice Maker 3000 and the Gear Making Machine will have to use this mod.
I can't deny how overpowered the Lamp Post Mod is, but the truth is… Lamp Posts exist in Hamlet and the good lord, of whom I do not believe in, knows that I hate dying to Charlie. What I hate more than dying to Charlie is having new players enter a server and die to Charlie in a matter of seconds only to type in chat, "pls, where's base, how do I res?"
Light up that home ho's. You're going to appreciate it.
If you don't want to stop with the Lamp Post, players can dive deep into the pool and enjoy all of the objects from the Hamlet DLC, which is a single-player version of Don't Starve.
Players will mostly see cosmetic changes, though there are a number of items and weapons that are brought into the Mod, though not Mobs.
For players who don't want to do the work of planting things like Berry Bushes, Grass or Pinecones, grab the ActionQueue Reborn Mod as it allows players to automate many of the tasks players find mundane or boring.
Some tasks include being able to deploy items or traps, feed the player, craft items, place signs, or place turf.
Players will still have to toggle actions, but will find themselves saving a lot of time that they would have wasted otherwise.

MISCELLANEOUS/EASE OF ACCESS MODS TO HAVE IN DON'T STARVE TOGETHER (DST)
The Gesture Wheel is by far not a mod that anyone needs while playing Don't Starve Together; however, it is an excellent way for players to begin learning the different emotes they can use while playing Don't Starve Together.
Since the Gesture Wheel is a client mod, it will not affect other players; however, when players press "G" with it installed a wheel of emotes will show up.
Players will be able to hover over the emote they would like to express and will also see the command necessary to use the emote under it. Once the emote has been selected, the character will immediately begin expressing the emote.
Do you want absolutely every single item in the game, access to god mod, access to 1-Shot mechanics, creative mode and more? Well, look no further than Fix for Too Many Items.
Fix for Too Many Items is mostly helpful for those who want to AFK farm and will remove the majority of the fun in the game. So, I would recommend not using it when you're playing Don't Starve "for reals."
Family members always make fun of me for how much I love to grind while playing video games and it was a bit frustrating that Don't Starve doesn't have any ways of grinding really.
Well, it's time to change that with the Level Up! Mod which allows players to receive extra stats (Damage, Health, Sanity and Hunger).
Players will be able to set how easy they would like it to be to receive bonus stats and can also make their character start with reduced stats to start off with.
If you're on a very large server, chances are you're bursting down Seasonal Giants like the Deerclops and Moose/Goose or even the Bee Queen very quickly. Think about getting Dynamic Health Scaling which will affect the following Mobs:
🎮 Deerclops
🎮Moose/Goose (and Mosslings)
🎮 Bearger
🎮 Dragonfly
🎮 ToadStool
🎮 Bee Queen
🎮 Reanimated Skeleton
🎮 Varg
🎮 Ewecus
🎮 Koalefant
🎮 Beefalo
🎮 Volt Goat
🎮 Buzzard
🎮 Rock Lobster
🎮 No Eyed Deer
🎮 Pigs
🎮 Merm
🎮 MacTusk
🎮 Slurtle
🎮 All spiders
🎮 Tall Birds
🎮 Krampus
🎮 Tree Guard
🎮 Spider Queen
🎮 Shadow pieces
🎮 Houndius Shootius
CHARACTER SPECIFIC MODS
There's nothing better than being able to buff one of your favourite characters, especially if there's an annoying aspect about their kit that could be easily fixed.
The following are my favourite mods for specific characters:
Abigail can be annoying to deal with, especially if players aren't good at quickly switching from their mouse to their keyboard and vice versa.
While the Wendy Rework helped make Abigail so much more useful, Abigail's new keybinds will let Wendy players use X to summon or return Abigail and use R to rile her up or soothe here.
Of course, the keybinds are configurable, so if players have something else the would like to use or have gaming mice, they can use one of those buttons or keybinds instead.
I have to say that the Mini Wurt Rework is probably one of the first Mods I have ever tried that I didn't know I needed.
Being someone who changes characters fairly frequently in order to make the most out of things, I have recently become a Wurt main.
Wurt is a fun character but just like Webber, while her followers are powerful, there are some times where you have to question… what was the point of bringing this character into The Constant again?
The Mini Wurt Rework Mod actually provides players with a number of reworks including:
🎮The Merm King's effects apply to both the overworld and caves, meaning that players will not have to place two Merm Kings.
🎮The Merm King's rewards will change depending on the king of fish and the weight of the fish. The better the fish, the better the reward with a focus on weight.
🎮Wurt no longer loses Sanity when she is wet or holding wet items.
🎮For balance purposes, Wurt gains wetness 50% faster than the default.
🎮Wurt overheats faster when she is dry and she is slower when wet, making Waterballoons especially helpful in Summer.
🎮The Merm King no longer eats Corn Cod or Popperfish as they include fish in their recipe.
🎮Fish in Wurt's Inventory doesn't spoil faster when wet.
🎮Merms and Merm Guards will return to their homes if they are left too far and not fed recently. If players do not use the Mod, Merms will remain in the place they are currently when they are no longer fed.
🎮The Merm King will not spawn Merm Guards when fed while starving.
🎮The Marm King's Guards will return to him if something dies before he finishes summoning.
🎮The Royal-In-Progress's name can now be seen properly in caves.
I will say that I don't feel that Winona is in particular need of a buff, but I won't say no to some extra stats when I can get them.
The Minor Winona Buff will provide players with:
🎮50 extra Hunger
🎮50 extra Health.
🎮5% damage reduction
🎮5% bonus damage
🎮5% movement speed
This one is quick. Want to drop a soul on the ground? Hit R. Bam, you're done and it's quick and easy!
FREQUENTLY ASKED QUESTIONS ABOUT MODS
WHAT IS THE DIFFERENCE BETWEEN A CLIENT MOD AND A SERVER MOD?
Client mods are mods that only affect the player's client who downloads and enables it. Client Mods most commonly change HUD visuals, alter graphics, and can allow easy access to console commands.
Client mods cannot customize character or mob gameplay, so it's best to think of these as the mods that can strictly change visuals without altering gameplay.
Server mods, on the other hand, are anything and everything in between, including new characters, new mechanics and changes to the way that the game mode ultimately functions.
While server mods can affect the way things are displayed when it comes to mobs, there doesn't seem to be a server mod that alters the actual HUD.
CAN I RUN A NEW MOD ON AN ALREADY ESTABLISHED SERVER?
Yes, players may run new mods on already established servers; however, mods may crash if they are incompatible. I would recommend making a copy of your DST savefile. The best guide I found on how to do this is here.
CAN I STOP RUNNING A MOD ON A SERVER?
Similar to running a new mod on an already established server, players run the risk of the game crashing when mods are deactivated. If you're not experiencing any issues with lag, or the mod isn't causing any noticeable harm to gameplay don't disable it. Though, there's no risk with testing it on a copy of the server.