Kirby and the Forgotten Land is by far one of the most unique Kirby games in the franchise, providing players with the most abilities I have personally seen both with the standard abilities that are available to players as well as the new Mouthful Mode that will allow players to take on abilities from larger objects that they wouldn't have been able to absorb in earlier games.
If you played the Demo of Kirby and the Forgotten Land, you would have experienced the first Mouthful Mode that was in the trailer of the game, Car Mouth. Although I watched the trailer of Kirby and the Forgotten Land, being the main reason why I was so hyped for the game, it wasn't until I actually got my hands on the ability while on a Twitch Livestream that my jaw dropped and was immediately sold.
As a person who would pretty much buy any Kirby game that came out, simply because I am enthralled with this pink little fluff ball, I have to say that Kirby and the Forgotten Land is by far my favourite game to date and has immediately sold me onto the future of Kirby.
Admittedly, in the past I have always found that Kirby games are a bit too short, providing players with a bit less gameplay than other games, Kirby and the Forgotten Land has a decent amount, providing players with a full 6 Worlds and countless Missions they must complete in order to actually acquire a 100% complete.
Now, these aren't the only aspects that make this game unique. Players who are at least mid-way through the game will realize that they can actually upgrade all of their abilities by using Star Coins and Rare Stones. The only "issue" is that while players can upgrade their standard abilities, they will not be able to upgrade any of the Mouthful Modes. I will say, this game would be much too long if players were able to do that though, as the game is already quite long if players were to upgrade all of their abilities and unlock all of the hidden achievements in the game.
Now, to remain concise, I will head through all of the different types of Mouthful Mode abilities that are available for players to utilize on their journeys.
ARCH MOUTH
Although quite a late game Mouthful Mode ability, players will be met up with flying challenges that require them to steer an Archway in all directions.
The Arch Mouth is a fairly rare Mouthful Mode to utilize and tends to be tied to rescuing a Waddle Dee.
Players will have the ability to dash to attack enemies, essentially making the Arch Mouth spin.
There is a bit of a cooldown on this attack, so players will have to be strategic and make sure not to hit the attack too early as this can lead to them taking damage.
That being said, if players see a crack in a wall, they will be able to destroy it using this Mouthful Mode.
BIG-RIG MOUTH
One could argue that the Big-Rig Mouth is purely a cosmetic Mouthful Mode as it is only used in one level and doesn't really have it's own moves.
Players will have to steer this mode like a car and then will be taken into a series of CTA attacks.
As this isn't the most profound Mouthful Mode, I will not go further into it and you will have to discover it for yourself.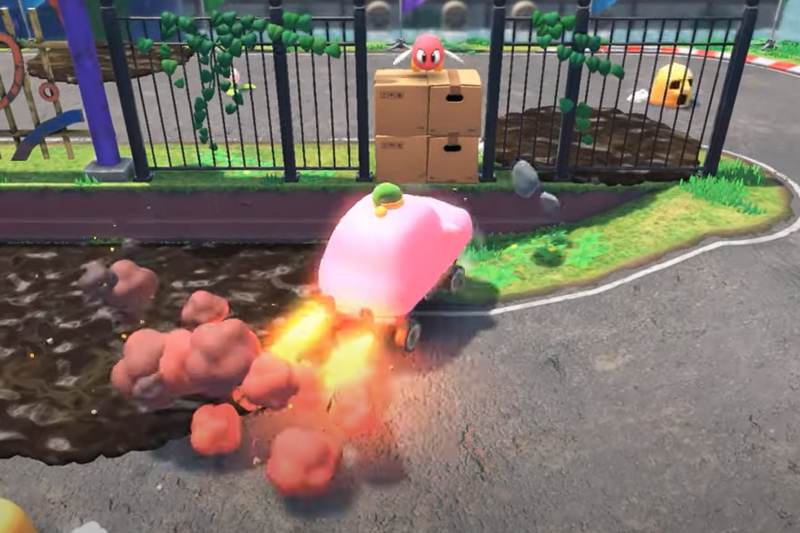 CAR MOUTH
Car Mouth was the first Mouthful Mode that was promoted to players and quite frankly is one of the most fun Mouthful Modes to be in.
Although I'm not much of a racing fan and quite often get frustrated with challenges that require beating the clock, I do have to say that I thoroughly enjoyed the puzzles that had to do with the car, minus the races.
While in Car Mouth players will be able to crash through metal boxes, will be able to smash rocks, will be able to crash through walls and will be able to jump across platforms.
The latter is the most important aspect of the Car Mouth as there are a number of Waddle Dees that require saving simply because they are behind a wall that requires a player to crash through them (which tend to be after a jumping puzzle.)
Whenever you are in the Car Mouth Mouthful Mode always make sure to be looking around for cracks in walls as they will commonly appear around the Car.
CONE MOUTH
I have to say that Cone Mouth is my least favourite Mouthful Mode as players will only have the opportunity to crash down after they have jumped with Cone Mouth.
That being said, players will be able to reveal rewards under cracked ground/earth and will be able to burst Pipes that have a crack in them in hopes of getting to a higher platform.
The reality is that many of the puzzles that require players to crack open Pipes are tricky and will lead players to fall to their death, especially if they are in a Treasure Road.
While I'm happy to have another Mouthful Mode to play with, I still can't say I'm the biggest fan of the actual gameplay using Cone Mouth.
In order to acquire Cone Mouth players will have to suck a Traffic Cone or Pylon.
DOME MOUTH
I have to admit that Dome Mouth seems to be the most useless of all of the Mouthful Abilities, though players will be able to unlock several important rewards by using it such as Capsules and Waddle Dees.
Essentially Dome Mouth allows players to suck up a large half-sphere objects, requiring players to wiggle their control stick quickly enough to remove it from it's place.
Dome Mouth has no attacks and simply is a removal Mouthful Mode.
LIGHT-BULB MOUTH
Light-Bulb Mouth is found in some of the trickier levels to complete and does not have any attacks, requiring the player to remain as safe as possible.
Luckily for players whenever they are in the Light-Bulb Mouth Mouthful Mode there are only Ghost Goros around, being the spiked creatures that follow you when illuminated.
In order to avoid being hurt by these Ghost Goro, players are going to want to stop illuminating themselves for a short period of time until they reset themselves. This is quite simple and shouldn't provide the player with any problems.
Oh yes! And players will have to locate Solar Panels and illuminate themselves next to them for long enough for a battery to charge. This typically will open up an area and cause platforms to appear.

PIPE MOUTH
Pipe Mouth is a Mouthful Mode that requires players to swallow cylindrical pipes. While the Pipe Mouth does not technically have any attacks, players can crash through mobs, immediately defeating them, though players should be wary that spikes, poison and other forms of ground damage will hurt them. This includes Goros.
Players will have to complete a series of jumping puzzles when in Pipe Mouth, needing to be aware of when they jump as the height at which they jump will factor into the height that they land in, opening up a series of puzzles that are quite fun in the game.
That being said, players can crash through walls when in Pipe Mouth, so make sure you're always aware of cracks in walls when in Pipe Mouth to ensure that you're able to locate all of the hidden treasures, whether they are Waddle Dees or Capsules.
RING-MOUTH
Ring-Mouth is one of my absolute favourite Mouthful Modes to use and is obtained by sucking up big "O" shapes.
Typically these O's are found on their own, but players will have to be clever in some levels, finding objects that look like them, such as the clock in Alivel Mall (Staff Side) to actually get Ring-Mouth.
Ring-Mouth works in a few different ways. It has an attack that allows players to blow a gust of wind in the direction they are facing. Typically this is used simply to defeat mobs, but it can also cause windmills to spin and can also be used if players locate a boat.
By far the boat mechanism is one of the most interesting parts to Ring-Mouth, essentially allowing players to jump onto the boat and blow gusts of wind to move forward.
The boat in combination with Ring-Mouth is one of the most powerful Mouthful Modes as players will simply be able to crash into enemies to defeat them and will be able to crash through walls that have cracks in walls to destroy them.
Enjoy every moment you can as Ring-Mouth is quite a fantastic Mouthful Mode.
ROLLERCOASTER MOUTH
I have to say that Rollercoaster Mouth is more of a let down for me than anything. As someone who is a fanatic of Rollercoasters I tend to get very excited whenever I see Rollercoasters in a game and I was truly excited when I found out this was a Mouthful Mode when I got into Welcome to Wondaria.
The main reason Rollercoaster Mouth was a let down for me was because it only has one function… tilt right or left.
Not only that, the rollercoaster tracks tend to be basic and don't have any loops or corkscrews…. or at that, barely any helixes.
That aside, take a chill while you're Rollercoaster Mouth as you're simply going to want to dodge enemies and press buttons when you're in it by tilting onto them.
Note, players will not be able to defeat any enemies while in this mode, so you're just going to want to dodge them altogether.
SCISSOR-LIFT MOUTH
Shockingly, I actually enjoy the puzzles that have to do with Scissor-Lift Mouth.
Players will often know that there is a Scissor-Lift near by to suck up if there is a track, though this is not always the case.
With Scissor-Lift Mouth players will have two tasks to do, move right or left and extend up or down.
Scissor-Lift Mouth will allow players to jump onto high platforms with it by extending to it's taller form and spitting it out.
Not only that, but Scissor-Lift Mouth will allow players to press buttons that are above them.
While Scissor-Lift Mouth doesn't technically have an attack, if players are under an enemy they can extend their height in order to crash into them, essentially defeating them. Be wary, you will not be able to defeat meteors/fire balls or Goros this way and will simply take damage.
STAIRS MOUTH
I thought I wouldn't like Stairs Mouth the first time I obtained it, but I can't say that that's true anymore.
Stairs Mouth actually provides players with a good amount of enjoyable gameplay and has three purposes.
Players will obviously be able to move Staircases in order to climb up higher, which to me isn't the most interesting, but players will also be able to solve puzzles that are connected with buttons on the floor, being the most interesting.
Essentially, players can utilize Stairs Mouth to leave weight on buttons that would normally reset when Kirby is not standing on them, leading to a good variety of puzzles that require players to use stairs that are facing the correct way to do so.
The most notable puzzle that requires Stairs Mouth is the Stairs Mouth Treasure Road, which requires players to rearrange all of the stairs in order to unlock the next area.
In this level players will have to note what direction they will be spitting the stairs in as players may assume that they can hold buttons down with a certain Staircase only to keep spitting it the wrong way.
The way that the spit function works with Stairs Mouth is it will always shove the stairs a bit forward, so make sure you grab the right Stairs when you're doing this.
The final task players will be able to perform with the Stairs Mouth is crashing into cracked walls and metal boxes.
Players will be able to drop the stairs to do this, also being able to defeat enemies this way.
STORAGE MOUTH
Storage Mouth is extremely similar to Dome Mouth and simply requires players to either locate a Locker or a Storage Unit in order to knock it down by rotating their control stick quickly enough.
While not the most impactful Mouthful Mode, it will unlock various secret passages.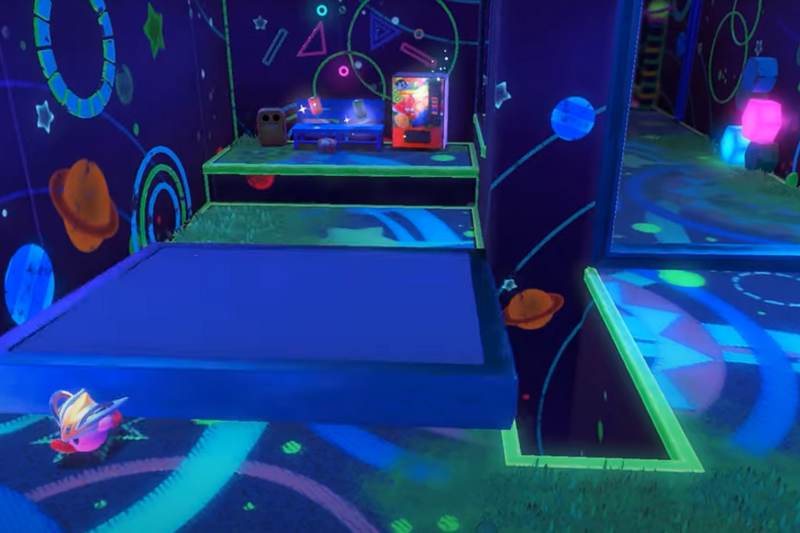 VENDING MOUTH
Vending Mouth is another top contender for me and quite frankly I wanted much more Vending Mouth gameplay as it is quite a fun ability to have.
Admittedly, Vending Mouth doesn't have a whole lot of utility in the grand scheme of things, being that it only has a the ability to shoot soda cans at enemies, it can destroy metal boxes and press buttons using it.
A nice little aspect of Vending Mouth is that every so often a soda can will drop on the floor, allowing players to consume it in order to heal themselves a bit.
WATER-BALLOON MOUTH
The Water-Balloon Mouth is my favourite ability to use simply because how funny I find it.
Players will have to suck on a water pipe in order to gain access to Water-Balloon Mouth and will simply have a single purpose… shoot water!
While not the most complicated, Water-Balloon Mouth is quite fun to use as it will allow players to defeat enemies, break metal boxes and even push large mobs back to crash into walls for you.
Admittedly, the Water-Balloon Mouth does not have enough power to actually break walls, but when paired with large objects it does.
Whether it's for cleaning up an area, defeating mobs that otherwise couldn't be defeated or just for mucking about… I love the Water-Balloon Mouth and want more gameplay with it!
CONCLUSION
While there are so many Mouthful Modes to choose from players are all going to have a favourite! I'm curious, what's your favourite?