Surprise, surprise! There's a new boy in The Constant and his name is Walter!
Walter is considered to be a challenging character to play, similar to Wes, though Walter is much more entertaining to play as, unlike Wes, he actually experiences many more penalties for the trade-off of having some of the most interesting weapons and skills in Don't Starve Together.
While Walter is a child, like Wendy, Webber, and Willow, he doesn't share similar stats with them and should be considered the "hard-mode" child of The Constant.
Walter is available for all players to use for free when purchasing Don't Starve Together and does not require any spools to weave. Unfortunately, Walter is not a playable character in single-player Don't Starve (DS, RoG, SW and HAM) so, don't get your hopes up too high for this rad guy.
WALTER'S STATS
Hunger: 110
Sanity: 150
Health: 130
SAY HELLO TO THE TRUSTY SLINGSHOT
Much like characters like Wigfrid or Maxwell in single-player, Walter spawns into The Constant with his own weapon the Trusty Slingshot.
Unlike the characters mentioned above, the Trusty Slingshot has infinite durability but must be loaded with different forms of ammo as the trade-off.
If players lose Walter's Trusty Slingshot for any reason, they can craft another one using the Fight Tab with 2 Mosquito Sacks and 1 Twig.
One of the best perks of using a Trusty Slingshot is that players will not draw aggro away from other players or friendly allies such as Pigs, Merms, or Rock Lobsters, making the use of the Trusty Slingshot exceptionally powerful against bosses such as the Bee Queen, Deerclops, Moose/Goose or Antlion.
TYPES OF AMMO FOR THE TRUSTY SLINGSHOT & HOW TO CRAFT SLINGSHOT AMMO
To my surprise, every time players craft themselves ammo for the Trusty Slingshot they will receive 10 pieces of ammo and can stack up to 60 rounds at a time.
While types of ammo that deal higher damage technically cost more than types of ammo that deal less damage, at the moment it seems like the ammo is fairly balanced.
Not only do different types of ammo deal different amounts of damage, but some ammo actually causes different status effects to affected mobs, making the Trusty Slingshot that much more powerful.
All of the types of ammo can be crafted using Walter's Slingshot Ammo Tab, though players can also use the Melty Marbles trinket to deal 59.5 damage, without being able to craft them.
The following are all of the types of ammo players can craft and use in Don't Starve Together:
POOP PELLETS
Requiring a Science Machine to prototype players can craft Poop Pellets using 1 Manure, Poop Pellets are an extremely handy type of ammo to have in your kit.
While Poop Pellets deal no damage, Poop Pellets do force non-boss mobs to lose aggro upon being targetted.
Players can use Poop Pellets to disengage enemy mobs when they want their friendly allies to fight for them or if ally players are unable to take aggro away from Walter.
Walter's playstyle requires him to play as far away from enemies as possible as his ammo cannot steal aggro.
FREEZE ROUNDS
Requiring a Prestihatitator to prototype, Freeze Rounds take 1 Moon Rock and 1 Blue Gem to craft, making it one of the more expensive types of ammo out there.
Freeze Rounds deal no damage, however, each Freeze Round is equivalent to 2 Ice Staff hits, making Ice Rounds much more powerful than an Ice Staff.
Unlike Poop Pellets, Freeze Rounds can be used on bosses, though it should be noted that unlike the Ice Staff, Freeze Rounds will not de-aggro the aggressive mob (unless aggro is taken by a fellow player or another mob).
Realistically, Freeze Rounds should always be kept on hand as they are much more effective than Poop Pellets, though I wouldn't blame you for using your Blue Gems for something else, at least at first.
Freeze Rounds experience diminishing returns as an Ice Staff would, though are still more effective as the diminishing returns still treat Freeze Rounds as 2 Ice Staff hits.
PEBBLES
Arriving into The Constant with 10 Pebbles in his inventory already, Walter will be able to craft Pebbles straight out of the gate using 1 Rock without the use of a Science Machine or other crafting station.
Pebbles deal 17 damage per hit.
Unfortunately, Pebbles are fairly useless past the first few days as the damage Pebbles deal is far too low to easily kill a mob, not even being able to secure a kill against a small animal, though being able to safely kill Bees.
SLOW-DOWN ROUNDS
Requiring a Shadow Manipulator to prototype, Slow-Down Rounds require 1 Moon Rock and 1 Purple Gem to craft.
Slow-Down Rounds only deal 17 damage, but they will reduce the target's speed by a third for 30 seconds.
The cool thing about Slow-Down Rounds is that similar to Freeze Rounds, Slow-Down Rounds can be used against bosses and are extremely useful against seasonal giants, especially in group fights where folks are still getting used to kiting patterns.
The only thing that Slow-Down Rounds are kind of missing is a slow on attack speed, though in reality, that might make them too powerful to use.
Quite frankly, Slow-Down Rounds are a bit pricy and I wouldn't use them too regularly, though I can't deny how nice it is to be able to escape from extremely strong mobs whenever needed.
GOLD ROUNDS
Requiring a Science Machine to prototype, Gold Rounds take 1 Gold Nugget to craft.
Gold Rounds will deal 34 damage equating to the same amount of damage a regular Spear does and making them an average form of damage.
While it might seem that Gold Rounds are expensive, players can easily collect Gold Nuggets by using the Pig King's trades in order to regularly fuel their Trusty Slingshot.
Gold Rounds are a staple of Walter's kit as they are by far the most accessible form of ammo until players reach the mid-to-late game and begin farming Marble regularly.
MARBLES
Not to be confused with the Melted Marbles trinket, Marbles require an Alchemy Engine to prototype and need 1 Marble to craft.
Marbles deal a total of 51 damage per hit, making them on par with Tentacle Spikes, almost equal to the Ham Bat and better than Wigfrid's Battle Spear.
As many players dislike Marble Armour and will not actually see much use of using Marble for anything else, players may want to focus on using all of their Marble to fuel Walter's thirst to wreak havoc.
Marble Tree farms aren't very difficult to set up in Don't Starve Together and unless you're building an endless supply of Marble Armour or End Tables, chances are you're going to have plenty lying around your base.
As soon as you're in the mid-to-late game, switch from using Gold Rounds to using Marbles, because you're sure as hell not going to regret the amount of damage you deal when using them.
CURSED ROUNDS
Requiring an Ancient Pseudoscience Station to craft, players are actually unable to prototype Cursed Rounds and will need to be standing next to any Ancient Pseudoscience Machine (does not need to be repaired and can be a Broken Ancient Pseudoscience Machine).
Unfortunately Cursed Rounds are quite costly, requiring 1 Thulecite Fragment and 1 Nightmare Fuel to craft.
Cursed Rounds deal 51 damage and have a 50% chance to summon Shadow Tentacles similar to Thulecite Clubs, though Cursed Rounds deal less damage.
The biggest issue with Cursed Rounds is that they are most effective with teammates or friendly allies around. Reason being? Enemy mobs tend to walk out of Shadow Tentacles before they get a chance to attack the mob in question.
To use Cursed Rounds to their full potential, I would always recommend training some Pigs, Merms, or Rock Lobsters to ensure that the Shadow Tentacles can unleash their 34 Damage per hit because 34 Damage is nothing to joke about!
If players do not have access to allies or teammates, I would recommend sticking to your Marbles as there would be no real benefit of using Cursed Rounds.
WALTER IS A GREAT LITTLE CAMPER
Walter has a few little perks that aren't necessarily the most useful, however, it's a good idea to keep them in mind. Some camping traits include:
🎮 Walter can cook over a fire faster than others, similar to Willow, cooking at a speed of 0.5 seconds, while others take a full second
🎮 Walter loses half the amount of Hunger while Sleeping
While both of these perks aren't the most helpful, especially if you're someone who knows how to manage their Hunger, they do simply provide players with that little extra ease.
WALTER CAN PITCH HIS OWN CAMPER'S TENT & TEAR IT DOWN INTO A TENT ROLL
Walter, being the bright and strapping camper that he is, actually has access to a new craftable resource called the Tent Roll.
Tent Rolls require a Science Machine to prototype and cost 4 Twigs, 2 Ropes and 1 Straw Roll to craft.
Once placed, Tent Rolls will become a Camper's Tent and will provide players with:
🎮 1 Sanity per second
🎮 1 Health per second
🎮 Reduces Wetness by 1 per second
🎮 Warmer body temperature up to a maximum of 40 degrees (perfect for Winter)
🎮 Will remain the same body temperature as when entered if over 40 degrees, making it suitable for Summer
Players will need at least 26 Hunger before they enter a Camper's Tent as they will lose 1 Hunger per second and only 0.5 Hunger per second if they are Walter.
When players are done with the Camper's Tent they can dismantle it and make it back into a Tent Roll, allowing players to relocate it if need be.
WALTER HAS HIS OWN LITTLE PET, WOBY
One of my favourite perks to Walter is his pet, Woby.
Woby will enter The Constant with Walter, providing players with 9 extra inventory slots, similar to Chester.
So why use Woby when you can so easily just find and use Chester? Well, because Woby cannot be killed and… she's actually much more than just a portable inventory.
Woby has two forms, a small and a big form, both being able to provide players with portable inventory, though players will most likely want to keep Woby in her big form as it is more useful.
Having a maximum of 50 Hunger, Woby can only eat Monster Foods and will act as a domesticated Buffalo would, gaining speed based on her Hunger levels.
When her Hunger is between 35-50 she will move at a 10, 16.5-34 she will move at a 9 and 1-33 she will move at an 8.
As soon as Woby's Hunger is down to zero she will return back to her small size, keeping all of the items in her inventory.
Woby's Hunger depletes shockingly slow, only losing 20 Hunger per day, meaning that she will stay big for about 2.5 days.
As a habit, players should try to feed Woby a piece of Monster Meat or two each night to ensure that she stays big, though if you're running low on resources, this may not be an option.
I would recommend using big Woby to get around as she is by far one of the fastest modes of transportation in Don't Starve Together and can avoid the slowness caused by Suspicious Marble Pieces, statues and other heavy objects, though players can also use Woby to deal 10 damage to mobs while charging.
The only issue when it comes to fighting with Woby is the fact that she chucks off players when they receive damage and will run away and cower until the mobs that are attacking Walter are killed.
Truthfully, I would just use Woby as a glorified transportation inventory space and ignore the fact that she can deal damage to mobs. Realistically, Walter can deal a great deal of damage all on his own with his Trusty Slingshot.
Unfortunately, unlike Chester, Woby cannot be aggro'd by enemies, though I guess that's also a bit of a blessing since it means that you will never have a problem with your items being dropped to the ground.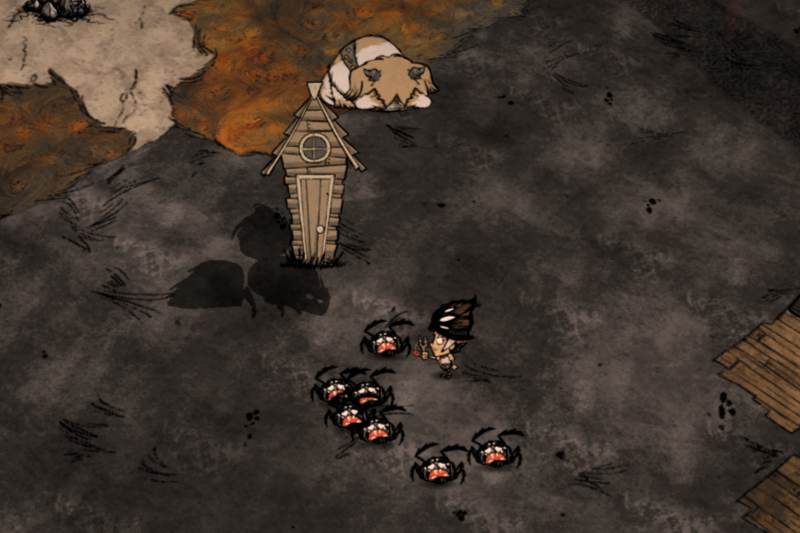 WALTER'S SANITY IS A BIT OUT OF WACK, BUT FUN TO PLAY WITH
It's a bit difficult to explain how Walter's Sanity works as Walter loses Sanity based on the amount of damage he receives.
Say Walter takes 4 damage, well he would immediately lose double that in Sanity, equaling to 8 Sanity lost.
Walter will always lose double the amount of Sanity per the amount of damage taken, though players can use Walter's unique item the Pinetree Pioneer Hat to half the amount of Sanity he loses.
Pinetree Pioneer Hats require 4 Silk to craft and provide players with 2 Sanity per minute, 20% Wetness resistance and 60 seconds of Overheating protection in Summer.
It should also be noted that Walter will continuously lose Sanity when his health is not at full, amounting to about 12 Sanity per minute.
Unlike most other characters, Walter does not receive Sanity loss from most Sanity Auras, exterior factors or clothing including:
🎮 Dusk
🎮 Houndious Shootius
🎮 Worm Holes
🎮 Monsters with Insanity Auras
🎮 Night / Darkness (though will still be attacked by Charlie)
🎮 Night Lights
🎮 Nightmare Lights
🎮 Rain
🎮 Seaworthy
🎮 Spiderhat
Due to the fact that Walter does not take Sanity loss from the above items, players can technically use items like the Spiderhat indefinitely to control Spiders, well if you have enough.
Though Walter will not experience Sanity loss from any of the above, he will still lose Sanity when using:
🎮 Dark Sword
🎮 Deconstruction Staff
🎮 Eating Evil Flowers (and some other foods)
🎮 Fire Staff
🎮 Ice Staff
🎮 Mooncaller's Staff
🎮 Night Armour
🎮 Nightmare Amulets
🎮 Starcaller's Staff
🎮 The Lazy Explorer
The best way to put it is, Walter is still scared of shadow magic and will lose Sanity due to his fear.
Unfortunately, Walter does not receive any Sanity benefits from any dress items (other than his Pinetree Pioneer Hat), due to his disadvantages, however, he will still receive a Sanity boost from some magic items including:
🎮 Belt of Hunger
🎮 Chilled Amulet
🎮 Construction Amulet
🎮 Life Giving Amulet
🎮 Magiluminescence
🎮 The Lazy Forager
🎮 Thulecite Suit
In reality, magic items are much too expensive to use regularly for Sanity, so I would check out the list below to help keep your Sanity up.
WAYS TO HELP WITH WALTER'S SANITY
Notably, due to the fact that Walter has some variations on his ability to gain Sanity, players may be interested in the fact that Walter gains 6 Sanity per minute when there are more than 5 Trees within a 2.5 tile diameter around him.
Although 6 Sanity doesn't seem like a whole lot, gaining 6 Sanity passively while sitting at your base is a great perk to have, so make sure you're either basing in a Forest or plant trees by your Fire Pit, Campfire, Endothermic Fire or Endothermic Fire Pit.
Speaking of fires… Walter can tell stories when sitting by Campfires and Endothermic Fires by right-clicking them, providing players with 10 Sanity per minute to himself and all allies.
While telling stories by a Campfire or Endothermic Fire is a great perk for Walter to have players will not be able to tell stories by a Fire Pit or Endothermic Fire Pit, making this perk a bit more expensive to use than Wendy's Sisturn.
Realistically, Walter makes the use of Endothermic Fires and Campfires useful again, since most people would rather have a permanent structure.
c
WALTER IS ALLERGIC TO BEES
One of the funniest disadvantages Walter has is the fact that he is allergic to bees and thus will take 10 extra damage per hit, including Bees, Killer Bees, Grumble Bees and even the Bee Queen herself.
Players may think to put on some armour to protect themselves from bee stings, however, the only thing that will reduce the amount of damage is a Bee Keeper Hat, acting the same way it would for another player.
WALTER'S FAVOURITE FOOD
Staying on theme with the rest of Walter, his favourite food is Trail Mix, requiring:
At least one Roasted Birchnut (a maximum of 2)
At least one Berry (a maximum of 3)
Players can include 1 Filler (including Ice and Twigs) or 1 Fruit to the mix, though my recommendation for this recipe is 1 Roasted Birchnut, 2 Berries and 1 Ice or 1 Twig.
Eating Trail Mix will provide Walter with 15 extra Hunger.
IS WALTER ANY GOOD TO PLAY IN DON'T STARVE TOGETHER?
Walter is a shockingly difficult survivor to play in Don't Starve Together simply due to the fact that his Sanity is heavily tied to the damage he takes.
Walter requires a skilled player to choose him, or at least a player who understands how to build all kinds of weapons and armour. Though, if players have a good handle on controlling Sanity, Walter might be a cakewalk for you.
Truthfully, there are so many perks to playing Walter and I can see him becoming one of my main choices in the future, though for now… I think I'm going to stick to my regular Winona or Wurt.
CHARACTERS TO PAIR WALTER UP WITH
There really aren't any characters that stand out to me that would pair well with Walter, though I would obviously recommend the stereotypical Wickerbottom as she will easily provide players with supplies of Sanity foods and foods for healing.
Otherwise, Walter would simply benefit from having strong survivors by his side like Wolfgang, WX-78 or Wigfrid who can take aggro of enemies while Walter uses his Trusty Slingshot against them.
Walter could potentially team up with Webber for his neverending amount of Silk and with the help of a Spider Hat the team can really be a dynamic duo, killing whatever they need to kill with Spiders.
So what do you think? Are you a fan of Walter? Have you given him a try yet? Let me know in the comments below.
WALTER'S FAVOURITE FOOD (DON'T STARVE TOGETHER)
If players are looking for more stats from food when it comes to Walter, they should really feed him Trail Mix.
Trail Mix requires:
1 Roasted Birchnut
1 Cooked Berries
1 Fruit
1 Filler
Instead of providing 12.5 Hunger, they will provide Walter with 27.5 Hunger.