I stumbled upon the Pig King very early on in learning how to play Don't Starve Together and have to admit that it took me a solid amount of time to figure out what the Pig King was for.
Upon first glance, the chunky Pig King seems like he would be a foe, especially with his Pig minions chasing characters like Webber, Wurt and Wortox. The furthest thing couldn't be true about the Pig King though, as the Pig King proves to be an asset for Don't Starve players in all versions of the game.
The following guide will take you through everything you need to know in regards to the chunky, yet funky, large and in-charge Latri– Pig King.
DOES EVERY MAP HAVE A PIG KING?
Every Sandbox version of this game will have a Pig King, though some adventure maps may not contain a Pig King in single-player Don't Starve.
Players can force the Pig King not to spawn in the settings of the game, though I would recommend against making this decision as the Pig King can be especially helpful as days stack up.
CAN THERE BE MULTIPLE PIG KINGS?
No, there cannot be multiple Pig Kings in a single Don't Starve world.
WHERE IS THE PIG KING?
The Pig King is often located in an area of The Constant called the Pig Villages. Pig Villages spawn in the Grasslands or in Forest biomes and often contain between 5-9 Pig Houses which players can deconstruct with hammers. There is a maximum of 5 Pig Villages that will be splayed all over the overworld, though there can be as little as 1 Pig Village.
Pig Kings are usually surrounded by Obelisks, which will raise and block the player if their Sanity is below 15%. Players can use these Obelisks as protection from Hounds and other terrifying monsters, however, in my opinion, the Obelisks are more of an annoyance than a help.
WHAT DOES THE PIG KING DO?
The Pig King has a few different uses, including trading players Gold Nuggets for a variety of items and in Don't Starve Together players will also receive pieces of Candy that players can eat during the Hallowed Nights event that takes place around Halloween each year.
During the Hallowed Nights event, players will also receive a boost in Candy if they are wearing a Halloween Costume Skin. Halloween Skins include the Pig Guard Costume Top, Dragonfly Costume Top, MacTusk Costume Top, Rook Costume Top, Volt Goat Costume Top, Treeguard Costume Top, Krampus Costume Top, Deerclops Costume Top and Batilisk Costume Top.
CHALLENGING THE PIG KING (DON'T STARVE TOGETHER)
Don't Starve Together players also have access to the Golden Belt, which was introduced during the Year of the Pig, however, it has been permanently implemented in the game. When players hand the Pig King the Golden Belt they will initiate the Pig King Wrestling Match which allows players to receive Lucky Gold Nuggets (during the event) and Gold Nuggets and Clout Snouts (outside the events).
There are a few different conditions that must be met before the Pig King can be challenged for a wrestling match, including that the Pig King is awake, that there are at least 2 real-life minutes before nighttime, that nothing is built in the Pig King's area (what a Diva!) and that the players are not currently in a Hound wave or is smouldering or burning.
Upon challenging the Pig King all Obelisks will disappear and four Elite Pigs will appear. To complete the minigame players must collect Lucky Gold Nuggets (or regular Gold Nuggets out of the event) while avoiding being smacked by the signs wielded by Elite Pigs. If players or Pigs get attacked by signs they will drop one Gold Nugget, however, if the player or Pig is holding a sign the being in question will simply drop the sign and no Gold Nuggets.
Wrestling matches will last 10 rounds lasting 6 seconds each and players will receive rewards based on the amount of Gold Nuggets they pick up. The following are the amounts of Gold Nuggets players will receive:
| Required Gold | Rewards (During Event) | Rewards (Outside Event) |
| --- | --- | --- |
| Above 60% | 8 Lucky Gold Nuggets | 10 Gold Nuggets & 6 Clout Snouts |
| Above 30% | 4 Lucky Gold Nuggets | 8 Gold Nuggets & 4 Clout Snouts |
| Above 10% | 2 Lucky Gold Nuggets | 6 Gold Nuggets & 2 Clout Snouts |
| Above 0% | 1 Lucky Gold Nugget | 4 Gold Nuggets |
The most interesting reward received is the Clout Snout as using one will summon an Elite Pig that will fight by your side for 10 seconds before disappearing.
Elite Pigs have 500 Health and deal 45 Damage every half-second. Elite Pigs come in especially handy when trying to deal quick damage to tough bosses and Mobs, so get to grinding those wrestling matches if you need an extra hand around The Constant.
Lucky Gold Nuggets can be used to purchase Red Firecrackers, Red Lanterns, Lucky Whistle, Lucky Fan, Tribute Roast, Eight Treasure Mud Pie, Fish Heads on a Stick, or a Lucky Beast Head, Body and Tail. All of these rewards, especially the costume and the food, are worth looking into, especially as many of the foods provide 150 Hunger.

WHAT ITEMS DOES THE PIG KING TRADE GOLD NUGGETS FOR?
There is a long list of items that the Pig King can trade for Gold Nuggets, however, players will not be required to adventure too far to collect said objects.
The majority of objects, Trinkets or Grave Digger items the Pig King trades Gold Nuggets for are based on RNG drops, though players can also trade everyday items to the Pig King for extra Gold Nuggets.
Trinkets/Grave Digger items do have the potential to yield between 2-10 Gold Nuggets, so trading them to the Pig King is considered useful, but extremely unreliable. Everyday items you can trade the Pig King include:
Pig Skin
Slurper Pelt
Eggs (Cooked or Uncooked)
Morsels (Cooked or Uncooked)
Meat (Cooked, Jerkied or Uncooked)
Drumsticks (Cooked or Uncooked)
Leafy Meat (Cooked or Uncooked)
Fish (Cooked or Uncooked)
Batilisk Wing (Cooked or Uncooked)
Monster Jerky (no other "monster foods")
Winter Koalafant Trunk, Regular Koalafant Trunk and Koalafant Steak
Each of the resources above will provide players with 1 Gold Nugget, which doesn't seem like much, however, given how easy it is to farm resources like Eggs, Meat and Fish it should be no problem getting a ton of Gold Nuggets!
I personally trade Monster Meat with birds in Birdcages to get unlimited eggs and since Monster Meat comes in large quantities and can't be used in many recipes. Eggs can always be used instead of Monster Meat in recipes and actually prove to be a lot more beneficial, especially when trying to make healing foods.
If you are hoping to collect lots of gold from the Pig King I recommend placing a spare Birdcage, Ice Box, or even setting up a base next to the Pig King. I've found setting up multiple bases around The Constant for each season is beneficial as it gives you the opportunity to collect specific resources for a time being and then move on when you no longer need them.
Would I recommend setting up a full-time shop next to the Pig King? Probably not, especially because you can't deny the perks of basing in the Oasis Desert, which prevents the chance of Wildfires in Summer. Setting up next to the Pig King for a full season should give you more than enough time to get all the Gold Nuggets you need, though simply having a drive-by will also be good enough.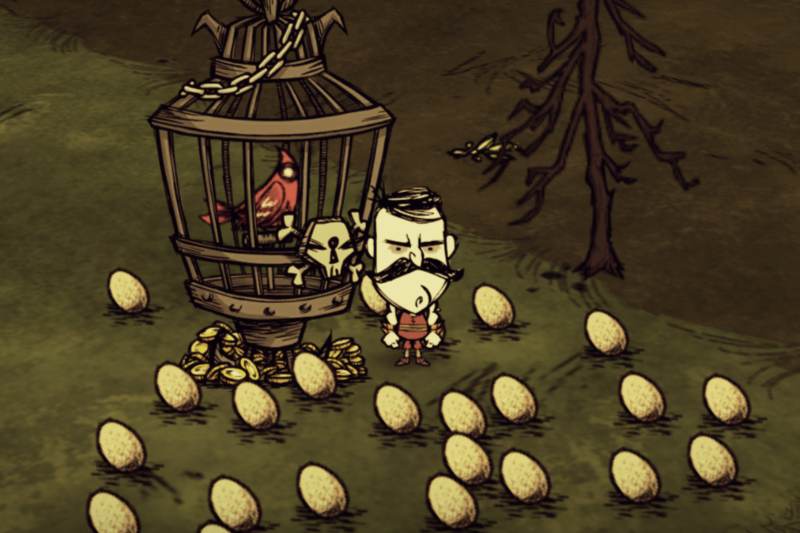 THE PIG KING IS SLEEPING, WHAT'S GOING ON?
Although the Pig King is not afraid of the dark in the same way as his Pig followers, the Pig King still needs his beauty sleep to be able to eat as many offerings as you give the Pig King.
The Pig King will be active during Day and Dusk, however, during Night players should do something else. Similar to a bird in the Birdcage, there are no ways to interact with the Pig King at night.
WHAT ARE THE WEIRD PIGS AND TORCH BY THE PIG KING?
Pig Kings have a chance to spawn next to Pig Torches and Guardian Pigs. Unlike regular Pigs, Guardian Pigs are aggressive and have higher Health.
Guardian Pigs in regular Don't Starve have 300 Health and do 33 Damage, while their counterparts in Don't Starve Together have a maximum of 600 Health.
Also unlike regular Pigs, Guardian Pigs are unable to be tamed by players and only show loyalty towards the Pig King.
Similar to regular Pigs, once a Guardian Pig is killed it will respawn after 3 days by the Pig Torch. If Pig Torches are destroyed no Guardian Pigs will spawn from that area until the Pig Torch is reconstructed.
GUARDIAN PIGS KEEP ATTACKING ME WHEN I TRY TO GET THE BERRIES BY THEM, WHAT DO I DO?
It can be really frustrating if you're trying to get close to those juicy berries and instead of getting something nice to munch on, you constantly end up dying. Well, in any case where you see a Pig Torch, I recommend killing the Guardian Pigs before heading in.
While players can sometimes get away with running in with a Walking Cane and digging up a couple of Berry Bushes, there is quite a high chance that the player will become stun-locked by a Guardian Pig, which may ultimately lead to death. Although I'm not always the biggest fan of moving Berry Bushes, especially if you don't need them, I would at least move Berry Bushes by Guardian Pigs as they are pretty much useless without moving them.
Players can leave Berry Bushes close to non-hostile normal Pigs for easy access to Berries in hopes of making Manure from Werepigs (or slowly with regular Pigs), however, Guardian Pigs are a bit too risky to use when trying to farm out Manure.
MONSTERS CANNOT TRADE WITH THE PIG KING, BUT THEY CAN CHALLENGE HIM!
While Webber, Wurt and Wortox players will not be able to trade with the Pig King, players will still be able to challenge the Pig King to a wrestling match. Wrestling matches can still provide a great deal of Gold Nuggets, making it a great mechanic to grind as any character.
Note that Monsters will only be able to trade with the Pig King during the Hallowed Nights event.