Birdcages are one of the most interesting structures players can build in Don't Starve and Don't Starve Together.
While Birdcages are very expensive to craft, they are unlimited and can provide players with enough food to make starving highly unlikely.
Birdcages are one of the only sources of food who's mechanics do not change in the Autumn, Winter, Spring or Summer.
The following guide will take you through everything you need to know about Birdcages and strategies you can use when you have a Birdcage.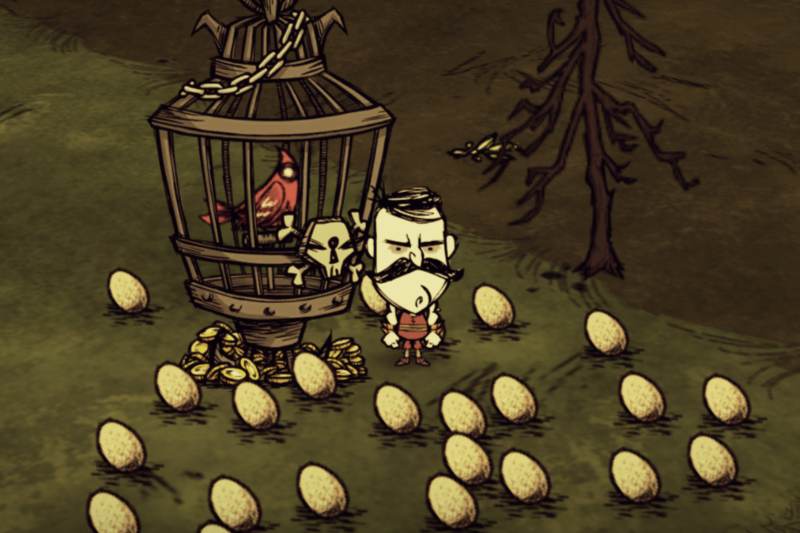 HOW DO YOU MAKE A BIRDCAGE?
Birdcages can be crafted with 6 Gold Nuggets, 2 Papyrus, and 2 Seeds. Birdcages require an Alchemy Engine to prototype; however, Wickerbottom is able to craft a Birdcage with a Science Machine.
HOW DO BIRDCAGES WORK?
A Birdcage is a structure in Don't Starve and Don't Starve Together that can house Redbirds, Crows and Snowbirds.
Birds that are in Birdcages can accept any fruits or vegetables that can be produced using farms. When a fruit or a vegetable is offered to a bird the bird will give back between 1-2 seeds of the same type and also has a 50% chance to drop a regular crop seed.
Arguably one of the best resources to feed your bird is Cooked Monster Meat as feeding your bird any meat, other than Uncooked (Monster) Meats or Raw Eggs, will cause the bird to give you a fresh Egg. Since Monster Meat shouldn't be snacked on and realistically are less useful than the Eggs you will receive from birds.
Players can also feed birds regular seeds to get regular seeds in return. The reason players may want to feed their bird seeds in return for seeds is to refresh their freshness; however, birds should drop enough seeds making feeding your bird seeds unnecessary.
DO ANY MECHANICS CHANGE IN DON'T STARVE TOGETHER (DST)?
Unfortunately, like many other mechanics in single-player Don't Starve (DS, RoG, SW & HAM), some of the more game-breaking mechanics have been removed from Don't Starve Together (DST).
The first mechanic that was changed for Don't Starve Together is that birds will no longer yield seeds when birds are fed seeds. Instead, birds have a 33% chance to produce Guano, which is 1.5x more effective than Manure when used as fertilizer. Feeding seeds to a bird is not recommended while playing Don't Starve Together.
A new mechanic added to birds in Don't Starve Together is that birds must be rotated out every 2-4.5 days or they will die. Since there's no real harm to catching extra birds, I would rotate your birds out before they die or only use the Birdcage as needed.
If a bird dies in a Birdcage it can be harvested as a Morsel. If a dead bird is left in its Birdcage for too long it will turn into a skeleton and turn into Rot. If you are hoping for Feathers from your bird, versus a Morsel or Rot, I would recommend taking the bird out of its Birdcage and killing it by hand.
DOES THE TYPE OF BIRD I PUT IN A BIRDCAGE MATTER?
No, at this point there is no mechanic difference between the different types of birds you can trap in a Birdcage.
CAN YOU FEED A BIRD WHILE IT SLEEPS?
You cannot feed a bird while it sleeps, though taking a bird out of a cage and putting it back in should give you enough time to trade at least one vegetable with the bird before it sleeps again.
Since birds fall asleep at night it is recommended that players focus on giving said birds all the resources they need first thing in the morning or at least before dusk.
WHEN SHOULD I GIVE FRUITS AND VEGETABLES TO A BIRD?
Feeding birds fruits and vegetables is especially useful when trying to farm out a particular food. For example, Wurt can benefit from farming Durian and Wolfgang can snack on Roasted Potatoes to keep his Hunger up.
All characters, other than Wigfrid who can't eat meat, will benefit from farming Dragon Fruit because of its high Health and Hunger yield.
WHAT ARE EGGS USED FOR?
A cooked egg provides players with 12.5 Hunger which typical for the standard filler or low-quality meat. While Monster Meat provides players with more Health (18.75) Monster Meat also reduces a player's Sanity by 15 and Health by 3 when cooked. Realistically, the main things Monster Meat is good for are Meatballs, feeding Pigs and transforming Woodie into his various forms.
EGGS MAKE SPECIAL CROCKPOT FOODS
Eggs can be used for a variety of Crockpot recipes, including foods that heal, foods that satisfy lots of Hunger, and the best part of it is that Wigfrid can enjoy all Eggs and Egg Meals!
While Eggs can be used as filler for Meatballs, players are encouraged to make foods like Bacon and Eggs for its Hunger, and Pierogies or Waffles (HAM) for their Health.
EGGS MAKE PIG KING HAPPY!!!!
Using the Pig King, especially in Don't Starve Together (DST) is extremely useful, especially if players aren't able to load Caves on their server.
The Pig King will not trade any form of Monster Meat for Gold Nuggets since Pigs hate Spiders (Webber), Merms (Wurt), and all other Monsters (Wortox).
EGGS CAN NO LONGER INFINITELY BE REFRESHED
One of the most broken mechanics in Don't Starve was the ability to feed Cooked Eggs to birds to refresh them into regular Uncooked Eggs making Ice Boxes a bit useless.
Unfortunately, during the Reap What You Sow update, players will no longer be able to use Cooked Eggs to feed birds.
Boo, but also… goodbye cannibalism?
WHAT DO I DO WITH ROTTEN EGGS?
Rotten Eggs are a very interesting resource to have in Don't Starve as they can be used as fertilizer, can make Gun Powder (1 Rotten Egg, 1 Charcoal and 1 Nitre) which deals 200 damage when it explodes.
While playing Don't Starve Together (DST) during the Hallowed Nights event, players will also be able to craft the Sulfuric Experiment using the Mad Scientist Lab. While both the Sulfuric Crystals of Lime and Sulfuric Crystals of Saltpeter are for aesthetic purposes only, they are fairly fun to have around!
EGGS MAKE WICKERBOTTOM OVERPOWERED
In reality, everything about Wickerbottom makes Wickerbottom fairly overpowered, but I can't complain because Wickerbottom makes gameplay extremely unique.
Eggs can be used to make one of her books Birds of the World, which calls down birds for you to smack for Morsels.
BIRDCAGES ARE THE BEST FOOD RESOURCE IN WINTER
Winters can be difficult to survive for players who did not have enough time to collect enough fillers or to haven't had time to craft an Ice Box. Players who find themselves in a situation where they do not have enough food for Winter should get to crafting a Birdcage.
Since Mobs that drop Meat and Monster Meat do not hibernate in Winter, Meat or Egg-based foods become extremely reliable for the whole season. Crafting yourself a Birdcage comes in extra handy for Wigrid players who miss out on non-meat healing foods like Trailmix.
CAN BIRDCAGES BURN DOWN?
Shockingly, no. Birdcages are considered a Non-Flammable Structure in Don't Starve, so you don't have to stress out about whether it is in range of your Ice Flingomatic.