The Sniper Monkey is an extremely powerful tower that can deal global damage to bloons, though upon placement the Sniper Monkey will only be able to damage a single bloon at a time.
Sniper Monkeys have a variety of uses, including being able to damage and shred through tough bloons, stun MOAB-class bloons and can even provide players with a good amount of cash if upgraded using Path 2.
In most cases players will want to have at least 1 Sniper Monkey on their map as Sniper Monkeys will be able to catch leaking bloons before they reach the finish line and quite frankly there's a clear winner in my books when it comes to which Sniper Monkey players should choose to use.
When it comes to placing a Sniper Monkey, players can technically place them anywhere on the map due to their global range, though it should be noted that Sniper Monkeys will still be at risk of being blocked by terrains that prevent line of sight.
In cases like these, it is a good idea to try to locate a location that is high up in order to avoid all visual obstacles that may hinder a player's line of sight.
It should be noted that on some maps it's actually physically impossible to place a Sniper Monkey in a location that will not conflict with the Sniper Monkey's line of sight. Though that being said there are a number of maps that require players to either make purchases to remove terrain or to add terrain that allows the Sniper Monkey to look past all obstacles on the map.
The map that immediately comes to mind is High Finance, which requires players to construct sky scrapers in order to place a Sniper Monkey which does not have any of it's vision blocked out.
The following is everything you need to know about the Sniper Monkey and which upgrade paths players have the option of upgrading to and what the benefits of each is.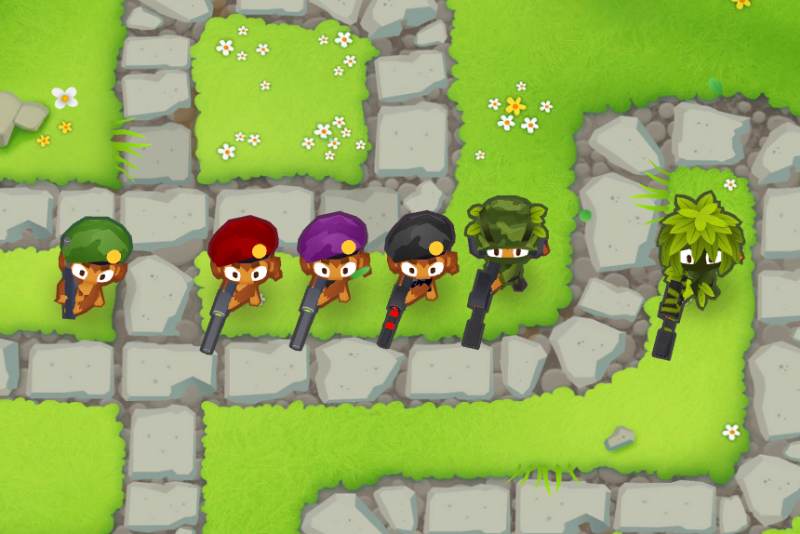 PATH 1 TIER-5 SNIPER MONKEY – CRIPPLE MOAB
The Path 1 Sniper Monkey is by far my favourite type of Sniper Monkey as it provides players with the most protection and most damage out of all the other towers.
Each shot the Sniper Monkey takes deals 80 damage.
The Cripple MOAB Sniper Monkey has the ability to stun all MOAB class bloons including BADS.
Regular MOAB-class bloons are stunned for 7 seconds.
BFBs are stunned for 6 seconds.
ZOMGs are stunned for 3 seconds.
DDTs are stunned for 4 seconds, though players need Camo detection in order to stun these kinds of bloons.
BADs are stunned for 0.75 seconds.
While bloons are stunned they will take 5 extra damage for the stun duration, making it incredibly useful when teamed up with other Towers as players can essentially set up kill-boxes in hopes of having rapid damage dealt to MOAB-class bloons while they are stunned.
The nicest thing about the Cripple MOAB upgrade is the fact that players can essentially indefinitely stun a MOAB-class bloon meaning that players can hold off a MOAB-class bloon while players deal with lower tier bloons which move faster.
Since the main focus of a Cripple MOABs Sniper Monkey is going to be MOAB class bloons, it's strongly recommended that a player sets the Sniper Monkey's targeting setting to "Strong." If players choose any other targeting mode, the Cripple MOABs Sniper Monkey will lose a great deal of its use simply as it will focus on lower tier bloons and may actually cause MOAB-class bloons to leak or will even risk regular bloons flooding or leaking as players may actually target lower tier bloons, essentially wasting the high amounts of damage of bloons that do not require the heavy amounts of damage.
That all being said, while the Cripple MOAB upgrade provides players with a good amount of damage, the main reason players upgrade to the Cripple MOAB tier is to ensure that other towers deal more damage to MOAB-class bloons.
Players will want to make sure that they place a number of rapid firing towers close together in order to make the most of the damage modifier caused by the Cripple MOAB Sniper Monkey. Players could, however, also place rapid damaging towers separately and deal comparative damage, though when it comes to MOAB-class bloons that cannot be stunned for long amounts of time players may mistakenly let these bloons slip simply because not enough towers have stacked damage modifiers onto the MOAB-class bloons which will help ensure the takedown of MOAB-class bloons.
When it comes to pairing up damage modifiers, I strongly recommend pairing up a Cripple MOAB Sniper Monkey with a Super Brittle (5/-/-) Ice Monkey for the extra MOAB-class damage and having at least one Crossbow Master and a Sun God will make the most of these damage modifiers due to their extremely high attack speeds.
When it comes to cross pathing a Cripple MOAB Sniper Monkey, players are actually able to cross path with either, though their options will highly depend on what other towers players place.
Path 2 will provide the Cripple MOAB Sniper Monkey will both gain Camo detection and gain the ability to hit multiple bloons at the same time. The reality is while both Camo detection and the ability to hit multiple bloons at a time are both great upgrades to have, the reality is that players will be able to obtain Camo detection by placing a Sniper Monkey next to a Monkey Village with Radar Scanner (-/2/-) or higher or can also place Etienne in order for all Towers on the map to gain Camo detection.
The reality is that Camo detection is more important for the Cripple MOAB Sniper Monkey than the ability to damage multiple bloons at once, so if possible to gain Camo detection in another way, do it.
Path 3 is the ideal upgrade for players to cross path with a Cripple MOAB Sniper Monkey as providing the Sniper Monkey with more attack speed will simply allow the MOAB-class bloons to become stunned more frequently.
As there are not many other ways for players to provide attack speed to a Sniper Monkey, players will want to prioritize the Path 3 upgrade in as many situations as they can.
Players will essentially want to think of the Cripple MOAB Sniper Monkey as only a Support tower that slows down and stuns MOAB class bloons as many other towers outclass it with raw damage.
I will personally always use a Path 1 Cripple MOAB Sniper Monkey on maps as long as I don't have any other MOAB focussed towers like the Bloon Crush Bomb Shooter unless I'm trying to stack the damage modifiers or am simply trying to stack the stuns between all towers.
By far the Cripple MOAB Sniper Monkey provides the best stunning capabilities for MOAB-class bloons as the attack is global while other towers will only be able to stun when the MOAB is in range.

PATH 2 TIER-5 SNIPER MONKEY – ELITE SNIPER
The Elite Sniper is primarily a support tower that can provide players between $1,500-2,500 every time players activate the Elite Sniper Supply Drop ability.
Supply Drops can be extremely useful for players who are in need for some quick cash, though it should be noted that players will still want to rely on Banana Farms in order to get the majority of the income that they need and deserve.
The Elite Sniper also provides all Sniper Monkeys with 33% attack speed and gains an attack speed of 150%.
Not only does the Elite Sniper provide players more attack speed, but players will also be able to use a new targeting mode on all Sniper Monkeys called "Elite" targeting.
When under the Elite targeting, the Sniper Monkey will begin by attacking Strong Bloons until bloons get too close to the exit, which will cause all Sniper Monkeys to switch onto "First" targeting, allowing players to avoid micromanaging their Sniper Monkeys.
Oddly Sniper Monkeys that are set to Elite targeting will prioritize Ceramic Bloons over MOAB-class bloons. While odd, this makes sense as Path 1 Sniper Monkeys are phenomenal as dealing damage to Ceramic Bloons.
Quite frankly, Path 1 Sniper Monkeys should be able to shred through Ceramic Bloons quickly enough to switch back to dealing damage to MOAB-class bloons. This is especially important for players who set Cripple MOAB Sniper Monkeys to Elite.
Unfortunately, while Elite Sniper Monkeys are great supporting Towers, especially when it comes to the Elite targeting option, Elite Snipers do not actually deal very much damage as their main focus is dealing damage to multiple bloons at once as per the Path 2 upgrades.
Elite Snipers themselves are great for bloon cleanup, especially for normal bloons or bloons without Fortified properties, however, on their own players will struggle and thus will require other towers to support them.
When it comes to cross pathing an Elite Sniper Sniper Monkey I strongly recommend that players focus on cross pathing with Path 3. Reason being? Why would you not take that juicy attack speed to continue to empower your Sniper Monkey into a rapid bloon clearer.
If players are worried about Lead Bloons they can simply place an Alchemist beside the Elite Sniper Sniper Monkey to ensure that it can shred through Lead Bloons still. Otherwise, Path 1 is kind of useless.
Path 1 does essentially deal a bit more damage, though players will actually lose DPS in the long run if they decide to cross path with Path 1 instead of Path 3.
While useful, I can't lie and say that I always use an Elite Sniper Sniper Monkey, because I don't.
I only place an Elite Sniper Sniper Monkey on maps that I am planning on placing multiple Sniper Monkeys on, again simply because the Elite Sniper Sniper Monkey is a very strong support tower and not much else.
You're really only going to benefit from the attack speed that the Elite Sniper Sniper Monkey provides other Sniper Monkeys.
PATH 3 TIER-5 SNIPER MONKEY – ELITE DEFENDER
I'll be honest in saying that I used to get the Elite Sniper and Elite Defender confused all the time, especially because it would make sense that the Elite Defender would provide players with attack speed buffs to all Sniper Monkeys similar to the Elite Sniper. This is not true though.
The Elite Defender is a terribly greedy tower dealing rapid damage to bloons, essentially being able to attack 2x faster than it previously could and gaining 1% attack speed for each 1% of the track bloons make it to up to a maximum of 100%.
Elite Snipers are one of the most interesting versions of a Sniper Monkey as they are essentially global towers that deal a devastating amount of rapid damage to all bloons and also have an ability to shoot 4x faster for 7 seconds if players lose a life.
This essentially means that the Elite Defender can attack 16x faster when at maximum attack speed, being 195.91x faster than the base Sniper Monkey.
It should be noted that while the passive ability Elite Snipers have to speed up their attack speed when bloons leak has a 10 second cooldown before it can be activated again, though players can bypass this by purchasing the Master Defender Monkey Knowledge.
It's undeniable that an Elite Defender can deal some massive damage to bloons, essentially never taking a break from damaging like other forms of Sniper Monkeys
Elite Defenders are phenomenal at soloing maps until mid-game, when players will be required to purchase other towers to support them.
When it comes to choosing whether or not you want an Elite Defender Sniper Monkey players will want to make their choice based on how long the map length is. The longer the map, the better damage output the Elite Defender Sniper Monkey has.
For example, Logs or Four Circles will provide players with enough time to snipe down a ZOMG with a single Elite Defender Sniper Monkey.
When it comes to cross pathing an Elite Defender Sniper Monkey, players similarly only have one option similar to the Elite Sniper.
Path 1 may seem like the better option simply because it provides the player with the ability to shred through Lead Bloons, but this greatly reduces a player's DPS in the long run.
Technically players can still use Path 1 if they hope to incinerate heavily protected bloons quickly.
Players will want to cross path with Path 2 especially because Shrapnel Shot will deal a great deal of damage to bloons in an AoE fashion, essentially being the best way to deal quick damage and clean up baby bloons.
In regards to Monkey Knowledge, players will also want to purchase Ceramic Shock which allows all Sniper Monkeys to briefly slow down Ceramic Bloons by 90%, allowing players to completely annihilate Ceramic Bloons.
The Elite Defender is extremely strong, though it is my second choice option for Sniper Monkeys.
CONCLUSION
When it comes to Sniper Monkeys the choice is pretty clear which one is the most powerful, especially if players are struggling with MOAB-class bloons.
I would strongly recommend always having a Cripple MOAB Sniper Monkey on your team as this will greatly reduce the rate in which MOAB-class bloons move.
Players will be able to stall the majority of MOAB-class bloons in order to allow themselves the time to clear out lower tier bloons with their rapid shot attack towers.
My second option for Sniper Monkeys is the Path 3 Elite Defender, simply because of the amount of rapid damage it deals to bloons and it's massive capabilities to clear out bloons.
The Elite Defender is a great option for players on a budget, especially if they are limited on how many towers they can place on a map.
My final choice for Sniper Monkey is the Path 2 Elite Sniper, which only makes it to the bottom of the list as it heavily requires players to place other Sniper Monkeys.
On a map by itself the Elite Sniper will provide players with a decent amount of cash, but due to the fact that there are so many other ways to generate more money, this is not worth it in my opinion.
If players are hoping to place a number of Path 3 or Path 1 Sniper Monkeys, definitely get yourself a Path 2 Elite Sniper in the mix as it will simply raise the attack speed of all of your Sniper Monkeys.
So I'm curious, what's your favourite Sniper Monkey? Do you also love Path 1 Sniper Monkeys or are you more of a Path 3 Sniper Monkey user? Are there any people who love the Path 2 Sniper Monkey above all the rest?
Let me know in the comments below!