When it comes to trying to build your Castle in V Rising, players are going to feel pretty gated by a particular resource being Stone Bricks. While Stone Bricks are very easy to craft, the explanation of how to get them is non-existent and seems to be a point of confusion for many players.
Even my husband and I in our playthrough had to pause for a second to ask if we had access to the crafting station required for Stone Brick and when we did, we had to pause quickly to say "are we looking at this right?" Quite frankly, even when you have a Crafting Station open it can feel confusing, especially if you're not looking closely at the crafting tab.
The following guide will take you through everything you need to know about Stone Bricks including how to use them and how to craft them.
Note: If you would like to watch me play games like V Rising live feel free to check me out on Twitch. I'm also more than happy to answer questions even if I'm not playing the game.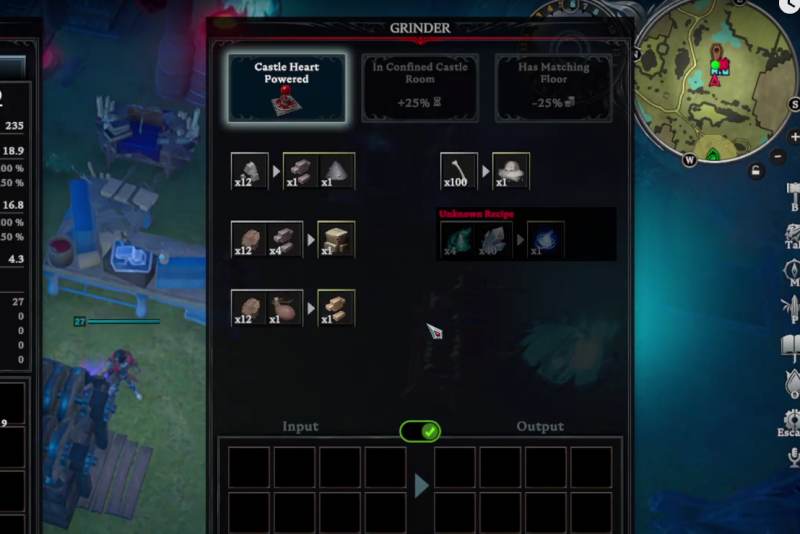 HOW TO GET STONE BRICKS
There are a couple of ways to get Stone Bricks in V Rising, though one is less efficient than the other.
The first way players are going to be able to get Stone Bricks is by breaking Stone Walls that are located all over the map. Admittedly this isn't going to be a great source of Stone Brick as there is only a small chance that a Stone Brick will fall from breaking a Stone Wall, however, players will want to make sure they clear as much of the map scenery as they can as this will help prepare the map for players to be able to build anywhere they please.
While players can place Foundation anywhere, they will not be able to place structures down unless all of the trees, walls and other resources are fully demolished.
The other way to generate Stone Bricks is by using a Grinder to manufacture them.
The Grinder will be able to turn any Stone into Stone Bricks and Stone Dust, both being very useful ingredients in the early game, so if you can manage to get the Grinder set up early, it will do you a great service as it takes quite some time to manufacture items, though it may be tough to get this done.
HOW TO BUILD THE GRINDER
The Grinder needs the following ingredients to construct:
8 Planks
4 Whetstones
4 Copper Ingots
Unfortunately, all of these ingredients need a Crafting Station in order to make, so players are going to want to make sure they do this as quickly as possible.
Planks are made in the Sawmill
Whetstones are made in the Furnace as long as players kill Grayson the Armorer
Copper Ingots are also made in the Furnace, though they are unlocked immediately.
I would recommend fighting Grayson the Armorer as soon as possible as this V Blood gives you a great ability and his area is actually filled with Whetstone.
When we were playing, we were able to get all the Whetstone we needed in order to build the Grinder without needing to craft our own, so I would recommend following the same path to do so.
Players can also find Whetstone in various Bandit Camps, so make sure to check every chest in these camps to ensure that you are ready when you have enough Copper Ingots.
WHAT ARE STONE BRICKS USED FOR?
The majority of the recipes that players will need Stone Bricks for are Walls and Flooring for your Castle.
These will be required in order to push the main quest line in V Rising, so while you may not be ready to build your Castle, the game is going to try to push you in this direction very early in the game.
Players will simply need to make a single room of their Castle, so don't think too hard about this, but it will give you a bit of practice and knowledge on what you can use to make a Castle for when you actually decide what you're going to do with your castle.