The Alchemist used to be my favourite tower when I was first trying out Bloons TD 6, especially because it's one of the best support Towers players can place that will essentially empower all the different types of Towers by an exponential amount.
The Alchemist has very different qualities based on what upgrade path players choose to use as it can either empower other Towers, be focussed on the destruction of MOAB-class bloons or can be used to help provide a player with a healthy amount of money.
The Alchemist as a base tower may not seem that strong as it throws potions onto bloons relatively slowly, though I personally don't see this as much of an issue as it will provide players with early game Lead Bloon protection, especially if players have a few other Towers on the field to help provide them with the damage support that the Alchemist originally lacks.
Quite frankly, I would only start planning the placement of an Alchemist after placing two other Towers on the field, especially if players are hoping to use Path 1 upgrades which empower other towers.
The nicest thing about the Alchemist is that it does not need any upgrades in order to avoid Line of Sight obstacles, making it especially useful on maps with plenty of obstacles such as Moon Landing.
The following guide will take you through everything you need to know about the Alchemist and will help take you through tips on which upgrade path is most useful to you in every situation.
PATH 1 TIER-5 ALCHEMIST – PERMANENT BREW
The Permanent Brew Alchemist is by far one of the best upgrade paths for players to choose when using an Alchemist.
Not only will Permanent Brew Alchemists provide players with the effects of Stronger Stimulant and Acidic Mixture Dip, players will also indefinitely provide the effects instead of having them expire after a number of shots.
Stronger Stimulant buffs will provide Towers with 1 extra damage, 3 extra pierce, 17.6% higher attack speed as well as a 15% increase in range.
The Acidic Mixture Dip buff will provide towers with 1 extra damage to all Ceramic Bloons and MOAB-class bloons while also providing towers with the ability to melt through Lead Bloons.
Permanent Brew Alchemists are quite pricy meaning that players may not want to upgrade to this tier unless they have properly budgeted their income throughout the game.
Lower tier Path 1 upgrades might be strong enough for players to rely on, though realistically Permanent Brew is much more powerful simply because it allows a tower to permanently gain the buffs from this tower.
Permanent Brew is especially powerful when placed beside a large number of Towers as the more towers with the Permanent Brew upgrade, the more damage players are going to have access to, especially if the affected Tower has extremely fast attack speeds.
Permanent Brew Alchemists are best when paired with Sun Avatars or any other Super Monkey upgrade realistically, Grandmaster Ninjas, or Crossbow Master.
If players would like to only have a single Permanent Brew Alchemist on their map they can upgrade a Support Chinook in order to move the Permanent Brew Alchemist in order to provide all Towers on the field with it's upgrade.
This is by far the most cost effective way to upgrade all Towers and will make it so that players do not have to place more than one Alchemist on the field.
When it comes to cross pathing an Alchemist, players do not actually need a cross path it as none of the cross paths actually really do much for this already powerful Tower.
Path 2 will essentially help the Alchemist to deal more damage to bloons, stripping Fortified properties off of Ceramic Bloons, Lead Bloons and deal a bit more damage to MOAB-class bloons.
Path 3 is usually the better option to cross path as it will allow the Alchemist to throw potions faster.
If players choose to cross path with Path 3, they will not need to go past the first upgrade as Acid Pool is not nearly as effective and is a bit of a waste of money.
PATH 2 TIER-5 ALCHEMIST – TOTAL TRANSFORMATION
The Total Transformation upgrade is by is an interesting upgrade path to choose when using an Alchemist as it essentially converts the Alchemist into a high damage yielding Tower.
The Total Transformation is a special ability that players can activate in order to permanently change the Alchemist into a monster, though players will still need to activate the special ability in order to deal more damage.
Upon activating the Total Transformation ability, the Alchemist will convert itself and 5 Monkey-based Towers into monsters.
Transformed Towers will have a fixed radius and will deal a good amount of damage to all bloons for 20 seconds, though all affected towers will lose the ability to deal damage to Purple Bloons.
That being said, Towers with the buff will lose Camo detection unless they are placed next to a Monkey Village with Radar Scanner (-/2/-) or a Hero like Etienne.
This means that players may actually experience damage loss or leaked bloons if Ninja Monkeys are transformed by mistake.
Although players will lose the ability to damage Camo bloons and Purple Bloons, some Towers will still retain their buffs. These Towers include Druids of Wrath and Shinobi Tactics Ninja Monkeys
It should be noted that the following Towers cannot be transformed:
When it comes to cross pathing a Total Transformation Alchemist, players may not actually want to and instead save some extra money.
Similar to Path 1, any cross pathing will not actually empower this version of Alchemist.
If players are itching for a cross path they should probably stick to Path 1 as doing so will cause the Unstable Concoction upgrade to deal higher splash damage.
While powerful, I personally don't like the Total Transformation Alchemist as it comes with too many risks.
Realistically they can deal more damage towards MOAB-class bloons, however, I find other MOAB-class focussed Towers as they are more reliable.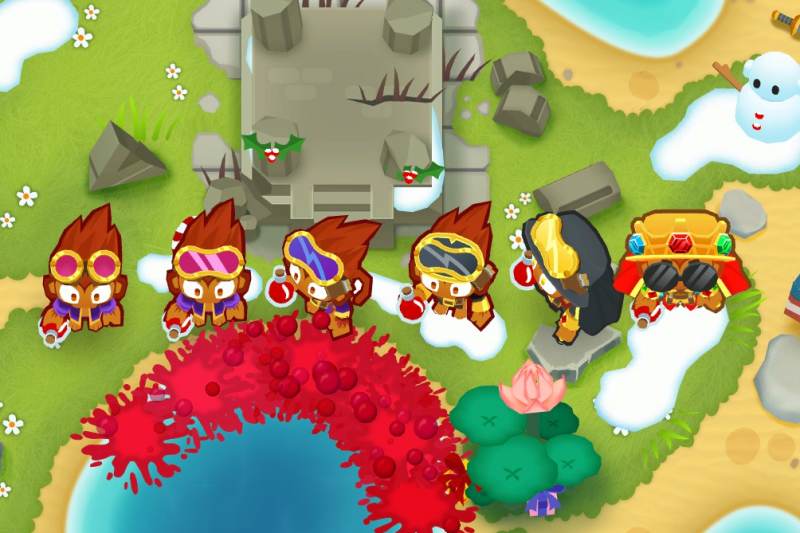 PATH 3 TIER-5 ALCHEMIST – BLOON MASTER ALCHEMIST
The Bloon Master Alchemist is by far one of the biggest "support" kinds of Alchemist players can place.
Now, the only thing is the Path 3 Bloon Master Alchemist will not provide players with any damage increase for Towes, but instead will have the ability to shrink bloons every 10 seconds.
The Bloon Master Alchemist has infinite range for it's ability and will target the strongest bloon, other than BADs, transforming the affected bloons into Red Bloons.
While extremely powerful, the Bloon Master Alchemist will result in an income loss as players will not receive any of the income that would have been received from the stronger bloons.
The Bloon Master Alchemist is great at thinning bloons to ensure that players aren't overwhelmed, especially in rounds beyond 100.
Essentially the Bloon Master Alchemist has 200 pierce, however, it can only effect up to:
🔮 10 MOAB-class bloons
🔮 4 BFBs
🔮 4 DDTs (if it has Camo detection)
🔮 2 ZOMGs
CONCLUSION
When it comes to placing an Alchemist all three tiers will see some great use, though I personally prefer placing a Path 1 Alchemist over all other types of Alchemist.
Path 1 Alchemists can fully support other towers that are nearby by providing them with increase pierce, damage, range and attack speed, essentially being able to permanently buff nearby Towers to ensure that the most damage they can deal is dealt.
I especially love the Path 1 Alchemist when I already have a plethora of Towers on the field and simply want to raise my chances of survival when in later rounds.
The Path 2 Alchemist is less useful in my opinion and while it can deal a tremendous amount of damage, especially to MOAB-class bloons.
Path 2 Alchemists are most useful when players have a number of Towers on the field but don't find them as strong as they could be and want to simply empower Towers in hopes of dealing more damage.
Path 3 Alchemists will provide players with the most support in the way that it provides players a good amount of cash as well as the ability to thin out bloons by turning them into Red Bloons, though at the same time, players will lose some of their income from the bloons transforming into Red Bloons.
Truthfully, I rarely use the Path 3 Alchemist as it is most useful for rounds beyond 100 and while admittedly I have grinded a map to about round 230, the amount of lag it caused my computer made me never want to grind that high again. *cough* Though I've done it about 3 times now… maybe now with a Dartling Gunner since that's supposed to have very little lag!
So I'm curious, what's your favourite Alchemist?
Are you also a big Path 1 fan or do you have other strategies you like better?
Am I too big of a hater on Path 2?
Let me know in the comments below!