One of the most annoying things about playing an MMO for me is inventory space. As you may already know, I took a couple of breaks from playing FFXIV over the year and both times I came back I immediately wanted to rip out my hair because I simply didn't know how to manage my inventory.
It's funny to me that my husband, who is also a guide writer, has a very popular guide on how to manage your inventory in the game, but I still struggle… probably because I never actually followed his advice. *cough* Does that make me a bad husband?
Over the years I've stashed all of my unwanted resources with my Retainers and the most recent time I came back to FFXIV I realized that I had capped out both of my Retainer's inventory space, capped out my Chocobo Saddlebag, capped out my Armory Chest and had only 3 slots left in my regular inventory. Listen, when I said I was bad at inventory management it was probably more of an understatement than anything. I am horrible, horrid, atrocious, despicable and reprehensible when it comes to inventory management.
Now, for the most part, I'm in the clear when it comes to managing my inventory, especially when it comes to the Armory Chest, but a lot of that has to do with the fact that I power levelled all of my Jobs to the maximum level in a few months. Previous to that, I was a hoarder who kept telling myself that "I would need the Gear" because I always had the intention to get everything levelled, but never had the time to do so… err.. or even the strategy.
I often thought to myself, it's better to hold onto this Gear rather than having to repurchase it. Though this can sometimes be true, depending on what the Market is looking like it can be more beneficial to get rid of your Gear rather than hoarding it.
There are several ways a player can repurpose old Gear in FFXIV and the way a player chooses to do so will depend on what the player has access to, what is currently doing well on the Market Board and what the rarity of the Gear is.
Today I'll take you through all the solutions that will be possible for you so you can make a more educated decision on what you want to do with your old Gear, especially since you may not always want to make the same decision.
Note: If you have any questions about FFXIV that you want me to cover feel free to leave them in a comment below, you can also ask me while I am streaming on Twitch, YouTube or in our community discord.
ALWAYS CHECK YOUR GEAR TO SEE IF YOU LIKE THE AESTHETIC
Something I'm really terrible at is trying on Gear before I get rid of it. Though I've been getting much more into the Glamour side of FFXIV because as we all know, the Glam Game is the End Game, I still don't always check Gear.
Realistically, most times when I get a new piece of Gear it automatically gets glamoured over because my Gear is attached to Glamour Plates. Though I do get brief moments to see the new Gearset before I switch off the Job, I often forget which Gear Sets I meant to save for future Glamours and which I would immediately get rid of once I upgraded.
If you're in the same boat, all you need to do is right-click the piece of Gear you want to try on and hit the Try On option. If your piece of Gear has been glamoured over it will appear as the glamoured article of clothing, however, you can see the name of the piece of Gear in your chat window which you can right-click on and try it on from there.
Alternatively, you can type /echo and then right-click the piece of Gear you want to check out and select "Link." The link option will essentially post the same hyper-text however, echo chat does not require you to be in a party and will avoid any awkwardness of using /say or /shout chat.
If you like the piece of clothing and think you would like to use it as a Glamour head to the Glamour Dresser with some Glamour Prisms to create a plate.
You do have a finite amount of Glamour slots, but depending on how often you change your aesthetic this can also be utilized as extra storage. I personally have never done this as I'd prefer my Gear be on me or in my Retainers if I'm planning on using it later as those are much easier to access than a Glamour Dresser.
As a small tip, always make sure to see the Job restrictions on a piece of Gear before you throw it into the Glamour Dresser or get rid of it. Some really, really weird pieces of Gear aren't restricted to any Job. Many of these are below level 50 and can be easily missed since most Gear that provides stats is typically bound to a certain Job.
Before I leveled everything to the maximum I started preparing my Glamours for the jobs. I held onto Weapons and Gear so I didn't have to farm it again later since that can be one of the most time-consuming tasks.
DESYNTH THAT LOOT BABY!
Desynthesis tends to be the less popular option when it comes to what a player does with old Gear. There are a few reasons for players will sometimes avoid Desynthesis.
The first reason is that players who have been playing FFXIV for a while may still be under the impression that Desynthesis is as difficult as it used to be. In the past players had to level their Desynthesis by breaking down pieces of Gear progressively. Each crafter has its own desynthesis level and will only be able to break down the Gear that it can craft, so the Crafters whose Gear doesn't drop as regularly would get stuck being unable to break down the higher level versions of this Gear.
This is personally why I stopped desynthesizing before the update as my only option would be to purchase Gear off the Market Board or spam dungeons unsynced and hope for certain pieces of Gear to drop, but luckily the change made it so you can break down any piece level of Gear and the level of your Desynthesis skill only raises the chance of the items received are high quality instead of normal quality.
Now, if you choose to Desynthesize gear, the reality is that only some of it is worth breaking down. Chances are when you break down Gear it's going to provide you with a resource that is a couple hundred at most, but some resources are terribly hard to craft or obtain which can go for a few thousand. I personally try to get my desynthesis up to the highest it can be so when new expansions come out, every time I break down a tier of loot there's a chance I can get the high-quality version of the resource used to craft it. Typically the highest-level resources that are obtained from Gear sell for a lot when new Raids come out, but then they ultimately become the cheapest resources to buy on the Market Board since everyone continues to break them down even when no one is using them for Crafting.
In many cases, it's low-level to mid-level Gear that drops the most valuable resources when you're in the middle of an expansion and this was actually how I discovered some of the intermediate crafts I regularly make to sell because I didn't realize at first how much they were in demand. *cough* This was how I began my journey of making about 1 Million Gil a day.
Now desynthesis itself isn't going to make you a Millionaire on its own, but if you're a crafter you are pretty likely to get a resource that you can craft into something relatively expensive. This by far is the most beneficial part of desynthesis.
There are a few steps a player is going to have to take to unlock desynthesis. First, a player must have a Disciple of Hand (also known as Crafters) levelled to at least level 30 and then they must complete the side quest "Gone to Pieces" located in Ul'dah – Steps of Thal at X:14.0, Y:10.0 and is provided by Syntgoht.
The side quest can be completed with any Disciple of Hand and will allow any of the Crafters you have to desynthesize Gear, you do still need to unlock all of the Crafters to break down all the pieces of Gear. The only Crafter that is not used to break down Gear is the Culinarian, which will instead break down food.
Even if you don't plan on desynthesizing all of your pieces of Gear, I would strongly recommend that you break down at least 5 pieces a week from Dungeons. This will provide you with a Challenge Log entry that both provides Gil and will give a generous amount of EXP to a Crafter as long as you are on it while desynthesizing. You see, you can desynthesize any piece of Gear on any Job, including Disciples of War, but this achievement requires you to be on a Crafter for the experience to be given.
Unfortunately, if you break down your 5 pieces of Gear on a Disciple of War or Land you will not be able to recover that EXP for the week.
It should be noted that players will not be able to Desynthesize certain Gear. These pieces of Gear include Relics and the most recent gear from newly released content such as an Alliance Raid or Raid. While a player can hold onto these pieces of Gear until they can be desythesized, it typically takes a number of months as you will need to wait for the next big patch to drop.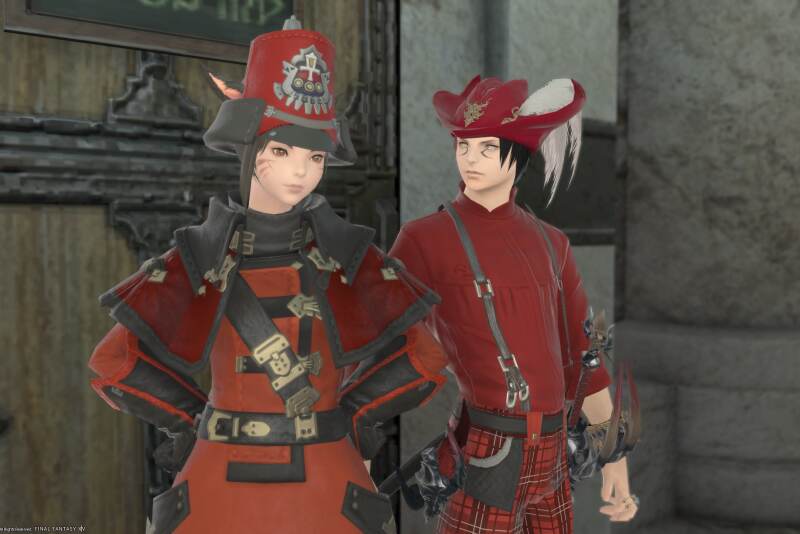 TURN YOUR GEAR IN AT YOUR GRAND COMPANY
The most popular choice when it comes to getting rid of your old pieces of Gear is to turn them in for Seals at your Grand Company.
Players will get different amounts of Company Seals based on the level of the Gear that they turn in, though this shouldn't be a player's primary focus.
Grand Company Seals can be exchanged for a variety of resources, including things that can be used in Crafting recipes, Glamour Prisms or even loot crates which can drop rare Minions and Mounts.
Unfortunately, there is no straight answer for what a player should purchase using their Grand Company Seals as if you're trying to make a profit on the Market Board the costs will vary from week to week.
That being said, Grand Company Seal exchanges can be one of the most profitable ventures depending on your server and if certain resources are in high demand. Otherwise, you can always just try your luck at getting a Minion or Mount that you don't already have!
There are two things a player must note when it comes to exchanging Gear at your Grand Company for seals. First, players will only be able to turn in unique and untradable Gear, meaning that the Gear has to come from a Duty or Tomestones. Players can tell whether a piece of Gear can be traded if it is Green or Blue.
Similar to desynthesis, players cannot turn in Relic Gear or the most recent Gear that's from Raids or Alliance Raids. Also similar to desynthesis, this rule is lifted once a new big patch has come out.
Now, though players can desynthesize Crafted Gear or Vendor Gear, players can't really do anything with them when it comes to the Grand Company. There is a very small chance that they will be one of the requested items for the day for turn-ins, but the chances are relatively low as this is bound to your Crafters' level.
QUICK SELL YOUR GEAR
When it comes to Crafted Gear or Vendor Gear oftentimes the best option is to quick sell it at any Vendor. This is most often an option for players who don't know what to do with non-Duty gear, though there are a few pieces of Duty Gear that can sell for a pretty penny.
I tend to only do this with Gear that can't be turned in at my grand company or Gear that I know won't desynthesize into anything profitable.
CAN YOU SELL OLD GEAR ON THE MARKET BOARD IN FFXIV?
Unfortunately, you cannot sell Gear that you have put on your body on the Marketboard in FFXIV as the moment you put on a piece of Gear it becomes Character Bound.
Typically players will be using Gear that is labelled as unique or untradable as it comes from Dungeons or Tomestones, however, there is the rare occurrence that a Retainer will bring a decent piece of Gear from a Venture.
If you obtain one of these pieces of Gear I would strongly recommend you check out its Market Board price and how often it sells because you can make a pretty penny instead of using it. If it sells for a good price and you've already used it, you may want to desynthesize it because the Material used to make it will often sell for a good amount.
I'd also check this on the Market Board, or else I'd just chuck it with my Grand Company if I don't care to make Gil from it.