The time has come to start talking about one of the main portions of New World, Factions. While a player's involvement with Factions is going to depend on whether or not they enjoy playing PVP, even PVE players will want to join a Faction due to the perks and quests they provide you.
Factions are essentially tribes that players will select and while their main purpose is connected to PVP, there is a great amount of use for PVE such as Gypsum or resources for crafting bags, chests and trial resources.
While players could technically avoid doing anything to do regarding Factions, I would strongly advise against this as even if you don't heavily focus on the tasks for Factions you can make a good amount of Gold from them and who can say no to Gold?
There are a total of 3 Factions in the game being: Mauraders, Covenant and Syndicate. Although there are only three Factions, players will then want to split off into companies that are related to these Factions in order to take part in PVP tasks. With that being said, the Faction that you choose does not really matter as long as you are playing with folks you want to play with. All Factions will provide you with the same rewards for the most part and while I will cover the subtle differences, I'm happy to tell you that they do not matter at all.
The following guide will take you through everything you need to know about Factions including how to efficiently farm Faction Quests, what the rewards for each Faction are and more.
Note: If you are looking for a new Twitch Streamer to check out or have questions you'd like to ask me live about the game, check out my Twitch Streams here.
WHAT ARE THE MAJOR DIFFERENCES BETWEEN FACTIONS?
As mentioned, there aren't many differences between the Factions and overall they all end up in the same place by the end of a player's journey. For the most part the differences include:
Different Lore that's based on the Faction's worldview
Faction-specific Gear which all has the same stats, however, varies in different weight, making some Factions much more appealing to some playstyles over others. Though this is true, the Faction Gear is all entry-level PVP Gear and will want to be traded out even at its highest level, making this a bit… well pointless. I'll be honest, you're probably better off buying cheap Gear off the Trading Post rather than using your Faction for PVP Gear.
The faction's theme for cosmetics and colour scheme.
Unique types of quests and areas where the quests are located, though there isn't a major difference to this or one Faction that's better than another.
AM ALLOWED TO FINISH ALL THE FACTION QUESTS BEFORE CHOOSING A FACTION?
Absolutely! In fact, I strongly recommend that you do complete all of the Faction quests if not for the experience, but to ensure that you understand the lore and understand what team you're aligning with. Though not every player is going to be invested in the lore of the game and the majority aren't going to read or watch the main story, there are a number of players and companies who get heavily involved in roleplaying.
Now, this is going to be on a case-by-case basis and the way that I chose my Faction was based on my friends and ended up switching when my Company merged with another.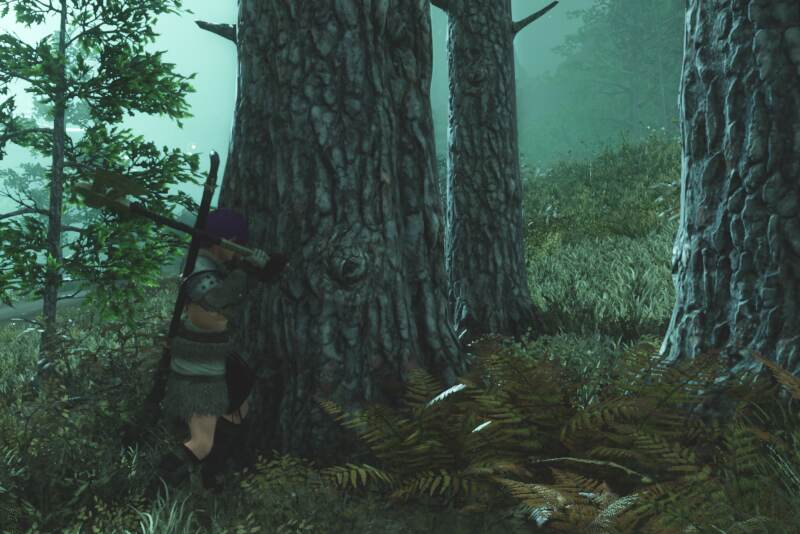 CAN I SWITCH FACTIONS?
Absolutely! Though there is a cooldown period for this and there are some rules when it comes to switching Factions. Most importantly for this section, if you already have a Faction selected you will only be able to change your faction every 60 Days. The amount of time has switched twice since I started New World. It was originally only 30 days and it's unclear if the amount of time is based on your server size or if it is something that the devs keep fiddling with.
Nonetheless, players will be warned about this cooldown even with the first Faction that they join, explicitly being told how long it will take to switch
When I joined my first Faction I was given a free chance to change my Faction with no cooldown. This should still be implemented in the game at all points, especially as most players will not have friends on New World for the first few weeks.
I'M NOT ALLOWED TO SWITCH TO THE DOMINANT FACTION, WHY?
It's a little bit of a shame, but to conserve the health of PVP in New World the devs have made it so a player cannot switch to a Faction that has covered the majority of the map by taking over Settlements.
Now, while this can be frustrating for players who want to be part of "the best Faction" since they are probably some of the better PVP-ers, we've actually seen what happens when a single Faction dominates a server and it is not good.
While you would think that a dominant Faction will only affect PVP, the reality is that it will also heavily impact PVE as the Faction in charge will typically begin manipulating the market making it extremely inaccessible for newer or more casual players. The way this is managed is due to the massive amounts of money a Faction can gain from taxes, allowing them to shop up all of the cheap resources, forcing the Trading Post to get more and more expensive to the point where all players are locked out.
This is honestly why the system works in regards to not allowing players to switch to the dominant Faction as it raises the chance that Territories will flip, though as PVP is heavily gear dependent there is a very strong chance this will not be possible as the Faction in charge will refuse to sell good Gear and if any Gear appears on the Trading Post they will buy it immediately to secure their spot.
No matter what, this will somewhat be the case on any server, though when a server is more balanced the chances for a flip are relatively high.
CAN I PARTICIPATE IN PVP WITHOUT BEING PART OF A FACTION?
Yes and no. There are some elements of PVP a player can engage in without having a Faction such as 3v3 Arenas, however, if players want to be marked for PVP in the Overworld or want to regularly participate in Wars they will need to join a Faction before they can be flagged for PVP.
That being said, when it comes to OPR and Wars you don't actually need to be on the team of the players you are playing with, allowing for a higher chance of queues not taking forever as otherwise, these would simply take too long to even participate in especially if you are on a lower population server.
With that being said, I would still strongly recommend that you know who you are playing with as it will make any form of PVP a lot more fluid and more successful, though with the in-game voice it's not the absolute worst.
The ideal situation is that you join a well-formed company that has a large community in hopes of joining their discord so you can have regular and open communication with them. Let it be known this is most important for players who want to regularly engage in PVP and for the PVE-focused players who are simply trying to play those aspects of the game it truly doesn't matter.
That being said, there are a number of ways to engage in PVP content without a company and you can even complete the PVP Track without taking part in "real" PVP content, which I have covered here.
WHAT ARE THE KINDS OF QUESTS AVAILABLE FROM FACTIONS?
Similar to Town Project Boards, there are a few different types of tasks available for players from their Faction, these are segregated by PVP and PVE.
PVE Missions include explorer quests that require players to either kill mobs or pillage chests for goodies, cull animals to retrieve or the most sought quests being the ones that require you to head into particular Expeditions to complete. In regards to the Expeditions, players will only be able to accept Expeditions from the location where the Expedition is, so Starstone will be accepted from Everfall or Ennead from Brimstone and so on and so forth.
Players can also claim a Faction Mission that requires them to seal a Corruption Portal and this is the only quest that can be done in any area, even one you didn't claim it from. PVE Missions are best for Territory Standing and Gold.
PVP Missions are quite boring and are typically used for throwing Territories into conflict so a war can be started. With that being said, PVP Missions are the best and simplest way to get your PVP Track up even as a solo player, though without a company it doesn't feel as worth it to do them as again it's just a running simulator.
PVP Missions will simply help you get your PVP points in, though they offer some of the better and easier Faction Tokens (especially with the daily multiplier) and a decent amount of Gold. I personally recommend that players complete at least 3 of these a day for the bonuses, but repeating them over and over again like I do is extremely long-winded and not really worth the time and effort in comparison to other forms of farming.
At the end of the day, it really matters what you're trying to do in the game, if you're trying to get your Territory Standing up, spend more time focussing on PVE Missions, if you're trying to get your PVP Track up, focus on PVP Missions.
WHY DO I GET MORE FACTION TOKENS AND REWARDS FOR SOME MISSIONS?
There are a few different reasons a player will gain more Faction Tokens or experience from completing Faction Quests. Firstly, players will have three opportunities a day to get a multiplier on their Faction Quests, so I strongly recommend you use these dailies on the highest-yielding Faction Quests to make the most of your time.
Secondly, players will gain more rewards from more difficult content to complete, for example, Expeditions give the highest yield with the lowest going to Corruption Portals as you can technically do a level 25 Corruption Portal even when you've accepted the quest in Brimstone.
Lastly, the amount of Faction Tokens and experience you gain is dependent on the area you accept your Quests in as for the most part you will have to complete the quests in the area you have accepted them in so if you're in Brimstone content is obviously going to be more difficult than if you were in First Light. Due to this it's even worth completing Faction Quests in Shattered Mountain or an area that doesn't have Territory Standing as the Quests will provide you with the highest rewards.
If you are min-maxing I would strongly recommend you always do your first three Missions a day in a level 60+ area such as Brimstone Sands or Shattered Mountains and then do the rest of your quests in an area you actually want to level up. If you are ever running Mutations set your Inn to the location the Expedition is in and keep checking your Faction to see if there are missions in regards to the Expedition you are running.
The way I run Faction Quests is as follows:
Every day I run 3 PVP Missions unless I am too lazy, I always double-check for Expedition Quests whenever I am in a Territory with an Expedition and leave it until it's the week of Mutations and don't turn them in the last time I complete the Expedition so that I can utilize it on a day that I am too lazy to run a PVP Mission.
Realistically I find that Town Projects are much better for Territory Standing than Faction Quests, but much like most things in New World, I will try to run most things at the same time to optimize on time.
DO DIFFERENT FACTIONS HAVE DIFFERENT MISSIONS?
Yes, different Factions have different Missions, however, every Faction has the same type of Mission, they just have different locations for each.
As mentioned earlier, this should not be a reason to switch Factions, however, it might be a factor that makes players enjoy certain Territories over others.
There is no shame to this, but it does tend to affect what Territory a Company takes over as certain PVP quests are just abysmal to run if a Faction's quest is too far.
That being said, the actual level-up Missions for Factions are all in different areas, though I will cover these in separate posts. That also being said, the quest to unlock Brimstone Sands will be in a different location based on what Faction you are a part of.
HOW DO I FORCE A TERRITORY INTO CONFLICT?
One of the most important Factors to being part of a Faction is throwing Territories into conflict so your Company can take it over. This is predominantly done by completing the PVP Missions from your Faction Leader in each Settlement, though a player can also do this by completing Corruption Portals at the moment.
When a Faction completes enough of these quests an alert will appear on the server saying a certain Faction has thrown the Territory into conflict and will allow players to declare a war on the current reigning Company.
Unfortunately, there is a bit of RNG to this portion as any Company (even those who have not participated in the PVP Missions can declare War and then RNG will select which company is actually going to fight in the War. Due to this mechanic, it's going to be important that you get to know other Companies in your Faction in order to ensure that there isn't a great deal of stepping on toes or conflict among the Companies as realistically players will often need to request the assistance of other Companies in order to successfully win a War.
Wars will require a large group of PVP players in order to attack or defend the current reigning company. This is not an easy feat and tends to be relatively gear-dependant, meaning a richer company tends to have the upper hand in these situations.
As best-in-slot Gear needs to be crafted in almost all situations, Companies with more Gold will be able to dump hoards of Gold into their best players, essentially helping secure a win on the War. While skill is still a factor in Wars a player with no PVP Gear will be at an extreme disadvantage to a player with 1 PVP perks, who would be at a disadvantage to a player with two and so on.
Unfortunately, the reality of PVP perks is that they provide players with large stat bonuses that cannot be combated with PVE stats.
Luckily players can get a good amount of PVP gear in Expeditions, so you will have a decent chance to get at least 2 PVP perks on all of your Gear.
WHAT CAN YOU PURCHASE FROM YOUR FACTION?
Although the following section will not cover each individual item you can purchase from your Faction, as most of them aren't useful, I will take you through the majority of them.
Essentially, I will be skipping every piece of Armour as all you need to know is that all pieces can be purchased from any Faction though Mauraders gear is typically Heavy, Syndicate is typically Medium and Covenant is typically Light.
While different playstyles would benefit from a specific weight, I really wouldn't recommend choosing your Faction based on what weight their Armour is as the Faction Armour is actual trash and realistically you can get much better gear from the Trading Post for cheaper or for free from an Expedition.
There is a different Gear Set per tier, so if for some reason you want these, you will have many options for styles.
Similar to Armour, players will be able to purchase Potions, though this is probably not something you want to do as Potions are extremely common from drops and players can easily make them in Arcana.
Now, the following are the best purchases in my opinion per tier:
TIER 1
Tier 1 does not require players to gain any experience in order to purchase any items. The majority of the items players can purchase in this tier are not necessarily the most useful unless you are a crafter.
The following are all the useful items of this tier.
BARBARIAN SEAL
The Barbarian Seal allows players to change their Faction Gear to Strength and Constitution. It costs 95 Faction Tokens and no Gold.
BRIGAND SEAL
The Brigand Seal allows players to change their Faction Gear to Dexterity and Constitution. It costs 95 Faction Tokens and no Gold.
OCCULT SEAL
The Occult Seal allows players to change their Faction Gear to Intelligence and Constitution. It costs 95 Faction Tokens and no Gold.
CLERIC SEAL
The Cleric Seal allows players to change their Faction Gear to Focusand Constitution. It costs 95 Faction Tokens and no Gold.
MINOR RUNE OF HOLDING
The Minor Rune of holding costs 1,000 Faction Tokens and 250 Gold and can only be purchased through your Faction Vendor.
Admittedly this item is only useful in the early game, so if you are on a Server with a number of newer players then you will want to capitalize on buying these to craft either Hew Log Storage Chests or Coarse Leather Adventurers Satchels.
TIER 2
In order to reach Tier 2 players must gain 3,000 Reputation with their Faction and complete a quest.
MAJOR RUNE OF HOLDING
The Major Rune of holding costs 3,000 Faction Tokens as well as 500 Gold, players will need these to craft Hope Storage Chest, Iron Chests and Layered Leather Adventurers Satchel.
COMMON MATERIAL CONVERTER
Common Material Converters cost 100 Faction Tokens and 0 Gold, being the least expensive item on the Faction Shop.
These are one-time use items that allow you to convert different refining materials into others. These are perfect when you are in a pinch and do not want to loot chests or purchase items on the Trading Post.
I personally don't use these as they are not a 1 to 1 trade off and realistically I never run out of the Materials they convert because I'm constantly grinding resources, but still worth a check out for those of you who do.
TIER 3
In order to acquire Tier 3 players must gain 11,000 Reputation with their Faction and complete a quest.
GREATER RUNE OF HOLDING
The Greater Rune of Holding costs 5,000 Faction Tokens and 1,000 Gold and will be able to craft Hope Storage Chest and Layered Leather Adventurers Satchel.
STARMETAL CHISEL
The Starmetal Chisel costs 2000 Tokens and 150 Gold to purchase. While many players ignore this resource, I personally really enjoy it as it will help you craft Orbs for Trials which are essentially bosses in the overworld.
While Trials do not provide players with the best Gear, they are extremely fun and quite a rarity to see, though this is dependent on what server you are on.
GEM SETTING PINS
Gem Setting Pins cost 300 Faction Tokens and 100 Gold and can be used for Jewellery Crafting.
FACTION COLOUR DYE
Depending on what Faction you are a part of you will be able to purchase their colour in a dye for 300 Faction Tokens and 100 Gold.
TIER 4
In order to gain Tier 4 with your Faction players will need to acquire 26,000 Faction Reputation and complete a quest.
GRAND RUNE OF HOLDING
The Grand Rune of holding costs 7,000 Faction Tokens and 1,500 Gold. They are used for Golden Steel Storage Chest and Infused Leather Adventurers Satchel.
TIER 5
In order to get Tier 5 players must gain 49,000 Reputation with their Faction and complete a quest.
CHUNK OF CONSECRATED IRON
The Chunk of Consecrated Iron is a Craft Mod that allows you to place the Resilient Perk on any of the pieces of Gear you are making.
It costs 3,000 Faction Tokens and 10 Gold.
GYPSUM ORB
Gypsum Orbs are going to be the main priority for players to purchase from their Faction as it will guarantee that they receive at least one piece of Gear that is in their Expertise range per day.
Depending on where a player is completing their Faction Quests they should be able to get both Gypsum per day every day as they are only 7,000 Faction Tokens and no Gold.
I would strongly recommend you purchase both every day so you can either hoard the Gypsum Casts until you are 625 Expertise or use them immediately if you are trying to get to 600 Expertise.
WRIT OF ADVENTURE
Writ of Adventure are the most expensive purchase a player will make, however, they are one of the most useful as they will allow you to upgrade your Heartgem up to the third tier.
Writs of Adventure cost 20,000 Faction Tokens and 1,000Gold and while players can get one from the Main Story quest, many players will upgrade multiple Heartgems so they can switch based on the task they need based on what the rest of the team is running or what Expedition they are in.
While I personally do not have all of my Heargems up, this is a priority for the future so I can see myself purchasing a lot of Writs of Adventure.
As a warning, if you are preparing to have multiple Heartrunes, you may want to purchase Writs of Adventure in advance as you can only buy one per day.