New World is generally a very diverse game with a great deal of variety in it, providing endless hours of content for players who are both into PVE content and PVP content.
While it seems like New World is slowly starting to focus on PVE content primarily the health of PVP content seems to still be going strong with many players ultimately making it their main focus on the game.
Though when I started playing New World, I told myself I would probably never get into PVP, as I continue to regularly stream New World on Twitch and grow the community on there, the more I want to get into PVP to play with the community.
Now I have to say, there are many different ways players can engage with PVP including some aspects that are extremely involved with others being a lot more casual. The reality is that PVP and PVE see very little cross over and though you can get a fair bit of loot in PVE for PVP the same cannot be said the other way around. The reason for this is that a great majority of the loot that you get from PVP can only be utilized in PVP.
Today we're going to be covering the part of PVP that requires the least commitment out of all the rest of them, though it will still provide players with a good amount of loot in regards to PVP. This guide will take you through all of the positives and negatives of flagging yourself in PVP on New World.
WHAT IS THE PVP FLAG?
The PVP Flag is essentially a marker that allows players to be engaged in PVP anywhere in the world.
This can only be utilized in the Overworld and there is no way to mark yourself for PVP when in Dungeons.
When using the PVP Flag, also known as being Flagged for PVP, players will essentially become vulnerable to being attacked by others in the Overworld as long as they are also flagged for PVP.
YOU CAN ONLY HIT AND BE HIT BY OTHER FACTIONS
One of the most important things to keep in mind when being flagged for PVP is that you are only able to attack players or be attacked by players who are in other Factions, meaning that if you are a Maurader you will have to avoid Syndicate and Covenant; and so on and so forth.
Admittedly, it can be hard to tell the difference between each player's Faction, however, next to any player's username is a coloured symbol that represents what Faction they are a part of, so keep your eyes open.
The symbol also takes the shape of whatever faction the player is in, so when you get used to the shape of each faction things will be much easier to understand. I will admit, these are a bit harder to read, especially when players have unique Faction symbols as some of them make the symbol look very different. Still, players should be able to tell what other players' factions are from the background of the symbol.
I have to say, the worst part to being flagged for PVP is that you will only be able to be healed by players who are of the same faction/group as you and who are also flagged as PVP. This means it's very risky to do things like World Bosses, especially if there are not many people around you.
Now, just to restate and clarify, if you are in groups with members of your Faction (even if they are not in your literal group or Company) you will still be able to be healed by them as long as they are flagged with PVP.
WHY CAN'T I RESURRECT SOMEONE WHO IS FLAGGED AS PVP?
One of the very unfortunate realities to flagging yourself for PVP is that you lose the ability to be resurrected by the majority of other players.
While in many instances being resurrected is rare and tends to only happen in group, many will do Elite Chest Runs flagged for PVP, leaving them very susceptible to being left behind and never picked up.
Now, this isn't usually an issue if you are in a group as any of your group members will be able to help you, but if you are not in the same group chances are you're going to be left there.
Not only this, but you will only be able to get resurrected by a team member or by a member of your Faction when you have died, so make sure you've got someone around if you're trying to do high-level content when flagged for PVP.
HOW OFTEN WILL YOU GET ATTACKED WHEN FLAGGED FOR PVP?
It really, really depends on what server you are on and what part of the Aeternum you are in. I tend to have better luck not running into players in the lower portions of the Aeternum and can simply grind out resources, though, in areas such as Ebonscale or Brimstone, it's extremely common to get sniped only a few meters outside of a settlement. Now, this shouldn't discourage players from flagging as PVP in these areas as in many cases you will be completely fine, especially if you have skills that let you leap forward or travel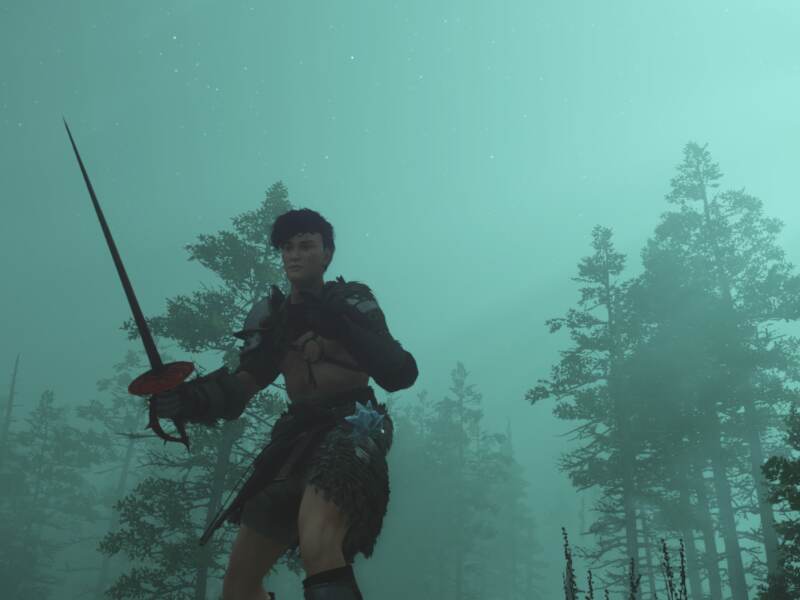 BONUSES FOR BEING FLAGGED FOR PVP
I understand that at this point of covering everything for being flagged with PVP players will be questioning why they would ever flag for PVP, but there are a ton of benefits.
Players will gain the following bonuses:
All equipment, including those in a player's backpack, will take 50% less durability loss if they are killed by a player.
Players will gain experience for killing other players, receiving 4x the experience if the player they have killed has been alive in game for longer than an hour. There are even better rewards if a player has been alive for longer than that.
Players gain 10% looting Luck, which is perfect for killing mobs and scavenging Chests. This is most worth it if all of your Gear has Luck, however, if you do not have luck Gear it's not going to be nearly as useful.
Players will receive 30% Gathering luck, making it incredibly easy to get good loot when harvesting, especially if players have the corresponding Trophies.
The biggest turn-off for being flagged for PVP, or at least something that players should be well aware of is that each will cause the respawn timer to become longer and longer, meaning that a player will want to ensure that they do not die too many times in a row. This will count down if a player in a settlement.
If players get to a place where their respawn time is too long for their liking, they can either chill in a settlement or simply take off PVP until it cools down. Logging out should work too, however, chances are you're going to want to keep playing this game because you're obsessed.
CONCLUSION
While at the end of the day, you're going to want to be careful when flagging for PVP, I would strongly recommend having it on throughout the majority of your adventures, especially if you are gathering.
The absolute best bonus you get is gathering luck especially if you are in lower areas. Quite frankly, the luck that you get for killing mobs or looting Chests is mostly useful for higher-level areas, but this typically raises the chance of you dying due to more level 60 players hanging out in the same area.
So I'm curious, how many of you are always flagged for PVP? Do you feel like the benefits of being flagged for PVP are good enough? Let me know in the comments below!