I often get asked what my favourite games to play have been and I'll be honest, most of the time I draw a blank.
Admittedly, I wasn't a gamer who had a variety of games growing up and it wasn't until I downloaded Steam that my catalogue of games started growing. With the addition of Steam to my PC I felt like my catalogue of games started snowballing, especially being that Steam had so many free games for me to try out and their filtering system to locate games is still by far one of my favourites.
In 2020 I bought my first Humble Bundle subscription, which is truly when my catalogue of games spiraled, leading me to have over 300 games within a year with not enough time to try out said games. While to this day, I have not played all of the games on my computer, I have been able to crack through a good portion of them on Twitch, leading me to firstly take myself out of my Tower Defense/Management comfort zone, but also have a better understanding of how I would rank games based on my personal taste.
While the reality of video games is that there are just too many in the world to play them all and not every video game is going to be everyone's favourite. I will also say that finding like-minded gamers has helped me select which video games I'd try out next, especially when so many games have poor descriptions or not many "Let's Plays" leaving me uncertain of whether a video game is worth trying out.
I'm going to try to make it a goal of mine to release a list of games I played on and off stream for the year ranked as a way to help other like-minded gamers who either like the games that I play on stream or write about to help them figure out whether or not they would enjoy the same games. Unlike most other ranked lists that are available to gamers, this list will include games that were not released in the year I played them, especially because it's not always a possibility to purchase a game upon release, especially if you don't have the finances or if you're like me and have had a Humble Bundle subscription which keeps handing you 9-12 games a month and you don't know what to do with them!
It should also be noted that if I didn't get a game from Humble Bundle, chances are I bought it during a Steam Sale or on CDKeys, meaning that if your budget is tight, chances are you'll be able to do the same.
#43. SMILE FOR ME
Smile for Me is a god awful game.
It's very memey and low budget and for that I like the game, but the story was very uninteresting and the puzzles weren't great,
Smile for Me is a point and click game that requires a player to locate objects to progress the story. While some elements are enjoyable, others really aren't and the game isn't the most straight forward.
Honestly as shitty as this sounds… I don't even really care to go in depth with this game because I found it so unenjoyable and wouldn't recommend it.
#42. ANIMAL CROSSING: NEW HORIZONS
Animal Crossing: New Horizons is a game that has been recommended to me so often. Honestly as much as people talked about it and stated how much I would enjoy it given the games that I play, it wasn't great. I do not enjoy Animal Crossing.
Again, I understand the appeal of Animal Crossing, but it's much too slow and very grindy for me.
I can understand wanting to dump hours into making a beautiful island, but the fact that you're gated with time and that you really have to get a huge amount of money in order to do anything, I lost interest fast.
There are no mini-games in Animal Crossing it's literally just resource collecting and while items are super cute in that game. It's really not worth the amount of time spent trying to get those items.
Really, I can't talk much about Animal Crossing because I have nothing really good to pitch… There's obviously an audience, you're more than welcome to enjoy the game, I just don't.
#41. MARIO 3D WORLD
I thought Mario 3D World was going to scratch my itch, but I was severely wrong. While the game has some very interesting levels, acting similar to many Mario Games, the game as a whole was a bit of a snore.
Mario 3D world plays morel like the traditional games, though in a more 3D version.
The game is quite easy, though there are some stages that are ultimately frustrating and while I almost completed the game I stopped as soon as I admitted my answer was no.
Mario 3D World is what really had me questioning whether any Switch games were good, though I'm really glad it came with Bowser's Fury, because that was dope!
#40. DISHONORED
Dishonored is a really good stealth game with a fantastic story set during the plague.
The game has some very unique and interesting aspects to it, providing players with magical abilities to help them complete stealth missions better, however, it's essential that players stealth, making the game very difficult and somewhat boring for players like me who like to use brute force to get through things.
I truthfully hate games that have 0 combat in them and while players can initiate in combat in Dishonored, it can leave the game unplayable or lock you into certain parts of the game where you literally will die upon spawning. That was the problem for me.
Knowing that the game was focussed on stealth, I chose to ignore that information and continued killing everyone in hopes that the plague would get worse and worse, but I got to the point where every time I was revived I was killed immediately, ultimately making my save file useless.
Chat was obviously reprehending me telling me that it was stupid to even attempt a full kill run of Dishonored, but I'm going to be honest… I'll probably do it again.
If you're anything like me, I would strongly recommend purchasing Dishonored. While a full kill play through is possible, it's really tough to do and is much less fun than you think it would be.
I would recommend a complete different game.

#39. STARDEW VALLEY
Stardew Valley is a game that I thought I would enjoy much more than I did, pretty much being a farming simulator game.
I say this frequently, I get the appeal of Stardew Valley and recognize how well thought out and how well designed the game is, but i's simply just too slow and calming for me.
It's definitely a play to relax kind of game, but it outright put me to sleep getting me yawning every stream because of how tired it made me.
Stardew is much better with friends and you will need a lot of patience if you're going to solo it as there are so many tasks a player can complete.
Combat is overly simple, but players will have to grind out the money for better gear regularly to be able to get to the more complicated areas to fight in.
Overall, Stardew wasn't the game for me and I can't even say that I wish it was, because I have plenty of games that I can just chill to and don't really need another one on my list at the moment.
#38. OUTLAST
Outlast is admittedly a great game for jump scares, but the positives about this game kind of stop there.
As a game, Outlast is a stealth horror game, requiring players to continuously run away from bosses, but doesn't have any fighting mechanics.
Outlast would be fine if there were breaks in between the running that required the completion of puzzles, similar to Resident Evil, but the only real mechanics are opening and closing doors, moving shelves to close off or open areas, jumping around, recording things with a video camera and interacting with some devices that will help you escape.
The worst part of Outlast for me was the story and to be honest, while I have the DLC and Outlast 2, I don't think I'm going to play them.
Outlast is ranked so high admittedly because I really enjoyed being jump scared. Overall I don't know if I would have played it.
If the story was better I would probably play it again, but the fact that I didn't get too many breaks in between the chase kind of ruined the game for me.
I will say, I understand why the game was made this way as it really fits the emotion the game was trying to get at, it's just a case of the *shrug* I guess this game isn't for me.
#37. HEAVY RAIN
Heavy Rain is a cult classic game, though I have to say for me it didn't land the best.
While I recognize how Heavy Rain was a trendsetter for it's time, I would have to say that playing it years down the line wasn't as interesting.
Essentially you are a dad who has lost his son to the Origami Killer and have to beat the clock and save your son before he dies.
The coolest part of the game for me was how the story would change if you took too long to complete mechanics making it's replay-ability fairly infinite. My only problem was the fact that I found it difficult to get very invested in the story.
While I was on the side of the protagonist and really wanted to save my son, I have to say that the game felt like it moved too slow. Mechanics were decent and most of the characters were written well, but the game is definitely aged.
I honestly don't know if I would recommend it, but it's alright. Probably better when riddled with nostalgia.
#36. HOLLOW KNIGHT
Hollow Knight is one of the most frustrating games for me and to this day is the only game that I have ever rage quit on stream.
As simple and cute as Hollow Knight looks, it's really not, having players trying to solve complex boss battle mechanics with limited types of attacks.
Hollow Knight as a game is a platformer and like many, every death has a penalty. One of the most frustrating parts of the game is that whenever a player dies they will lose their money and will have to kill their spirit to get it back.
If players die before killing their spirit, they will essentially lose all of their money, having to start from scratch.
Thing is, it's not just the mobs that are a problem in the game, being that there are plenty of different types of mobs with different abilities and kiting mechanics, but the terrain is also a massive factor of death in this game, leaving players like me who suck at parkour with massive amounts of death and truthfully a lot of anger.
I would love to give Hollow Knight another try in the future because I realistically think it's a great game, it's just a bit too stressful to me right now and I still don't think I can pick it up. Maybe after many hours of Donkey Kong Country or something.
#35 EVIL GENIUS 2
Evil Genius 2 is honestly a super funny game and honestly was such a huge highlight of my gaming this year, though I have to say that it's a game that gets boring after your first campaign.
While the story is really good for each of the characters you choose to play as, the reality is that the mechanics for each play-through are exactly the same, making it less interesting than similar games like Two Point Hospital.
I wish I could rate Evil Genius 2 higher, but the fact that it doesn't have interesting replay-ability really kills the game for me.
I've tried my hardest to complete this game on multiple difficulties with different Geniuses, but every time I just get bored because I feel like I'm just repeating the same steps.
A little bit about Evil Genius 2. Your goal is to take over the world by training minions to do your work for you. If minions are out of bounds or aren't working as hard as they are meant to, you have the option to murder them in order to force all the witnesses to want to work harder.
You will also have to assign your minions to do different tasks around the world in order to assist you in your world domination.
A play through is quite long, requiring hours to finish, making the first play through enjoyable and really hilarious game.
#34. DEAD BY DAYLIGHT
Dead By Daylight is an asymmetrical killer-survivor game that features one killer and four survivors.
Survivors must complete 5 generators in order to open the gate to freedom while killers must try to hook each survivor 3 times in order to kill them.
While DBD is a fun game, there's unfortunately a good deal of toxicity that happens in gameplay making the game less enjoyable or ragey in the long run.
Players do have the option to play Custom matches, not requiring 5 players, though being much harder to escape when players have less than 4 survivors.
For me, Custom matches were much more interesting than the regular games, as there was obviously less toxicity, though if you don't have a group of friends who can play regularly it causes you to lose interest quickly.
As a player I was much more interested in playing a killer as survivor for me was very boring, but both have mechanics that will keep the game interesting, often leading people to flip flop between what they play.
It's an alright buy in my opinion, though there are alternatives that are coming out that may be much better. Admittedly, I probably won't try them.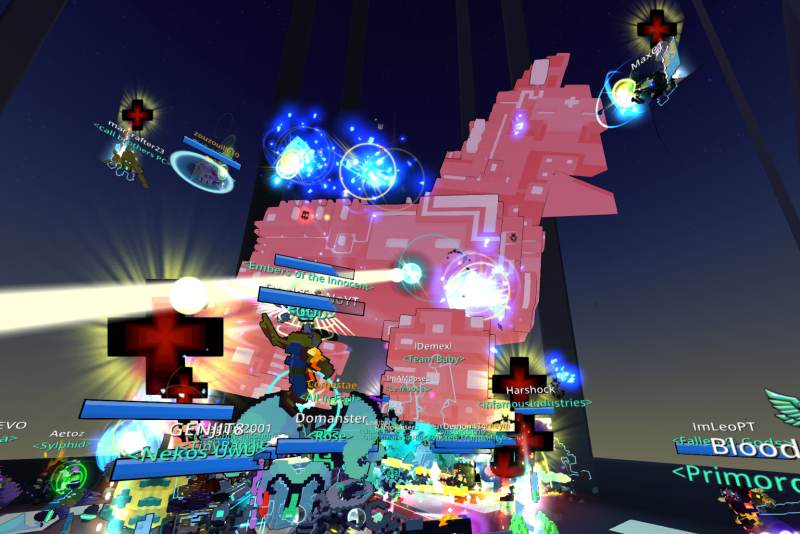 #33. TROVE
Trove is a really great free game to play, but feels very similar to Genshin Impact in the way that it requires players to rely on RNG a good amount of the time.
While the Trove Devs have worked on reducing the amount of RNG required I have to say that without paying for their patron pass.
While Patron isn't the most expensive in relation to most other video games, the choice to purchase it is highly going to be about how much time you want to spend in the game. I'd say if you enjoy the game it's worth it.
Trove is a great game if you want something to focus and grind in, however, passively playing the game isn't really possible as a lot of the mechanics require players to log in every 30 minutes to every hour. While players don't necessarily have to do this all the time when they are in the mid-to-late game, these events will still be a priority for all players
While the mechanics of Trove aren't anything complicated, this game is great for the community aspect and is very mindless fun.
Essentially Trove is a game where players will grind out dungeon after dungeon hoping that loot drops, though players will also have to locate world bosses to grind in order to help get better gear, mounts and general loot. I honestly would compare Trove to WOW just more basic and pixelated.
At the end of the day, Trove is all about grinding, so be ready for a lot of that… because it's never going to stop. Every patch brings more grinding.
I would continue to play it if I had the time or if the Devs just made it a lot simpler to do the things you need to do.
#32. POKEMON SNAP
Pokémon Snap holds so much nostalgia in my life and while I loved the original, the remake just didn't feel the same to me.
I recognize the makers wanted to add to the game and make the game longer, it just felt a wee bit overwhelming with less of a focus on the Pokémon in my opinion.
The New Pokemon Snap allows players to take photos of Pokémon as usual, but unlike the previous version of it, players will have to unlock tiers of levels for each level, essentially meaning that a player must repeat the same zone over and over again to be able to see new Pokémon and to be honest, it got boring to me.
I definitely enjoyed Pokémon Snap enough to finish it and recommend it, but I'm going to say that I probably wouldn't have finished it if I wasn't playing with family and essentially just shit talking the whole time with each other.
I didn't think I'd ever complain about this, but there is just too much to the new Pokémon Snap. I wish progression went by faster and I didn't realize what I was walking into when I bought the game as I thought it was going to be fairly similar to the original one.
Don't get me wrong, the game is fun and all, but it just feels like a bit of a job and I already have that taking photos of my cats.
#31. BLOONS ADVENTURE TIME TD
Bloons Adventure Time TD is a great free game that is a great introduction into the genre as it is very simple and doesn't require much grinding in order to complete all of the levels.
Admittedly, for me, BATTD is such a stress reliever, but it became very boring when all of my towers became so over powered that I didn't have to think anymore.
I will say, the side Martian Games are what keep me interested in BATTD, however the regular game feels very boring after some time, even with events.
I would strongly recommend BATTD if you're looking for a calming game and are not used to Tower Defense games or are new to them.
#30. VALHEIM
I had a bit of a battle with myself whether or not I should add Valheim to the list as I admittedly never gave it enough time to do a solid play through.
I do have to say that Valheim is very promising as a game, though it can feel utterlusly tedious for players who do not have a whole lot of time to play it.
Essentially, Valheim is a survival RPG game where players can upgrade their character by doing tasks such as fighting, chopping down trees, mining, etc, but anytime they die, their stats will be set back.
This to me was one of the most interesting parts of the game and truthfully a part that I enjoyed, though I am one of those players who just didn't have enough time to dive into it.
For me, a game like Valheim would have to be a daily grind as players will need a great deal of resources to build proper bases to survive in and for them to grind their skills up to a tier where they actually provide you a decent boost.
Valheim is honestly really fun, though very frustrating if you're new to the troupe as there are actual penalties to dying, which admittedly is something that will happen in the early-to-mid game where a player's gear isn't the most protective or their weapons aren't strong enough to nuke enemies.
I would honestly love to do a proper play through of Valheim because it's so nice and that's why I'm putting it on the list. I wish Valheim could have fit into my hectic schedule last year, but unfortunately that wasn't the case, which is why this game is so low on the list.
#29. LITTLE MISFORTUNE
It is no secret that Little Misfortune is a crowd favourite amongst most gamers and my reality is that I couldn't fully enjoy it because I saw bits and pieces of other streamers playing it.
Little Misfortune is truly adorable and dark, though because there aren't a whole lot of alternate interactions, I'd say there isn't much point in replaying it.
I would strongly recommend that players avoid any play throughs of this game if they are hoping to play it as while the game is still enjoyable, a ruined story makes the game lag a bit.
I think Little Misfortune has a great deal of humour and dark, making it a fantastic story and the whole way you're rooting for the main character and some side characters. Truly a delight in that regard.

#28. GRIS
It's odd for me to put GRIS so low on my list as for me it was a truly impactful game that helped me grieve the loss of my fur baby. Though I have to say that GRIS is a great play through and was very emotionally impactful for me, I can't say that that is true for everyone.
GRIS is a non-combat platformer that takes players through the story of grief told through beautifully drawn and sound designed art pieces. Mechanics are quite simple and the game allows players to discover many elements to the game that aren't overtly obvious, allowing players who enjoy exploration to find extra story elements in hopes of unlocking the true final cutscene.
Looking back, there are a number of games that I would play again before GRIS, but I cannot deny how cathartic GRIS was for me while grieving.
I would strongly recommend giving it a play through, but especially as I talk to more folks who have played it, I recognize that it is not as impactful to everyone as it was for me.
#27. RESIDENT EVIL 7
Resident Evil 7 is a decently solid game, though I have to admit that it didn't really scratch my itch.
For me, Resident Evil 7 didn't end up being one of my favourite Resident Evils as I wasn't so much a fan of the story or the gameplay aspects of it.
I would say it's an "eh" play through, trying to set up for Resident Evil Village, though the two to me don't really work well with each other.
I will say, Resident Evil 7 had some of the most interesting mechanics, but I really couldn't get into the characters, often cheering for the wrong side of things and making decisions that didn't stick to cannon.
I would humbly say that Resident Evil 7 is skippable, and realistically I think players can jump into Village with little confusion.
Village definitely pulled my interest more than 7, though I'd say 7's mechanics were better than Village's.
#25. GENSHIN IMPACT
It's no shock that I was absolutely addicted to Genshin Impact and while I can safely say that it is still one of the best games I've ever played given the characters and the way you fight in that game, I can't look past how much I hate the way that the game is set up.
Essentially, if you're going to play Genshin Impact, get ready to be very frustrated with the "Gambling" aspect of the game that requires you to either spend money or grind your titties off in order to get the wishes to get the characters you want.
I simply cannot handle games with that much RNG and is ultimately the reason I quit playing Trove, which by far was still one of my favourite games because of how mindless and enjoyable it was.
Genshin is very enjoyable and has some of the nicest fighting mechanics I've ever experienced, allowing players to freely change between characters in order to land combos and fight more efficiently.
Truly to me what killed the game was ho much time a player would have to spend in the game in order to actually get the things that they want and while I recognize that a healthy gamer would be able to take a step back from their dailies, gamers who have any sort of addiction problems will soon begin feeling the stress to keep up and anxiety from not logging into the game.
I, in good consciousness, cannot recommend this game to anyone who has a similar personality type as me as I do believe it is quite unhealthy, but I also cannot deny how nice the game is and feels outside of it.
I do want to make note, I'm not disappointed or upset at the way the game has a "pay to advance" or "pay to get the things you want" mechanic, that to me isn't even the frustrating bit, it's the fact that after you pay you may still be in the same boat or a similar boat as players who do not pay due to the RNG. Essentially you can dump money into this game and still end up with characters you don't want or duplicates of characters you already have that you actually don't need.
If you're a player who can look past all of that and play happily, so much power to you and enjoy the game, but if you're not… I strongly recommend checking yourself every so often to make sure you're actually enjoying the full game instead of just elements of it. I was a player who admittedly enjoyed the core elements of the game, but emotionally couldn't process the parts that were addictive that were making me unhappy.
#24. TWO POINT HOSPITAL
Two Point Hospital was a game that won my heart quickly and lasted me months on stream.
Two Point Hospital is a great management game that allows you to customize your own Hospital and can get quite challenging in the end game to upkeep, often leading a player to struggle with finances and making sure that patients stay alive.
I have to say, I haven't completed everything in Two Point Hospital as it seems like some of the DLCs are ridiculously hard to keep up with, but I have still secured hundreds of hours in the gameplay.
As much as gameplay is repetitive, start with a new hospital, generate an income, research ailments, make sure staff is working properly, the purchase of new DLCs really does alter the game and add new struggles keeping it interesting.
In the early levels of Two Point, players will be able to sit back a bit, allowing them to passively play the game a bit, but as things progress to higher difficulties, players will have to really focus because the financial struggles become very difficult to deal with.
I do have to say that there is also a good variety of gameplay aspects in the game, making it so patients aren't cured in the same fashion and keeping players on their toes for what facilities they need to focus on and how fast a player can advance their hospital or what facilities they will need to open or close to ensure that the most patients they can help are served.
Two Point also has different game modes to keep gameplay fresh. While players can solely complete the main story they can also play in a Sandbox Hospital or a mode that brings on waves of patients.
I don't know if this is an unpopular opinion, but although Two Point is moddable, I feel like the mods ruin the game and make it much easier or brainless, ultimately killing the game. Of course it would depend what mods you end up using, but I would say in my experience most didn't really sit right for me.
Two Point will provide players with a great amount of game time, though I would strongly recommend taking it slow as it is a game that will leave you burned out if you play it too quickly. For me it's more of a pick up, put down kind of game and I've been on a much needed pause, with the hope to return to it in the future.
#23. SONG OF HORROR
Song of Horror was a great game and was a great introduction to the Horror-Puzzle niche, though I have to say that the game is very tough if you are playing with deaths on.
Song of Horror's puzzles are actually quite interesting and remind me a lot of Resident Evil, minus the Zombies and the killings.
Essentially, players must locate tasks to complete in order to progress the story, combining items and playing mini-games to survive ghost attacks.
Song of Horror is truly immersive and I strongly recommend a play through, though I would say, play the game mode where you can't lose characters if you're new to the niche as if you lose all of your characters, you have to restart from the beginning, which can be frustrating.
I will also say, the early parts of Song of Horror were much more interesting to me as some of the mini-games close to the end simply felt like a nuisance and there were some weird bugs in the game.
I still think that Song of Horror is a great story, minus the ending for me, but it's another right of passage Horror video game that I recommend all players attempt at least once. This is especially true for players who are new to the niche as it covers many of the most important mechanics that most Horror games have.
Would I play Song of Horror again? Yes, but never with deaths because it's too stressful for me.
#22. GROUNDED
Grounded has been a game I had for years but chose not to play as it has been in Beta for a very long time and didn't have a whole lot of content in it.
At this point, I would say that Grounded has a good amount of content and feels like a full game, providing my husband and I with a number of hours of exploration and mob killing.
Grounded is kind of based off the concept of "Honey I Shrunk the Kids" where players must try to survive as children who were shrunk in a failed lab experiment, traversing a large backyard to solve puzzles that will help them make better gear to survive.
Depending on what kind of player you are, Grounded has a good amount of time you can play it, though if you're someone who simply likes to get to the end game without building or creating resource farms the game can be completed within a month.
Admittedly, I'm a player who will probably return back to Grounded every time there's an update, but I find myself getting bored in the in betweens, leading me to mention that the newest update isn't actually as nice as I thought it was going to be.
While the newest update added a good amount of places to explore, there weren't any puzzles to complete and the "final boss" was significantly easier than bosses we have faced in the past.
If I was to give an honest suggestion, Grounded isn't really worth the full-price, but given how much that has been added since the initial BETA launch, the game is very promising and somewhat suffers the "No Man's Sky" problem where the BETA lasts a very long time and players review it as a full game.
I'm very excited for future releases and can't wait to see what happens with the game.
#21. BLOONS TD 6
Bloons TD 6 is my go to comfort game, being that it is a calming Tower Defense game that gets more difficult with the more releases that come out.
It's no secret that I've been playing this game for over 4 years, being one of the games I cover the most on this blog, though I have to admit that this year it took a bit of a backburner for me.
While Bloons TD 6 is still a great game, I have to say that this years events didn't really pique my interest, so I didn't spend as much time in it as I typically do, simply because I'm not someone who usually keeps up with daily tasks if I don't have to and I have more than enough loot to help carry me through newer releases of the game.
It's a bit sad to see Bloons TD 6 so low on my list, because it's been such a staple of my life, especially due to the massive update of Paragon Monkeys, but I'm sure that my love for it will come back sooner or later.
The game itself is going to be great for new players and I have to outright say that I personally believe that Bloons TD 6 is the best Bloons game out there, especially due to the amount of customization players can get out of their Towers and because it feels like the most thought out version of the game.
I strongly recommend that players who are interested in Tower Defense Games like Orcs Must Die to play it as it's great, moddable and truthfully a great time suck to get out of your mind.
#20. LITTLE NIGHTMARES 2
Little Nightmares 2, for me, was a bit of a miss. I had just come off the high of Little Nightmares and while the mechanics of Little Nightmares 2 were much more interesting and challenging, I really didn't like the story.
To me it feels like the story fell flat on it's face and I was admittedly very disappointed at the end of the game.
Now, that's not to say that Little Nightmares 2 isn't worth playing, because it is to me, but I will say that it kind of doesn't feel like it's all there for me, while Little Nightmares felt very moving to me.
Little Nightmares 2 plays similar to Little Nightmares, requiring players to solve puzzles and parkour to escape the attacks of big baddies, however, there are a lot more elements to the game.
Players will have access to two characters that they must use to help assist each other in the escape and will also need to experience their first bouts of combat, which I didn't expect in a Little Nightmares game.
I would honestly have to say that the mechanics were the sale for me when it came to Little Nightmares 2 and those alone make it worth playing. I can truly look past the story, but for players who can't, then this might not be the game for you.
I will say, Little Nightmares 2 did get me hyped for another version of this game as I was truly shocked with how much more immersion they added into the mechanics of the game.
#19. BOWSER'S FURY
Bowser's Fury, to me, was the better part of the Bundle of Mario 3D World + Bowser's Fury.
Bowser's Fury consists of a variety of puzzles and adds many mechanics to the game, allowing players to travel around an open world 3D version of Mario.
Bowser's Fury reminded me a lot of Mario Sunshine for some reason and while I didn't finish Mario 3D World I did a full 100% complete of Bowser's Fury.
I don't really know how to dive into Bowser's Fury because it's kind of like a typical Gamecube Super Mario game, though it also provides players with a new mechanic that allows you to have a partner in the game that is Bowser Jr who can either be a human or a computer. Depending on what playstyle you give Bowser Jr. it will make the game significantly easier or make it more challenging for the player.
I truthfully loved walking aimlessly around the world killing mobs and solving the puzzles and I have to admit, there were some elements to Bowser's Fury that were really difficult for me, mostly being timed challenges, making the game a lot more fun.
#18. ORCS MUST DIE 3
Orcs Must Die 3 has been a game I've been waiting to play for years. Being an avid player of Orcs Must Die: Unchained, I was so disappointed when the game was no longer supported as it was by far my favourite game to play with my husband.
Orcs Must Die is a traditional Trap-Tower Defense game that requires players to attack hoards of Orcs that come their way.
I have to say as much as I enjoy Orcs Must Die 3 as Orcs Must Die 3 holds a focus on upgrading a player's Traps and skills versus being focussed around levelling up your character and giving them special abilities.
To me, that's what really made Orcs Must Die Unchained interesting as you could essentially change your gamestyle to whatever you needed.
I will also say, my favourite characters from Unchained did not make an appearance in Orcs Must Die 3 and for that I am significantly butt hurt as none of the characters in Orcs Must Die 3 interest me and it mostly made me miss Unchained.
I will however say that I really like the levelling system of your Traps in Orcs Must Die 3. It's really great, essentially providing players with Skulls to spend every time they complete a level and get more based on how quickly they complete a level.
I just wish they kept the in level levelling system because it was really interesting to me and that they kept some of the old characters.
Don't get me wrong, still a great game, happy I bought it. I was must spoiled by the mechanics of the older one and feel nostalgia.
#17. GTA V
GTA V was my first GTA game and honestly, I loved every second of it. Not to mention, GTA V was also my first shooter game, being a great way to be submerged into the playstyle.
GTA V follows the stories of multiple characters, providing players with a main story as well as side quests to follow for some extra story. As the game is "open world" players can choose to interact with these side quests, however, can completely ignore them if they are not interested.
Although I personally haven't played online, players can continue to play with friends or random players online, extending the gameplay of the game.
As I'm more story focused, I can only comment on how good the story was, albeit it was quite uncomfortable at moments for me as some of the story feels very Alpha Male and I'm just not used to it.
GTA V had some of the funniest moments for me, such as not being able to drive properly, being murdered by citizens that you shouldn't have started a fight with and diving into the menial tasks to try to make more money and failing.
Quite frankly it was a great game that I would dive into again, just because it felt very immersive and smooth.
I strongly recommend the game as it provides endless hours of gameplay and is another one of those games that players can sink as many hours into as they would like as the game is not over once the story is over. Players can also prolong the story if they want to by exploring the world and doing side quests as often times the side quests will appear while you're aimlessly driving around the world.
#16. HOUSE FLIPPER
I have to say, I'm very shocked with how much I enjoyed House Flipper, immediately clocking in several hours into the game upon getting it in Humble Bundle.
I have to admit that I was so obsessed with House Flipper that I finished the base game with 2 DLCs within a couple of days. I do have to say, this was on 2 days that I full on took off, just to clarify that this wasn't due to the lack of content in it.
House Flipper is essentially like the Sims without the live stuff, providing players with different sorts of tasks. Players can either take on tasks where a client tells them what they want and will be able to complete it using unlimited funds, tasks where a client has a budget and the player must choose what items they can and can't put, the ability to buy dilapidated houses in order to flip them or cleaning projects that a player can essentially just make money off of.
I have to say, House Flipper was very easy to get addicted to and I essentially went down the rabbit hole of buying the DLCs every time they were on sale, though in doing so I realized that some DLCs were better for me than others.
Being that House Flipper is another game that players can simply use the Steam Workshop to download custom items, having some of the DLCs feels a bit "pointless" as they seem to mostly add new items into the game, though there is a bit of a downfall to using Steam Workshop items as it doesn't seem to register with the client what the item is.
Players can use the Steam Workshop items in order to help make their houses pretty, though if a client is looking for something in particular like "more TV's" or "more plants" these items do not count, they do however count for the resale value, making them decent assets.
I would say that the Sims and House Flipper are two very different games, with different energies.
House Flipper is really nice because you get the skeleton of a home, while the Sims is superior for players who want to build houses from scratch.
For me, I found the tasks in House Flipper to be much more interesting than flipping houses with no tasks, although I can understand the appeal. I just would rather build in the Sims if I didn't have the tasks as I find it much more interesting to build the layout of a home at that point.
While House Flipper does allow for a lot of customization, players will not be able to alter the outside of a home, only having the ability to change the internal structure and the gardening aspects, but not the size or roof of the home. I do not see this being a task players can complete in the future, so before you buy the game, if this is a problem for you steer clear.
As much as I found House Flipper more calming than the Sims, I have to say that it had a bit shorter of a lifespan for me, as there were only certain elements of the game that I was very into, leaving others to be "I hate doing this" tasks, such as mowing the lawn.
If you're a player who likes doing menial tasks like that, go for it, but if you're not… Get ready to be burned out if you have too many DLCs because they will alter gameplay and force you to do more tasks that you may not be invested in.
#15. THE SIMS 4
It's no secret that the Sims 4 is really what launched my streaming "career" and that I've spent 338 hours in while on stream alone, not even factoring the hours that I have spent playing on my own and testing out factors of the game.
The Sims 4 is honestly a great tool for designing houses, however, I feel like it's a bit of a sinkhole.
While I enjoy building houses on the Sims, it is filled with a good amount of frustrating bugs and building mechanics that don't make sense. While I'm usually a gamer who can look past the bugs, The SIms 4 often feels very frustrating to play and tolerate bugs in due to EA being such a big company, the game being out for years and receiving a good amount of updates and the cost of the game being quite significant.
While at this point I have almost all of the packs in The Sims 4, I really wouldn't have purchased them if I wasn't streaming it as often as I was. To me, the cost was a bit ridiculous given all of it's flaws, not to mention how terrible gameplay felt for me after a while as it felt like the game took a step back from previous releases.
Now, what does help when it comes to The Sims 4 is the capability to mod it, altering gameplay and adding your own custom content into the game. Sadly the process of modding and adding CC into your game isn't as simple as clicking a subscribe button on Steam though it is manageable as long as you remember to update all your mods and files manually whenever the game is updated.
While in the past I was a full on Sims gameplayer (ie. before streaming) The Sims 4 pushed me into the direction of building, albeit even though buggy and frustrating, there were some really cool designs you could do in it.
Although I'm on a long hiatus from the Sims, I would pick this game back up again, though I have to be honest in saying that it comes with weird problems and to me doesn't feel worth the price tag.
I'd recommend buying packs on sale, entering giveaways and definitely recommend speaking to content creators about what packs they enjoy and why to help you avoid purchasing a pack you might not actually enjoy.
I think it goes without saying, there are some Sims packs that are absolutely gorgeous for building and some that are great for gameplay, however, I would also encourage players to delve into the world of CC and mods as player can essentially play the base game with mods and CC and have a great experience. Realistically, this is one of the best ways to navigate The Sims 4 if you are on a budget.
#14. PLANET ZOO
Planet Zoo is a game I thought I would enjoy more than I did. I'm obviously a fan of Planet Coaster and the reality is that Planet Zoo is much more fleshed out, though I feel like the burnout for Planet Zoo was more than Planet Coaster.
Essentially, for me, Planet Zoo's campaigns were really difficult at first, but after spending a good amount of time in the game, scenarios became quite a breeze for me though not as interesting as Planet Coaster.
I would say, Planet Zoo is a tremendously cozy game with lots of really great animal models to explore. The Sandbox element alone has a good amount of gameplay and I would strongly suggest it over the scenarios as those really didn't scratch my itch.
Campaigns are slow and require players to spend at least an hour or two to complete them, helping players see what terrain they can play with as well as teach them a bit about the which animals can be combined in enclosures and how much space they require.
I feel like if I ended up playing Planet Zoo at a less busy time of my life I would have been able to enjoy it more as it is drastically more intricate than Planet Coaster, however, if you're a gamer who doesn't have a lot of time on your hands it may not be the option for you as the majority of it is designing enclosures and making sure that guests like how your park looks.
Planet Coaster takes a lot less patience, in my opinion as a player can simply leave an area with no scenery and still run a successful park that will not be running negative numbers. Essentially, Planet Coaster is much more relaxed for those who don't have much time to play video games with the option to get more serious if you want and Planet Zoo is about micromanaging from the beginning and you will always have to keep your eye on different elements unless you turn off certain mechanics to play, which honestly makes the game a lot more manageable.
The thing that Planet Zoo has over most games is the realistic animal models it provides players. I could spend literal hours playing the game just watching the animals walk around and interact with each other, though I'd have to say, with Planet Zoo it mostly feels worth it if you have a good portion of the DLCs.
As beautiful and well done as the models are, players can quickly get bored of the same models or animals over and over again, especially if a player has moved beyond completing the campaign and wants to continue playing the game in Sandbox.
Players will also have access to Thememaker's Toolkit objects as they do in Planet Coaster, meaning that players will have access to a great variety of scenery items made by the community. Admittedly, I haven't used any for Planet Zoo yet as I don't have enough hours exploring what I already have with the DLCs and base game, however, I can see how much replay-ability this can give the game, especially as it's very similar to Planet Coaster.
I would probably rank Planet Zoo higher than Planet Coaster if I personally ended up spending more time on it, but alas, maybe next year.
#13. LITTLE NIGHTMARES
Little Nightmares is an adorable horror game that requires players to complete simple, yet challenging puzzles in order to progress.
Players will have to make their way around the world avoiding big baddies and trying to figure out what they need to alter in the world in order to progress.
The game is fairly quick paced and will require a player to parkour fast enough to avoid being eaten by the baddies. Upon being killed, players will return to their last save point, making some parts of it frustrating as there are long puzzles that take a bit of extra time to get through.
Little Nightmares has a great story even though none of it is spoken and players will have to fill in the content for themselves.
I truly believe that Little Nightmares is a bit of a right of passage for players and is a game that everyone should try out, unless you're just not a fan of the genre.
Little Nightmares is also a game I'd play again and again because of how fun the mechanics are to me.
#12. RESIDENT EVIL VILLAGE
Resident Evil Village for me was a pretty good game, though there's a lot to complain about. Noting that I'm not a Resident Evil fanatic as I'm very new to the series, I think my perspective will be a bit different than the majority of people.
For me, I really loved the fantasy elements of Resident Evil Village and really loved the ability to have a shop that lets you change Weapons.
It was also lovely that Resident Evil Village was more open world than the other games, though I have to say that the mapping was very frustrating as it was very unclear how players got to certain parts of the map, especially because players were only able to enter certain areas from one direction and it was very easy to get lost in the village itself.
For me, the mapping was truly the most frustrating part as I already struggle with in-game spacial awareness, compounded with the element of keeping up with chat, truthfully I could have done without it.
As for the game itself, the story was great… up until a third of the way in.
It really felt like the game was super beginning focussed and then everything else was kind of… just put in there to extend the game.
I truthfully wouldn't have continued the game if there weren't so many Weapon choices and if the game wasn't so memeable as the story really fell down face first, but truthfully it didn't destroy the game for me.
I found myself spending hours in the side parts of the game, just killing mobs as some of the Weapons are my absolute favourite in Resident Evil, I just wish the story did more for me.
Would I recommend Resident Evil Village, yes! But I'd say, in true Gabbie Hanna fashion "manage your expectations." The best Resident Evil (for me) is still 2, but Village is one that I will return to just to blow off steam and slowly grind through so I can get the fully upgraded version of all the Weapons and smash out mobs.
Speaking of smashing out mobs, it feels like Village was the first Resident Evil where it was somewhat encouraged to kill everything you see as they dropped a great deal of loot. I think the same can be said about 4 or 5, but both weren't playing nice with my computer, so if I'm wrong about that… please correct me.
I'd say grab this game on sale, because it didn't fully meet all expectations, but it is worth the play.
#11. LUIGI'S MANSION 3
I'm pleasantly surprised with how much I have been enjoying Luigi's Mansion 3 and while I'm currently on a Hiatus from making YouTube Videos, simply from a lack of time and wanting to make sure I practice good self-care, I have been itching to get back into it.
Admittedly when I first bought my Nintendo Switch none of the games that I bought really piqued my interest and I was ready to say that the Switch was an iffy purchase.
To this date, my favourite console is still the Gamecube, being that it had some of the best adventure games that I've played such as Sonic Adventure 2 Battle, Super Mario Sunshine, Zelda: Twilight Princess, and Zelda: Windwaker.
While I have played Luigi's Mansion on the Gamecube and thoroughly enjoyed it, I have to say that Luigi's Mansion 3 surprised me with how good it is.
Bosses are harder, puzzles are much more tricky and honestly the additions to the mechanics are great.
I truthfully want to make time to play Luigi's Mansion 3 off stream or YouTube simply because of how much I enjoy it, but I somewhat feel obligated to wait until I can make time to play it on YouTube since I've already started the series.
If you've got a Switch and are into puzzle adventure games, this one is for you. I will say, Luigi's Mansion 3 is a bit more difficult than I expected it to be and in some clips on YouTube I will literally state that I'm shocked that something that looks like a "children's game" has such tough aspects.
#10. RESIDENT EVIL 3
While I really enjoyed Resident Evil 3, I have to say that it didn't blow me away. Still a very good game that I would recommend, I would say Resident Evil 3 didn't have as good of a story as Resident Evil 2 and I remember upon completing it on stream I said aloud, "that's it?"
In my opinion, if you are a player on a budget, this game is skippable, though it is one of the smoother games from the Resident Evil franchise that to me is "Resident Evil" whatever, that means coming from me.
Essentially, there are a lot of puzzles and a good amount of Zombie and Boss avoiding, the game is very linear and simple to follow, it's just the story isn't fully there for me.
If you're not arsed about a story and just want to play a good game with fun escaping, then grab it. If you're someone who only likes games with good stories, don't. That's pretty much my biggest way of breaking it down.
#9. PLANET COASTER
Planet Coaster has always been an all-time favourite game for me, however, this year it fell a bit back for me, simply because I have thousands of hours in it and its replay-ability feels less impressive to me.
While to me, I would probably never fully put down Planet Coaster, I've completely finished the campaign and all the Challenges at the highest difficulty.
This year when I started streaming Planet Coaster, I ended up downloading a good amount of Thememaker's Toolkit products, which are located in the Steam Workshop and are simple to download and use, bringing new life into the game.
My goal for stream was to create a Pokémon Theme park, which held my interest for quite a while until I was ready to move onto Planet Zoo.
While a few years back I would rank Planet Coaster much higher on my list, given that I'm a longterm veteran, the sparkle of this game is almost gone.
I will still go back in to design some cool coasters, but it has drastically dropped on my "most played games" so I in good conciousness cannot rank this as high as I would have in the past.
I will say though, if you haven't played it before, it is well worth it and the base game and DLCs are extremely cheap on CDKeys still making it one of my best recommendations for players who like management, building or sandbox games.
The learning curve for Planet Coaster is mid-range and I have over 1,000 hours in the game, letting you know that even though this game is ranked lower, it's really not a bad buy.
Players will be able to build theme parks that contain travel rides, roller coasters, thrill rides and gentle rides. Everything is fully customizable, though players can also download pre-built rides freely using the Steam Workshop if they would simply like to place rides instead of building them by hand.
#8. FORAGER
A game that I completely ignored from Humble Bundle was Forager and I have to admit, I wish I didn't ignore it.
The only reason I ended up taking a look at Forager was because a stream colleague of mine had picked it up and had quickly become addicted.
Admittedly, Forager's graphics are quite cute, but due to it being a pixel game, I thought it was going to be trash. Yes, sometimes I'm that asshole who judges a game by it's cover and I hope that in the years to come that changes, especially because of instances like this where I would have missed out on a great game that sucked hours out of my life.
I would honestly compare Forager to Stardew Valley and while I (yes hate me now) didn't enjoy Stardew Valley, I was obsessed with Forager.
Forager is a calming game that requires players to build an empire of machinery to help farm and craft resources. It comes with a series of puzzles that players can access by purchasing more islands and quite frankly, in my opinion, is much better than Stardew.
Forager isn't completely brainless and calming and while both share similar tasks such as farming, fighting, fishing and base design, the puzzles and dungeons are really what vaulted Forager so far forward for me. Not to mention, there are a variety of Weapon choices players can use in Forager that really help keep gameplay more interesting.
Players will quickly get the option of alternating Weapons to get the most out of their time farming and will be able to upgrade all of their gear to obtain passive abilities that makes grinding much more efficient.
I will say, the end-game of Forager is truly boring and not because there's nothing to do, but because your machinery takes way to long to finish creating your items.
I don't say this to discourage players from playing the game, as there's a lot of playtime before you reach the end game, it's more of a note that I couldn't actually finish the game completely because I was tired of waiting around.
Still a top game for me, lots of gameplay to explore and very relaxing and calming for those days where you simply want to get out of your head.
#7. DON'T STARVE TOGETHER
Don't Starve Together has held a big part of my life for years now and I truthfully have waves of coming in and out of it.
While Don't Starve Together receives a good amount of updates every year, I can't say that every update is solid gold and I find myself relying on mods to keep gameplay fresh and interesting.
Now, this isn't at the fault of the game in my opinion as I find most games need the assistance of some modding from time to time and realistically I don't mind it.
Don't Starve Together is a survival game that requires players to manage stats like Hunger, Health and Sanity and is riddled with a good amount of mobs and bosses that the player can choose to defeat at their own pace.
While the base game has a lot of content in it, if a player has played this game for years… or over 1,300 Hours like I have, modding is a bit of a necessity especially between new character releases or new game mode releases.
I also have to take this opportunity to say that I feel like DST is one of the best valued games as players will be able to purchase 2 copies for the price of one, although not always properly promoted that way.
Not to mention, it's brilliant how big the modding community is for this game and how active they are, allowing players to interact with custom characters, custom mobs, RPG settings and a variety of other content.
The DST Community, for me, has been one of the kindest and active communities, leading me to always come back to the game.
I will say, DST isn't very fun on your own though, that's it's major downfall. It's similar to other survival games in that regard, often leading players to want to give up because they just don't know what they want to do, how to do things, or for newer players it can be very difficult to survive a year in the game.
I would say once players have a good grip on the game or enough players, the game becomes much more manageable and enjoyable.
This year DST was much more interesting with the new character Wanda who flipped the script on how the game can be played and quite frankly, I'm addicted again.
#6. WE HAPPY FEW
An odd game I got from Humble Bundle a few years ago was We Happy Few, which is extreeeeemeeely cheap on CDKeys with all the DLCs.
We Happy Few was the first game I really fell in love with on stream and when I had picked it as our "Adventure Game" I really had no idea what it was about and can't even remember why I picked it.
At first, I have to admit, I was very confused with the game and didn't understand what to do, though after completing the first storyline, Arthur, I fell madly in love with the game.
We Happy Few is a bit of a weird game, it's a bit post-apocalyptic and is meant to be more of a stealth game, however, if anyone knows anything about me, I will make any stealth game a combat game.
I spent endless hours just smashing villagers who were minding their own business and exploring every house I could for odd upgrades and recipes and really didn't want my play through to end.
I also have to admit, I have played the side games a generous amount of times and to this day still hold it very near to my heart as one of the best indie games I've played.
I will say, though I really enjoyed this game, the reviews from peers have been super mixed. A lot of this has to do with how a lot of the DLCs aren't fun or fleshed out correctly and the main attraction is the first storyline of the game, Arthur, leaving Sally and Ollie a bit shafted. (Note: Ollie and Sally are not DLC, but in the base game.)
I admittedly wouldn't recommend the DLCs other than Victoria's, which by far had my favourite mechanics in the game, though I would say that unless you get a good deal on the DLCs (which cost only 2$ extra on CDKeys, they are not worth it.)
I have to sympathize with the team that created We Happy Few as it seems they had bigger goals than they could achieve in the time it took them to complete the game, leaving some bugs in the game and some plot holes, but I personally was able to look past it simply because of how fun the combat and upgrades were.
Truthfully, it's a game I will probably play again and again just because of how much I enjoy those elements and I was blogging about it for a while until I realize that the game for me was more about personal enjoyment. However, if you grab this game, let me know what you think about it and if you also enjoy it. You're also more than welcome to let me know if you need any advice on strategies as it's not the most straight forward.
What you're looking at when it comes to the base game is an Open World with plenty of main story and a whole lot of side quests. Both have some very funny moments and challenging "stealth" puzzles, though the fact that this game, unlike Dishonoured, allows you to become a serial killer makes it all the better.
#5. RESIDENT EVIL 2
Resident Evil 2, was my first introduction into the Resident Evil world and to this day is still my favourite of the franchise.
Being that I didn't grow up with the Resident Evils, I really didn't know what to expect, but my Twitch community kept bringing up how much I had to play the game, leading me to cave in and really enjoy myself.
By far, Resident Evil has been one of my favourite franchises to discover, although I have to say that for me as a gamer, there are some games that I prefer much more than others.
At this point, I've played through at least half of the Resident Evils, focussing on the remakes as they are more PC friendly, but Resident Evil 2 has been my favourite.
Resident Evil 2 comes with a great deal of action, though the puzzles are some of the more interesting ones and the story isn't bad at all. The remake itself is gorgeous compared to the original and while I understand the nostalgic factor of Resident Evil games as a new arrival to the troupe I would say this was the best way for me to be introduced.
While at this point I have played all of the newer additions to the franchise, I have to still say that 2 was my favourite and I cannot wait to stream the alternate stories one day on Twitch.
If you've never played a game like Resident Evil before, I strongly suggest you start with Resident Evil 2. While it's not the first in the franchise, you won't feel like you're missing out and you will understand all of the tactics involved.
As a short idea of what this game is, you'll have to defend yourself against or try to escape from Zombies, Bosses while trying to find items to solve puzzles.
#4. POPPY PLAYTIME
I feel like most people are going to be shocked with how high I ranked Poppy Playtime as admittedly it's an indie game that doesn't have much to it and hasn't been completed, but realistically I'm just so antsy for the next update.
Poppy Playtime is a Horror-esque game that's very memey and provides players with both jump scares and puzzles.
As simple as Poppy Playtime is, I really think it's a great play through and will leave most players with a few hours of laughs and some surprise twists.
As weird as it may be, Poppy Playtime might be my favourite horror game thus far, but not because it's the scariest, but because it was an all around great time!
#3. ZELDA: BREATH OF THE WILD
Unsurprisingly Breath of the Wild made it very high on my top tier list, though I have to admit that I was a bit worried that I wouldn't enjoy it because it was so hyped and because I was already an avid player of Genshin Impact.
While the two games are often compared, especially due to the art style similarities, I really can't say that the games are actually that similar.
Zelda: Breath of the Wild is by far my favourite game to stream and I honestly think it might be my favourite Zelda game I've played, right beside Twilight Princess.
I wouldn't say that Breath of the Wild is a classic Zelda game, especially because players will now have to deal with the durability of Weapons and will be able to unlock passive and active magic spells.
The main difference between Breath of the Wild and other Zelda games is the fact that players must solve puzzle Shrines that will help them gain more health and stamina to adventure with, being my favourite part of the game.
I can't tell you how excited I am when I find a Shrine and the amount of enjoyment I get out of solving them.
I'm sure I don't need to tell you, because you have a million friends telling you to play it… but play it. It's so good!
#2. HADES
Hades, which is currently on sale on CDKeys, has been one of the most refreshing games for me to play this year.
I'm a gamer who really enjoys shattering through mobs and grinding dungeons making Hades a game I have enjoyed for literal hundreds of hours.
While Hades was meant to be an only "on-stream" game, I quickly realized early in my gameplay how addictive this game was, especially with the amount difficulty settings and customizations you could make using the different Boons provided by gods.
Although I completed a good portion of the game on stream, I would say I put in 3-4x the amount of time into this game off stream, still playing and writing about it to this day, although it's been months since I started.
What I like most about Hades is how easy it is for a player to pick up and drop it, being that while it is a story based game, it is pretty impossible to not remember what you were doing, which I typically find in Zelda games.
Admittedly, while Hades has a lot of customization, I would say that it's best in bursts as for some players burnout may feel like a tremendous reality.
Essentially in Hades, players will be forced to continuously escape the same Chambers over and over again with minor changes.
Hades, to me, is a completionist's dream and while the average player has the option of playing this game until they complete it the first time, players who fall in love with the game can still play the game for years trying to find all the hidden aspect and get all the hidden stories, especially if a player is invested in the story.
#1. FFXIV
It should come at no surprise to anyone that Final Fantasy 14 or FFXIV was my favourite game to play this year. While admittedly, I've been playing FFXIV for about 4-5 years with the occasional break in between this MMORPG experienced the massive update of Endwalker making it even more enjoyable.
FFXIV features a variety of gameplay, including Dungeons, Crafting, Gathering, Side Questing and even gambling mini-games. Truly, I feel like FFXIV is one of the most diverse games I've ever played, allowing players who enjoy different facets of gameplay to choose whether or not they are going to focus on an element of the game or simply ignore it.
While FFXIV does have a great portion to it that focusses on fighting and progressing the main story as a damage, tank or healer focussed job, players can always choose to take a break from this to simply customize their character, level up a Crafter or Gatherer, grind for Mounts or Minions, decorate their home or apartment, or simply run around the world aimlessly roleplaying with other members of the community.
The options a player has is indefinite, which is why I believe FFXIV has had such a long life.
The only issue with FFXIV is that it is an ongoing monthly subscription, unless players are willing to only use the Free Trial which had a shockingly good amount of content, though doesn't allow players to adventure into the majority of the newer areas.
I've said it before and I'll say it again, FFXIV is the only game that I actually don't mind paying a sub for and actually think that it is very reasonably priced for the amount of content amount of hours you can spend playing the game.
Endwalker itself has been the best expansion to date and has made me put aside all my other video games to obtain all the side story quests possible.
I 10/10 recommend!
CONCLUSION
I don't think I realized just how many video games I tried this year and this list doesn't even include the games that I tried for brief moments and simply couldn't get into.
While at the end of the day everyone is going to have a different way to rank the games that I've played, I still have to say that for me the most important factor of a video game is how much I can replay that video game until I get bored or it simply cannot be replayed.
I'm curious though, what were your top games of 2021? Were there any games that I should have tried? Have you played some of the games on this list and can't agree with my thoughts on them?
Let me know in the comments below!