Recently I've been itching to start playing FFXIV again, especially while I take breaks from streaming and playing Genshin Impact.
As an individual, I like having multiple games on the go, especially because so many of the games I play have downtime for server updates or have vast lapses in content updates that make the gaming experience less than ideal and end up leaving me running aimlessly around the world until I can find something to do.
Final Fantasy XIV has been a huge love of mine for years, and while admittedly I took a large break shortly after I completed the initial content in "Shadowbringers" with the upcoming update of "Endwalker" that comes out on November 23, 2021, I thought it was about time that I renew my subscription and get to grinding some high-level gear so I can play with my friends again.
It's honestly shocking to me how long FFXIV has been around, being that so many games I've played have had much shorter lifespans due to a lack of updates or have simply ignored their player bases' requests, leading many players to boycott and essentially leave the worlds empty or make it more difficult to actually get things done.
As many of my regular readers and viewers know, MMOs are my favourite type of game, and I often end up playing games like Trove, Maplestory, Elderscrolls Online and Guild Wars II. Coming back to a game like Final Fantasy XIV just makes sense, especially because I would classify it as one of the best MMOs I have ever played with one of the best track records I have experienced given updates and fun content to complete.
Note: If you have any questions about FFXIV that you want me to cover feel free to leave them in a comment below, you can also ask me while I am streaming on Twitch, YouTube or in our community discord.
HOW DOES THE PAYMENT MODEL OF FINAL FANTASY XIV WORK?
Final Fantasy XIV works like many other MMORPGs, requiring a player to purchase the game itself, any expansions the player would like to participate in and also pay a subscription for any of the months a player would like to play.
While this seems like a hefty amount of payments, FFXIV's expansion packs include all previous expansion content so you only ever need to purchase the most recent expansion (and the base game).
Buying the base game with no expansions essentially caps the player at the level and limits them to the areas they have paid for. This also means that a player will be locked with the dungeons/trials they have access to and will not be able to see any of the new content.
Though this is true, players in this situation will be able to continue to play with others who have access to the other expansions, though within the limits of the content they have purchased.
FREE TRIAL
New players can participate in a free trial of the game that has no time restrictions, though there are limits on what a player will have access to when playing the game, including being capped at level 70 and not having access to many social interactions like DMs or the ability to create custom Parties. They also will not be able to use the Market Board or Retainers.
With a "Free Trial" players will have access to the base game, Heavensward and Stormblood, though this should give a great taste of the game and will most likely encourage you to purchase a subscription before you completely level up a class.
It should be noted, that if players have bought the base game or any of the expansions, they will not be able to "revert to a free account" as the moment a player pays for a subscription (which is included in the base game for 30 days), they are considered a paying customer and are no longer privy to the benefits of the "free trial."
There are plenty of players who have hundreds of hours in FFXIV and have never moved beyond having a Free Trial account. There is no shame in this and I say more power to you if you haven't gotten bored with the content you have access to, especially because you know for a fact that the Free Trial will always cover more expansions in the future.
EXPANSIONS
At the time of writing this post, there are a few different versions of the game a player can purchase.
The Base Game (Starter Edition), which includes A Realm Reborn and Heavensward, capping a player at level 60, Shadowbringers (the expansion pack that includes Stormblood and Shadowbringers), or a "Complete Edition" which includes the Starter Edition and the expansions of the game. Note, the Complete Edition will never include expansions that have not been fully launched or are still in pre-order, meaning that players who are currently joining the game while there is a pre-order, such as right now for Endwalker, will also have to make that purchase if they would like to participate in the expansion.
Luckily for players, pre-orders come with many benefits, making the purchase a bit brainless, especially if you know you enjoy the content, though again this purchase is not necessary if you are uncertain about playing the new expansion.
Oftentimes pre-orders will include earrings that will provide you with an EXP boost until a player has leveled to 10 levels below the new expansions' maximum. Players will typically also receive an exclusive minion. So right now for Endwalker, you will receive earrings that give an XP boost up to level 80 and a minion.
It should be noted that if players purchase a "Complete Edition" of the game, there are no real savings unless a sale is involved, essentially the "Complete Edition" bundles all the expansions in one purchase making it more convenient.
After a new expansion's release date, its purchase will include all previously released expansions, so you only ever have to buy the latest one.
SUBSCRIPTIONS
As mentioned, players will receive 30 days of an online subscription for paying for the Starter Edition or Complete Edition of FFXIV, however, once those 30 days are completed players will have to pay a subscription to continue playing the game.
There are two Subscriptions available for players to purchase including Entry, which allows players to make a maximum of 8 characters (1 per world) and Standard, which allows players to create a maximum of 40 characters with a limit of 8 characters in a single world, though these characters can be spread out anywhere.
While purchasing a Standard Subscription might seem like overkill since many players will not want to create alt accounts or even have 40 characters, the reality is that a player will want to choose which subscription they want to pay for based on how they would like to pay.
Entry subscriptions require players to purchase the subscription every month, while Standard subscriptions have the option to be billed monthly, every 3 months or every 6 months.
If a player chooses to sub for 3 months they will receive a small discount and if they choose to subscribe for 6 months they will only have to pay a fee equivalent to purchasing the Entry subscription for the same amount of time.
It should be noted that a subscription counts down based on "in real life" time versus time spent in the game, so if you're taking a break from FFXIV or there is a 24-hour maintenance period (which happens about every 3 months), your subscription is still ticking down. Let this be the biggest factor on which kind of subscription you purchase as I've been in situations where I've had to take full months off of the game due to work or another odd factor.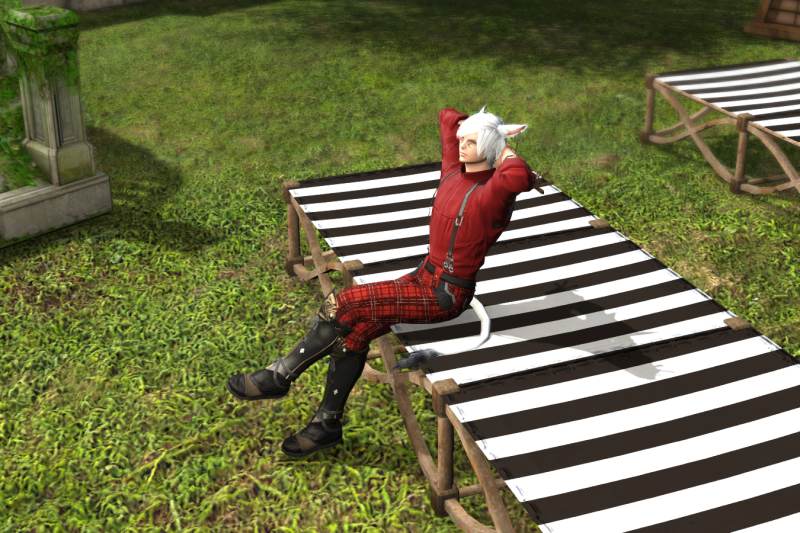 WHAT SYSTEMS IS FINAL FANTASY XIV AVAILABLE ON?
Final Fantasy XIV is currently available on a variety of platforms including the Playstation 4, Playstation 5, Windows PC and Mac/Apple.
Unlike many other games that limit players to only playing the game with players on the same platform, players on FFXIV will be able to interact and enjoy the world with players of all platforms, though if a player wants to play on multiple devices they will have to buy a copy for each device.
It should be noted that a player will also have to buy all of the expansion packs on their various devices if they wish to play on them as logging out in an area on one device that you do not have on another will make it impossible to login until the player moves.
That being said, a player will not need multiple subscriptions to play on different devices.
WHERE DO I PURCHASE FINAL FANTASY XIV?
Final Fantasy can be purchased on the official Final Fantasy XIV site or players can also purchase it on Amazon.
Players can also head to the Square Enix store to purchase the game.
After players have bought the base game and the expansions they are interested in they will have to head to the Mog Station in order to purchase their subscription or to make extra purchases like cash shop items, extra retainers or name changes.