When it comes to playing Genshin Impact, players are going to quickly realize that the most important resource they can collect are Primogems.
Primogems are quite frankly one of the most annoying resource to farm, though the reality is that the majority of tasks a player can complete will provide players with Primogems, though there are some tasks that will only provide players with a small amount of Primogems in comparison to other tasks.
While not all methods of collecting Primogems provide players with a good amount of the resource, it is a good idea to get Primogems in any way that you can as even collecting a couple of Primogems at a time can build up over your monthly grinding.
Primogems, although seemingly rare, are actually one of the easiest resource to farm as there is no limit as to how many a player can farm due to the fact that they are an unlimited resource.
In most cases, players will be able to do between 20-30 Wishes a month if they are actively grinding Primogems, though this guide will take you through all the fastest methods you can collect Primogems including both repeatable methods and one time methods.
MAIN STORY QUESTS
Although not repeatable, the reality is that players are going to want to complete their Main Story Quests as soon as possible to earn some Primogems.
While not all quests provide players with Primogems there are some amazing quests out there that can provide players with 100 or more, essentially being able to provide players with almost a single Wish every time they complete a main story quest.
The greater reality is that players will also be able to fuel their Adventure Rank quickly by completing their Main Story Quests, essentially being able to double the speed in which they collect Primogems.
It should be noted that there are not enough Main Story Quests that you will be able to do to fully fuel your Adventure Rank, so players will want to grind the game in multiple ways in order to get the most out of their grind.
ADVENTURE RANK
Adventure Rank is something that is going to be extremely important to players as not only will it provide players with a good amount of resources such as Character Level-up Materials, but some Adventure Rank tiers will actually provide players with a healthy amount of Primogems being 100 and beyond.
Although grinding Adventure Rank can prove to be problematic for some players, especially those who are struggling to power up their characters to an acceptable level to combat the World Level increases, the reality is that the higher your Adventure Rank the more chance you're going to get valuable resources that will help you power up your characters enough to combat the difficulty increases.
Adventure Rank works hand-in-hand with completing a number of other tasks on this list and is one of the biggest passive ways players can grind out Genshin Impact, though players will want to avoid simply killing mobs in the World in order to access extra Adventure Experience in comparison for treasure collecting or completing tasks that require Original Resin as these will guarantee Adventure Experience.
Players can avoid levelling up "too fast" by leaving their ascension quests uncompleted, as this doesn't stop players from being able to gain Adventure Experience, however, will limit the player from progressing in their Adventure Rank (ie. leaving them locked out of the rewards that levelling up gives.)
This, in my opinion, is the best method to deal with Adventure Rank increase if you are struggling with harder bosses as it will still allow players to quickly receive their rewards once they are ready.

ADVENTURER HANDBOOK
The Adventurer Handbook is quite daunting as it requires players to complete a number of tasks in order to actually get their rewards.
The Adventurer Handbook, while daunting, is going to be another passive way in which players can obtain Primogems, though unlike Adventure Rank, players will have to regularly check in with their Adventurer Handbook in order to ensure that they are working towards their goals as putting the goals behind them will prove to be counter productive simply because there are a number of tasks that players may be inching towards that they will be able to complete faster if they just focused on them.
In many cases the Adventurer Handbook will require players to level up certain types of Materials or advance their Characters to certain levels, though some tasks can be as simple as opening up chests or locating Statues of the Seven.
While I strongly recommend speeding through some of these chapters, there are a few of them that I would recommend waiting for as the cost of Mora is going to be a bit difficult to acquire in the long run.
COMPLETING ACHIEVEMENTS
Achievements are definitely a more passive part of Genshin Impact and in many cases players will be acquiring their rewards without thinking.
Achievements will provide players with about 5-20 Mora each, though there are a few Achievements are super quick for players to complete and some that players may not even be aware of without taking a quick glance in the Achievement tab.
I strongly recommend taking a look at your Achievements every so often to see if there is one you can complete quickly as any amount of Primogems is going to be helpful in the long run.
Not only will players receive Primogems for completing Achievements, but when players complete a full tier of Achievements they will be able to use a new background for their Namecard.
SPIRAL ABYSS
One of the best, but toughest ways to collect Primogems is to grind out the Spiral Abyss.
The Spiral Abyss is one of my favourite parts of Genshin Impact and to be honest it's what I spend the majority of my time doing while streaming.
The Spiral Abyss has two parts to it, the first 8 levels are levels that never alternate out and will only allow players to complete them once, while floors 9 and above will rotate out bi-weekly in order for players to grind out Primogems more consistantly.
I strongly recommend using this to your advantage and making sure that you focus on levelling up characters that will be good for the Spiral Abyss that week as you will need two teams of characters in order to progress that difficulty.
The Spiral Abyss is considered to be end game content, so don't be too upset if you can't complete it early on, you have plenty of time to get there and will honestly need a lot of resources to be able to help carry you through it.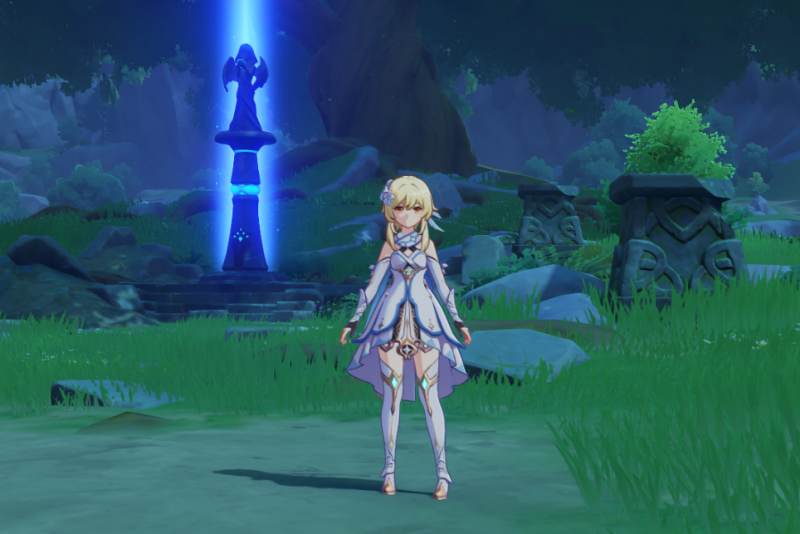 UNLOCKING WAYPOINTS/FAST TRAVEL POINTS
One of the first tasks you should when entering Genshin Impact is unlocking all of the Waypoints/Fast Travel Points as not only will this provide you a substantial amount of Primogems straight out the gate, but it will also provide you with faster travel when trying to finish your Dailies or straight up adventuring.
In general, having the most map coverage cannot ever be a bad thing, especially as some quests require players to hop from one side of the map to the other quickly and efficiently.
STATUES OF THE SEVEN
Similar to the Waypoints/Fast Travel Points, Statues of the Seven are going to be a priority to unlock as they will provide you with tremendous vision of your world early before you have even adventured to these locations.
Unfortunately without Statues of the Seven your map will remain unrevealed, making them the more important method of transportation to unlock early, simply due to the vast amount of visibility they provide a player.
Players will receive some rewards for unlocking Statues of the Seven, though giving Anemoculus and Geoculus to the statue will also provide you with extra Experience and
CHESTS/SHRINES
Although Chests and Shrines provide players with a small amount of Primogems, the reality is that players are going to want to maximize a good amount of their exploration efforts into locating them as they will provide a player with a good variety of resources and will be able to help push a player's Adventure Rank quite quickly, especially if they have an Anemo Treasure Compass or Geo Treasure Compass on hand.
If players have finished all of the tasks they need to do for the day they can begin their treasure hunt to locate chests and Shrines.
I strongly recommend getting yourself a Compass as soon as possible for this as it will greatly increase the speed in which you will locate chests.
HANGOUTS/STORIES
One of the most boring aspects to the game, in my opinion, are the hangouts and stories that players can unlock for completing Daily Commissions.
Truthfully, the main reason I find them so boring is because of how long they can take to complete and for the Story Quests how long the alternate endings can take to acquire simply due to the length of the story.
As someone who is fairly uninterested in the story of Genshin Impact and is more interested in the gameplay, this is a less-than-ideal way of grinding out Primogems, but is still very worth it for the amount that it provides and that extra story lines that players will unlock.
Not only that, but the one thing I do like about Hangouts and Stories is the fact that you get to try out characters that you don't have, making this the most interesting aspect of completing either hangouts or stories.
DAILY COMISSIONS
Players should always make sure that they are completing their Daily Commissions as they are going to be the best way to both level up your account and make sure that you are getting as many resources that you can get quickly.
There are 4 Daily Commissions players can complete per day, receiving 10 Primogems for each completed and also another set if all four are completed in a single day.
I strongly recommend focusing on this, especially if you are a player who doesn't have a whole lot of time on their hands as these done alone can help boost your account much further with minimal effort.
EVENTS
Although Events are in rotation the majority of them will focus on giving players a handful of Primogems, especially those that have multiple steps to them.
I strongly recommend checking out the Events tab regularly to ensure that you are always up to date with what Event is currently going on and what tasks you need to complete in order to get the most Primogems possible.
In many cases players will not be able to grind out all of the Primogems available to them in Events, however, late-game players should be able to get a good chockful of the Primogems that are available.
Again, don't be too upset if you are unable to completely grind out an event as they do take a good amount of time and will often require players to have fully levelled up characters in order to get all of the tiers completed.
It sucks, but it does always give players something to do.
DAILY CHECK-INS
Something I was completely unaware of when it came to Genshin Impact was the Daily Check-in done by HoYoLAB.
Unfortunately the Daily Check-in is not featured in-game, which is why it is easily missed and will require players to head to this link in order to claim their rewards such as Primogems, Character Level Up materials and of course Mora.
I would strongly recommend doing these because they can really boost your account and let's be honest, free stuff is always nice!
GAME TIPS & TUTORIALS
A hidden feature in the game is to read the Game Tips and Tutorials to get one Primogem for each tip.
Players don't actually need to read this information, however, whenever they click on the tutorial they will receive their loot.
It might not be much, but players can get around 100 or so Primogems from simply opening up their Tutorial section.
BATTLE PASS
While it's a bit disingenuous to say that the Battle Pass provides you with Primogems, as the free variant only provides you with Acquaint Fates, if a player purchase the Gnostic Hymn they will be able to get Primogems as well as Intertwined Fates to help with their wishes.
While I personally wouldn't recommend this purchase it is there for players who would like that extra boost.
BLESSING OF THE WELKIN MOON
If you're just frustrated with grinding Primogems and have some extra money to dump into Genshin Impact you have the option to purchase the Blessing of the Welkin Moon, which provides players with 300 Genesis Crystals as well as 90 Primogems a day for 30 days, equaling out to 2,700 Primogems.
While I'm personally a Free-to-Play kind of gamer, I can't deny the amount of assistance this can provide a player, especially one that doesn't have a whole lot of time on their hands, though the reality is that you are really gambling with your money as even with 2,700 Primogems a month you're not going to be guaranteed good rolls.
Do this with caution as I don't want you wasting your money on a game only to get disappointed, but the option is there.