When it comes to raising the stats of a staff member in Two Point Hospital it can get pretty confusing, especially when some of the stats are not as well explained as others.
While Staff Morale is not always a stat that players focus on, especially in campaigns or scenarios that do not require players to meet a certain threshold for this stat, the reality is that Staff Morale can really help carry a player through some of the more difficult circumstances whether or not a player is asked to focus on it.
WHAT IS STAFF MORALE?
Staff Morale is a stat that compiles of the following attributes:
Pay Satisfaction
Energy
Room Prestige
Hospital Attractiveness
Hospital Temperature
Hospital Hygiene
Needs
Players can locate their Staff Morale in their Staff Overview tab where they will both see a breakdown of all the different categories that affect Staff Morale as well as their overall Staff Morale rating that players can bring up in order to affect their overall Staff Morale rating.
Players will want to make sure that they focus on the lowest stats in order to bring up their main stat as fast as possible.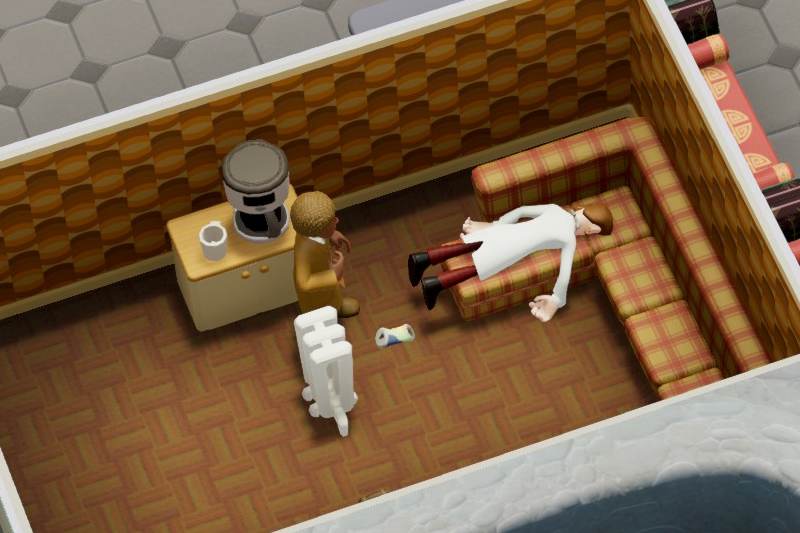 WHAT CAN I DO TO HELP RAISE EACH STAT?
While some stats are straight forward, other stats tend to be a bit more confusing, especially if players do not have a proper understanding of how the Hospital functions overall.
The following is a breakdown of each stat and what players will be required to do in order to raise them.
In many cases these stats can be easily managed and raised, though there are some that will be more difficult for players to manage.
PAY SATISFACTION
When it comes to Pay Satisfaction, players should have no difficulty deciphering what this stat means.
Essentially as staff levels up, players will want to make sure that they are always keeping a tab on how their pay as having an underpaid employee will essentially lower their Staff Morale.
While players can keep their Staff's pay in a place where they are content, the reality is that players will want to begin overpaying their staff in the late-game as you will see them speed up their work and will begin getting overwhelmed with the amount of patients without overpaid employees.
The Pay Satisfaction stat is by far the easiest way to raise your staff's morale, especially if you are not struggling with finances, but will be more difficult for players to jump into early on in the game.
Players will essentially only need their staff members up to a smile in order guarantee successfully acquiring a good rating, however, if players want to bring it further they can.
ENERGY
When it comes to your staff's energy there are essentially going to be two things you're going to be focussed on: how often your staff gets a break and the location of staff rooms in buildings.
Players will want to ensure that they have enough staff rooms in every building, though the size of the staff room does not actually matter.
The only time the size of a staff room matters is if too many staff members are congregated in the same room, essentially meaning that it will be very difficult for those staff members to come in and out when they are ready for their breaks or ready to move out of the room.
With an ample amount of staff rooms in the building (ie. a staff room in every building) this shouldn't be an issue.
Players will want to take a look at their Staff Overview to ensure that their Staff Members are given an ample amount of breaks.
Unfortunately there is no concrete answer as to what amount of time you should give your staff members for break, however, the answer will depend on how much staff you have.
In the early game it will be extremely difficult to provide your staff members with long breaks, though as you hire more staff members it will be easier to allow them to take longer breaks, essentially raising the Energy trait for your staff.
I would strongly recommend making sure that there are at least 3 people who can do their specific jobs, because the longer break you can provide your staff members, the higher chance the Energy stat will be in the green.
This is usually the last stat that I focus on when playing Two Point Hospital.
ROOM PRESTIGE
The Room Prestige stat is the first stat I usually focus on and is going to be the easiest stat to provide your staff.
Essentially all this stat is connected to is whether or not the occupant of a room is happy with the Prestige Level of the room they are currently working in, so start placing Gold Star Awards and other Golden Objects into the rooms that they can be placed in.
Note that this also extends to the Front Desk area as well as Washrooms, so get cracking and spend that money.
Know that this doesn't go in vain as having a higher Prestige Room will actually help a staff member work faster and harder.
HOSPITAL ATTRACTIVENESS
Similar to Prestige, a lot of the Hospital Attractiveness has to do with players placing objects around the Hospital that raise the Hospital's Prestige.
Players can purchase the Dragon Statue for Kudosh in order to easily make their Hospital more attractive, though players will also need to make sure that they have enough Janitors to clean the Hospital.
Other methods of raising Hospital Attractiveness include making sure that there are enough Waste Bins for Patients to throw up and throw their litter in.
The more of a mess, the lower the attractiveness and the higher chance that there are going to be problems for you down the line.
HOSPITAL TEMPERATURE
Hospital Temperature is fairly straight forward, being the stat that is directly correlated with whether or not Patients and Staff are happy with the current temperature of the rooms they are in.
After a few scenarios players will begin having to deal with the cold, which can be countered with Radiators and Furnaces and in the late-games they will have to begin dealing with the heat, meaning they will need to use Air Conditioners.
While Radiators and Furnaces do not break down, the same cannot be said for Air Conditioners, so in your toasty tropical Hospitals, make sure that you have enough Mechanics to help fix everything or you're really going to be struggling with the Hospital Temperature Stat.
HOSPITAL HYGIENE
When it comes to Hospital Hygiene a few things are going to be on your mind:
Do I have enough sinks in washrooms?
Do I have enough Hand Sanitizer around the Hospital?
Do I have enough Waste Bins for Patients to throw up in?
Do I have enough Janitors to clean my Hospital?
The unfortunate reality is that Hospital Hygiene is extremely important as it can quite often lead a Hospital to it's demise if too many people are unhygienic and are essentially spreading their ailments to each other.
My recommendations are having as many sinks as there are toilets.
Having Hand Sanitizer inside every room and even in the Hallways when able to.
Having Waste Bins outside of any testing facility that has radiology involved, such as the M.E.G.A. Scan and having Waste Bins by every Vending Machine.
Making sure that there are some Mechanics/Janitors that only clean the Hospital so they are not distracted by other jobs.
In many cases, a Doctor or Nurse who has to deal with many sick patients will bring down the Hospital as they will cause the hygienic patients to lose hygiene points and essentially get the whole Hospital sick.
NEEDS
Needs are a bit trickier to pin down as players will have to regularly check what their Staff Members need.
In most cases, Staff will require breaks, the toilet, a drink or food.
While we already covered breaks, in regards to the Toilet, players can try to set up a few Staff Only Washrooms so that they are always accessible to Staff, especially when players have a very busy building. These Washrooms can be very, very small, being two toilets and one sink, though this will save you the trouble of having staff be angry at Management or other Patients for clogging up the Washrooms.
In regards to Food and Drink, I strongly recommend setting up a Café as it is the easiest way to feed a good amount of staff members, though having a Drink Machine and Food Machine in every room can also help.
In many cases players can use Machines that refuel themselves to keep costs low, though if players want to be very frugal they can make sure that they are only placing these in Staff Rooms as Staff is bound to end up there sooner or later.
WATCH YOUR DEATH COUNT!
While many viewers of mine are very aware of how much I don't care about people dying in my Hospital, the reality is that your death count actually matters.
With every Patient that passes away comes a chance that your Staff will become a bit demotivated, essentially meaning that players will experience a bit of a drop in their Staff Morale.
Do your best to raise the Cure Rate in your Hospital to ensure that you are not dealing with people losing morale simply because of a small mistake.
CONCLUSION
While keeping a Staff Morale isn't the most difficult task there are a few stats that will be harder to acquire than others, leaving players struggling with scenarios that require a player to maintain a Staff Morale over a certain percentage.
I strongly recommend pinpointing some stats that you find easy to bring up and focussing on them first before attempting the rest as having an extremely high rating in one thing can outweigh the negatives of the others.
I'm curious though, what is the stat that you struggle with the most?
Let me know in the comments below!