There's something truly satisfying about locating a hidden chest in Genshin Impact, whether it's digging up a hidden chest while travelling around Teyvat or completing puzzles like the Geo Puzzle in the Sea of Clouds, the Fire Puzzle in Cuijue Slope or the Lingju Pass Puzzle, but what's more fulfilling is being able to locate a hidden mechanic that isn't as obvious to find.
While I like to think of myself as a fairly intuitive Genshin Impact player, being able to locate the majority of resources and hidden elements to the game fairly easily, I have to admit that it was a fellow Twitch Streamer LeniaSiren who first made me aware of this.
While slightly ashamed that there was a hidden element of the game that I wasn't aware of, the reality is that it is quite difficult to notice this hidden task simply because players will not spending a lot of time near the front of the Cathedral in Mondstadt.
In order to locate the secret hidden Luxurious Chest players will need to head to the Cathedral located in the north of Mondstadt and then head to the left staircase by the pavilion. Here players will be able to find a shiny star on the top of the pillar that players can interact with in order to initiate a challenge.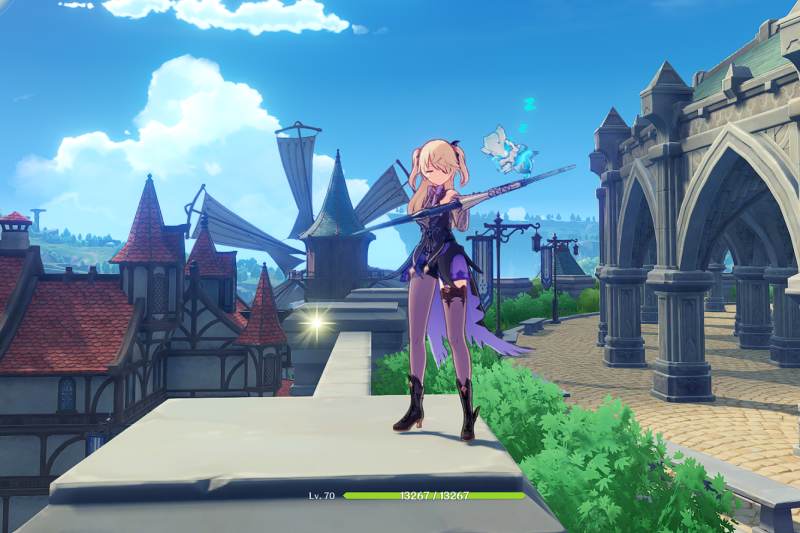 HOW TO COMPLETE THE RING CHALLENGE IN MONDSTADT
Upon initiating the Ring Challenge by the Cathedral in Mondstadt players will witness a single ring appear on the pillar in front of them requiring players to dash forward in order to activate the next ring.
It should be noted that unlike the flying trial rings, these rings do not provide a player with any speed, thus requiring players to save their dashes to use between walls to ensure that they can complete the challenge before the rings expire.
Well, that's not completely true, the reality is that players can walk the whole way around the wall to complete this challenge, which may actually be safer for players as if player fall off the wall they will not have enough time to climb back up and go through a ring, essentially needing them to restart the challenge.
Players may find it difficult to get through the Ivy, simply because they won't see the ground below them, but this is a relatively easy chest to obtain.
REWARDS FOR COMPLETING THE RING CHALLENGE IN MONDSTADT
Upon completing the Ring Challenge players will obtain a Luxurious Chest, as mentioned, though that Chest will contain the following rewards:
10 Primogems
30 Adventure Rank XP
4-10 Anemo Sigils
Various Weapons