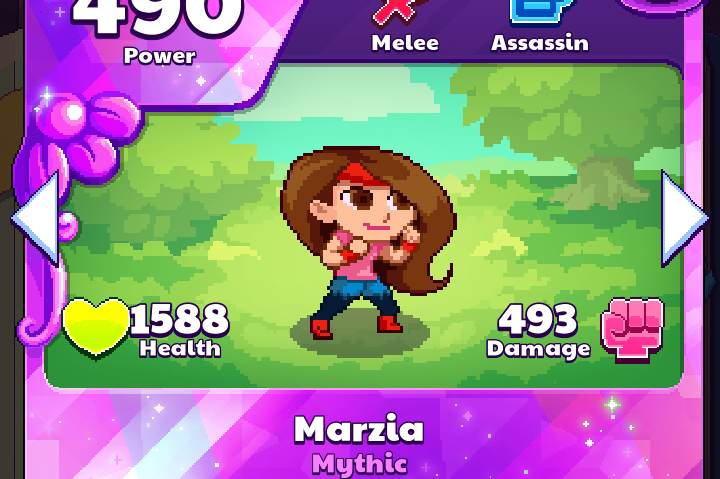 Mythic Pixelings are by far the best pixelings you can get in PewDiePie's Pixelings.
Although some Mythic Pixelings seem to have less base damage or health than Rare or Uncommon Pixelings, the fact that each Mythic Pixeling comes with two passive abilities makes them immediately stronger than any Pixeling from a lower tier.
Mythic Pixelings will require the least amount of coins to level up and will only rank up to rank 5. Although it may seem exciting that you can rank up Pixelings quickly and efficiently, the chances of you acquiring enough Mythic Pixelings, especially quickly, are slim.
While it is true that any chest can drop a Mythic Pixeling, the probability is exceptionally low especially if you are trying to get a Mythic Pixeling from a small chest. Now, there have been a number of people posting on the /r/Pixelings Reddit thread stating that they have gotten some amazing Mythic Pixelings from small chests, so don't fret!
The following is a guide to all the ways you can get Mythic Pixelings, the best ways you can get Mythic Pixelings and how to make sure you get the Mythic Pixelings you do want.
WHAT LEVEL DO YOU HAVE TO BE TO GET A MYTHIC PIXELING?
Before you start buying chests or freaking out that you haven't gotten your first Mythic Pixeling, you have to make sure that you are at least level 15 before you get your first Mythic Pixeling.
Once you have gotten to level 15 you will be given one guaranteed Mythic Pixeling based on which Pixeling is currently in chest rotation.
While you may have a preference for which Mythic Pixeling you want when you hit level 15 don't stress too much about which you get because all will be more powerful than any other Pixeling you have. Not only will the Mythic Pixeling be more powerful than any Pixelings you have, but the majority of Mythic Pixelings will be useful dependant on the content that you are completing.
So for those of you who still think that Lulu is the only useful Mythic Pixeling, think again, since Marzia and Stephano are great in their own ways.
GIANT CHESTS
Currently the only free and guaranteed way of getting Mythic Pixelings is by receiving a Giant Chest when either completing a PVP battle or upon winning a main story level that has an extra reward that is a chest.
It is currently unknown what the chances of each chest dropping is, however, expect a Giant Chest every few weeks if you're lucky.
BUYING CHESTS WITH BUX
Currently, the best way to spend your BUX is to buy a Giant Chest in the Market, which is a shocking $20.
While you can get some Free Bux by completing offers found in the Free Bux tab, many of these offers seem to be scams (in certain areas of the world) and I've personally been denied 4 rewards even though I've reported it.
I wouldn't necessarily suggest you ignore Free Bux rewards, because some of them are extremely simple to complete and give a good amount of Bux; however, if you're going to invest time grinding out another game to get a healthy amount of bux… I suggest not.
You are not guaranteed the Free Bux and it is up to the developers of the other app if they are going to reward you the Free Bux, so if they don't agree that you deserve them you won't get them.
I've received the following e-mails too many times:
Dear user,

*This is an automated email*

Ticket #BLOCKED (Star Wars™: Galaxy of Heroes – Install & open the app for Android to earn BUX!) has been reviewed and cannot be approved as the advertiser did not confirm your completion as valid. Please make sure that you completed the offer through our offer wall and met all the offer's requirements.

Please send us proof (screenshot) that will show you have fully completed the offer's requirements. Please note that proof alone is not sufficient for approval, as all completions must be approved by the advertiser.

**If the offer requires you to make a purchase, please send us the payment proof with the date visible.
Which didn't make sense because I had already sent them screenshots and would get the following e-mail a few days later:
Dear Johnny Salib,

Thank you for contacting us.

After re-checking your complaint, unfortunately, ticket #BLOCKED cannot be approved, as your claim was not approved as valid by the advertiser.

The reasons for denial are: your initial install was not done via our offer-wall / the offer was not completed per the requirements (you were not a first time installer or did not complete the required action) / the completion is not attributed to our offer wall / use of VPN to complete offers.

Please note that:
– We cannot provide you with one specific reason for denial
– Sending proof is not sufficient for approval and if the offer completion is not approved by the advertiser, your rewards cannot be granted.
– All our offers require you to be a first time installer per your device and each offer can only be rewarded for ONCE.
Which pissed me the f–k off because I had followed all of their protocols. Frustrating, eh?
You do get a few free Bux every so often just for logging into PewDiePie's Pixelings, so even by staying consistent with that, you'll end up getting some Market Chests, though with 300 Bux a week, look at getting that chests a few months from now.
Truthfully the Market chests aren't necessary to progress since you're going to need your other Pixelings to be around the same level as your Mythic Pixeling. Get them at your own pace.
The only benefit I see to buying your Mythic Pixelings is an advantage in PVP, which is dumb anyway because everyone is messing about and being toxic there already. PVP is currently not about skill so please do us all a favour and try to play respectfully.
The Outerminds team is trying to keep things equal by limiting the number of chests you can purchase in the Market. You can only buy 1 Giant Chest, 3 Large Chests, and 5 Medium Chests.
HOW TO GUARANTEE YOUR FAVOURITE MYTHIC PIXELING
At this time the only way to guarantee your favourite Mythic Pixeling is by checking which Pixelings are currently in the rotation.
Rotational Pixelings are marked in the top left-hand corner of any chest and rotate every 24-hours with other daily resets (including daily quests and extra rewards resets).
It is important to remember that although Rotational Pixelings are more common to receive, they may not be the Pixeling you receive. For example, Marzia was in the rotation when I had a giant chest, though I got a Stephano. The occurrence is fairly rare, however, it is possible.
Remember, the Pixeling you receive heavily has to do with when the chest is opened and not when you initially incubate your chest. So, if you want a Lulu, make sure that it is currently in rotation and not in rotation the day before.
Since Giant Chests take 24-hours to incubate you're going to want to make sure you at least use one of your bonus 4-hours of incubation you get from watching an ad.