V Rising is a fantastic Vampire Survival Game that is currently in Early Access. Although I typically avoid purchasing games in Early Access, there was something about V Rising that made me really want to try it and not wait for its proper launch, somewhat similar to Grounded when I first purchased it in Early Access.
As many members of my Twitch Community know, I'm a massive fan of survival games, playing and writing about games like Don't Starve Together and Minecraft and will typically play any survival game as soon as it comes out as it's one of my favourite categories of games.
I honestly enjoy V Rising so much that my husband and I started a YouTube playthrough of the game and could not put down the game between our videos, each having our own personal server to continue playing on.
Now, while I have to admit that V Rising has surprised me with how good it is for an Early Access game, there are a number of factors in the game that I find confusing due to there being no explanation for them. One of these factors early on was how to move already constructed objects in your base, though a great deal of our shared confusion came from how to obtain certain resources in the game and what we had to do to craft them.
It's unfortunate that this confusion came so early on into the game, being hand-held for the initial few recipes, but now that we both feel fairly comfortable with the game, it feels like the discomfort of not being hand-held is subsiding quite a bit. While that may come off as me saying that being hand-held for every game you play or every aspect is ideal, this isn't what I mean as I simply would have appreciated a bit more clarity as to what I need to progress in order to get where I need to go and I'm sure if you're here, you're in the same boat.
Luckily, Whetstones aren't the hardest resource to come by and there are actually a few ways players can get them, similar to Stone Bricks, though much like Stone Bricks, one way is more efficient than the other.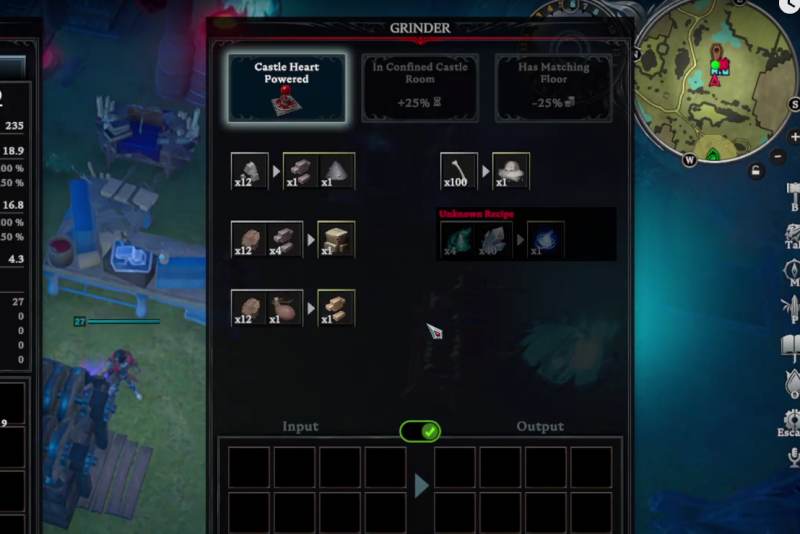 HOW TO FIND WHETSTONE
At the beginning of your Whetstone production grind, you're only going to be able to obtain it by looting Bandit Camps. This is true as the Crafting Station that produces Whetstone actually requires Whetstone in order to craft. How… sad.
The reality is that Whetstone isn't the worst to find around your world, though the amount of Whetstone you're going to find is pretty sparse in comparison to how much you need in the long run.
Players will want to make sure that they locate Grayson the Armorer as soon as possible as this V Blood gives you a great ability and his area is actually filled with Whetstone. In our playthrough, we were able to find all the Whetstone we needed for the Grinder.
If players are not ready to kill Grayson the Armourer, they can head to lesser Bandit Camps which are located all around the map but must be very conscious of the chests that are available to them. It's easy to miss a great deal of the chests as they are under roofing and players will have to actually enter the buildings or tarps that the chests are in so they can properly see them. Looting chests in V Rising is going to be one of the most important things to do period:
HOW TO BUILD THE GRINDER
The Grinder needs the following ingredients to construct:
8 Planks
4 Whetstones
4 Copper Ingots
Unfortunately, all of these ingredients need a Crafting Station in order to make, so players are going to want to make sure they do this as quickly as possible.
Planks are made in the Sawmill
Whetstones are made in the Furnace as long as players kill Grayson the Armorer
Copper Ingots are also made in the Furnace, though they are unlocked immediately.
HOW TO MAKE WHETSTONE
To Make Whetstone you will need two ingredients, Stone Bricks and Stone Dust. You can get these two ingredients simply by putting Stone into the Grinder.
Get to crafting because these resources take a good amount of time to actually produce!