If you haven't already discovered already, I'm a massive optimizer when it comes to grinding out content in video games.
While admittedly, I'm not always the best when it comes to choosing the best perks and gear for everything, though I am learning and getting better at it, something you can always trust that I will do is find the speediest way to get resources or grind out things like experience.
Though I have already covered a good portion of the elements players are going to want to grind, such as levels up to 60 or Weapon Expertise, something I keep getting asked while streaming New World is how to get your Territory Standing up quickly.
Now, as you should know by now if you checked out my previous article on what cards you can get from Territory Standing, you know that I believe that Territory Standing is one of the most important things to farm up due to their bonuses.
Realistically, a player doesn't need to max out their Territory Standing in order to get the most out of the cards, but as I and many others are completionists, it becomes a major draw and focus due to the benefits you receive.
So, for those of you who care to get your Territory Standing over level 30 and want to aim to get them to level 300, I've got the tips for you.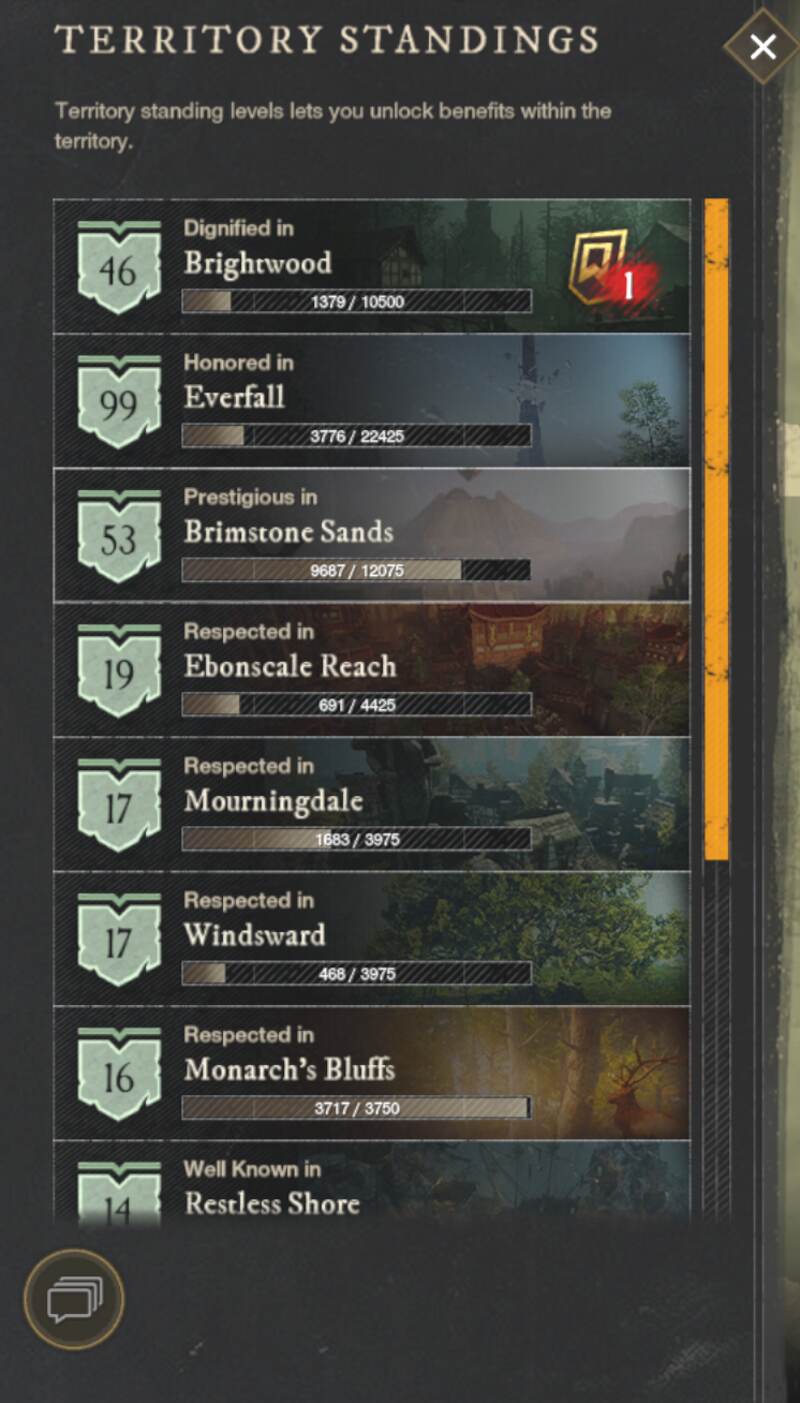 WHAT ARE THE WAYS TO LEVEL UP YOUR TERRITORY STANDING QUICKLY?
Territory Standing should be a calming task for players to complete and while players may want to blitz through it, the reality is that it's going to be a grind no matter what.
I would say that each day I can get at least three levels of Territory Standing without trying too hard. Now, though I say this, the reality is that I understand that not everyone will be interested in completing the same tasks that I do. I'm personally fine with completing brainless tasks as I typically complete things like my Territory Standing with half my focus. What do I mean by that? Well, as I write this I'm actually completing Town Project Boards in Everfall, which doesn'tactually require much effort.
With that being said, I recognize that not everyone can passively play New World or will want to complete more active or investedcontent as they utilize New World for escapism from work or just general life.
I am happy to say that there are both active and passive ways to get your Territory Standing up and I will make sure I cover the pros and cons of each. This section will be extremely thorough, covering every single way you can get Territory Standing so you can make a decision on what tasks you want to focus on and so you can decide which tasks you want to complete daily.
I will also tell you how to maximize the amount of Territory Stsanding you get while completing these tasks.
ALWAYS PLAY MUSIC OR TIP A BUSKER FOR TERRITORY TRIUMPH
Earlier this month, when I wrote a guide specifically about Music, I stated that I was initially very anti-music when playing New World. It's not that I thought that Music wasn't going to be useful, it's more of the fact that I had DDR and rhythm-based games.
It's really funny to me how much I was against ever tipping another player or learning how to play music myself as my day job is actually composition, so you would assume I would be all over the Music portion of the game.
Now, there are only a few songs that I would say are going to be useful for players, though at some point each is going to get some use.
The nice thing about music is that a player will not need to actually level up their own in order to get the benefit as they can simply have another player play some music or hang around in a Settlement as there is usually someone playing a song.
I personally let my friends know that they can DM me anytime they need me to play a specific song or have had folks ask in Area chat for specific songs.
Tipping is reasonably cheap, only being 10 Gold, so you won't be extorted for your money.
That all being said, Territory Triumph is actually the second song you learn, making it exceptionally easy for any player to have up at all time. You will unlock it at level 5 in Music.
I would strongly recommend you get your Music up to level 5 if you're someone who cares about Territory Standing and choosing to tip only when you're too lazy to play music or there is already someone playing the song in a Settlement (or elsewhere.) Truthfully, I understand not wanting to grind your music score for the high-level music, but I do not understand why anyone would avoid levelling it up for Territory Triumph.
MAKE SURE YOU ALWAYS CHOOSE THE TERRITORY STANDING CARD AT FIRST
Choosing cards can feel frustrating at first as it might feel like a player will have to wait until they can get the better upgrades and while I share your frustration in waiting, the boost you get from Territory Standing cards is so substantial that you will not really need to think twice about it.
While yes decreasing the amount you are paying for things is nice to have, realistically having a boost like 30% plus the extra Territory Triumph 30% makes it ridiculously easy to level up your Territory Standing daily.
Realistically your grind will take longer and longer as you level up as you will need more Territory Standing Points to level up, which is why it's extremely important to get buffs like this as early as possible.
Even if you are not level 60, I would strongly recommend choosing Territory Standing Cards over the rest as it is one of the most substantial bonuses that you will use for a very long time.
WHAT ARE THE BEST AND FASTEST WAYS TO GET TERRITORY STANDING?
Although the following section is going to cover every single task a player can complete to get Territory Standing, I will cover which are the best and worst to complete.
Though all tasks are useful to players due to the many resources that are available to players in New World, players are going to want to make sure that they are prioritizing one or two tasks per play session so you can speedily blitz through everything. Admittedly, there is a way to min-max this process, especially if you had free travel, though I will cover this in the sections that have to do with it.
While min-maxing can be extremely useful for players to speed up the process of getting Territory Standing, it is honestly not required and typically will be more useful in situations where players want to farm up multiple Territory's Standing.
So let's get started with all the ways you get Territory Standing! The following section will rank tasks by the least profitable to the most profitable in terms of Territory Standing, I'm choosing to go about it in this way as a lot of the tasks that provide less Territory Standing are more popular tasks and it's important to know how much or little this will provide you with Standing.
GATHERING
One of the most profitable tasks a player can complete is Gathering. While players will be informed that they are getting regular XP before they hit level 60. The reality is that the amount of Territory Standing you get is so unsubstantial that it's not worth putting on a buff like Territory Triumph.
Now, the reason I bring this up is that many guide writers typically tell players to avoid tasks such as Gathering and I feel like this is a really bad tip.
I personally levelled up a Territory 4 times in a couple of hours simply by fishing and while this isn't the most efficient way of getting Territory Standing, Fishing in particular is one of those tasks I would recommend putting Territory Standing on unless you have the song that provides you Gathering Luck.
With that being said, sometimes Fishing is better when you jump from Hotspot to Hotspot, but this is not always possible if you are playing on a large server. I, personally, fish in the same location whether or not there is an active hotspot as I'd rather continuously farm fish while waiting for a hotspot to respawn than just teleport around the world hoping that there is a hotspot that has not been farmed.
If you're curious about Fishing in particular, I've gone into depth about everything you need to know here.
DISCOVERING LANDMARKS
One of the best ways to get Territory Standing in the beginning of the game is to locate all of the Landmarks.
It's not going to be a whole lot of Territory Standing, but it is very worth exploring these areas as it is typically something special and will have some sort of "unique" resource.
Although I was aware of this, I chose to ignore these early on, which I somewhat regret.
It's going to be very important to understand the different area's resources can be farmed in, especially if you are on a big server as typically certain locations are overfarmed and you will need to locate another area. While I regularly use the New World Resource Map, it has gotten to the point where I've begun recognizing the areas and what resources that are around me in order to maximize my excursions.
For those of you who plan on Gathering a lot, this is going to be one of your biggest priorities as knowing where to find all resources comes with great benefits, especially if you are not using the Market Board.
FINDING JOURNALS
Whether or not you are someone who is interested in the story of New World, you're going to want to make sure you mark all of the Journals.
Journals are again not going to give you the most Territory Standing, but if there's one near you, might as well collect it for that boost.
You will be able to tell whether or not you have actually read a Journal from seeing if it is sparkling or not. I wouldn't go out of my way to locate all of the Journals in the game, however, I would ensure that I collect them when I see them, especially when completing other tasks.

MAIN STORY QUESTS AND SIDE QUESTS
By far the best way to get your Territory Standing is by completing the Main Story.
I have to say, the developers actually did a great job rewarding players for their efforts in completing the story as not only will it significantly boost a player's experience, and provide them with Gold and Territory Standing, but it is so significant that you will not need to farm things outside of it in order to buy all the tools and resources you need.
While I understand why players would be tempted to side quests in particular, I hope I can convince you of their importance or at least the impact they will make on your gameplay.
Admittedly, these quests are not farmable, so only expect a decent boost in bursts. There are a number of these quests though, so expect it to be fairly significant.
REPEATABLE DUNGEON QUESTS
Something that falls off for players are the Repeatable Dungeon Quests. Essentially these are quests that are located in the Territory of each Dungeon, typically right outside of the Dungeon.
Now, some of these Quests are much more worthwhile than others, providing players with a decent amount of Gold and Territory Standing, however, the lower tier ones will not feel as worth it.
Even though these quests may not seem wroth it, I do still recommend completing them especially if you're running the same Dungeon over and over for Mutations.
Essentially what I do is pick up all of these quests after completing the Dungeon and only complete them during Mutations, ignoring them otherwise and leaving them uncomplete.
FARMING MOBS
Admittedly, farming Mobs is typically not the fastest way to get Territory Standing, though this highly depends on what mobs you are farming.
Elite Mobs provide players with a generous amount of Territory Standing no matter what area you are farming them in. Admittedly, there aren't too many areas that have Elite Mobs and this will be very Territory specific. I actually got lucky and bought my first house in Brightwood, which has one of the best Elite Mob farms for quick Weapon Mastery.
Now, one of the fastest areas to level up off of mobs is Brimstone Sands, especially if you're someone who is willing to turn off their brain and run Elite Chest farms.
The only issue with this is that players will need to ensure that they deal enough damage to a mob in order to out beat another Group's damage or else they will not get Territory Standing or Weapon Mastery.
If you can avoid being a Healer while running these just due to their low damage, or if Healer is the only thing you enjoy playing, make sure you're predominantly in Void Gauntlet.
I would avoid trying to farm up basic mobs for Territory Standing due to the fact that they will only provide you with a maximum of 10 Territory Standing and that's only if you're lucky.
Some Elite Mobs will drop up to 100 Territory Standing, so get to farming! Err… at least for the Chest Runs!
FACTION QUESTS
Faction Quests are by far one of the easiest ways to help boost your Territory Standing, though they do not provide players with the biggest boost if players keep running them repeatedly.
Essentially, each day players will have 3 boosted Faction Quests which will provide more Gold, Faction Tokens and Territory Standing.
There are a few things to keep in mind when it comes to these Faction Quests as realistically you will want to prioritize the other currencies over the Territory Standing. What I mean is, you will want to ensure that you do the boosted quests in areas that are 60+ even if you don't want Territory there or you cannot get Territory there.
After these are completed, you can head to the area you want Territory Standing in and continuously run these quests.
Essentially I take all the quests available and utilize them to help me figure out what I want to do that day and what resources I want to farm.
I personally do this in tandem with my Town Board Missions, which I will cover shortly, but this can be skipped if players aren't interested in repetitious content.
Players should note that you will want to complete PVE Faction Quests if you want more Territory standing as the PVP ones predominantly help you level up your PVP track and will not provide much in regards to Territory Standing.
CRAFTING & REFINING
You'd be surprised just how much you can boost your Territory Standing with Crafting and Refining.
Now, straight up, I'm going to tell you that crafting or refining the same low-tier resources is not going to do you much, however, if you are able to at least refine all of your resources to the 3rd or 4th state you're going to notice a big boost of Territory Standing.
I honestly did the majority of my levelling this way simply because I gather a lot of resources.
I encourage you to predominantly do all of your crafting and refining in a single Territory and ensure that the one Territory is levelled up with cards that make it cheaper to craft or refine.
If you're an optimizer and want to make the most money for your resources, you may not want to actually refine or craft anything as sometimes it's cheaper to sell the raw resources, however, I personally do not care about this and would prefer to level up all of my skills instead.
Depending on how much you gather as a person you may level up your Territory Standing a few times simply by refining and crafting, though of course this gets harder the higher your Territory Standing is.
Nonetheless, it's nice to get at least 2,000 Territory Standing from a single crafting station simply due to the number of resources you have, so Gatherers, know that you're not left out.
As I've mentioned before, it's really nice that New World rewards you for completing the majority of tasks in the game and while gathering and refining resources tends to be the task most players recommend you avoid, in this particular area it's extremely beneficial.
PAYING FOR YOUR HOUSING
Housing is a terribly important element of playing New World. While many players who are new to the game would assume that it is purely for the glam and making an area look pretty, the ultimate reality is that housing is going to be the way that you buff yourself every week for Mutations.
Essentially, when players have a House they will gain the option to place Trophies in their home. I spent some time covering all of the Trophies that are available in New World and which ones I tend to leave in my House, though this is going to be another one of those "your options may differ from mine" situations.
Nonetheless, players will have to pay for their Houses once a week and will be rewarded with a good amount of Territory Standing for doing such. Although this cannot be spammed and will not be a factor that will fully carry you through all of your Territory Standing, it does give a very healthy boost once a week that can ensure that your home Territories are regularly getting levelled up.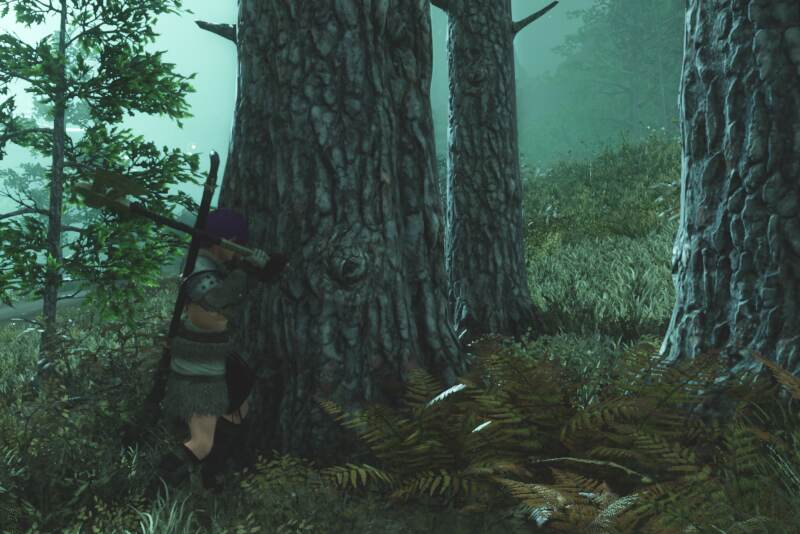 FARMING CORRUPTION BREACHES
By far, one of the easiest ways to get Territory Standing is by closing Corruption Breeches. Now, this is somewhat dependent on what area it is that you're trying to level up.
Now, the reason I say this is that lower-level areas will be extremely easy to farm, though a player will not get a whole lot of good loot, while a higher-level area will require more players, though it will ultimately be more rewarding.
In my opinion, it is a good idea to try to ensure that you do as many Corrupted Portals as you can, especially if you are under level 60 as not only will they provide you with Territory Standing, but they will provide you with a good amount of experience, making them one of the best ways to grind to level 60 (especially if the Corrupted Portal is close to your level.)
As a little personal anecdote, one of my Houses is in Everfall and I can one-shot or two-shot all Corrupted enemies that are level 25, making these Portals very fast. Although low level, each Portal will provide me with at least 300-500 Territory Standing without a modifier, making it one of the speediest ways to get my standing up.
I have to admit, I've completed way too many Corrupted Portals at this point that I've become quite bored of the task, so I no longer farm them as regularly, but if there is one on my way of doing Faction Quests or Gathering, I will always do it.
That being said, I would recommend you do the same. Don't go out of your way to complete these, but if it is on the way might as well get it done.
TOWN BOARD PROJECTS
Town Board Projects are by far the best way to get your Territory Standing up and quite frankly will be one of the best ways to get your Territory Standing up as well as all of your Crafting/Gathering skills.
There are a few downfalls to the way that Town Board Projects work and they include the following:
Some basically provide a player with very little Territory Standing, making them feel less worth it.
There are often no Town Board Projects to complete as the Company in power may not be upgrading any stations or they may have been fully upgraded already.
Now, there will always be at least 3 Town Board Projects no matter what is happening in a Territory and while this isn't the worst, it doesn't make for a speedy grind. Nonetheless, I would strongly recommend that a player teleports all over the map and picks up as many Town Projects as possible. My reason for recommending this is the fact that you will be picking up duplicate quests, so completing them all together is a great idea.
The only quests I would recommend avoiding are the explorer ones (if you are picking up everything) as essentially my routine is to complete as many Town Board Projects at once in a single Territory. That being said, the benefit to this is that you can still complete a Town Project even after it has expired, so even if you don't have the time to it at that very moment you can still get rewarded.
With all this being said, I would only pick up all of the Town Projects in random locations if you have the Fort that provides Free Fast Travel. Luckily, my faction tends to hold this, even after the merge, but if they don't I just capture it or wait for it to be captured.
I would strongly recommend this for players who are struggling badly with Storage, however, if you're not then you may not care as much.
Still, it can be especially useful for players who are trying to get their various Crafting skills up as the Town Board Projects will provide you with a reasonable amount of Crafting Experience and will contain relatively inexpensive recipes.
Though this is going to be a slower grind for players than just crafting the highest-yielding object for experience, it does save a good amount of Gold and time, making it much more appealing to me. This is especially true for Armory and Weaponsmithing, though Cooking is much better to level up without the Town Projects.
Players can pick up a maximum of 50 Town Board Projects, being one of the highest number of Mission types a player can pick up.
I find the kill X amount of mobs to be one of the best Town Board Projects to stack, especially when you are required to kill 20-25 mobs. These quests take a very long time to complete, so if you can finish them in multiple areas it is a great idea.
Again, there is no rush to get these done as even if you do not finish them before they expire from the Town Project Board, you can still turn them in. I would only return to side Territories you care less about whenever a Town Board Project is completed, but I would not return regularly to check on them as this can be a waste of time.
The nice thing about accepting Town Projects from different areas is that it will also encourage you to spend more time in different areas especially if you do not have the desire to focus on a single area.
I will write a much longer guide on all of the Town Project Boards and how I tend to pick and choose between them.
CONCLUSION
So while there are many ways to get Territory Standing up, there are some methods that will make it a lot faster, especially if you're someone who is ready to specifically farm out Territory Standing.
Essentially the way that I play New World, when I'm casually playing or trying to relax is trying to choose a Territory I would like to farm, either specifically for Territory Standing or for loot chests or general resources, I head there and grab every single Faction Quest and Explorer Quest and then when I get back to the Settlement I see what objects I need to craft. I will craft everything that has an indication that it is connected to a Town Project and then will Teleport to the Settlement, picking up new Town Projects.
Typically there is always at least one Town Project that is worth taking and if there isn't I will take one of the less worth it ones so that by the time it is "completed" I remember to check that Town Board for a better quest.
Whenever I am in an area that has low-level Corruption Portals I will complete them as I travel around, though if they are over level 35, I tend to ignore them because they will take "too long" to farm efficiently in solo.
When it comes to farming up Brimstone Sands I typically only run Elite Chest Runs to level it up and this is enough, the same is said about Reekwater, though accepting Town Projects can also help pad this a lot.
At the end of the day, there is no negative to picking up 50 quests, so get to accepting them!
But I'm curious, do you use these methods for Territory Standing? Do you find any of these better than others? Let me know in the comments below which are your preferences and why!