Lately, I've been sick and had to take time off from writing guides and streaming on Twitch and I ended up buying myself New World.
Although realistically it really sucks to be sick, I have to say that New World has kept me very good company with New World. Quite frankly I was a bit surprised how into New World I actually became as it takes me quite a bit to want to buy a new MMO in particular.
While I'm a massive fan of MMOs, I think any MMO enthusiast can agree with me that it can feel overwhelming to start a new one especially if they are riddled with cash shops or are infused with too much grinding that leaves you questioning if there was a better way to spend your time. Well, I'm happy to report that while New World is grindy it is n MMO you can pick up and put down at any point due to its lack of dailies, so if you haven't grabbed the game or are still on the fence about it know that I strongly recommend it and for my Twitch community, expect me to start streaming the game soon because it's overtaken my obsession with FFXIV which I didn't think was possible.
Now, though I feel like New World is much more chill than other MMOs that I have played, it is still very grindy as players will have to not only farm for RNG based loot, but also for their Mastery of Weapons and skills. Now, although this at first can feel overwhelming, it's quite easy as it simply requires player to use said Tools and Weapons in order to level them up.
I'm very pleased to report I'm level 60 and have a variety of Weapons either at Mastery 20 or very close to it. Now, admittedly, I've had a good amount of time on my hands as I've been in too much of a brain fog to work, so this won't be possible for the average player to complete in the same amount of time that I've been able to as I've had the "luxury" of only focussing on this game while being sick.
That being said, I'm extremely happy with the ease players have with levelling up Skills and Weapons as it's essentially very passive and can be done anywhere at any time, though there are going to be some more ideal ways of actually completing it. Due to this, I will outline multiple ways of getting your Mastery up with your Weapons, focusing on the various tasks that players can complete in tandem and then covering the absolute best way to get your Mastery up specifically.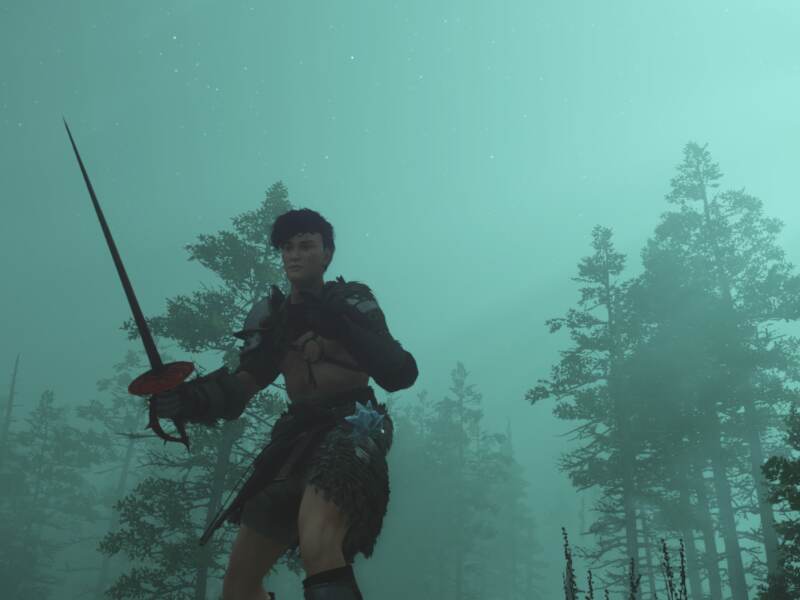 WHAT IS WEAPON MASTERY?
Weapon Mastery is going to be one of the more important tasks to complete if you are focussing on battle aspect of New World. While admittedly players can get away with completing content without grinding their Mastery, the Mastery tree will provide players with a variety of passives and activatable abilities that will make battles a lot more manageable, essentially raising your DPS, Threat Levels or Heals.
Now, as players get the option to hold 2 Weapons, no matter what "Role" they play, players can customize their Weapons as much as they would like. Leading to players creating some really interesting blends of Weapons as the only thing that limits you is what Attribute (the stat skill tree) you decide to put your points into.
The coolest thing about both of these skill trees is that players can essentially change them at anytime as long as they have the right resources. Meaning that nothing is concrete.
Why does this matter? Well, players will only be able to put points into 20 skills for each Weapon, whether they are activatable abilities or passives. Now although there are going to be some ideal skills to put your points into, it can admittedly take players a decent amount of time to decide what they would like as play styles or Weapons may be better for certain content over others. So due to this, it would be best to look at all of the skill on both sides of the skill tree as you can mix and match between them, though you will want to put more effort into one side to unlock the major skill located at the bottom of the tree.
HOW DO YOU SWITCH YOUR WEAPON MASTERY?
If players are unhappy with their current set up for their Weapons they can head to the Weapon Mastery tab and select the Weapon they would like to give different skills.
At the very bottom of the Weapon's Mastery's page there will be a button to Respec. While at first all respect are free, players will need to start paying for them as soon as they hit level 10 Mastery they will start needing to pay a small amount of resource to respec, increasing each time a player levels up their mastery. The resource players will need is called Azoth, which has a chance to drop anytime a player completes any task in game such as harvesting, mining, or even killing an enemy.
Players will want to be wary though as Azoth is required for a variety of crafting utilities, so while you may be tempted to use your Azoth regularly to respect your Weapons, you may want to be careful if you hope to get into crafting in the future. That being said, I rarely run out of Azoth at the moment, but I haven't gotten extremely far into all of the crafting in-game.
DOES MASTERY DEPEND ON THE LEVELS OF THE MOBS YOU KILL?
Yes! Mastery has a direct correlation to the level of the mobs that you kill, meaning that you're always going to want to focus on mobs that are about 2 levels above or below you. Admittedly, players can get into groups of friends and farm areas that are much higher levels than any of the teammates, though the one major downfall to this is that Mastery also scales based on how much damage you deal to a mob.
Players will want to make sure that if they ever complete any group content they always ensure that the person who is lowest on their team (typically by player level) gets a good amount of hits. Now, this somewhat changes when players are level 60.
THE BEST TIME TO FOCUS ON MASTERY IS AT LEVEL 60
Although many players will want to get their favourite Weapons up to Mastery 20 before they actually hit level 60, the reality is that this may not be possible and it's actually pretty pointless to hope for this as realistically there is no reason a player should rush Mastery as you will get a significant boost to the amount of Mastery you gain from Weapons at level 60.
While players will still gain more Mastery on their Weapons in the level 60+ areas, players can easily go back to the low-level areas and simply grind faction rewards or complete the town tasks for the day while still getting a decent amount of experience.
Typically I will get at least 20+ Mastery on my Weapons in the lowest level areas, which admittedly not much, but is still better than you would otherwise get in these areas.
This is the biggest reason I recommend that players wait until level 60 to get their second, third, fourth or all their Weapons up to Mastery 20.
Now the best part of waiting until level 60 is that players should have collected a good amount of decent Weapons at this point and will be able to one-shot a good amount of mobs, especially in the lower area. This makes it viable to slowly upgrade your Mastery on any Weapon while farming low level. The reason for this? Well, if you can farm resources at the same time as sniping enemies from afar, especially if you have a gun or a magic Weapon, as you can speedily run around the area collecting all of the chests and resources at the same time.
IS IT WORTH RUNNING DUNGEONS TO UPGRADE YOUR WEAPON MASTERY?
Yes and no. It doesn't seem like you get bonus experience when in Dungeons when you hit level 60, however, when you are levelling up your character, levelling in Dungeons is a pretty solid tactic, especially if the Dungeon is close to your level.
Now, in regards to level 60 players, I do think that running Dynasty repeatedly is a pretty good idea as you can gain Expertise on your Gear while also getting some decent experience. Admittedly, Dysnasty itself is one of the fastest Dungeons to run through in my opinion as long as you have a good team.
Now, I recommend that players only do this when they are at least level 54 as mobs hit really hard and although you can carry someone through the Dungeon relatively easy, if they are dead the majority of the time. That being said, if players are level 60 they will not see too much Mastery in the Dungeon, but due to the fact that this is one of the fastest Dungeons, players can easily farm their Mastery on the bosses which will provide you with at least 300 Mastery.
With high enough DPS this Dungeon shouldn't take more than 10 minutes and will ensure that you make the best use of your time. If players are able to swiftly run through the final two Dungeons with ease, then those would be recommended.
FARM MOB CAMPS OR COMPLETE FACTION QUESTS
I'm pretty obsessive when it comes to currencies in any game, trying to ensure that I always have enough of it to carry me through a number of days where I choose not to log into a game.
One of the major currencies in New World are your Faction Tokens.
Players will be able to purchase some really important loot, including Gypsum Orbs this way, allowing you to gain more Expertise quickly. Not only this, but due to the fact that these quests are repeatable players will be able to get their Territory Standing up.
Many of these quests will require players to ransack chests or even kill a certain type of mob, though in both situations players will be sent to camps that have a good amount of mobs to kill.
I personally farm in Brightwood as that's where I have my house and quite frankly even at level 60, my Mastery gets increased by a minimum of 35 for every mob I kill, which is nothing to scoff at when I can simply one-shot the enemies.
The other great thing about using your Faction as the way to farm Mastery is that you will be able to use the quests to help understand where resource chests are as they are way-pointed on the map.
Admittedly, I'm a player who tends to neglect chests while casually farming in the world as I get easily distracted by tasks such as Skinning or Mining, so this is a great way for me to stay focussed and get all of the resources I will need for crafting and honestly get more gear to Salvage.
Quite frankly, players can casually farm an area for resources while trying to focus on killing animals to continue getting Weapon Mastery, though the best option when casually farming an area is always making sure you enter camps along your way.
GET INTO A GROUP AND COMPLETE ELITES
Throughout a player's journey in New World, they will a good amount of mobs with Gold around their health bar and name. These are considered to be Elite Mobs.
Now, not only are there Elite Mobs in the game but there are Elite Bosses as well, both of these will drop more experience for a player, so I would always recommend farming these when you have a chance.
You will have to note, even if you out-level an Elite Boss, due to their health you may find it pretty difficult to take them down, so it would be advised that you party up with other players, but even farming lesser Elite Mobs should still do the trick.
PVP IS THE FASTEST WAY TO GET WEAPON MASTERY
I'm not going to lie, the idea of PVP in an MMMO doesn't really interest me. Although I do see myself running a good amount of PVP in New World due to the way that it is so heavily implemented in the game, this can be a hit and miss way to level up for two reasons.
First, PVP can be quite difficult, especially if players are not used to all the Weapons in New World and it takes a good amount of situational awareness to ensure that you're not just floor tanking the whole time.
Now, there are a few ways players can engage in PVP in New World and you're going to want to focus on activities that have the most players involved as the more people you land hits on, the more Mastery you will get, even if you don't last shot them.
Wars, in my opinion, would be the best place to do this as they tend to have the most people involved so even if you launch an AoE or headshot a few of the participants you will see a good amount of Mastery roll in.
Now, though this is a good way to get Mastery, the stakes are definitely higher than they would be in many of the other grinding situations so I would recommend that more casual players avoid this.
PERHAPS AVOID CORRUPTION INVASIONS
Although I'm a really big fan of Corruption Invasions and spend a good amount of time farming these for Territory Standing, the reality is that they aren't the best for Mastery on your Weapons as many of the mobs you defeat do not provide you with any Mastery. Now, with that being said, if you don't mind a slow grind go for it, especially if you're trying to complete multiple tasks at once.
Now realistically, a lot of the Corruption Invasions can be completed very quickly as they simply require someone to use an Azoth Staff on them and although somewhat cheaty when you're a higher level, this is my way of completing them so I can simply get standing in the area.
CONCLUSION
So while PVP will always generate the most amount of Mastery for players, especially with how many kills you should see in a PVP match, my favourite thing to do is to simply run around the areas I want to get my Territory Standings up in.
After completing my Faction Quests in the toughest area I have accessed, I'll always do lesser Faction Missions to get quests that lead me to camps to both loot and farm a bunch of Mastery.
As mentioned, in Brightwood I tend to get about 30-70 Mastery for killing mobs, and that's enough Mastery for me as I'm able to one-shot mobs and able to focus on tasks such as Mining and simply collecting loot from chests.
But I'm curious, what are your ways of farming Mastery? Do you do the same or is there another method you prefer?
Let me know in the comments below!