When it comes to choosing Traps in Orcs Must Die 3 it can be pretty difficult to make your decision simply because of the sheer amount of Traps that are available for players to set up.
Although I have to say that I don't always rely on the Dart Spitter, the reality is that the Dart Spitter is one of the best Ceiling Traps that players can place simply due to it's sheer range and the amount of damage it can deal.
The Dart Spitter has one of the largest ranges in the game, though only takes up a small area to place making it an extremely effective Trap to place, especially if you're in an area that doesn't have a whole lot of Ceiling Space.
While the Dart Spitter doesn't look like much, I'm sure that after reading this guide you're going to want to invest in it immediately as it is actually ranked as being one of the best Traps in the game.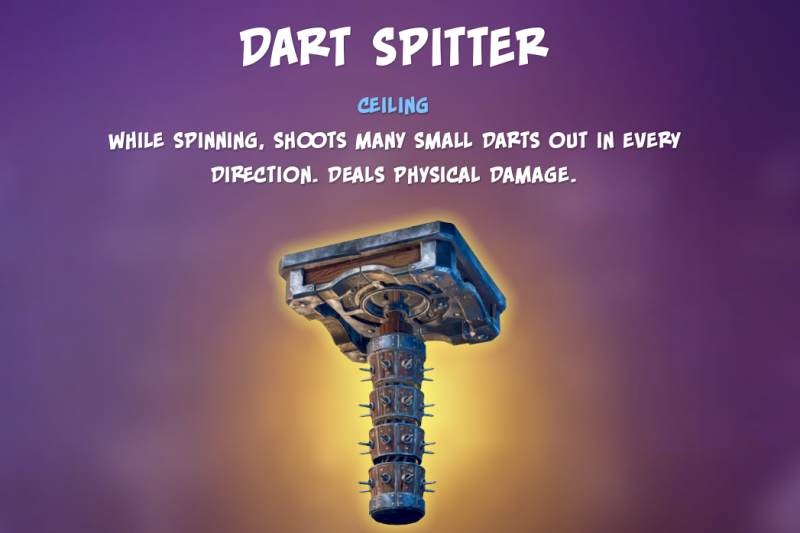 HOW TO UNLOCK THE DART SPITTER
The Dart Spitter is unlike man other Traps being that players will actually have to fork up some Skulls in order to actually unlock it.
Luckily for players, Dart Spitters will only cost 6 Skulls which is a very good price for such a high damage dealer, so I strongly suggest making the purchase.
DART SPITTER STATS
The Dart Spitter is a Trap that takes up a ceiling space in a 2×2 space, equaling to one standard tile for players using the Spike Trap as an example.
The Dart Spitter, similar to the Arrow Wall will deal damage to enemies 6 tiles away, though unlike the Arrow Wall, the Dart Spitter will shoot out Darts in an 8×8 radius and will affect any mobs that are in it's 6×6 range radius.
If I haven't convinced you yet about the Dart Spitter simply by it's great range, the Dart Spitter also deals 20 Physical Damage per Dart, being able to shoot 32 Darts per each fire. Players can increase the amount of Darts shot by this Trap by using Unique Upgrades and can even increase the amount of damage dealt by each of the darts by using Level Upgrades.
DART SPITTER UPGRADES
Dart Spitters like other standard Traps have two different forms of upgrades being Level Upgrades, which can be purchased immediately and Unique Upgrades which will require players to deal 3,000 damage to enemies using the Dart Spitter in order to unlock.
I would strongly recommend upgrading your Level Upgrades first as they will help you upgrade your Unique Upgrades faster and will help you deal more damage straight out of the gate.
LEVEL UPGRADES
Level Upgrades for the Dart Spitter are going to help increase damage for each increment and are actually very reasonably priced in comparison to upgrades for other Traps.
If you're trying to figure out what Traps you want to upgrade faster than other Traps, I strongly recommend rushing the Dart Spitter simply due to how high the damage output potential is and the amount of mobs it can affect is much higher than the majority of other Traps.
The following are all of the Level Upgrades players can purchase when using the Dart Spitter:
The first upgrade costs 4 Skulls and will increase each Darts Damage from 20 physical damage to 22.5 physical damage.
The second upgrade costs 6 Skulls and will increase each Darts Damage from 22.5 physical damage to 25 physical damage.
The first upgrade costs 8 Skulls and will increase each Darts Damage from 25 physical damage to 30 physical damage.
Realistically these upgrades can immensely raise the amount of damage that you deal to mobs without the need of upgrading the Unique Upgrades, though those will come in extremely handy as well.
UNIQUE UPGRADES
The Unique Upgrades, as mentioned, will require players to deal a total of 3,000 damage using the Dart Spitter, which can be acquired over a number of maps, though players may want to save up and use the Level Upgrades first simply due to how impactful the Level Upgrades are for players.
The Unique Upgrades are interesting as players will be able to change the type of damage the Dart Spitter causes or can essentially make them damage with more projectiles.
The first upgrade requires 7 Skulls and will cause the Dart Spitter to deal Ice Damage.
Using Ice Damage will cause enemies affected by the Darts to freeze enemies, making it amazing when players are good at stacking damage or Traps.
By far this is going to be the better upgrade that players can choose, especially due to the status effect that it causes.
The second upgrade also requires 7 Skulls, however, it will increase the duration of the Dart Spitter, essentially making it so it shoots 42 Darts instead of 32.
While this can be helpful, there is less a player will be able to do with this upgrade and getting some extra damage isn't as helpful as actually freezing enemies.
IS THE DART SPITTER GOOD?
Realistically the Dart Spitter on it's own isn't the best Trap, but when paired up with Traps such as the Gravity Pillar they will quickly become one of the best Traps in the game.
Essentially, the Gravity Pillar will lift enemies in the air to ensure that the enemy has enough time to get hit by the Dart Spitter at least once, though often with the Ice Damage Unique Upgrade, the enemies will get frozen and will take two hits of damage.
I would strongly recommend against placing any fire traps around the Dart Spitter such as Ceiling Lasers that have been upgraded, Brimstone, Arrow Walls that have been upgraded, etc. Essentially the longer you can keep the buggers frozen, the higher chance you will have to deal some damage to them by using your weapons.
I highly recommend purchasing the Dart Spitter as soon as you have enough Skulls for it as it's going to be one of the Traps that you can heavily rely on and will spend a lot of time placing, though note that you will always want to place it in the middle of the room to get the most out of it's damage.
My advice is that you only place a couple of these in a room and place a bunch of Gravity Pillars around it.
If you're good at making mazes using Barricades you can essentially place the Dart Spitter above a Barricade and make sure there's a lot of space for Gravity Pillars in a 360 radius of the Dart Spitter to maximize damage.
The best thing by far is the range of the Dart Spitter, so maximize the use of the range because you don't get it often with other Traps.