Yesterday I covered how to get to the Wolves' Den Pier and I was initially going to also cover how to unlock the various forms of PVP. Though it is sometimes nice to have all information chunked together I feel like information about the various forms of PVP in FFXIV is better shared in segments as it will allow me to go more in-depth about each form and help give you a better understanding just in case you don't want to unlock or participate in them all.
There is realistically no harm in unlocking all the types of PVP in FFXIV as players will have to choose which they queue for, but as is with most content, a player will not enjoy all of the forms.
For example, I'm someone who genuinely enjoys Rival Wings, I can stomach Frontlines and though I have not played Crystalline Conflict, watching my husband play is enough for me to know that I wouldn't be very interested.
Although it doesn't matter what form of PVP a player does as all count towards a player's PVP Series track, the unfortunate truth is that some forms of PVP are less regularly queued for than others. A queue for Frontlines is almost always a guarantee no matter what is going on in the game, while I have yet to get into a game of Rival Wings after waiting for a 45-minute queue ever since the Moogle Tomestone Event ended. Of course, this will vary from server to server, but if you're looking to unlock the most active form of PVP in FFXIV you've come to the right place.
This post will of course take you through how to unlock Frontlines in the game, but it will also give you a quick rundown of what to expect when running the games. Frontlines is a unique game mode that features a variety of maps that each have unique objectives so it can be hard to wrap your head around it if you're new to the game.
Note: If you have any questions about FFXIV that you want me to cover feel free to leave them in a comment below, you can also ask me while I am streaming on Twitch, YouTube or in our community discord.
WHAT IS FRONTLINES IN FFXIV?
Frontlines is a PVP game mode that places 72 players into 3 teams of 24, similar to the configuration of a group of players in an Alliance Raid. This means that even though players are in a team of 24, players will only be in charge of their group of 8 players, though you will still be able to work together with other groups.
While your main focus will be your group of 8, it is not uncommon for your group to split up and complete objectives with other teammates, making use of /alliance chat extremely important for general fluidity.
Communication is essential in Frontlines as every game will require different strategies and tactics. This is not only because of the core differences in objectives for each map but because players generally have different ideas of what strategies are ideal in PVP.
Often strategies are created based on the Roles and Jobs players have chosen as there is no set guideline on what Roles must be filled and teams can be comprised of players on all one Job/Role and in some games you won't see players on a certain Role. Team Composition typically isn't a problem as players can usually find ways to make the team composition work out, however, it's undeniable that certain Jobs and Roles simply make combat a lot smoother, causing certain Jobs to be more in demand or more popular than others.
Since Frontlines is a bit of a crapshoot when it comes to player skills and whether or not players are willing to change Jobs/Roles it can be very useful to learn multiple Jobs so you can be the fill.
There are currently three maps for Frontlines, these include:
Seal Rock (Seize)
The Fields of Glory (Shatter)
Onsal Hakair (Danshig Naadam)
Players will gain access to all three simply by unlocking the game mode, however, only one is available to play each day as they are automatically rotated.
While in all three game modes players will be awarded points for killing players who have higher kill streaks and lose points for their team if they have a high kill streak and die, each also has unique mechanics that players must collectively complete. Realistically a match can be won simply from taking down high-ranking members of opposing teams, however, this is generally more difficult as more points are awarded for completing objectives.
Nonetheless, players can acquire fairly generous boosts from Takedowns and Assists which they will lose if they are victims of a takedown. This rating is called a Battle High and is unique to each individual, providing the following buffs:
| | | |
| --- | --- | --- |
| Battle High I | 20 to 39 | Damage dealt and healing potency increased by 10%. |
| Battle High II | 40 to 59 | Damage dealt and healing potency increased by 20%. |
| Battle High III | 60 to 79 | Damage dealt and healing potency increased by 30%. |
| Battle High IV | 80 to 99 | Damage dealt and healing potency increased by 40%. |
| Battle High V | 100 | Damage dealt and healing potency increased by 50%. |
The following are the objectives for each map:
SEAL ROCK (SEIZE)
Players must collect "Data" by occupying Allegan Tomeliths. These Tomeliths will appear on the map as empty Triangles. To begin collecting data, players will be required to interact with the Tomeliths, which take a bit of time to interact with. Due to the interaction time, players will want to ensure that there are no enemies around them as if they are attacked or Crowd Controlled (CC'd) this will cancel the interaction.
Once players have taken over a Tomelith they must stay to protect it as another team can take it over after a very short cooldown. Generally, a team will stay nearby until all the data has been collected, however, this will depend on where the Tomelith is if other teams are far enough it would be relatively unlikely that they will be able to take them over.
There are three ranks of Tomeliths, B, A and S. B will provide the least amount of data over time while S will provide the most. B Tomeliths are Blue, A Tomeliths are Red and S Tomelists are Yellow. While it's a good idea to capture as many of each type of Tomelith as you can, it's more important that another team does not take over the higher-tier Tomeliths or keep them for extended periods.
Similarly, it is not the end of the world if you lose a low-tier Tomelith, however, you will want to ensure that an opposing team never takes over an S-tier Tomelith from you.
At first, lower-tier Tomeliths will be the main ones to spawn, though as the game progresses, you will see more and more of the higher-tier ones.
THE FIELDS OF GLORY (SHATTER)
In my opinion, the Shatter game mode is the messiest of all of them as players often don't know what they need to focus on.
While players will be required to shatter Icebound Tomeliths to score points, all teams will be able to damage them at the same time, leading many players to hyperfocus on solely one task.
Players score points based on how much damage they deal to active Icebound Tomeliths. This often leads newer players to believe that the most important task they can engage in is to attack the Tomeliths, though this is not true.
As all Icebound Tomeliths are on a timer, teams will typically congregate around them and will attempt to takedown players from the other team before it is ready to be attacked. Now, when it has fully spawned it will be tremendously important to split your focus and damage the Icebound Tomelith, but also take down high-damage dealers from the other team.
Players in this game mode will gain points based on how much damage they deal to these Tomeliths, so you need to ensure that you try to make this task more difficult for the other team. While there are different strategies, I will typically ignore Tanks for the most part as they deal very little damage, but I will always focus on Melee DPS Jobs. This game mode is particularly good for players on Bard as they can deal more damage the further they are from their target and oftentimes players who are not specialty aware will let them slide, ultimately dealing high amounts of damage with no repercussions.
If you are playing Tank, it may be a good idea to be on the lookout for Bards in particular, however, bursting down any ranged Job can prove to be beneficial as more often teammates will be aware of the close-ranged damage dealers.
There are two sizes of Icebound Tomeliths, Small and Large. While Small Icebound Tomeliths provide you with a lesser amount of points, being 50, they tend to be the biggest game changers as they are generally isolated and are less prone to getting ganked. Large Icebound Tomeliths provide 250 points. In both cases, the number of points a team acquires is based on the damage percentage they do on that specific Tomelith.
ONSAL HAKAIR (DANSHIG NAADAM)
The Danshig Naadam is most similar to Seize, though it comes with one slight difference: opposing teams cannot claim Ovoos that have been activated by another team.
Unlike Seize, it's only important to be at an Ovoo before it spawns as once it's taken over you can move on to the next task instead of needing to defend it.
Now, if your team wasn't the one to claim the Ovoo, it can still be worthwhile to head to a recently claimed Ovoo's location as a well-timed gank on the opposing team can significantly help your team to advance.
Similar to Seize, there are three ranks of Ovoos which will provide players with more points, B, A and S. They follow the same colour coding as Seize with B being Blue, A being Red and S being Yellow.
Map awareness is extremely key for this game mode and this is typically the game mode you see the least team splitting on.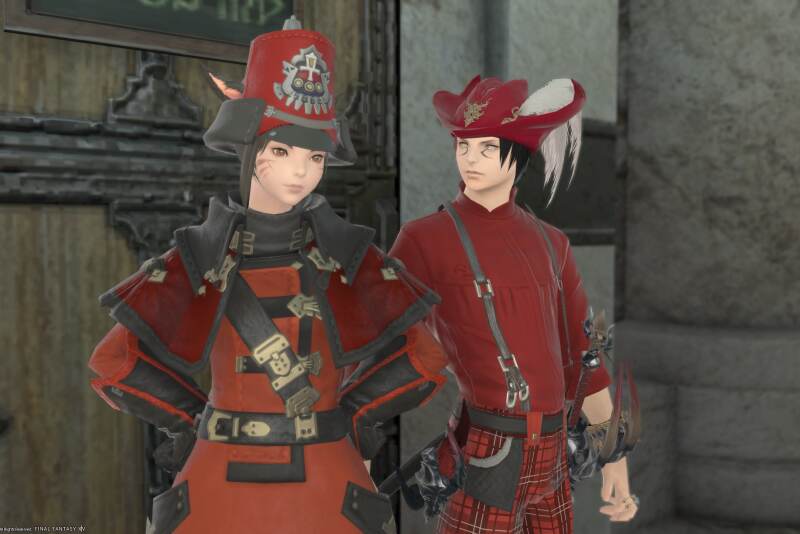 HOW TO UNLOCK FRONTLINES IN FFXIV
There are a few steps a player will need to take before they can access Frontlines, though all three game modes are unlocked in the same manner.
First players will need to have at least one Job to level 30 and will have needed to complete all of their Class Quests and the initial Job quest so they receive a Soul Stone.
Then players must complete the quest A Pup No Longer which I covered when talking about how to unlock the Wolves' Den.
Realistically if you've unlocked the Wolves' Den you should be able to unlock Frontlines, however, you need to head to your Grand Company once more to accept the quest "Like Civilized Men and Women."
Though all three Grand Companies provide the same quest, players cannot accept the quest from a Grand Company they are not affiliated with.
HOW DO YOU SWITCH JOBS IN FRONTLINES?
There are two ways a player can switch what Job they are playing in Frontlines. They can either head to their Character menu and select the Gearset they would like to use or they can place these Gearsets onto their Hotbar for quicker access.
If you're someone who generally changes Roles midway through a game, I would strongly recommend putting the Jobs you generally play onto your Hotbar.
Things go pretty fast in Frontlines and you will still need to be in a generally safe place to switch Jobs even with quick access on your Hotbar.
DOES GEAR MATTER IN FRONTLINES?
No, your Gear has 0 impact on anything in Frontlines. Everyone will have the same stats that are based on the Job they are playing.
HOW DO YOU CHANGE YOUR PVP HOTBAR?
Though players can change their PVP Hotbar while in a Frontlines match, it is much better to do so from the Wolves' Den.
Unfortunately, the only way to even see your PVP Hotbar is to be in a PVP area so you can't simply change it at any time.
PVP actions can be accessed in the PVP Profile and by default the PVP Hotbar will have this button on it. If players have removed this from their Hotbar they can access it in the Actions & Traits Menu by hitting "P" on their Keyboard and navigating to the Main Commands.
Once players are in the PVP profile menu they will be able to see the PVP Actions to the bottom of the left navigation.
While players can normally access their PVP Profile using the character menu, this element of the UI is hidden in PVP areas.