So you're here once more trying to figure out how to unlock another difficult job in FFXIV, welcome! The Ninja is a fast-paced Melee DPS Job that is unfortunately prone to many mistakes.
You see, the Ninja is one of the only jobs that requires players to place inputs to cast high-damage spells and if one button is misclicked, they will be forced to deal no damage for that portion of the rotation. When you thought that messing up your spells was the only problem Ninjas had, there's also an Ability you use every 2 minutes, which forces you to stand still for attacks or it is cancelled and during this phase, many players will cast the wrong spells thinking that they are dealing the most damage, however, when you calculate the DPS the rotation isn't what it seems.
Oftentimes the Ninja is referred to as the hardest Job in the game, and while I understand why players feel this way, I recently did a ranking of the starter Classes' difficulty and believe that Monk is harder.
While many mistakes can be made on the Ninja, its rotation is exactly the same at all points and a strong muscle memory can be built relatively easily if you are focussing on playing it regularly.
The Ninja deals very high damage and also provides a decent amount of team support, being able to make mobs vulnerable to all incoming damage. So, when you thought that all high-damage-dealing DPS was greedy, you were mistaken.
Though many players choose to play Ninja because of the pedestal the community puts it on, I do not think it is a beginner-friendly job. Quite frankly there are too many mechanics a player must learn to avoid and while it takes a bit of time before a player begins to see these mechanics, as they are not as frequent in the lower-level instances, it's a good idea to get a proper idea of the game before playing a job that's so at risks of making mistakes.
As mentioned, I most commonly see mistakes made on Ninja and though it deals some of the highest DPS, it's not uncommon to see players on Ninja rank much lower on the aggro list than Jobs that deal less damage. Now, this isn't meant to be a means to gatekeep you or tell you that you shouldn't play it or try it, it's just easy to assume that because you are playing a job that deals the most damage you will deal the most damage without being skilled. We see a similar problem with the Black Mage, but unfortunately, these are two jobs where messing up your rotation really knocks you damage down as their rotations are much less forgiving than some other Jobs.
The Ninja is a very fun and fulfilling Job, though it also requires a lot of patience. Players will need to schedule out fights to ensure that they don't use Skills/Abilities with extremely long cooldowns right before a phase change or when they are going to need to avoid a hoard of AoEs. Preparation, in my opinion, tends to be easier than playing the Black Mage, however, I would say that they are comparatively punishing if mistakes are made.
So, let's get started chatting about how you can unlock this challenging job and let me tell you… I'm genuinely excited about your journey with it!
Note: If you have any questions about FFXIV that you want me to cover feel free to leave them in a comment below, you can also ask me while I am streaming on Twitch, YouTube or in our community discord.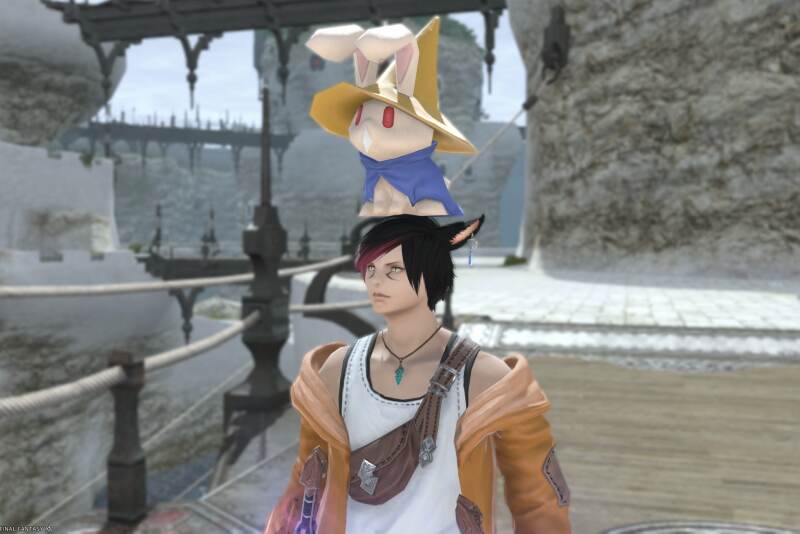 HOW TO UNLOCK THE ROGUE IN FFXIV
As the Ninja is one of the original Jobs in FFXIV players will have to take a few steps before they can unlock this specialized Job. The first step is to unlock the Rogue Class which is the base version of the Ninja.
To begin players must have access to Limsa Lominsa Lower Decks. If this was your starting city you will be able to unlock it immediately, however, if you started in New Gridania or Uldah – Steps of Nald you will need to complete the main scenario quests until about level 15.
No matter what, it shouldn't take you too long to be able to unlock the Rogue, though there is more to the process before you unlock the Ninja which will include levelling to 30 and completing some quests. The levelling should be easy and you can check out this post to learn the fastest and easiest ways to level.
Players must begin their journey with Lonwoerd who is located in Limsa Lominsa Lower Decks at X:8.1, Y:16.1. From then on you will be meeting up with Jacke who is located at in Limsa Lominsa Lower Decks X:6.0, Y:6.1 and provides the quest "My First Daggers."
Jacke will give you all of the Rogue Quests going forward and though not all of them are important to complete immediately, I will cover the ones which you don't want to put off. For the most part these Class Quests will give you suboptimal Gear that is heavily outclassed by Dungeon Gear, so I would recommend that you ignore them to save time and try to get to Ninja as soon as possible since once the specialized Job is unlocked the main mechanics that will carry you through the remainder of the game begin to unlock.
If you are uncertain what Class Quest you are currently on or if you completed the most recent one, you can check by switching onto the Rogue and looking under the MSQ UI as long as you haven't changed the configuration of the Default HUD. You can also search your journal, which is accessed with 'J' if you are still uncertain.
The following are the Class Quests for the Rogue:
At Level 1 players must complete "Stabbers in Yer Fambles".
At Level 5 players must complete "A Dainty Dilemma".
At Level 10 players must complete "Stray into the Shawdows".
At Level 15 players must first complete "Stifled Screams" which is a very important quest that provides the Weaponskill called Throwing Daggers, which though not regularly used, will allow players to deal a small amount of ranged damage. This is extremely useful in solo content but is also useful when a player is trying to avoid AoE damage but still wants to attack.
At Level 15 players will also be able to complete "Slave to the Code" which will provide the Ability called Mug. This is one of the most important abilities for the Rogue/Ninja as it increases the amount of damage an enemy takes for a short period. From now on you can ignore Class Quests until level 30, unless you just want to get them done and over with.
At Level 20 players must complete "Grinners in the Mist".
At level 25 players must complete "Sweet Sorrows".
At level 30 players must first complete "Market for Death" and then will be able to complete "Cloying Victory" which is the final Rogue Quest.
HOW TO UNLOCK THE NINJA IN FFXIV
Once players have completed all of the Class Quests above they must move on to completing their first Ninja Quest. This can also be done by speaking to Jacke in Limsa Lominsa Lower Decks at X:6.0, Y:6.1 and the quest is called "Peasants by Day, Ninjas by Night".
Players must make sure that they complete the MSQ "Sylph-managment" before they try to complete "Peasants by Day, Ninjas by Night" as otherwise, the quest will not appear.
Completing "Peasants by Day, Ninjas by Night" will provide you with the first Ability called Ten which is part of your Mudra rotation. Welcome to the first step of the complexity of Ninja. This quest will also provide you with the Soul of the Ninja, which is the Soul Stone for the specialized job.
Players should note that the Ninja and Rogue are treated as two different Jobs, meaning that any time the player takes off or puts on the Soulstone your Hotbars will change. I strongly recommend that you update your Gearset as soon as you put on the Soul of the Ninja, but you can use the Rogue's Hotbar as a dead HUD for future macros.
Moving forward you will never want to play as a Rogue as this will limit access to what Gear you can wear and what skills/abilities you have access to.