It should come as no secret that I'm a major fanatic when it comes to collecting Mounts in FFXIV. While Mounts have no differences at this point other than cosmetics, I still want to make it a goal of mine to collect as many Mounts as possible especially those which can be farmed from the Overworld versus in Savage content or through the purchase of the Mog Station.
While admittedly, a good variety of Mounts are ones I'd never use, simply due to the fact that I don't find them as interesting or as fitting for my character, it doesn't mean that I don't want it just for completion.
With the Endwalker update, we saw the arrival of a few new Mounts, including one that can be grinded by complete FATES and purchasing with Bicolour Gemstones, though the Level Checker Mount takes a lot less time than the FATE Mount and simply requires players to wait for an instance where a particular FATE spawns.
While the Lever Checker Mount is not the first to require players to farm a FATE, joining the lines of Ixion, Ironfrog Mover, Tyrannosaurus, Eldthurs and the Eurekan Petrel; I have to say that the Level Checker Mount is going to be one of the more interesting Mounts to obtain, both due to the FATE you have to complete and the sheer uniqueness of this mount.
Though most players will want to try to rush getting the Level Checker Mount there are going to be a few obstacles that get in your way that you will have to complete first.
First players will have to finish their Main Story Quest (MSQ) and will need to locate all of the Aether Currents in Ultima Thule.
Unfortunately for players, there is no way to access this particular FATE without the use of flying, though flying is going to be an important thing to unlock for all players as it really ramps up the speed of travelling around the world, especially if you're on a FATE grind.
Note: If you want to watch me play games like FFXIV on Twitch head on over here! I'm always happy to answer your questions there as well!
WHAT FATE DO YOU NEED TO DO TO GET THE LEVEL CHECKER MOUNT?
In order to gain access to the Level Checker Mount players will have to complete the Chi Fate (Omicron Recall: Killing Order) which is located in Ultima Thule near Base Omicron.
Players will have to locate the small square platform above Base Omicron and will need to fly to it.
The exact location of Omicron Recall: Killing Order is X:34.5, Y:21.5
It should be noted that Chi will only spawn if the following FATES have been completed:
Omicron Recall: Comms Expansion
Omicron Recall: Secure Connection
HOW DO I KNOW WHEN THE CHI FATE IS UP?
As the Chi FATE spawns fairly sparingly, players will want to keep track of it on a website called Faloop. Players will want to input what data center they are on and locate the Chi FATE.
Please take note, players will need to make sure they are also aware of what instance Chi is going to spawn in as it can feel awful to be waiting for Chi to spawn only to have it spawn and killed before you make it to the correct instance.
Some players have also set up Discords to let players know when Chi has spawned, though I'll admit Faloop feels more reliable and you will be able to plan out how long you have until spawn and will also be able to see the timers for worlds you can World Travel to.
For players who are uncertain what I mean by World Travel, essentially it's a way for players to travel to worlds different than yours which may have the FATE up. Players must head to one of the starting cities and interact with the Aetheryte, selecting the World they would like to go to.
World Hopping, in my opinion is the best way of going about killing Chi and will be a good way for players to continue battling Chi if they want to use it as a quick way to farm Bicolour Gemstones.
My favourite thing about Faloop is that it tells you when a FATE boss is defeated, helping you note if it is useless to teleport.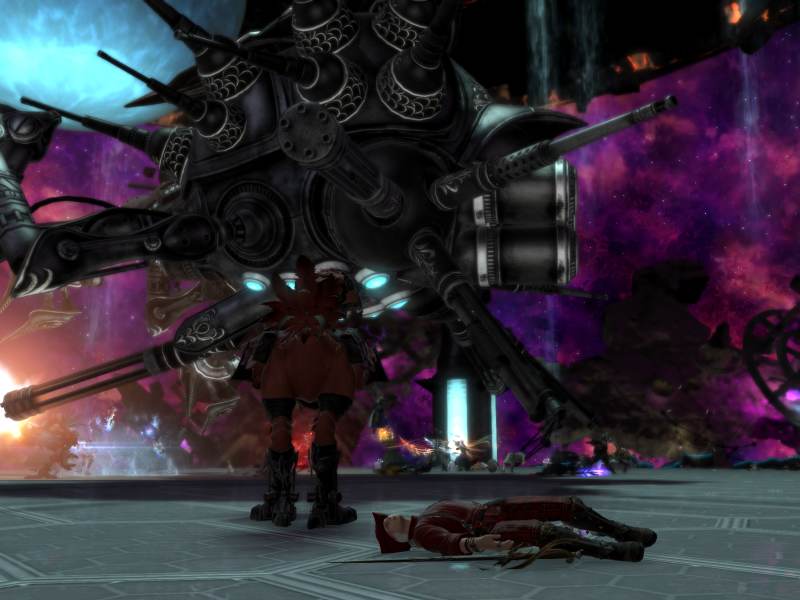 WHAT ARE CHI'S ATTACKS AND HOW DO I DEFEAT IT?
Chi is a pretty rough Boss to complete as it will need a number of players in order to defeat. Think of Chi as an S rank Hunt Mark in FATE form. Due to how tough Chi is, I strongly recommend that players either communicate with friends, their FC or /shout LFG Chi in the instance to ensure that you are in a party.
Your party will probably need to be at least 4 players with at least one Healer. Red Mages are encouraged in this fight as you will need to res people often, even if they are not in your party. When I say this battle is a wipe fest, it's no joke, thoug players should be able to dodge Chi's main attacks with the following strategy:
When Chi casts Assault Carapace players must move into the boss to avoid the ring of AoE damage
When Chi casts Bouncing Bomb Chi will mark tiles in the arena to explode, moving onto the next ones until all of them explode.
When Chi casts Bunker Buster Chi will mark a pattern of tiles that will explode, leading players to remember the pattern in order to avoid taking damage.
When Chi casts Fore Arms move behind it or you will die.
When Chi casts Free-fall Bomb players will have to avoid typical AoE bombs.
When Chi casts Hell Burner Tanks must prevent a tank buster.
When Chi casts Missle Shower players must be ready for a bit heal as this causes unavoidable damage.
When Chi casts Rear Guns go in front of the boss to avoid damage.
When Chi casts Spawn of Magitek Robots run away from the straight lines.
When Chi casts Thermobaric Explosive it will spawn two explosion spots where players must head to the furthest point of both, essentially being in between both on the ledge.
Chi will always drop 180 Gil, 86 Bicolour Gemstones and will never give experience, meaning that players should always do it on a Level 90 class, especially since Chi is a Level 90 Boss.
HOW DO I BUY THE LEVEL CHECKER MOUNT?
In order to actually buy the Level Checker Mount players are going to have to turn in 12 Chi Bolts in at Radz-at-Han to Nesvaaz (X:10.6, Y:10.0) by selecting the Out-of-this-world Oddities tab.
The item players should buy is titled "Level Checker Identification Key" and after this is purchased players will no longer need to farm Chi Bolts.
Players can continue farming Chi for Bicolour Gemstones, but in order to buy the Level Checker Mount players will only need to defeat Chi 2 times and secure a Gold Rank both times.