New World is an extremely customizable game, allowing players to select different perks on all of their Weapons and Gear, Weapons as well as different skills and passives for each of their Weapons.
While you would assume that in a game this customizable, players will have the freedom to select any Weapons, Perks and Skills that they desire, the unfortunate reality is that there is a bit of a META that takes place, especially with some of the Weapons or else they become virtually useless.
That all being said, there is a slightly unfortunate reality with where New World sits right now that leaves certain Weapons extremely powerful and necessary for PVE content with others being virtually useless. This reality doesn't really affect players who are playing early-to-mid-range content, however, players will begin really feeling the disparity between Weapons when they start getting into Mutation 5 and above.
Now, this might feel like a really weird thing to bring up straight out of the gate, but as we are going to be covering the Fire Staff first, being one of the main Weapons to experience this disparity, I thought I would get that statement aside as soon as possible.
Before I continue this post, I want to make it clear that I was a Fire Staff main since I purchased the game, so while this post is going to seem like I'm pooping on the Fire Staff at certain points, know that it is still my favourite Weapon and I actually find it unfortunate that it sits in such a rough area for players at the moment.
If you watch my Twitch streams, you already know that I have very strong feelings about the fact that PVE Weapon Damage and PVP Weapon Damage is not split as this is the main reason the Fire Staff became "useless" in PVE content, though if you set up your Fire Staff correctly and rely on certain skills over others you will find you are dealing a decent chunk of Sdamage, you will just have to be more skilled at the Weapon than others.
So, my future Fire Staffers, let's break down various ways you can build this Weapon in order to make it useful in PVP and PVE as the difference especially with the skills you take are going to be quite substantial. If ever you disagree with any of the statements I make, please feel free to leave a comment stating your thoughts as not only will the skillset you use depend on your playstyle, but will also depend on the luck you have on Gear drops and the synergy you have with the group you are playing with.
IS THE FIRE STAFF A GOOD WEAPON TO MAIN?
Depending on the content you are completing, the FireStaff is either an S-tier Weapon or a C-tier Weapon.
In PVP due to the range and burn of the Weapon, it is greatly sought after, only being second to the Musket in terms or ranged damage.
If you are running a Fire Staff in PVE chances are you're going to be rejected from most lobbies for Dungeons, even if the Dungeon is Angry Earth due to the fact that the Fire Staff typically doesn't deal as much damage as other Weapons like the Hatchet or Spear.
While I found this odd at first and highly frustrating at first, I actually started understanding this "gatekeeping" and what I would say is somewhat toxic behaviour after I switched to Hatchet/Greataxe as my primary Weapons.
Simply put, you can be an absolute trash player and run Hatchet and Greataxe while still being able to output better damage than a Fire Staff and realistically a number of newer Fire Staff players do not know how to optimize their time on the Weapon typically causing players on a server to either to declare that all Fire Staffers are useless and they will be rejected from lobbies immediately.
I've, unfortunately, been in situations where I could not get into a lobby for hours due to constantly being rejected if the lobby leader didn't know me or having bought of toxicity spewed at me if things went wrong in an expedition, even if I wasn't the one at fault and my uptime was incredibly high.
The reason I bring this up is to ensure that players who are hoping to play the Fire Staff are aware that this is honestly typical on all servers and while I do not condone the behaviour in any means, I strongly believe that this is the fault of AGS and not just the players of the game.
Due to this unfortunate reality, I strongly recommend if you play Fire Staff you make friends very early on as playing with random people is one of the most frustrating experiences I've had in the game and almost had me quit it. Admittedly quitting a game due to my favourite Weapon being "weaker" is not something that typically happens for me, but this is also the first game where that has made me queue for 6-hours with no chance of running content, even before I ran Mutations.
I understand that this is extremely discouraging to hear and will probably make a number of newer players avoid even trying Fire Staff and I really wish it wasn't the case and that AGS took more time to balance things.
FIRE STAFF HAS SOME OF THE BEST BURST DAMAGE IN THE GAME
The ultimate best part of the Fire Staff is the insane amount of burst damage that it is capable of doing. This, unfortunately, is a blessing and a curse.
Although the auto attacks and burn are not the most impressive in PVE content, the abilities can make it so a player deals a minimum of 20,000 damage in a matter of seconds and if a player is optimized with their Weapons and Gear they can easily push this burst upwards of 40-60k. There are two main issues when it comes to this, first, this will generate a terrible amount of aggro, meaning that fire staffers who either do not know how to dodge well or use their potions to remain alive will struggle in the majority of expeditions.
Although players can try to avoid this by taking perks that reduce the amount of aggro you receive from enemies, this genuinely feels like a waste of a perk as you will be replacing something that deals damage or something that provides you with protection such as Ward. So, in my opinion, it's going to be better for you to simply learn how to manage your Potions, Meals, Wards and learn to dodge. Another thing is understanding how to bring enemies to your Tank and lead them away from your Healer and allies, which in my opinion is where the majority of the fun is.
This will take some time to get used to and quite frankly I've never played another Weapon that has the same aggro issues as the Fire Staff, though I'm going to be honest I oddly missed it quite a bit when I switched Weapons.
You see, peeling is going to be extremely important in Expeditions as typically a Healer will pull all the aggro off the Tank, especially if the Tank isn't the most skilled. So, to be able to peel mobs off of the Healer and keep them safe is one of the most important tasks a player can complete.
Admittedly this is a bit of a trade-off as other Weapons have the chance to peel mobs off of the Healer by simply killing them, and a Fire Staffer can simply just take the aggression off the Healer while slowly bursting them down. I have to say, I somewhat prefer the Fire Staff method as it will ensure the safety of the Healer and depending on the Mutation level, the amount of damage you will deal with even a good Weapon will not be able to kill the mob before it gets to the Healer.
The biggest reason I feel like the Fire Staff method is better is simply that it's much easier to pull aggro of an enemy and bring it to the tank rather than burst it down with damage before the Healer is interrupted from healing or worse… killed. At the end of the day, it's going to really depend on the synergy of your team. Still, I hope that they simply raise the damage of the Fire Staff to bring it closer to Melee as realistically you'll be in Melee Range the majority of the time without the befits of being Melee.
WHAT ATTRIBUTE DOES THE FIRE STAFF SCALE ON?
The Fire Staff scales off of Intelligence and no other Attribute, so players will either want to use two Intelligence Weapons being the Ice Gauntlet and Void Gauntlet or will want to use the Blunderbuss with the Fire Staff.
Unfortunately, like most synergy with Weapons, players will be limited to the choices they make with Weapons as the rotation of skills will heavily depend on a player's playstyle making Weapons like the Rapier, though very impressive with damage, a bit less useful.
When I break down each of the playstyles with the Fire Staff, I'll also give you a heads up on which Weapons I recommend as the primary/secondary, though I will be covering their skill Tree as the primary/secondary in their own article as to avoid overwhelming you with text.
Realistically when it comes to the Fire Staff, I find it being the primary Weapon more useful, though this is heavily due to the fact that if you were to use it as your secondary Weapon you would have to land more skill shots. Unfortunately, given the sporadic nature of mobs in New World, skill shots are much harder to land, often leading to a loss of DPS more than anything.
Still, if you're good at reading a mobs behaviour or are in packs of mobs, you will see much more damage from the Fire Staff than the majority of other Weapons.
WHAT EXPEDITIONS IS THE FIRE STAFF BEST AND WORST IN?
The Fire Staff is realistically only the best in Genesis, due to this Genesis is the only dungeon I will run Mutations in, especially if I'm pushing Mutation 10s.
A lot of this just has to do with the base stats of the Fire Staff, though it doesn't help that the Fire Staff only scales off of a single Attribute. As much as I don't want to admit it, I have to run Fire Staff/Blunderbuss in this expedition to guarantee Gold in Mutation 10s as the Blunderbuss also scales off of Strength. While you may be saying "no-no-no-no the Blunderbuss does less damage to Angry Earth!" While you are correct, the Synergy between these two Weapons is just so great and if you can split your stats to 300 Intelligence 150 Strength and 50 Con, you're going to deal a great deal of damage.
Another option is to run Fire Staff/Rapier, which will actually do much more damage, however, if you have the number of cooldowns that I do on the Rapier, switching off of it doesn't actually make you gain too much DPS and instead is a loss of damage. Essentially the cooldowns are just so low on Rapier that you will want to stay on Rapier as long as you can to make use of its rapid damage.
With that being said, you'd probably be better playing Rapier on a Dexterity build due to the massive increase in damage making it less optimal with Fire Staff.
In regards to Genesis, the other option you have is simply caking on the Intelligence and running Ice Gauntlet or Void Gauntlet. Ice Gauntlet is going to deal more damage, though less than Blunderbuss and Void Gauntlet is only going to be useful if you do not have a Healer who is running Oblivion or has a bad uptime with the skill.
Now, for most other Expeditions, you should be fine to use Fire Staff as long as you are running Mutations 7 or lower as by the time you Mutations 7 and up you're going to want to make sure you're taking advantage of all mob Weaknesses and are dealing sustained damage instead of burst damage to ensure mobs don't heal and are killed fast enough.
Unfortunately, the Fire Staff receives a lot of flack for a good portion of Expeditions due to the 40% resistance Ancients have on Fire. For these, I strongly recommend you avoid the Fire Staff altogether unless you are running the basic version of these Expeditions. The reason I say this is simply because there is a time limit in Mutations and while it is possible to secure a Gold on the lower levelMutations even with Fire Staff, it's a better idea to simply switch Weapons and clear it faster over and over.
The expeditions to outright avoid Fire Staff include:
Starstone Barrows/The Destroyed Obelisk
The Lazarus Instrumentality
The Ennead
WHAT GEMS SHOULD I USE ON THE FIRE STAFF?
There are a few Gems I would recommend you stick to when using the Fire Staff, though it's going to depend on your skill and playstyle.
In my opinion, the absolute best Gem is Opal as it will provide you with a maximum of 15% damage anytime you are not at full Stamina. Now, me being me, I dodge a lot and so my uptime with the Opal passive is almost always on and typically only missed if I got staggered and my Stamina has replenished. While this can be remedied by me dodging again, it is going to depend on whether or not your other Weapon's cooldowns are as shooting off those abilities will typically deal more damage than the 15% increase of damage on the Fire Staff.
The Diamond will provide you with a maximum of 15% damage though this will require players to be at full health. I'll be honest, even with the best Healers I have had, the uptime on this Gem is less than the uptime on the Opal. I would say this is more worth it for melee Weapons, but since a good portion of your damage is going to be burst abilities you can really time your dodges to happen right before you attack an enemy to maximize your damage. The only time I would recommend the Diamond over Opal is if the mutation you are in requires you to not dodge and your Healer is unable to keep you up through the damage over time due to the elemental factor of the Mutation. Personally, when Mutations require me to limit my dodging I play a Melee Weapon anyways as my chances of survival are much higher anyways due to the Hatchet's passive of defying death and the fact that I refuse to enter a Mutation with more than 50 Constitution. The Diamond is the best for players who are running 5 Constitution runs no matter what Weapon due to your need to avoid all damage.
The Emerald is by far the lazy man's Gem for the Fire Staff and while it will provide you with a maximum of 20% damage it will only give you this when a mob is at 30% or lower. Admittedly, this is going to be most useful in two scenarios, when a player does not enjoy dodging to deal damage or if a player in a higher Mutation running more than 5 Constitution. Admittedly, the Emerald will always deal less damage than Opal or a Diamond due to the threshold it requires to deal more damage, but it is safer than the rest due to it's guaranteed more damage versus the others which rely some skill.
I'll be honest, I would avoid using Elemental Gems on your Fire Staff as it will realistically deal less damage than most other Weapons in the game, however, if you're doing lower-level content and are adamant about playing Fire Staff you'll be looking at Sapphire Gems for Corrupted or Amber Gems for Lost. I simply would never use a Fire staff against Ancients due to the massive resistance they have to Fire, so in my opinion I wouldn't even use a Gem to provide you with Lightning Damage.
As for the very late-game players, you're going to want to convert one of these Gems into Runeglass and I would strongly recommend the Ignited Runeglass as this will increase the amount of Fire Damage you deal over time. As my advice is to strictly use the Fire Staff only for Genesis this is going to be the only Runeglass I recommend, however, if ever the Fire Staff gains a damage buff again and becomes useful in PVE content you will typically want the Runeglass that has to do with the Weakness of the Expedition mobs you are up against.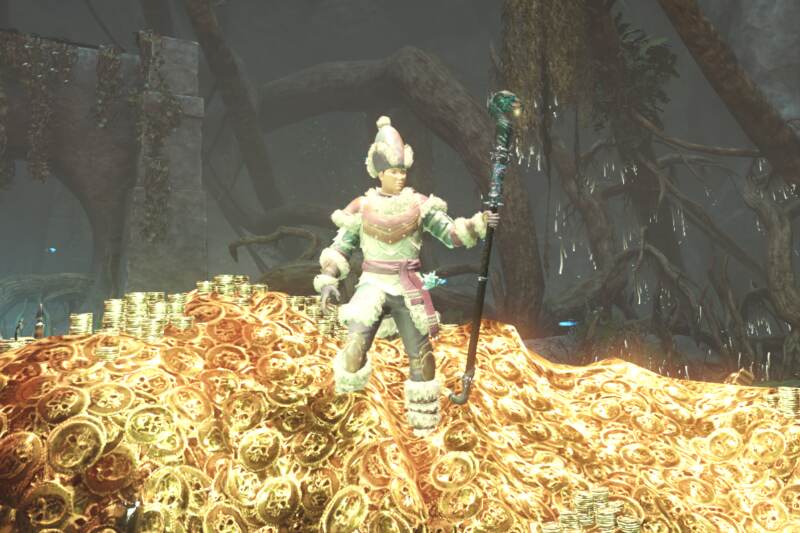 WHAT ARE ALL OF THE SKILLS ON A FIRE STAFF?
Before I start breaking down what some of the best builds are on the Fire Staff, I want to cover what all of the actual skills are. The following section is going to focus on being in-depth, giving you everything you need to know so that when I cover the actual builds I can breeze through my reasoning for why I combine them versus what they are.
This part may feel quite long-winded and for that apologize, but I will try to be as concise and clear as I can be.
PYROMANCY
The Pyromancy Skill Tree is more focused on close-range damage and will provide players with a good amount of burst. No matter if a player playing is PVP or PVE, they will want a few skills from this Tree though will want to mix up the passives and skills based on the content they are trying to complete.
BURN OUT
Burn Out is a skill that provides players with a great deal of escape and is most useful for PVP, generally providing very little utility in a PVE setting.
While players can still use Burn Out for PVE to escape in sticky circumstances, it tends to leave players with a bit of a DPS loss and I would recommend avoiding it.
Burn Out allows a player to travel 11 meters forward without the risk of a body block, meaning that it's going to be one of the best ways to escape or burst into a group.
Burn Out will deal 129% Weapon Damage to all enemies that are hit by it and can be used every 20 seconds unless a player uses Gear cooldowns. Every enemy hit will gain a stack of burning which deals 10%of the Weapon's damage per second for 8 seconds.
Burn Out will cost 30 Mana.
In my opinion, Burn Out isn't the best in PVE unless you are using it to escape enemies. While it does apply burn, due to its long cooldown it's not really a worth-it way to apply the burn and there are much more reliable ways and speedier ways to apply your full 5 stacks.
Due to the way PVP functions, I strongly recommend a player uses Burn Out, if not for the damage, for the ability to escape.
ALL OUT
All Out is a great passive to have on Burn Out and makes it much more useable for PVE, even though I still don't really use it in PVE.
Essentially All In will make a player gets a 5% cooldown reduction on all abilities for each enemy hit with Burn Out. This can only proc on a maximum of 5 enemies, meaning that a player can reduce their cooldowns by a maximum of 25%. Admittedly, this is pretty significant, however, if a player has other ways to manage their cooldown reduction they will not need to rely on this passive.
If you have this passive you are going to want to make sure that you always burst through enemies whether you're trying to escape or get into a group of enemies.
HEAT IT UP!
Heat It Up! is essential for players in PVP as it will increase the distance player travels with Burn Out by 50%. This essentially makes it so a player travels 16.5 meters with Burn Out instead of 11 meters.
While meters are a bit of a confusing measurement in New World all you need to know is that this is enough distance to get out of most forms of damage no matter what the Weapon you're against.
FLAMETHROWER
The Flamethrower ability is one of the most overpowered abilities on the Fire Staff, though I have to admit I have seen too many Fire Staff users try to rely on it in PVE content, which can be extremely frustrating.
Essentially, this is an ability that will allow players to deal AoE damage to multiple enemies at a time, though I strongly suggest that players only use this to apply 5 stacks of burn onto all enemies before they switch off to other abilities or straight-up a different Weapon. This is especially true if a player is against a single-target enemy like boss as realistically auto-attacks and heavy attacks can deal much more damage due to the amount of damage they can deal when they Crit.
Flamethrower will create a 4-meter jet of fire that deals 50% of your Weapon's damage every half second, essentially appearing like it would deal as much damage as if you were light attacking, but this is not true as the light attack will deal more when it crits and realistically you are going to want to heavy attack when you can to potentially get e even more damage on a crit.
Flamethrower is best when in groups of mobs and is the best way to initially get burn onto your target as every half second a stack of burn is placed that deals 10% weapon damage, up to a maximum of 5 stacks.
Each stack of burn will deal damage every second and players can have a maximum of 5 stack burns. As a heads up players cannot stack the burn from multiple Fire Staves, but will be able to refresh each other's burns. While the game will typically utilize the value of the more powerful Fire Staff user(making the burns only deal the highest amount of damage if that Fire Staff user has hit that mob) this doesn't outweigh the damage loss you receive for having two Fire Staves on your team.
When it comes to PVP Flamethrower typically only phase utility in 3v3s as Wars and OPR can make it difficult actually reach the enemy with Flamethrower without the risk of dying.
Essentially, OPR and Wars have too big of an Arena to make this ability useful and will typically result in a dead Fire Staffer. Now, there are some times where this isn't true, for example, if a Great Axe user uses a Gravity Well, but I still recommend a player selects other abilities for OPR or Wars if they are planning to play Fire Staff.
PYRO DANCER
Pyro Dancer makes the Flamethrower much more useable in PVE content and in my opinion, is extremely important for any player to have in their build.
Essentially Pyro Dancer will make it so Flamethrower has no cooldown anymore and comes in most handy when a player is in a clump of mobs with the risk of being staggered.
This will also make it so a player is not punished if they switch onto a different Weapon to pop their abilities off and come back to the Fire Staff to finish off the burn stacks.
By far, this is the most worth it upgrade for utility.
FIRE REACH
Fire Reach provides players with 50% increase in range when using Flamethrower. This brings the range of the Flamethrower to 6 meters, which isn't much.
Admittedly, Fire Reach isn't the most outstanding passive, but it is useful when players are walking towards mobs as you will be able to hit them earlier before launching any other close-range abilities.
Technically the best reason for Fire Reach is survivability as you will be further from enemies when launching attacks, but I can't say that it's the most helpful. I think the most utility it provides is in 3v3 arenas, but still take it because the next upgrade is a must.
INFERNAL FLAMES
Infernal Flames raises the amount of damage a player will deal with Flamethrower by 25%, but this will only affect the base damage and not the burn damage.
Due to the fact that this is not a very significant increase in damage players will still want to ensure that they do not remain on Flamethrower and instead switch off to light or heavy attacks after the 5 stacks have been placed or replaced, but it is a good amount of damage to make the initial placement feel more worth it.
INCINERATE
Incinerate is the most underappreciated ability to have in PVE content, but in my opinion, it's the best to have. Though it has a fairly small radius it can deal the most damage, heal you and is the only ability that the Fire Staff has that has any form of Crowd Control.
Incinerate will deal damage in a 3-meter radius, though, unlike the majority of Fire Staff abilities, this -one will take place around the player themselves. This works extremely well for players who are using the Gambit perk on their Weapon as you can simply roll in, deal the damage and roll out.
Incinerate deals 130% weapon damage and will inflict burning onto enemies for 6 seconds, dealing 10% Weapon damage every second.
As for the Crowd Control you can achieve with Incinerate, players will be able to knock enemies back by 3 meters.
Incinerate costs 22 Mana and can be used every 12 seconds, being one of the best abilities in regards to cooldown.
SCORCHED
Scorched is just a nice thing to have but isn't game-breaking. Essentially Scorched will make it so you can place two stacks of burning any time you get Incinerate off of an enemy. This make it extremely worth it to start your combo off with Incinerate so by the time you are done the move you go into Flamethrower to complete the stacks of burn and it has a chance to cooldown.
CAUTERIZE WOUNDS
By far my favourite thing about Incinerate is Cauterize Wounds as it greatly improves your survivability when you are on your own or in Expeditions.
Essentially players will regain 20% of their damage dealt with Incinerate. While this does not seem like much, it should help carry you while you roll into groups of mobs with Incinerate and then get out.
FLAME OUT!
Flame Out! is by far the most important upgrade players can get with Incinerate as itwill provide players with the opportunity to attack enemies twice with Incinerate. Realistically this can allow players to deal upwards of 10,000 damage to a group enemies with a decent Fire Staff and depending on the consumables and perks they have, can deal even more.
Quite frankly, this is why Incinerate is so massively impressive in comparison to the other abilities.
PILLAR OF FIRE
Pillar of Fire was my first choice for abilities at first, but the more I used the Fire Staff the less I actually liked it.
Pillar of Fire is great for players who want to deal damage from a distance and does deal a good amount of damage, it can just be hard to land, especially when players are dealing with enemies that move around a lot.
The Pillaroffire has a 2-meter radius, which admittedly isn't very large and will deal a whopping 170% Weapon damage when landed.
It costs only 15 Mana and has a very short cooldown only being 10 seconds. I do recommend Pillar of Fire if players are using their Fire Staff as a secondary Weapon, but I'll cover more on this later.
FIRST STRIKE
First Strike sounds great, but it's actually a pretty terrible passive to have as you won't see much of a damage increase from it. I honestly don't recommend putting points in it as the only time you really see damage from it is when you're doing solo content.
First Strike will raise your damage by 40% if you are attacking enemies when they are at full health, so if you're running an Expedition this will rarely ever be the case as you will want a tank to deal the first strike due to aggro tables.
I would say other passives much better in these situations.
ARSON'S ADVANTAGE
Arson's Advantage is another passive that I don't think is great and quite frankly I feel like it is a waste of a point unless you are in a Mutation that drops your mana, such as Void.
Essentially Arson's Advantage will provide you with 10% of your maximum mana for every mob that you hit with Pillar of Fire. Realistically in the majority of content, you can do this more efficiently with a mana potion and depending on the Weapons you use, you may not even struggle with Mana.
As I'm someone who typically takes Blunderbuss/Fire Staff into Genesis, I never run out of mana (unless it's void) and even Ice Gauntlet/Fire Staff is relatively easy to manage with mana pots, but if you're running Void Gauntlet you're going to have quite a difficult time managing your mana if you don't want to risk your health.
FIREBALL
Fireball is by far the best ability on the Fire Staff as it can deal the most damage, especially when players have the perk that raises its damage.
Fireball deals 140% weapon damage on impact and also leaves a 3-meter burning field that lasts for 6 seconds. This burning field is different than the burn that the other abilities cause and will deal 10% weapon damage each second.
Fireball costs 25 mana and has a short cooldown, being 15 seconds.
The only "negative" to this ability is the fact that sometimes mobs don't stay in the damage field, but due to the high impact this isn't really a problem.
CATCH
Catch is a very interesting passive to have and quite frankly, I think is one of the better passives a player can have on an ability.
With Catch not only will players gain 10% of their mana back if they directly hit a mob, they will also reduce all of their ability's cooldowns by 7%, meaning you'd want to put this in the middle or end of your rotation to cooldown the other abilities.
I love Fireball because it can greatly increase your DPS not only because of the damage it deals, but because of this passive.
SCORCHED EARTH
Scorched Earth is a non-essential upgrade, but can raise your DPS is enemies remain in the small area that Fireball causes. Essentially the burning field will last for 9 seconds now instead of 6 seconds.
PASSIVE SKILLS
TRIAL BY FIRE
I'm hit and miss about Trial by Fire, at first I thought it was great, but it admittedly doesn't deal a whole lot of DPS and quite frankly it is more unsafe than anything else.
For newer players who haven't cleared all of the Expeditions or overworld content a bit of a spoiler alert… There are some instances where you will really want to make sure that you do not damage all mobs around you. Nonetheless, the cooldown is so long for this passive to actually be any good.
If players have nothing else they want to spend their points on and do ultimately use Trial by Fire they will be looking forward to 5% Weapon Damage any time they are hit, dealing damage to all mobs in a 4-meter radius. This lasts for 10 seconds, though it has a very long cooldown of 120 seconds.
HEAT UP
I won't lie, I don't find myself blocking very often as a Fire Staffer, but if you are someone who is doing so this might be for you. Essentially Heat Up will provide you with 5% of your maximum mana each time you block a melee attack. In my opinion, useless.
KINDLE
Kindle doesn't sound like a great passive to have, but it can really help with your damage as it will increase the Fire Staff's burn by 20%. I personally do not have a problem keeping my burn stacks up, so I don't typically use it but it's obviously people are going to have different experiences.
In my opinion, I would never take this as at most it's going to add a little under a second of burn time, but I do wonder if they will ever raise the percentage it lasts for as otherwise, I can't imagine how few players would take this.
LET IT BURN
Let it Burn is purely defensive passive, though quite substantial, especially for endgame content.
Essentially any time a player's burn damage ticks they will gain 10% fortify for 2 seconds, meaning that a player can essentially always be fortified and take less damage.
The only time I would not recommend this upgrade is if you are so good at the content you're completing and seldom take damage. This is not going to be the case for the majority of players, so guess what my recommendation is? Take it. It's so ridiculously easy to keep up it makes no sense not to do it.
WATCH IT BURN
At first, I thought that Watch it Burn was a good passive to have, but the more I thought about it, the less it made sense.
Essentially, Watch it Burn will help you keep your burn stacks up as it applies a Burn stack any time the player lands a critical hit on an enemy. While yes, this is a good idea, the reality is that applying Burn stacks is so easy to do that you won't need the assistance of this passive and if anything it's going to be useful if a player is focussing on dealing damage using their Heavy attacks and refuses to land light attacks.
This is a valid option when players have a good amount of Critical Chance and are willing to apply burn using their Flamethrower, but otherwise, there is really no reason for this passive.
COMBAT SPEED
I really, really hate this passive as I never find Haste to be useful as a passive. While yes, I understand the use for it in PVP, as I predominantly focus on PVE with my Fire Staff I'm going to be biased.
Nonetheless, players will receive 10% haste for 5 seconds each time they use an ability, though this has a 10 second cooldown meaning they will not always have haste.
As mentioned, this is great for PVP, but not amazing for PVE.
REHEAT
Reheat is the worse Keystone and quite frankly I cannot see why anyone would want to use it. I've tried it a few times, even in Mutations that suck your mana up and I didn't see much difference between using a mana pot and having it proc.
Essentially with Reheat players will gain 400% mana regeneration if they have not used a Fire Staff ability in 4 seconds. While yes, it's nice to always have your mana up, you're essentially turning down a 25% damage increase for more mana. I legitimately cannot think of a time where you would want this, even in PVP, so if you can think of one please let me know.
FIRE MAGE
METEOR SHOWER
In my opinion, Meteor Shower is the most useless ability in the whole game and even after testing it in different circumstances, I cannot seem to find any utility for it.
I'll be honest, there was a similar spell that you could get in Elden Ring and I felt the same way, so maybe that's where a lot of my animosity for this spell came from.
While it deals a decent amount of damage, Meteor Shower is one of the most unsafe abilities a player can ever use as it will require a player to stand still for 6 seconds.
The biggest issue with this is the fact that players will be susceptible for damage while they are standing still and while you can distance yourself quite a bit you will not be able to mitigate any of the damage you receive and will not be able to end the cast. This tends to be a problem specifically on the Fire Staff as you will be pulling a lot of the aggro off of the other players even when dealing damage with a single ability.
Admittedly if you have a decent healer this isn't much of an issue, but I would say that it's still a better idea to avoid this ability.
As for what Meteor Shower actually does, it will deal 75% of your weapon damage while enemies are in the 4.5 radius upon them entering and then over the remaining 6 seconds it will deal an additional 25% damage every 0.75 seconds for the targets that remain inside.
The Meteor Shower will only consume 30 mana upon completion and has an 18-second cooldown.
Admittedly Meteor Shower sounds like a really great ability to have because of the damage it deals, but I promise it's not great. Let me know if you feel any different or have found a strategy that works, but I find even in Expeditions the chances of a mob leaving your circle is pretty high and essentially becomes wasted damage.
IMMOLATION
Immolation makes it so your Meteor Shower provides you with 1% of your max mana anytime it hits an enemy.
FIERY DETERMINATION
Fiery Determination is extremely important for players who are running the Meteor Shower as it will add grit to Meteor Shower making it so an enemy cannot break your stance while you're casting it.
This will be important as it is a straight-up loss of DPS if your stance is broken.
JUDGMENT OF HELIOS
The Judgement of Helios is extremely important if you are running Meteor Shower as it will make all of the secondary damage of the Meteor Shower deal 40% damage instead of 25% damage.
On paper this greatly improves the damage you deal with Meteor Shower as long as enemies stay in the 4.5-meter radius.
I feel like this attack would be much better if the radius was bigger, but given where it stands I don't think it's great.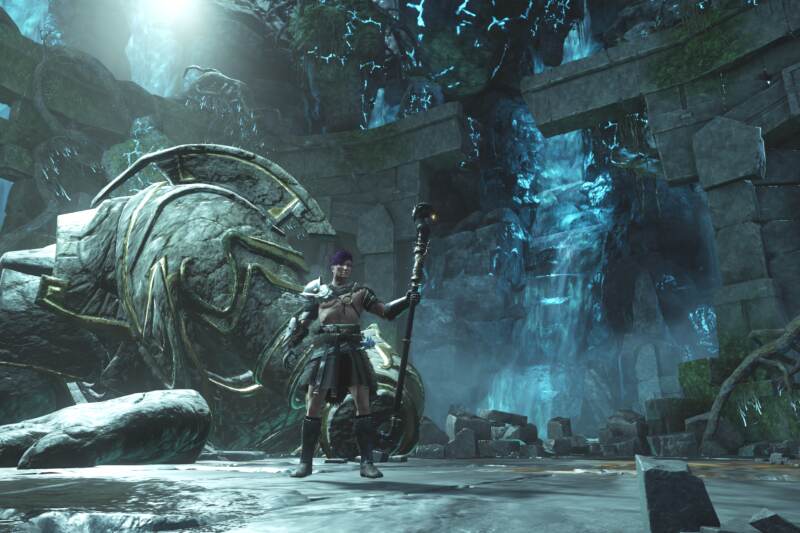 PASSIVE SKILLS
CLEAR CASTING
Clear Casting will make it so a player deals 5% more damage if they have not taken damage in 3 seconds. This is not the most substantial, but it's really nice in the long run.
FLARE
Though somewhat unnecessary in my opinion, Flare is a skill I actually recommend having especially if you are going to make use of your Heavy Attacks for the chance of Critical Hits.
With Flare, players will no longer need to consume mana for your heavy attacks and realistically players will only want to use light attacks if they are using them to reapply your burn and do not have the opportunity to head close to an enemy to use Flamethrower.
This is going to be most useful when using two mage weapons and your Fire Staff is your main weapon for damage.
FIERY RESTORATION
Depending on what Weapons you're running as your secondary Weapon, you may want Fiery Restoration. In theory, Fiery Restorary sounds really good and would probably help your DPS, but it really depends what your secondary Weapon's cooldowns are.
Realistically, you may not even need these cooldowns because your Gear has cooldowns, for me this is the case. I would rather have other passives that empower me, but it's still a great option.
In my opinion, Fiery Restoration is the best if you are running the Ice Gauntlet or the Void Gauntlet and less useful for stronger Weapons like the Blunderbuss or Rapier.
Essentially if your Fire Staff is your main Weapon and you're holding another Magic Weapon, chances are this will be good for you, otherwise your other Weapon will probably deal more damage due to the split stats you choose.
SINGE
Singe is going to be perfect when a player needs to fight at range for the majority of their fight, especially if they are up against a boss. I personally choose to take it no matter what I'm doing with the Fire Staff as chances are I'm going to be starting all of my battles at range, especially with Overworld content.
This is especially useful when players are in PVP mode in the Overworld as they can get the upper hand on their enemies by shooting them in advance and leaving them with a burn so they can take a bit more damage before you burst them down to kill them.
Players will apply the same burn they gain from the rest of their abilities, being the 10% damage every second for 6 seconds up to a maximum of 5 stacks.
If you're regularly keeping a mob's burn stacks up without light attacking, then don't choose this, but if you are having difficulty keeping them at 5 stacks the whole time, choose this for sure.
SPELL FOCUS
Spell Focus is a very situational passive and I strongly recommend running it if you are running Void Gauntlet with your Fire Staff, otherwise much like other mana-based passives it feels quite useless.
Essentially when run in tandem with the other heavy attack passives it will really help keep you up to deal the most ability damage, but you really need the Fire Staff to be your main source of damage.
With Spell Focus, players will receive 5% of their max mana every time they land a hard attack.
CLEAR MIND
Clear Mind is quite a no-brainer and I feel like every single Fire Staff user should have it on their build as it will provide players with a 5% empower when they are at 50% or higher mana.
While it took me a while to understand how to make sure my mana was always over 50%, it has become ridiculously easy, meaning I always have empowered at this point on Fire Staff, especially when I started using Blunderbuss as my secondary weapon.
SPELL SLINGER
Spell Slinger will provide players with 10% critical strike chance on any of the Fire Staff's abilities. I personally really like this, especially because it can free up a perk on one of your pieces of Gear or Weapons as the highest amount of Critical Strike chance you can get is 50%.
RUNES OF HELIOS
The Runes of Helios is the keystone that I recommend all Fire Staffers take as it will greatly increase the amount of damage that you deal. Admittedly, at first, players will struggle to stay inside of the Rune, it is generally really easy to learn.
The Runes of Helios will place a 2-meter rune on the ground anytime the player uses an ability. This rune will allow players to deal 25% more damage with any of their attacks for 7 seconds. The best part to the Runes of Helios is that the cooldown is only 30 seconds, meaning that you can output higher damage fairly regularly.
Quite frankly, the other option is so much weaker than this.
PROPHET OF GOD
Prophet of God is truly a blessing to have on the Fire Staff as it will raise your critical damage by 15%, greatly increasing the damage you deal especially if you have your critical hit chance up.
PYROMANIA
Pyromania is a skill that I'm pretty split on because it's great that you deal 15% damage, but you need to be lower than 50% of your max health. I'm not going to lie, this is so ideal when you're running lower Constitution in late-game Mutations, but realistically if you have a good healer this is rarely going to happen. Let's even ignore the healer for a second, if you're an average player this is rarely going to happen.
I honestly would never take this.
PVE FIRE STAFF BUILDS / SKILLS
We're going to start off t
PVE FIRE STAFF AS MAIN WEAPON
The following skills are best chosen if you are using your Fire Staff as the main Weapon. Admittedly, the choices will not allow for cooldowns on your Fire Staff, (ie. it does not include Fiery Restoration, but that's simply because I never find the need for it.) If you would like Fiery Restoration I would recommend you switch out Spell Focus for it because you can simply use a mana potion to restore your mana if you're running low.
For this build I would recommend you begin with Incinerate, go into Fire Ball and end off with applying the remaining stacks needed for 5 stacks of burn with Flamethrower then switch to another Weapon to use their abilities. The only time I would recommend you start with a different Weapon is when you're running Ice Gauntlet or if you're just dropping Oblivion on your Void Gauntlet, but I will cover that sort of advice in their specific articles so I can go more into depth with it.
The way I'm going to list these abilities is from top to bottom, left-to-right.
FIRE MAGE
Spell Focus
Clear Mind
Singe
Fireball
Spellslinger
Clear Casting
Scorched Earth
Prophet of a Fire God
Flare
PYROMANCER
Flamethrower
Incinerate
Fire's Reach
Scorched
InfernalFlames
Cauterize Wounds
Pyro Dancer
Flame Out!
PVE FIRE STAFF AS A SECONDARY WEAPON
In my opinion, if you are going to use the Fire staff as a secondary Weapon, things like Burn are going to be less important and it's simply going to be about focusing on your abilities. Still, you're going to want to focus on your abilities as they are the highest damage dealers, but you won't need to focus as hard when it comes to applying the Burn as you will want to be running a stronger Weapon such as the Rapier instead.
Personally, I would only recommend the Fire Staff as a secondary weapon to the Rapier as while the Blunderbuss can deal heavy damage, it does take some reduced damage in Expeditions like Genesis, making the burn pretty important.
Please disregard the order of skills you would take above as they are not optimized and I wasn't too focussed on it. Otherwise, the order down below will be from top to bottom, left-to-right.
FIRE MAGE
Pillar of Fire
Spell Focus
Clear Mind
Singe
Fireball
Spellslinger
Clear Casting
Scorched Earth
Prophet of a Fire God
Flare
Catch
Runes of Helios
PYROMANCER
Pyromania
Incinerate
Let it Burn
Scorched
Cauterize Wounds
Watch it Burn
Flame Out!
PVP FIRE STAFF BUILDS
There are a couple different options when it comes to selecting PVP skills for the Fire Staff. Essentially, there will be choices for players who are playing OPR or participating in Wars and there will be skills players can choose for 3v3.
The reality is that players can use their OPR/War load out for 3v3s, however, players will not want to use their 3v3 build for OPR or Wars. If you're not a huge fan of changing your skills based on what it is you're doing, I would strongly recommend using the War/OPR build, however, anytime you end up doing PVE content, I strongly recommend that you change your loadout because you will lose a great deal of DPS using a PVP loadout.
The main difference between OPR/War builds and 3v3 is getting rid of Pillar of Fire for the Flamethrower build, though players will have to sacrifice the cooldown on the Flamethrower.
OPR/WAR PVP BUILD
When going into OPR or War players are going want to make sure that they have the most range possible and have at least one way to escape from enemies.
The following are the skills I recommend:
FIRE MAGE
Pillar of Fire
Spell Focus
Fiery Restoration
Fire Strike
Clear Mind
Arson's Advantage
Singe
Fireball
Spellslinger
Scorched Earth
Prophet of a Fire God
Flare
Catch
Runes of Helios
PYROMANCER
Pyromania
Let it Burn
Burn Out
All In
Heat it Up!
WHAT ARE THE BEST PERKS TO USE WITH A FIRE STAFF?
With the Fire Staff, I strongly recommend that players always have the Bane that regards to the mob they are defeating, though admittedly as I'm only a fan of using the Fire Staff in Genesis these days it would simply be Angry Earth Bane.
There aren't really any named Fire Staves that are good with Angry Earth Bane, so I would recommend searching on the Trading Post for one and lucky for you they should be relatively inexpensive because not many players actually choose the Fire Staff as a Weapon in New World. Of course, this is going to be specific to players who are running FIre Staff in PVE.
Whether players are running the Fire Staff for PVE or PVP you will want the following perks:
Empowering Fireball – which can provide up to 58% more damage to the Fireball ability. This is a necessity in my opinion.
Keen Awareness – Which provides you with 12% critical chance (which is the best option for general damage in my opinion.)
Vicious – Which raises your critical damage (this is the second best in my opinion)
Otherwise, I would take any static form of cooldown on any of your Gear and make sure that my ring has bonus Fire Damage. Again, as I only run Genesis and Overworld content with my Fire Staff, Fire Damage is going to be extremely helpful for any player (unless against Ancients.)
Players may also be happy with Keenly Empowered or Keenly Jagged which will either give you bleed or Empower when you Critical Hit. Keenly Fortified is not really worth it in my experience.
I'm curious though, are there any other perks you prefer on the Fire Staff? Let me know in the comments below!