I'd be overwhelmingly shocked if any of you didn't see this coming. I understand that the Firmament, Fêtes and the Skyrise Celebration have been in the game for a really long time now, but as I typically write about things I'm very interested in or things I'm currently farming or doing in FFXIV well… it's time I write about the Firmament!
Admittedly, the Firmament is some pretty niche content, requiring a player to put in hours of dedication in order to get achievements and although this is the case, it is extremely useful for players even if they are not trying to farm the achievements.
Though I will not be covering the Diadem in this guide, which is the main portion of The Firmament, I will be covering the special FATEs that spawn and their value in 2023.
Note: If you ever have any questions about content that is unrelated to this post feel free to leave a comment below, ask it in the discord or while I am streaming on Twitch.
WHAT IS THE SKYRISE CELEBRATION / FÊTES?
The Skyrise Celebration is an event that takes place every other day in The Firmament, which is part of the Ishgardian Restoration side content in FFXIV.
While the majority of elements in the Ishgardian Restoration are focused on both Crafter and Gatherers, also known as Disciples or Hand and Land, players can only participate in the Skyrise Celebration as Crafters/Disciples of Hand.
Although these Events take place every other day there is some variance to when these appear on each server, meaning that players can world-hop in order to take part in Fêtes throughout the day.
While I would not recommend this to anyone due to the slow pace of these FATEs, though this is an option for players who do not have anything to do that day and want something low effort to take part in.
There are a total of 5 FATEs that happen every 2 hours, each taking between 3-5 minutes, though a player does not need to be actively participating the whole time in order to get their rewards. I will cover more on this later.
Players will be told whether the Skyrise Celebration will be happening that day upon entering The Firmament. This can be seen to the right of their Screen stating how many hours until the next Skyrise Celebration or how many Fêtes have been completed/are left for that day and when the next is commencing.
HOW DO YOU UNLOCK THE SKYRISE CELEBRATION / FÊTES / THE FIRMAMENT
In order to unlock the Firmament players will first need to finish the Level 60 MSQ Litany of Peace and then a Level 60 Side Quest called Towards the Firmament.
This side quest can be obtained from the Recruitment Notice found in Foundation at X:9.7, Y:11.5.
While this unlocks a series of other quests they are not required in order to participate with Fêtes specifically though some may interest a player as they are tied to Custom Deliveries, Relic Weapons and not to forget, some quest lines with my best boy husband Ser Aymeric.
Once the main chain of quest lines is done and the Firmament is unlocked players can always head back here by either using the Main Aethyrite in the Foundation and selecting "The Firmament" or by heading to The Brume and walk to Thomelin the Gatekeep to Enter the Firmament.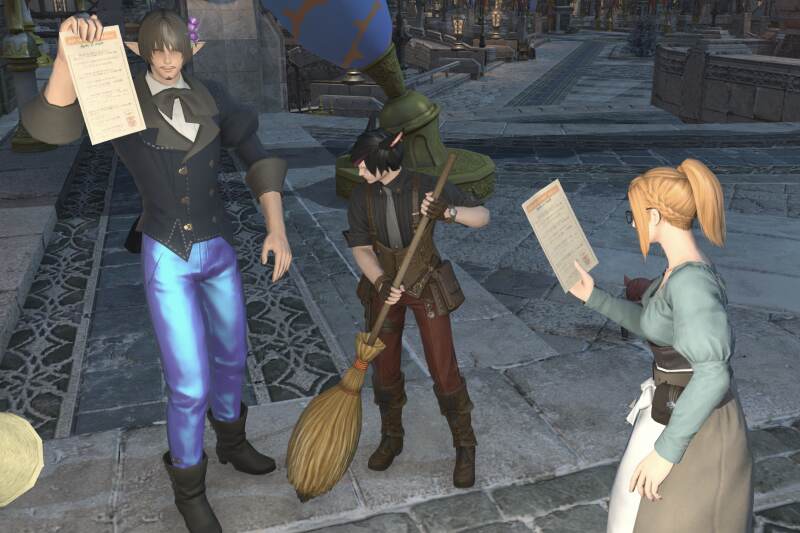 EVERYTHING YOU NEED TO KNOW ABOUT THE FÊTE FATES DURING THE SKYRISE CELEBRATION
As mentioned there are 5 FATEs available during the Skyrise Celebration and while each lasts between 2-5 minutes, players can still join a FATE when it is already started and will still be able to get a Gold Rating. There are two reasons for this.
First, players don't actually need to complete that many tasks for each FATE to score Gold and almost all of them bait you into believing that a FATE is about to conclude only to add another minute on the timer.
I will cover how many points you need for each FATE, tips for them and where you're headed next so you don't have to waste time in this section. If you already know everything you need to know about the FATEs the next section is simply the Cheat Sheet. Feel free to Control + F Cheat Sheet, Gold Tier or Get Gold if you need to revisit this site as unfortunately a Table of Content is not something my site can support.
Note: While players can leave the area of the FATE and still get their rewards, they must remain on the Crafter job they want to receive the EXP for. If they leave The Firmament or switch off a Crafter job they will not get any rewards.
A TWIST OF FÊTE
A Twist of Fête is by far the most boring of all the FATEs in my opinion though it is relatively easy as long as you are paying attention.
Located in the Bright Ballad's Passage at X:11.5, Y: 8.1 players can either run here or take the Western Risensong Quarter Aetheryte to get here a little bit faster. Realistically there is no rush to get here quickly as it will take a minute after the Fêtes have been announced for this FATE to begin and even going forward there is quite a bit of downtime between FATEs giving you an ample amount of time to get situated.
In order to join this FATE you must hit the Join Fate button as this will provide you with 3 emotes.
During this FATE Mascots will do their favourite emote 11 times, first in the order of where they are standing and then in a random order. While the Mascot is performing the emote they will be targettable, requiring the player to replicate that emote before they become untargettable.
If you are on Mouse and Keyboard and have not changed the placement of these emotes this is extremely easy to complete as 1 will be the leftmost Mascot, 2 is the middle and 3 is the rightmost.
Players must be relatively quick about this as once the Mascot becomes untargettable they will miss the opportunity to use the emote for that round.
Players will only need 6 Points to get a Gold Rating on this FATE and 3 of those points can be acquired when the Mascot is showing the emote for the first time.
To save time once you have 6 points start running directly across the map over to The Mattock which is directly in the South.
MADE OF SOFTER STUFF
Made of Softer Stuff is located in The Mattock at X:11.7, Y:13.2.
This Fête is also relatively slow-paced and you will probably want to take up a hobby like knitting. grab a fidget spinner or just do peruse the MogStation while completing it.
Although this FATE does not require players to sync to join, it does involve a great deal of interaction.
Players must begin by interacting with the Stuffed Toy Materials, starting a decently long cast bar. During this time players will not want to move as this will interrupt the crafting.
Upon completion, a Moogle Toy will appear which players must interact with to pick up and take to the Wain, located near the center of the area.
Note, that players will not be able to Sprint when they are holding the Moogle Toy, this includes if you hit Sprint before you pick it up as the buff will fall off as soon as it is in your hands. If patience is not a quality you possess, first off relatable, but you have two options:
You can either stay on the Crafter job you are on and Sprint when it is off cooldown when you are running back from the Wain or you can switch onto Ninja or Dancer to use their dashes when returning from the Wain.
While yes this hardly saves time, it's an option for players who just want to get things done to move on to the next thing or for players who joined the FATE a little later than they hoped.
Though I don't normally switch onto Dancer to get this FATE done faster each time, I do switch onto Dancer if I need an extra point or two to get Gold if the timer is getting closer to being done.
Luckily for players, you only need 3 Points in order to get Gold on this FATE. This means you don't even need to complete all 4 crates of supplies.
When you have gotten 3 Points on Made of Softer Stuff I recommend auto-running to the Bright Ballad's Passage where you had completed the first Fête.
SHEAR-A-YAK
Located at the Bright Ballad's Passage at X:11.7, Y:13.2, Shear-a-Yak is another FATE that requires players to sync in order to interact, Shear-a-Yak is one of the more hands-on FATEs in The Firmament.
Upon joining the fate, players will get the Aetheromatic Clipper which can be used to shoot the Yak and have it drop 3 Yak Fleece.
Players must turn in 3 Yak Fleece at a time in order to get a point. You cannot turn in any less than 3 at a time, so make sure you're paying attention when picking up Yak Fleece as you can really waste time running to the Chirpy Chocobo when you don't have the necessary amount.
You cannot shoot the Yak multiple times in a row to speed up this process and will simply have to rotate between using the Clippers and picking up Fleece.
The way I make this FATE easier for me is by spamming my 0 button when picking up Yak Fleece. This automatically targets the closest interactable and on the second hit will interact. Though this is not really necessary.
Players only need 4 Points in order to get Gold on the Shear-a-Yak FATE.
As soon as you get 4 Points start running towards the center of the Firmament then turn right and run up the stairs towards The Abacus.
TOY HUNTER
Toy Hunter is located in the Abacus at X:9.4, Y:11.2. This is on the west side of the Firmament.
Here players will be at the mercy of RNG as they select boxes that either have a toy or will turn the player into a Pig.
There is no advice I can give you for this other than there is one present to the right, center and left of you, but there is no way to actually tell which box has the toy and which will transform you.
Otherwise, if you find a toy do not continue looking in boxes until you have turned in the Lucky Toy to the NPC.
You will need 4 Points to score Gold on this FATE.
As soon as you have 4 Points run to the center of the Firmament again as the next FATE is there and to the right.
PRESENTS OF MIND
Presents of Mind is located in the Mattock at X:12.2, Y:11.9.
Although relatively straightforward, Presents of Mind can be frustrating if you forget which presents go to which NPC and not all NPCs have clear names leading to some confusion.
Again, you will have to join this FATE in order to interact with anything or even see the presents so make sure you do this as soon as possible.
The following are where each present goes:
PINK PRESENTS / PRESENTS FOR CHILDREN
Firmament Girl
Firmament Boy
YELLOW PRESENTS/ PRESENTS FOR MERCHANTS
Foreign Merchant
Ishgardian Merchant
ORANGE PRESENTS / PRESENTS FOR ARTISANS
Skysteel Engineer
House Dzemael Stonemason
Luckily for players, NPCs never move and will always be in the position you first see them. They are also never mixed up from FATE to FATE, so you will begin building a memory of their placement. That being said, anytime a player turns in a present to the correct NPC the name of that NPC will disappear until necessary to turn in another present, further simplifying the FATE.
I would strongly advise paying attention to this FATE as even though you only need 6 Points to get Gold, making mistakes can lead to you failing, especially if you've joined late.
GOLD TIER CHEAT SHEET / HOW MANY POINTS YOU NEED FOR EACH FATE TO GET GOLD
A Twist of Fete – 6 Points
Made of Softer Stuff – 3 Points
Shear-a-Yak – 4 Points
Toy Hunter – 4 Points
Presents of Mind – 6 Points
REWARDS FROM THE SKYRISE CELEBRATION / FÊTES
Whether a player scores Gold or not, players will receive EXP for completing these FATEs. Now, with that being said, I was unable to locate how much EXP this is and since all of my Crafters were maxed out by other means before I started doing these FATEs I was unable to do the research myself.
With that being said, the amount shouldn't really matter as it is a free source of Crafting EXP which tends to be the most expensive to power level and has relatively finite ways of levelling for free.
Nonetheless, for Gold players will receive 100 Skyscips and 2 Fête Presents with only 1 being given if a player gets Silver.
Although the Skybuilder's Scrips are not worth the amount of time it takes to complete the FATEs they can be used to purchase a few decently priced dyes that are harder to obtain. You're really looking at the Fête Presents when it comes to the rewards which either have the chance of dropping a very rare item or Fête Tokens that can be used to purchase some decently priced items.
REWARDS FROM FÊTE PRESENTS
Although a player will mostly receive Fête Tokens from Fête Presents they have a small chance to get any of the rewards that are purchased using Skybuilder's Scrips as well as some unique rewards. I've personally gotten at least 10 of these and they include the following:
Antelope Stag Horn
Apron Rack
Atrophied Atomos
Azure Dragoon Portrait
Ballroom Etiquette – Concealing Meals
Ballroom Etiquette – Emphatic Elucidation
Ballroom Etiquette – Intelligent Impressions
Ballroom Etiquette – The Winsome Wallflower
Birdbath
Born of the Boughs – The Theme of Gridania Orchestrion Roll
Brick Garden Circle
Bullpup
Calming Checkered Parasol
Cerberpup
Cheerful Checkered Parasol
Cherry Pink Dye
Craftsman's Apron
Craftsman's Coverall Bottoms
Craftsman's Leather Shoes
Craftsman's Singlet
Dragoon Blue Dye
Dwarf Rabbit
Expanse Barding
Fealty Orchestrion Roll
Fête Party Balloons
Fête Skyrise Balloon
Fortemps Sofa
Gaelikitten
Garment Rack
General-purpose Dark Brown Dye
General-purpose Dark Green Dye
General-purpose Dark Purple Dye
General-purpose Dark Red Dye
General-purpose Jet Black Dye
General-purpose Pure White Dye
General-purpose Metallic Blue Dye
General-purpose Metallic Gold Dye
General-purpose Metallic Green Dye
General-purpose Metallic Orange Dye
General-purpose Metallic Purple Dye
General-purpose Metallic Red Dye
General-purpose Metallic Silver Dye
General-purpose Metallic Sky Blue Dye
General-purpose Metallic Yellow Dye
General-purpose Pastel Blue Dye
General-purpose Pastel Green Dye
General-purpose Pastel Pink Dye
General-purpose Pastel Purple Dye
Gunmetal Black Dye
Hearthward Orchestrion Roll
Hive Barding
Horde Barding
Ice Barding
Ishgardian Display Stand
Ishgardian Stove
Levin Barding
Little Chef's Playset
Lord Commander Portrait
Machinist Barding
Metallic Brass Dye
Miniature White Knight
Modern Aesthetics – Controlled Chaos
Modern Aesthetics – Modern Legend
Modern Aesthetics – Saintly Style
Morpho
Navigator's Glory – The Theme of Limsa Lominsa Orchestrion Roll
Nutkin
Owlet
Paradise Found Orchestrion Roll
Parasol
Pastoral Dot Parasol
Peacelover's Attire Coffer
Pearl White Dye
Plush Cushion
Plush Pile
Ruby Red Dye
Sephirotic Barding
Sky Blue Parasol
Skyworker's Boots
Skyworker's Bottoms
Skyworker's Gloves
Skyworker's Helmet
Skyworker's Singlet
Sophic Barding
Squadron Gear Maintenance Manual
Stone and Steel Orchestrion Roll
Stuffed Cait Sith
Stuffed Estinien
The Twin Faces of Fate – The Theme of Ul'dah Orchestrion Roll
Tidal Barding
Tricksome Orchestrion Roll
Turquoise Blue Dye
Ugly Duckling
Upon the Rocks Orchestrion Roll
Vanilla Yellow Dye
Verdant Partition
What Is Love? Orchestrion Roll
Zurvanite Barding
REWARDS FOR FÊTE TOKENS
Notable things that can be purchased using Fête Tokens and resold on the Market Board include:
Peacelover's Attire Coffer
Antelope Stag Horn
Gunmetal Black Dye
Pearl White Dye
Metallic Brass Dye
IS THE SKYRISE CELEBRATION WORTH TAKING PART IN 2023?
Yes and no. I would say the Skyrise Celebration is most worth it if you still have Crafters under level 80, however, if you do not the rewards you get from the Fêtes are not going to be as worth it.
I personally still do the Fêtes anytime they are up as I spend a lot of time in the Diadem when working and while there are some days where I can make a good amount of Gil off of the rewards, every so often a bot will creep up and destroy the Market Board in regards to rewards from the Diadem. Unfortunately, this is unavoidable and there will always be bots in FFXIV though the game is nowhere near being as infested as New World was, bot banes only come in waves on the game, meaning that you will see a specific bot for a while before it is dealt with.
During months when there are no bots on your server, you can expect to make about 60k for every Skyrise Celebration with my best luck bringing me in 600k Gil for completing a single pull of the FATEs. However, when there is a bot you're looking at around 25k per Skyrise Celebration with luck bringing in a maximum of 300-400k.
While I'm certain bots don't take advantage of these events the rewards from the Events can be purchased using Skybuilder's Scrips, which a small research session revealed is a costly service you can purchase. This helped clarify how one retainer could be selling dozens of the most expensive rewards from the Ishgardian Restoration when even I, who farms daily, am only to pull a few a day. For further clarity, the bots will undercut by as little as 50,000 to 200,000 Gil in short periods of time making these choices seem suspect.
So, my advice in regards to the Skyrise Celebration/Fêtes is going to be: if you're levelling up your Crafters to 80, do this every time it is up and set up a timer as it's extremely easy content that yields good amounts of experience, but if you are planning on making Gil from these always look at the Marketboard first.
I won't lie, this is the main reason I wish there was a Market Board in the Firmament so it was easier to tell whether or not Firmament content was worth doing that day as depending on how many players are purchasing rewards that week you can be dealing with a tanked Marketboard for months.
*cough* one of the mounts went from 800k to 300k in 24 hours with a single person selling 20 and unfortunately buying all the cheap Mounts still rewards the botter's behaviour though it is the only way to reconfigure the Marketboard, other than waiting for your report to go through.