Hades is a game that I have been obsessed with for the past 2 months, finding myself completing the game over and over again simply due to how smooth the fighting and mechanics are.
While admittedly Hades was a bit tough and confusing to get into at first, the learning curve for the game was much faster than most other games that I have played.
Realistically I couldn't wait for my "Adventure Days" on Twitch where I got to play hours of Hades and even more shocking, this was the first game I broke my rule of "I won't play it off stream" because I was completely hooked.
In my early days of grinding Hades, I had difficulty trying to make decisions on which rewards I should collect as while I vibed with the aesthetics of many of the gods thought that certain perks were impactful, the reality was that I was making a lot of poor decisions earlier on and quite possibly could have "beaten" the game faster.
Now, if you've ever played Hades, you know that the game contains a great deal of RNG, meaning that players cannot reliably create their build of passives, though getting a hang of which gods have more beneficial passives can be a game changer as it will ensure that players don't spend money on useless upgrades at Charon or prioritize a god over another when having to make decisions.
At the end of the day, many things will come down to a player's play style, however, it's undeniable that some gods are much more powerful than other gods.
The following guide will take you through the basics of Boons, and while I will not be covering each gods specific Boons in this post, it will take you through the basics of what kind of passives each god gives you so you have an idea of which gods you will prefer over others.
I will cover which gods I personally prefer and will write more in-depth articles about each of the god's Boons, covering which ones I tend to look for when I'm doing a run of Hades.
APHRODITE
Aphrodite is a god I personally avoid as I don't find her passives to be the most game breaking or game changing.
Essentially Aphrodite has access to two different passives, being Weak and Charmed, helping players to survive against mobs more easily.
While survivability is important in Hades, the reality is that damage is much more important in Hades, as a dead mob deals no damage.
The Weak Status Curse will reduce the affected Mob's damage by at least 30% for 3 seconds. If a player is lucky enough to get a Rare, Epic or Legendary Boon players can effectively increase the amount of damage the mob loses and the amount of time the Status Curse lasts for.
Charmed on the other hand will cause enemies to begin fighting for you. During this time players will be safe from all the affected mobs, meaning that players can avoid killing these mobs until mobs that are not affected by Charmed are killed. The main benefit to Charmed seems to be it's usage against bosses as in many cases mobs can be smashed with a couple of hits, though it needs to be noted that Charmed does not last very long on bosses, making it less effective.
Essentially Charmed will act as a stun against a boss and does not react as other Status Curses do, meaning that if players are trying to apply two Status Curses to deal extra damage, Charmed does not count. In hopes of not spoiling too much, I won't cover anything on this, but will link to a post when I write one on optimizing damage.
In most cases I would avoid Aphrodite, no matter how beautiful she is. Admittedly there was a run that I did where only Aphrodite approached me and let me tell you, it was the absolute worst run I ever had. So, please… don't get stuck in the same situation as me.
ARES
Ares is an interesting god as he has one very effective form of damage and the other is less useful, though it will depend on your play style.
Essentially Ares focusses on increasing the damage a player can output and is a god that I would recommend sticking to, unless there's a better god offered to you.
Ares comes with the Status Curse Doom and has the ability to create Blade Rifts. While I love the Status Curse Doom, I'm not a huge fan of Blade Rifts, though the chance to simply receive more damage is always alluring to me.
Doom can be extremely powerful, especially when it is attached to a player's basic attack as it will essentially place a marker on an affected enemy so that they take damage after 1 second. The amount of damage will depend on what tier a Boon is, though in many cases it sits around 100 damage. Players can essentially run around to different mobs placing Doom on them so that by the time a player gets back to them they can replace the Doom and kill the Mob. While not damage over time, Doom is quite effective when players are trying to avoid taking damage while dealing damage.
Blade Rifts are tricky to use and quite frankly, I don't use them effectively enough to actually use them as an upgrade. Essentially a Blade Rift is like a whirlwind players will place on the floor, though depending on what the Blade Rift is attached to, a player can send the Blade Rift forward to deal damage.
The issue with Blade Rifts, in my opinion, is the fact that mobs will have to stand in them to take damage. As many mobs are running around and trying to avoid damage, some players will find that their Blade Rifts don't actually deal damage to an enemy before they expire. I find it especially hard to deal damage to Bosses using a Blade Rift, especially if they run around or disappear, and since the Blade Rift often is connected to a player's Cast, I would prefer having a standard Cast as this will often help a player deal more damage.
Essentially I would always recommend taking base damage or Doom and avoid taking Blade Rifts, though this is a moment where it will come down to a player's play style.
ARTEMIS
Artemis is a dope goddess and will provide players with the ability to deal Critical hits, focussing on helping a player increase the damage of their Cast ability.
Admittedly, Critical Hits are going to be useless for players if they only receive low level Boons, as players level up their passives they should become much more powerful.
Critical Hits can be provided for all forms of damage at once or can be specifically given to basic attacks, special attacks or the Cast ability. In most cases, players will want to take the Critical Hits on all of their attacks, though if this is not an option players will want to take Critical Hit on the attack that the player uses the most. Admittedly there are some Weapons that I focus on using Special Attacks on more than Basic Attacks, though at the same time it also depends on what other Boons I already have in place.
Critical Hits will deal a minimum of 300% damage to an enemy and will usually have a 3% if not more chance to land. Admittedly this isn't too much, but when it hit, gurl it really hits!
Artemis also has the ability to provide mobs with the Status Curse Marked, which essentially makes it so a Marked enemy has a higher chance of taking a single Critical Hit from an attack for 2.5 seconds. While this may not seem like a big deal, this will greatly increase the chance that a Critical Hit will land, essentially meaning that a player has a higher chance of dealing 300% more damage consistently.
Whenever players see a mob with the Marked symbol, I strongly recommend focussing on that enemy as players will be
While Artemis isn't my favourite god, she does sit fairly high on my list for gods to have, she also has the best God Call in the game, essentially being able to take a Boss down a full health state when it is fully charged. The best thing about the God Call is the fact that it will Auto Aim at the enemy in front of you, or the only enemy on the map, targeting the closest enemy. I do warn, be careful when using it against Hades as he will sometimes spawn an ADD that will take the damage, protecting him from the attack. Be sure to kill the ADDs before targeting Hades or you may waste a full God Call.
ATHENA
Athena has one of the most overpowered Boons in the game and while I admittedly always stop choosing Athena after I get the Boon that I want from her, having her "stalk" you isn't always the worst as she will provide you with some of the best protection in the game.
Athena is focussed on providing players with defensive options, such as damage reduction and will also provide players with a new ability to Deflect projectiles from enemies.
Deflect will ultimately send back an enemy's projectile, causing them to take some of the damage they would cause to you, if not more damage than they would deal.
In many cases the damage dealt from Deflect will not be enough for players to write home about, however, if Deflect is attached to a player's Dash this becomes very overpowered as a player can essentially dodge all damage.
In my opinion, the worst option is when Deflect is based off of an attack, though when placed on a Cast it is not the worst, though not the easiest to actually Deflect from.
I would strongly suggest trying to obtain the Deflect that is tied to your Dash as it will come in handy for boss battles, but after this, say goodbye to Athena unless she is the only option. Honestly, even choose Aphrodite beyond this point, because damage is going to be much more useful than defence.
In my opinion, I don't focus much on the general damage reduction as I find it less helpful than dealing extra damage or taking a version of Deflect that's attached to an attack, though admittedly a lot of times I will choose the perk that has the highest rarity unless the option to Deflect while dashing is available, to me it doesn't matter what tier it is… the ability to Deflect while dashing is much too powerful, especially against mobs that shoot out a wide array of projectiles.
It should also be noted the Athena comes with her own Status Curse, being Exposed. Exposed is a Status Curse that should only be used by more skilled players as it will require players to deal damage to enemies from behind. If players are not good at dealing damage to enemies from behind this upgrade tends to be pretty useless, essentially meaning that players have wasted a Boon and should probably sell it instead.
The Exposed Status Curse lasts for a maximum of 5 seconds and when used correctly can really improve a player's damage, especially if they have Critical Hit in their build. If used correctly, Exposed is nothing to scoff at, though if used incorrectly don't be surprised if you're not able to burst down enemies with this Status Curse.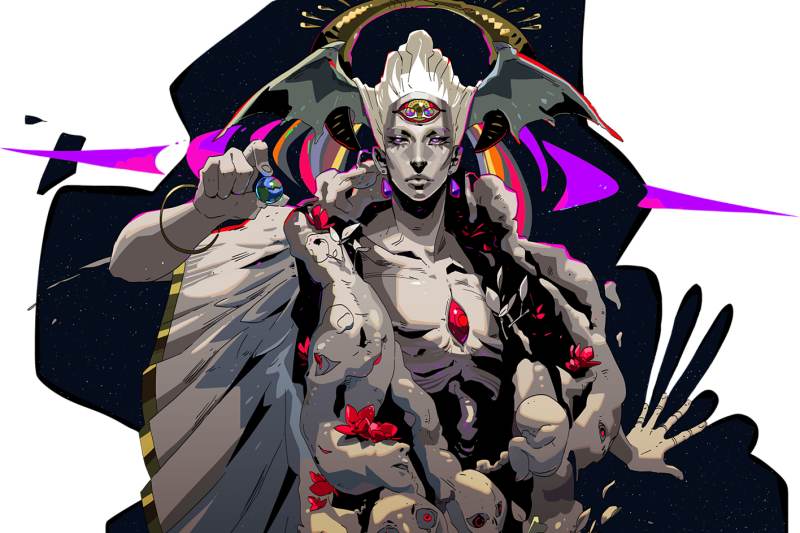 CHAOS [SPOILER ALERT]
First off, if you're not far into the game, please skip this part if you don't want spoilers, but continue reading if you're okay with them.
Chaos is not a god that players will have access to immediately and players will have to pay the House Contractor in order to gain access to his Portals.
In order to enter a Chaos Portal players will always have to sacrifice some of their Health and will not be able to enter if they do not have enough Health, even if they have a charge of Death Defiance remaining.
When it comes to choosing between Chaos and another god there are a few things to keep in mind:
Do you have enough Health to continue adventuring?
Is the god or reward available to you more important or something you've been waiting for?
Are you ready to take a risk for a random Boon that you know nothing about?
The reason why the last question is on the list is because while Chaos can provide players with a variety of epic modifiers, they can also completely wreck a player by placing a debuff on them that can lead to a player's demise.
Essentially Chaos can help a player deal a butt load of extra damage, or can help a player obtain more of a particular kind of resource, but this can come at the cost of taking more damage from Traps, taking damage when a player uses a particular skill, not being able to see the rewards for the next few chambers or even being unable to collect resources like Charon's Obol for the next few chambers, becoming a bit of a nuisance.
I tend to choose Chaos when there is no Boon to collect or when there is a Boon that's available that I don't really care about. Though I find a good portion of the time, I just skip them because there's much better things out there. I'd say it's about 60% Chaos, 40% something else.
DEMETER
Icy Mama is a no go for me. Trash, absolute trash. I thought I would like her more, but the reality is that she's a piece of garbage and often leaves me dissatisfied.
While admittedly, Demeter has some cool Boons that can affect your Cast, her Boons will simply cause a debuff to enemies and can help improve your healing. Demeter does come with her own Status Curse "Chill" which should be helpful, but in reality isn't.
Essentially Chill will help slow down an enemy by 4%, being one of the only Status Curses that stacks well in the game. Obviously depending on how a player inflicts Chill players will be able to stack the Chill Status Curse easily, though some methods are harder than others.
If players choose to use Chill I strongly suggest placing it on your basic attack as long as you don't already have a Boon that is better attached to your Basic Attack.
The issue with Chill in my opinion is the fact that the slow is not as impactful as other Status Curses in the game and while having a 40% slow seems to be a good amount of slow, it's not nearly as useful as simply having damage output or another modifier.
I will say, if I don't have two Status Curses to use, I tend to choose Demeter as a safe bet to place a second Status Curse. *cough* though there's a tad bit of a spoiler there that, again, I will cover in another post in the future.
DIONYSUS
Dionysus is a pretty interesting god, being one of the best ways to apply damage over time, though admittedly not the strongest tactic in most situations.
I'll admit, I was severely intrigued by the drunkard, the reality is that he is more of a support god versus being a main choice in god for players to play.
Essentially due to Dionysus' damage over time, players will be able to deal some extra damage over time, though this damage would not be worth talking about when it comes to a main damage source.
Dionysus comes with a new Status Curse, Hangover and has the ability to create a Festive Fog. He also comes with additional Boons that will help improve a player's survivability, making him an all around support.
In my opinion, Dionysus is one of the best supports in the game, only being second to Athena's Dash Deflect, but if you have the option between a main damage dealer and Dionysus, put him aside for a hot second.
In regards to Dionysus' Hangover, players are looking forward to dealing damage for a minimum of 4 seconds. Enemies that are affected by the Hangover will take a small amount of damage every 0.5 seconds and players will be able to stack the effect of Hangover a maximum of 5 times.
In many cases players will want to place the Hangover Status effect on any of their attacks, though much like many other Boons and upgrades, it's going to be more beneficial to have your Hangover on your basic attack.
I strongly recommend placing the Hangover on as many mobs as you can before moving killing a mob completely, though getting at least 3-5 stacks of Hangover can secure kills early on without having to deal extra damage to a mob.
In regards to the Festive Fog, much like Ares' Blade Rifts, I'm not a huge fan. Essentially, Festive Fog acts fairly similar to the Blade Rift, requiring players to throw their Cast or use their God Call in the location of a mob in order to afflict them with Hangover.
In my opinion, the Festive Fog tends to be better than the Blade Rift, simply because once it's placed it engulfs a large area for mobs to be damaged, unlike the Blade Rift which is smaller or will move.
In my opinion, if you can avoid taking Festive Fog, unless it's the best upgrade, avoid it, because there are better Boons out there.

HERMES
Hermes quite honestly is a god that I avoid in many cases, though respectively Hermes is fairly strong.
Hermes is a strong support god, providing players with more mobility, attack speed, evasion, more dashes or even cast recovery.
This is how I view his Boons:
Mobility is something that I tend to avoid, though admittedly it can be useful. Essentially with extra mobility players will be able to run faster after they Dash, making it so that they can avoid or get to enemies faster. Mobility doesn't really help a player more than being able to clear dungeons faster, or avoid taking damage, so if you're not looking for Boons that raise your defensiveness, I strongly recommend picking another trait over this one.
Attack Speed is nothing to bat an eye at as no matter what it will help increase your damage output. If you're not planning on taking Hermes often, it might not be the first option for you, though if you see this bugger around fairly often take whatever attack speed you can get.
Evasion is realistically something I avoid. While admittedly Evasion will help ensure that a player is not damaged as much, this upgrade tends to be less useful for those who know how to dodge attacks well or are not struggling with the blows of enemies. Evasion is a good strategy for newer players, though expect to trade this in for higher damage in the future.
Extra Dashes are is great when you have Deflect on your Dash, greatly increasing the chance of you actually being able to Deflect projectiles thrown at you. Otherwise, this is an upgrade that I typically avoid. Having extra Dashes can save you from sticky situations, so if you are new to the game, this may actually be a good choice for you, especially if you don't have other upgrades that give you extra Dashes.
POSEIDON
Poseidon is a very interesting god to choose, especially when you use him in tandem with some other gods.
Poseidon, essentially is another one of the best support gods, though admittedly he's much more powerful in some compositions over other.
Poseidon brings on a new Status Curse Ruptured, can Knockback enemies and has the change to reward a player with more loot.
In general the choice for Poseidon is going to highly depend on what a player is trying to get out of their run and what Weapon a player chooses to use, as in the late game Heats the use of Poseidon lessens other than for niche play.
In regards to the Ruptured Status Curse, players are looking forward to gaining a damage over time that lasts for 3 seconds. Unlike Hangover, Ruptured actually deals damage faster, dealing damage every 0.2 seconds, but only when an enemy is in motion. As soon as an enemy stands still it will no longer take any damage.
Ruptured often requires players also have some form of Knockback on the player's kit in order to activate, so players should be aware when looking at Boon descriptions.
Knockback, to me, is very specific type of upgrade players will want to be wary of using. To me, using Knockback can be problematic as it will essentially push back enemies out of the range of your melee attacks, though this can be useful for ranged Weapons.
Knockback tends to be very powerful when players are using the Shield of Chaos as enemies that are pushed up against walls will receive more damage. In regards to melee weapons, as long as enemies are up against a wall the Knockback will work equally as well, though similar to Exposed, players will want to make sure they have a good handle of the game before they get this upgrade.
Extra Loot is going to be a particular Boon upgrade that players will have to decide on based on what it is they want out of a run. There is no shame in doing a run of Hades that is meant to only gain resources in. What I mean by this is some runs of Hades will be made only to collect Currency Artifacts like Darkness, Gemstones or even Charon's Obol. ,
In the mid-game, I find myself doing runs to collect as much of Charon's Obol as I can get, simply to buy resources like Diamonds, Ambrosia or Titan's Blood so I can purchase upgrades at the House Contractor or empower my Weapons further.
It will be difficult for players to collect Charon's Obol in late Heats as some of the modifiers will make it more difficult to purchase or will require players to focus on taking Boons instead of other rewards.
I would say focus on purchasing Bounty Artifacts as soon as you're able to, because the grind for them gets pretty rough, especially if you're only obtaining them by completing clears of the game.
If players are simply trying to upgrade their Weapons and contract the House Contractor, they can do speed runs of low-tier maps, focussing on obtaining Charon's Obol in order to purchase one of the random Bounty Artifacts early on.
ZEUS
Zeus is an interesting god to choose as he is essentially one of the only gods who provide a consistent amount of AOE. While admittedly Zeus is a god hat I do not choose to use regularly, I cannot deny how useful he can be for players struggling to defeat clumps of mobs.
Unfortunately I would say that Zeus struggles a bit with soloing bosses as his upgrades tend to deal less damage than other Boons and will mostly hit in an AoE fashion, effectively making it so his Boons are not as over powered.
It's no surprise for me to tell you that Zeus' Boons specifically focus on lightning damage, bringing Chain Lightning into the game as well as Lightning Strikes that deal damage to surrounding enemies.
Zeus has two forms of Lightning, one form that will damage enemies in a chain, obviously Chain Lightning, that strikes the first enemy hit and bounces to any enemy that is nearby and a Lightning Strike that will damage all enemies in a circle area of the player.
In many cases Chain Lightning will be bound to a player's Basic Attack while Lightning Strikes will be bound to a player's secondary attacks or the God Call.
In my opinion having Chain Lightning is better than having a Lightning Strike as the Lightning Strike tends to be a bit more random than the Chain Lightning, especially when it is bound to a player's Dash.
In many cases, I find that the Lightning Strike doesn't hit any enemies, which to me is too much DPS lost for my liking, essentially making Zeus too much of a crapshoot.
Essentially, if you like dealing lightning damage and have a good hold of Zeus, choose to use his Boons. If you're not super keen on lightning damage or ever deal with issues with it, choose another god. Zeus is really nothing special and isn't going to make or break your game, he's mostly a god that will change your game style and is simply a good option when you're looking for Boons that aren't complete trash. Yes, I said that.
DUO BOONS
I will shortly write a post that's specific to Duo Boons as they act very different than the standard Boons and are a bit trickier to analyze and obtain.
Players may not see the option for Duo Boons early on as they are a rare occurrence, though players can increase these occurrences by building passives in the Mirror of Night.
In most cases players are going to want to take any Duo Boon that is offered to them, unless there is a particular upgrade that the player cannot live without.
CONCLUSION
When it comes to Boons players have a great variety of options and should essentially think about their play style or what they are particularly trying to get out of a particular run of Hades.
For me, my favourite gods are as follows:
MAIN GODS
Artemis
Ares
Zeus
SUB GODS
Athena
Poseidon
Dionysus
Hermes
Aphrodite
Demeter
But I'm curious, what are your favourite builds? What gods suit your play style? Do you agree with my opinions on the god or do you have a different insight than me?
Let me know in the comments below!