Rampages are a new addition to the roster of hourly challenges, though Rampages can occur during the half hour on Dragon Days so players do not miss out on the extra Dragon Coins they can get.
Although Rampages occur during the Hourly Challenge, they will not supply players with the standard Dragon Coins and Dragon Caches, instead they will provide players with new rewards that I will cover shortly.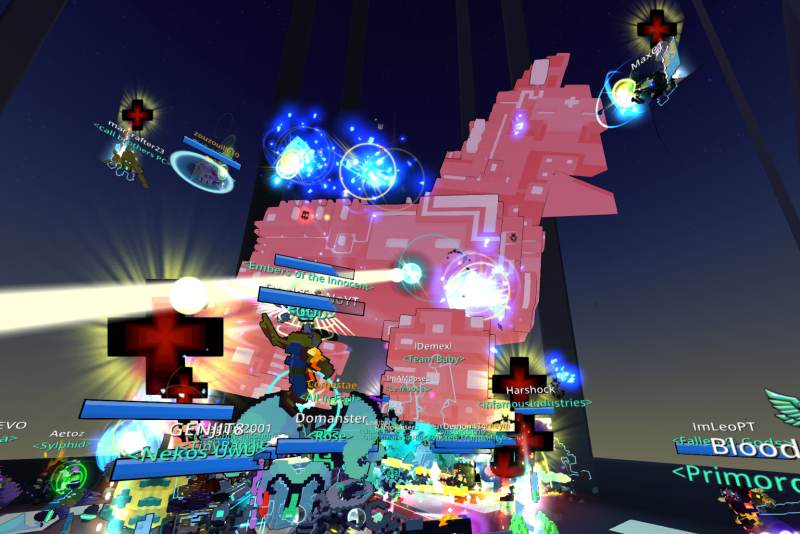 HOW DO RAMPAGES WORK?
As mentioned, Rampages have the chance to spawn every hour or on the half hour on Fridays, and will require players to either head to a Luminopolis biome, often located near Neon Cities or in Club Worlds.
Players must gather in groups to destroy Gigastormers, which are based on the main bosses that were in Shadow Towers, such as the Spikewalker, Vengeful Pinata God, or Daughter of the Moon, though unlike the actual mobs, the Gigastormers will only take a single damage per hit making all players have the same usefulness.
All bosses have different names being the Titanic Tentakiller, the Trojan Propagator and the C455-Andra Proxy.
In most cases, if players are completing rampages in Luminopolis they will want to hang out near other players as doing so will ensure that there is a higher chance that these bosses spawn, though if players are in a club that actively participates in Beacons, players will want to make sure that they watch out for Beacon shout outs that will let them know when a Beacon is going to be placed, essentially being the fastest way to complete a Beacon.
HOW DO I COMPLETE RAMPAGE OBJECTIVES?
To complete Rampage objectives, players will need to kill a total of 6 Giga Stormers.
Tier 1 requires players to kill 1 Gigastormer
Tier 2 requires players to kill 2 Gigastormers
Tier 3 requires players to kill 3 Gigastormers
HOW DO I SPAWN A GIGASTORMER?
Gigastormers have no way to force a spawn, though Gigastormers have a higher chance to spawn depending on how many people are located in an area.
Depending on the time of day, players should be able to shout into /ramp chat in order to find a house where dozen of players simply hang out and massacre Gigastormers, though players may have to head into U-3 to locate parties by themselves.
I strongly recommend giving a shout in Global chat or Ramp chat just to make sure that you get the highest chance to get the rewards.
WHAT DO I GET FROM RAMPAGES?
Players will receive different rewards depending on which tier they complete for a rampage.
For the Tier 1 Rampage players will receive:
1 Sentience Shard
1 Lesser Neon Cache
Players will only be able to obtain a single Sentience Shard per day, somewhat similar to the daily bonus from Dragon Challenges.
Players will be able to obtain the daily bonus for both types, essentially meaning that players should not have any fear of which challenge they complete first in a day.
I would strongly recommend trying to do at least one rampage a day to obtain the Sentience Shard as these are the hardest resource to collect.
For Tier 2 players will receive:
1 Lesser Neon Cache
For Tier 3 players will receive:
1 Lesser Neon Cache
WHAT DO YOU GET FROM LESSER NEON CACHES?
Lesser Neon Caches can only be obtained by completing Rampages.
Players will be able to collect a total of 3 Lesser Neon Caches anytime rampage challenges are up and will have the chance to obtain the following resource from them:
COMMON
300 Plasmium
350 Plasmium
400 Plasmium
1 Amperium Dragon Egg Fragment
1 Resistor Dragon Egg Fragment
UNCOMMON
1 Charged Circuit
1 Memory Matrix
1 Logic Loop
5 Amperium Dragon Egg Fragment
5 Resistor Dragon Egg Fragments
RARE
25 Amperium Dragon Egg Fragments
25 Resistor Dragon Egg Fragments