Grounded is a pretty awesome game with many locations to explore that include a large variety of mobs and resources that a player can grind out in order to craft new Tools, Weapons or even building materials used for basing.
While the majority of mobs can be killed in Grounded, not every mob needs to be killed as some will actually drop loot passively, the Crow being one.
While a player will commonly attempt to to try to kill mobs such as the Crow, they will (or at least should) come to the quick realization that it is a lost cause, especially due to the fact that the Crow does not have a health bar. Although the Crow is not a mob that can be killed, it does drop one of the most important resources players can use to craft some hefty Weapons and arguably provides players with the resource that makes some of the most elegant building items in all of Grounded.
The following guide will tell you all you need to know when it comes to the Crow including it's locations, how to quickly find out where it has last been and how to efficiently farm its resources.
Note: If you want to watch me play games like Grounded on Twitch head on over here! I'm always happy to answer your questions there as well!
WHY IS THE CROW IMPORTANT? WHAT LOOT DOES IT DROP?
The Crow is known to drop between 1-6 Crow Feather Pieces every time it takes flight.
Players should note, they will receive the Crow Feather Pieces if they use a Tier 2 Axe on the big Crow Feather and that is what drops the 1-6 pieces.
Crow Feather Pieces are extremely important for a variety of resources and due to the immense importance of this resource, I'm going to break down all of the other items it can craft. These items include the following:
The Crow Crossbow, which is one of the absolute best ranged Weapons players can acquire in the game. Not only does it deal a good amount of damage, but unlike a standard Bow, players will reload this Weapon between shots, allowing them to simply switch to the Crow Crossbow to fire a shot, only consuming stamina when the Arrow is fired. In my opinion this is much better than the bow and although it takes a bit of extra time to reload, it does allow players to switch between Melee and Ranged more rapidly than the bow.
Feather Arrows, while unable to take on Elemental effects, are going to be a better option for players to utilize when taking down enemies, simply because they deal more damage than a standard Arrow. I personally tend to use Feather Arrows the most these days as they are easy to farm and stockpile. These will be switched out to Splinter Arrows in the late-game, but for a long while I would recommend using these Arrows just so you can deal some extra damage in between.
Players will also be able to make the Marksman's Cap which will help ranged players deal more damage while using a Bow. While this doesn't provide players a great deal of protection, it is still very useful especially if you're in a group and don't need to take any hits.
The Simple Bed is going to be the better way to sleep as it provides players with status effects that help them complete tasks more efficiently during the day. While at first players may only have the resources to craft one of these Simple Beds, players will want to rush making one for each base.
The Grinder is going to be an important step for both builders and players who would like Pets. I have to say that there isn't a whole lot to do with the Grinder, but it is going to be something you want to get at some point, especially if you are someone who wants to get some beautiful builds completed.
The Pet House allows players to house their Pets and while players will be able to train Pets without one, they are important for keeping your Pet safe and happy.
The following are the building structures players can use the Crow Feather Pieces for:
Feather Flat Roof
Feather Flat Triangle Roof
Feather Roof
Feather Roof Corner
Feather Roof Interior Corner
Feather Roof Squared Corner
Feather Peaked Dome Roof
Feather Peaked Roof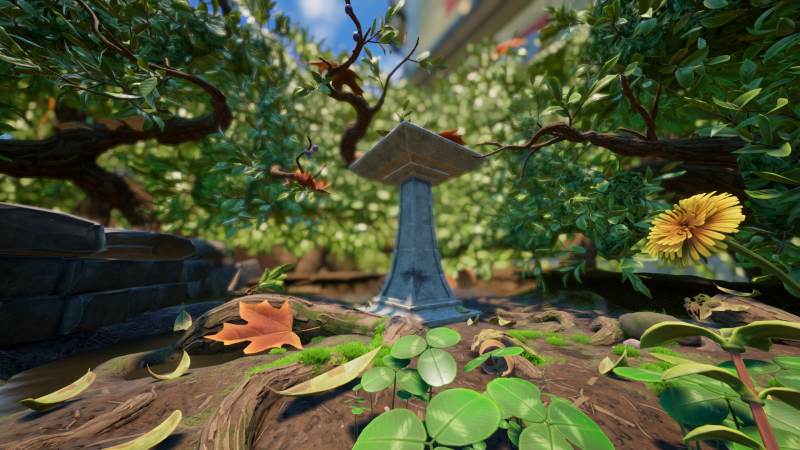 WHERE IS THE CROW LOCATED?
The Crow has a number of locations that it frequents, always leaving behind feathers as it flies. Unfortunately the path the Crow takes will always be random, though admittedly this isn't much of a problem.
The regular locations for the crow include:
On top of the laser furthest to the north
On the Bird Bath in the Hedge
On top of the Pagoda in the Koi Pond
On the handle of the Weed Killer in the Haze (even while the Haze is on)
The top of the Water Bottle on the Picnic Table
On top of the Backyard Fence near the Sandbox
It should be noted, the Haze actually has a number of pre-spawned feathers inside of it's trenches that spawn naturally and don't need the Crow to return. While these Feathers are not the easiest to farm when the Haze is turned on, if the player turns off the Haze they will become much easier to harvest and are actually one of the best areas to farm a bunch of bug parts.