A game never seems to be complete without cars and quite frankly after playing the Demo of Kirby and the Forgotten Land I immediately thought to myself "there's going to be some sort of race track if one of the 'Mouthful Mode' abilities you get is a car" and man was I ever right.
Not only has Kirby and the Forgotten Land provided players with a great deal of gameplay changes, including new abilities and upgraded versions of each ability that was never seen before, but there is a great deal of variance between levels in the game itself.
Quite frankly, I have to say that Kirby and the Forgotten Land is my favourite Kirby game to date, giving me a whole new perspective on the franchise and having me interested in what's to come.
While many of my readers and regular viewers on Twitch got to see my first impression of the game live, I continued playing the game alone after the first stream, becoming completely absorbed in the game.
Admittedly, Circuit Speedway wasn't my favourite map as I find driving mechanics to be one of the most challenging in games, thinking back on all of my GTA V playthroughs and how often I would mistakenly run over a pedestrian… My bad! I didn't see you there!
I found Circuit Speedway to be the most challenging when it came to Missions, finding later levels more my speed and I'm going to admit it to bring some solace to those of you who may also struggle with this level… I had to repeat Missions up to 7 times because I just kept failing at the races.
While I truly find the Missions in Kirby and the Forgotten Land enjoyable, I could have lived without the driving tests, but I've got some tricks up my sleeve for you to use. You can either watch the video below to figure out how I beat the clock or you can see my outline for how to beat these stages.
The following guide will take you through everything you need to know when it comes to completing all the Missions in Circuit Speedway as well as the Capsules that are available to players.
0:00 Introduction
0:22 Reach the first race goal within 20 seconds
1:03 Waddle Dee #1
2:25 Capsule #1
2:38 Waddle Dee #2
3:30 Defeat Wild Edge using Invincible Candy
4:12 Gigant Sword Blueprint
4:48 Waddle Dee #3
5:30 Capsule #2
7:13 Capsule #3
10:33 Boost through the cardboard shortcuts
11:28 Waddle Dee #4
CLEAR STAGE
As is with all other maps in Kirby and the Forgotten Land, players will receive three Waddle Dees simply for completing the level. Admittedly, I can't blame you if you only accept these three Waddle Dees as some of the Missions are frustrating in this one, but as always, I strongly recommend that you go back and collect as many Waddle Dees as possible as this will greatly advance your Waddle Dee Town and provide you with shops that can help improve your gameplay.
SAVE THE HIDDEN WADDLE DEES
WADDLE DEE #1
The first Waddle Dee is honestly relatively easy to obtain as in most cases players will complete the first race in about 22 seconds.
Players will want to make sharp turns in order to maximize their speed, though as I will cover below… you're going to need to move faster than that if you want to get two Missions done in one go. I will cover how I managed to do that in the next section.
WADDLE DEE #2
In the next area of the map players will locate a moving platform with a Blue Button with a star in it. Players can either press this button by jumping on it or by throwing a Bomb at it.
Pressing this button will unlock a new area to the left of it, go to this area immediately.
The area will reveal a similar kind of puzzle, requiring players to throw a bomb down to press a Red Button with a star on it. If players do this correctly it will open up a golden gate with the second Waddle Dee.
Players can essentially spam their bombs in order to complete this portion as the only important thing is that the button is pressed. I would strongly recommend that players do not travel down to press this button manually as that is a waste of time.
WADDLE DEE #3
I have to admit that I heard the third Waddle Dee long before I found it and was very confused, looking everywhere for it.
As I had just finished defeating the Wild Edge I thought "well, maybe it has something to do with this sword" and started looking for some Grass to cut.
If you watch my video you can see that I went backwards trying to find Grass in the upper area by the platform, but the reality is that the Grass you need to cut is directly below the popcorn machine.
Cutting this Grass with a Sword will reveal a hidden entrance where players can quickly grab the third Waddle Dee from a Chest.
WADDLE DEE #4
Quite frankly the hardest of the races, players will have to complete this race in under 50 seconds.
There are a couple of tips that will work for players… other than "don't fall of the edge."
At the beginning of the race don't try to complete the race as it is meant to be completed. Instead veer to the right, skipping the whole first loop.
Then whenever players see cardboard boxes jump through them, trying to make sure you never hit any mud. Mud will greatly reduce the amount of speed that you have.
When players are at the section that is "S" shaped (the ramps), cut corners going through the fences and lamp posts.
This took me a number of tries to get correctly, especially with the cardboard boxes. The jumps are really difficult to aim in my opinion and again… we know I'm not a good driver.
REACH THE FIRST RACE'S GOAL WITHIN 20 SECONDS
Straight out the gate players will be up for a tough challenge with the first Mission. During the first race players will have to complete the race in under 20 seconds.
Now, players can avoid this Mission if they would like as they will get a different Waddle Dee simply for completing the race in under 25 seconds, however, getting two Waddle Dees is obviously better than getting one.
The way that I ended up doing this was by jumping on the obstacles while making my turns, allowing me to cut a bit of extra time while turning.
I also found out (and I'm not 100% sure if this is speculation) that having the Bomb Ability will make you faster.
I honestly suspect that this is true as Bombs seemingly are available anytime players are close to a race, though there is no concrete statement that says that it is true.
Whether or not it is, might as well try it because this is a toughie to get done!
DEFEAT WILD EDGE USING AN INVINCIBLE CANDY
Admittedly I only got this Mission completed due to happenstance.
Alter players successfully save the second Waddle Dee they can find a ladder that takes them to a Chest that has an Invincible Candy.
Players will have to run as fast as they can to the next area of the map as the invincibility Candy has a timer on it and will be able to two shot the Wild Edge.
This is by far one of my favourite Missions because it meant that I didn't really have to do much. Can we please have more Invincibility Candies? One in every level, including the boss battle?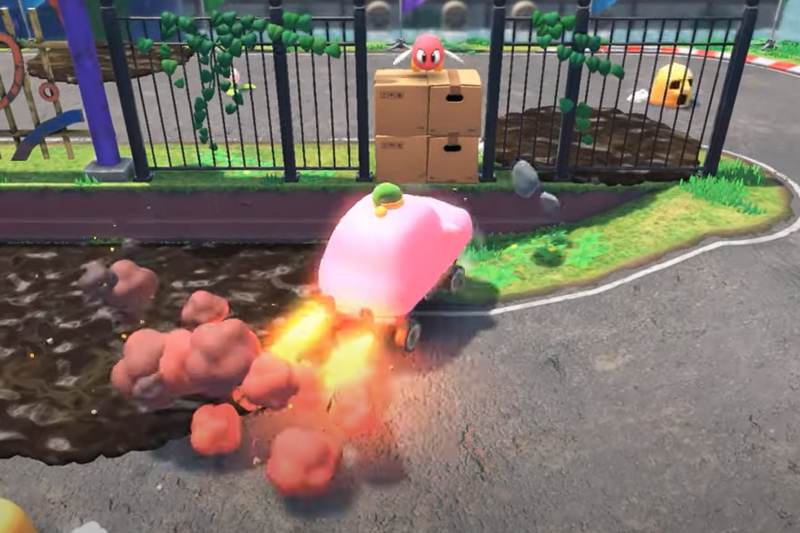 BOOST THROUGH THE CARDBOARD SHORTCUTS
During the second race players will have to do their best to use every shortcut available to them. These shortcuts are typically between the gates, through cardboard boxes.
While it seems like hitting objects slows you down a bit, the fact that players are essentially cutting large corners greatly improves the speed that a player completes this part.
Players will have to crash through both sets of boxes by boosting and jumping through them in order to get this Mission completed.
It may take you a few tries, admittedly I kept crashing into the gate, so… don't get too upset!
CAPSULE LOCATIONS
CAPSULE #1
After players complete their first race they will have to head down the stairs and locate 4 cracked rocks to the right.
Behind these rocks is a Capsule for the taking.
CAPSULE #2
In the area after players rescue the second Waddle Dee and defeat the Wild Edge players will see a Capsule on a Popcorn Machine.
In order to reach this Capsule players will have to jump on the stacks of… well whatever they are and jump onto the canopy.
Players will only be able to grab the Capsule by flying from the Canopy as Kirby is bound to fly only a bit above the ground.

CAPSULE #3
The third Capsule is relatively easy to obtain as it only requires players to score silver on the second race. While I admit that racing isn't my forté and I would say that I suck at it… I managed to get this reward every attempt that I tried for the second race.
Now Gold on the other hand… I really struggled with. Honestly, if you haven't watched my video guide of this level, please do… at least to get yourself a good laugh.
GIGANTIC SWORD BLUEPRINT
The Gigantic Sword Blueprint is going to be handed to players simply for defeating the Wild Edge.
Upon completing the battle it will appear on the platform they just fought on.