While I'd like to say that cats are my favourite type of pet to have around my Minecraft base, there's a big part of me that simply feels like I'm lying, since cats can be such finicky little creatures.
In Minecraft, cats are a passive and tamable entity that can be found in Village Biomes, though most players will first encounter their untamed variant, the Ocelot, in a Jungle biome.
Upon taming a cat, players will gain protection from creepers and phantoms, making them great for keeping a base safe. The only issue is, cats tend to wander away from players, causing them to roam freely and often get stuck.
It's always a good idea to swing your camera around and check if your cat(s) have followed you because damn is it difficult to track a lost cat once it's seated.
Often cats will teleport to a player if the player is far enough from the cat, however, if the cat is seated the cat will no longer be able to teleport to said player.
WHAT SURFACES DO CATS USUALLY SIT ON?
Usually, players will want to get a cat to sit, in hopes of leaving it behind. For instance, before a player ventures into caves or worse, the Nether.
Though, players will sometimes notice cats sitting on:
Beds
Chests
Active Furnaces
WHY DO CATS SIT ON CHESTS IN MINECRAFT?
If you're not a cat owner yourself, you might not know about the adorable phenomenon of cats sleeping on their owner's chests, but it can be safely assumed that this is the reason Mojang has included such an adorable addition to the game.
Generally, cats will sleep on absolutely anything their owner touches or is currently around them, trust me, our cats are always on our backpacks or laundry.
Cats will often follow the sun through the day, trying to keep as warm as possible and staying close to warm materials like cardboard or in the case of Minecraft, Inventory Chests, Beds and Lit Furnaces.
Although there is no official answer as to why the Devs programmed cats to sit on top of Chests, Beds or Active Furnaces, it can be safely assumed that a cat will try to sit to protect resources that can contain valuable materials or are considered essential.
Inventory Chests obviously provide storage space for rare items like Diamonds, Furnaces would smelt rare items like Gold or Iron, and a destroyed Bed would essentially reset a player's spawn. So, what a better way to protect such important resources from explosions? Automatically program cats to sit on them.
The only issue is, while players can still use Active Furnaces that cats are sitting on, players will not be able to open Inventory Chests or use Beds that cats are sitting on.
HOW DO I GET MY CAT TO GET OFF A CHEST, BED OR FURNACE?
There are a few ways players can get a cat to get off a Chest, Bed or Furnace, though the most advisable method is to use a piece of Raw Fish.
Just like our in real life feline friends, Minecraft cats just can't say no to a helpful serving of fishy goodness.
Players will not usually have to feed the cat the raw fish, though, if players must feed the cat Raw Fish, they may also have to right-click the cat in order to make the cat stand.
While it is effective to use Raw Fish, players may not always have a Raw Fish on hand, especially if players don't focus on fishing regularly. What's the crafting recipe for Fishing Rod again?
Players can alternatively use a Water Bucket to deter the cat from standing above a Chest, Bed or Furnace, though it should be noted that if players use a Water Bucket to deter the cat, there is a chance that players will also destroy any Torches, Flowers or other aesthetics in the game.
Don't worry! You'll be able to pick up everything again, but some, plants may look different upon being replaced.
Upon using a Water Bucket near a cat, the cat should immediately stand up and begin running around the room in which they are in, though players may witness a glitch where the cat remains seated until told not to sit.
I know it's frustrating, but I promise cats aren't usually that difficult… (っ- ‸ – ς)
Note: Do not hit your cat or try to use lava as both will just cause the cat to freak out and can potentially lead to the death of the cat.
HOW DO I STOP MY CATS FROM SITTING ON CHESTS IN MINECRAFT?
Well, getting your cats to stop sitting on your chests can be as simple as commanding your cats to sit upon entering a room, or keeping your cats in the entrance-way when you build your base.
Cats are not going to teleport from where they are to a chest if they are already seated, however, they will walk around and travel around a room, especially with Chests.
I would strongly recommend keeping cats out of dedicated Chest rooms unless players follow some of the examples below.
HOW DO I PERMANENTLY GET MY CAT TO STOP SITTING ON CHESTS?
It can be helpful to "cat-proof" a Minecraft base in hopes of making sure that your cats don't always get in the way, especially if you have multiple cats bound to a single player.
Luckily for players, there are a variety of solutions they can use in order to "cat-proof" their base, though choosing one will be based on their preference.
The following are all the ways in which players can prevent cats from sitting on chests. I've even saved my favourite method of cat proofing for last.
#1. STACK CHESTS ON TOP OF CHESTS
Although in real life, cats are big fans of being up high, it doesn't seem like cats like jumping up on top of chests that are stacked on top of each other.
It doesn't matter if there are staircases leading up to the top tier of Chests, cats just don't want to be up there.
Stacking Chests is not always an option, especially for players who are looking for a few single-chest storages spaces, but it does mean that all of your "Grant Chest Rooms" are safe from feline companions keeping you away from your goodies.
It does not seem like cats will jump on double Chests that have a single chest above them.
There's nothing really special about this format of Chest layout, but it's still good to know that cats won't be hanging about, blocking you from getting at your goodies.
#2. USE SOME TORCHES
If you're hoping to keep a cat away from a single chest, especially in a simply decorated room, players can use a Torch, Redstone Torch or Soul Torch.
The benefit of using Torches to keep cats away from Chests is the fact that Torches, at least regular ones, will help keep a room nice and bright.
It should be noted that players must place a chest and Torch directly against a wall in order for the Torch to prevent the cat from getting on the Chest, though similarly, players must place the Torch directly above the Chest and not a block higher. Players will also be unable to place a Torch on the Chest directly, however, will still be able to open the chest if it is placed on a block above/directly behind.
The Torch is one of the most common ways players will deter cats from jumping on a chest, however, Torches tend to look the best when placed above single Chests as double Chests with a Torch or Torches can look unbalanced.
Players can alternatively make themselves a checkerboard pattern using Torches and Chests especially if they are fans of using the single Chest method.
#3. USE SLABS
Slabs are a great way to design a room while cat-proofing rooms with chests, especially when it comes to very tight or dark places.
Slabs are by far one of the most customizable options players have when trying to create a cat-free space as Slabs come in almost all of the forms that regular blocks come in.
The current types of Slabs players can use include:
Oak Slabs
Spruce Slabs
Birch Slabs
Jungle Slabs
Acacia Slabs
Dark Oak Slabs
Crimson Slabs
Warped Slabs
Petrified Oak Slabs
Stone Slabs
Smooth Stone Slab
Cobblestone Slab
Mossy Cobblestone Slabs
Stone Brick Slabs
Mossy Stone Brick Slabs
Andesite Slabs
Polished Andesite Slabs
Diorite Slabs
Polished DIorite Slabs
Granite Slabs
Polished Granite Slabs
Sandstone Slabs
Cut Sandstone Slabs
Smooth Sandstone Slabs
Red Sandstone Slabs
Cut Red Sandstone Slabs
Smooth Red Sandstone Slabs
Brick Slab Prismarine Slabs
Prismarine Brick Slabs
Dark Prismarine Slabs
Nether Brick Slabs
Red Nether Brick Slabs
Quartz Slabs
Smooth Quartz Slabs
Purpur Slabs
End Stone Brick Slabs
Blackstone Slabs
Polished Blackstone Slabs
Polished Blackstone Brick Slab
The only issue with using Slabs in hopes of decorating a room is that they are unable to stack sideways, essentially meaning that players will not be able to have half-length/width blocks and will still have to rely on regular blocks or two half slabs to reach full height.
Although this isn't that big of a hindrance, players will rejoice in knowing that they can float the Slab of their choosing either directly above the Chest they wish to cat-proof or a half cube distance above the Chest.
Slabs provide players with a tremendous amount of design options and can be incredibly effective with designs that include trim or patterns in a wall.
#4. USE STAIRS
When it comes to designing something that's elegant or sleek, players can use Stairs in hopes of cat-proofing a Chest.
Stairs provide a unique dimension as they act like a Slab with an extra spot filled.
Players can effectively design patterns into the walls using stairs, varying the directions stairs face and further enhancing their builds.
Stairs, much like Slabs, have plenty of materials they can be made of, resulting in:
Oak Stairs
Spruce Stairs
Birch Stairs
Jungle Stairs
Acacia Stairs
Dark Oak Stairs
Crimson Stairs
Warped Stairs
Stone Stairs
Cobblestone Stairs
Mossy Cobblestone Stairs
Stone Brick Stairs
Smooth Sandstone Stairs
Andesite Stairs
Polished Andesite Stairs
Diorite Stairs
Polished Diorite Stairs
Granite Stairs
Polished Granite Stairs
Sandstone Stairs
Smooth Sandstone Stairs
Red Sandstone Stairs
Smooth Red Sandstone Stairs
Brick Stairs
Prismarine Stairs
Prismarine Brick Stairs
Dark Prismarine Stairs
Nether Brick Stairs
Red Nether Brick Stairs
Quartz Stairs
Smooth Quartz Stairs
Purpur Stairs
End Stone Brick Stairs
Blackstone Stairs
Polished Blackstone Stairs
Polished Blackstone Brick Stairs
#5. USE A FENCE
Depending on what kind of look you're going for, players can use a Fence in hopes of protecting their Chests from cats.
Fences are most useful in barn situations where players are hoping to house a number of Horses, Mules or Donkeys as Leads can be used to keep them from trailing off.
Similar to the resources above, Fences can be made from a variety of materials, resulting in:
Oak Fences
Spruce Fences
Birch Fences
Jungle Fences
Acacia Fences
Dark Oak Fences
Crimson Fences
Warped Fences
Nether Brick Fences
#6. SIGNS
Although often tied together as one unit, players can choose to place a Sign above a Chest or as an attachment to an already placed Fence.
Signs are effective at categorizing all of the Chests' contents and are customizable with different font colours as well as materials.
The following are all the types of Signs in Minecraft:
Oak Sign
Spruce Sign
Birch Sign
Jungle Sign
Acacia Sign
Dark Oak Sign
Crimson Sign
Warped Sign
#7. USE LADDERS
Okay, okay, my image above doesn't really sell the use of ladders, but could you imagine the amount of different ship storage rooms you could create with ladders and chests.
Given the right backsplash, ladders can be a great selection for players to "cat-proof" their Chests.
Ladders tend to look better when there's more than one stacked and when they reach the top of the ceiling or trimming.
#6. USE SOME GLASS
One of my biggest "go-to" chest designs involves using glass blocks, especially when trying to build auto farms or other useful contraptions around the base.
Glass Blocks provide players with an array of colours including:
clear Glass
White Stained Glass
Orange Stained Glass
Magenta Stained Glass
Light Blue Stained Glass
Yellow Stained Glass
Lime Stained Glass
Pink Stained Glass
Gray Stained Glass
Light Gray Stained Glass
Cyan Stained Glass
Purple Stained Glass
Blue Stained Glass
Brown Stained Glass
Green Stained Glass
Red Stained Glass
Black Stained Glass
#7. USE SOME GLOWSTONE
If you're someone who loves to live in the Nether and scavenge for Glowstone, I'm happy to let you know that placing a Glowstone directly above a Chest will still allow you to open said Chest.
Glowstones are pretty much my go-to "I'm a Rich Bitch" lighting and you know if I'm on any server, I'm trading any resources you want for them suckers.
#8. GET SOME LEAVES
Although I have to admit that I'm not the first person who thinks about using leaves to decorate his base, there are some cases where I would use leaves to "cat-proof" bases.
One of the main places I can think of when it comes to using leaves to decorate your home is in a treehouse, especially in the jungle.
Leaves can be clipped off of Trees by using Sheers and come in the following forms:
Oak Leaves
Spruce Leaves
Birch Leaves
Jungle Leaves
Acacia Leaves
Dark Oak Leaves
#9. USE SOME WATER OR LAVA
Players rejoice, especially with all of the new water mechanics as players can place chests directly into water and can embed chests into farms in hopes of saving as much space as they can, especially with indoor farming.
Similarly to how cats hate water in real life, they hate water in Minecraft too, avoiding all chests that are covered by the liquid.
Players who are not placing Chests directly in water will need to contain their Chests within regular blocks as with the new water mechanics, players will be looking forward to a series of leaks and flooding in their base.
Water + Chests are a great combination for players to create secret Chests, and it is quickly making it's way up to being one of my favourite tricks for cat-proofing a base.
Players can alternatively also use Lava, though I'm not a huge fan of using Lava, simply due to… well… the fact that it can set your whole base ablaze.
If you're more of a Lava pro than I am, maybe you'll take that route, but for all you basically average gamers, like I am, maybe stick to water.
#10. PUT A LEVER ON TOP
For players who have an eye for design and like working with "finishing touches" or simply enjoy using resources that can be altered or manipulated to look like other objects, Levers may be the option for you.
Levers are often used as a way to artificially make "faucets" but they can also be fashioned alongside Chests as a hope for preventing cats from jumping on said Chests. Tough, a lever above a Chest will make an obscure pairing if you were hoping for it to look like a faucet.
#11. SAVE SOME CAKE FOR LATER
Cake, Cake, Cake, Cake, Cake, CAKE, CAKE, CAKE, CAKE, CAKE.
Cake like Lady Gaga.
Cake is another one of those resources I don't normally think about, especially because food is so easy to come by in Minecraft, at least in my opinion.
Although Cake can be used for eating, I could see myself using Cakes as more of an aesthetic thing in my base. Yes, maybe I'll have a snack here and there, much like in real life, but for the most part, I think I would be fine without it.
The great thing about Cake is the fact that it won't block Chests from opening and can be placed directly on top of Chests, creating a more festive look.
Nomnom, give me some cake.

#12. PLACE A BED
A Cute option for players to cat-proof a chest is to place a bed on top of it, being perfect for bedrooms that are made for multiple people.
I haven't played on servers in a while, but I feel like these designs would be classic for spawn hubs where new players could collect some new resources and set a safe space until they found a place they wanted to base.
For builders who are looking for a cute way to set up a room filled with bunk beds or simply want a raised bed, they can easily use this method.
Tip: I would throw in some ladders in front of or beside these bad boys for some extra design.
#13. FREEZE SOME ICE
Although not the most typical method of building, Ice can be a useful resource when cat-proofing a Chest… though, what opportunities do you really have to find, construct or use Ice.
Maybe a fishing hole, maybe an igloo, something in the Ice Biome among the Ice Villagers.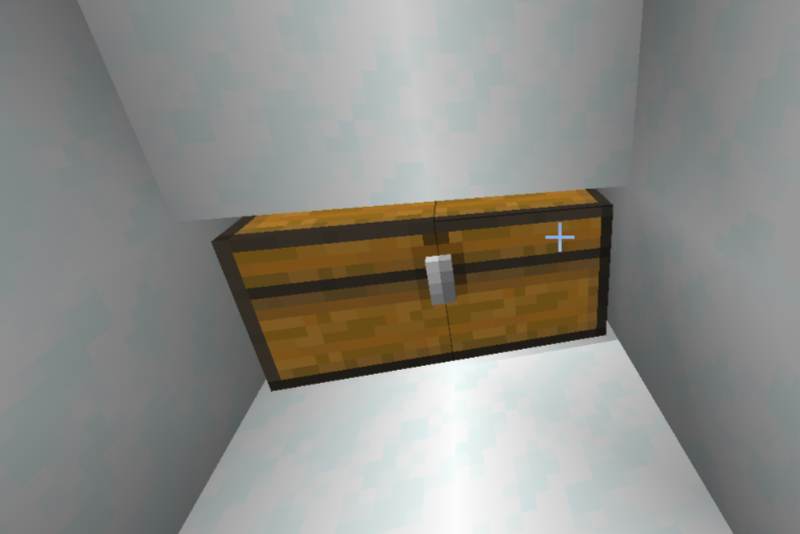 #14. PACK SOME SNOW
I think I would more likely pack Chests into Snow when building Igloos, and while I wouldn't use Snow as my first choice, it is a good thing to keep in the back of your mind that chests can still be opened with Snow on top of them.
Unfortunately, you cannot use layers of Snow on top of the Chest, however, you can use the full-sized blocks.
#15. HOPPERS
Probably the most useful object that players can use in order to cat-proof a Chest is the Hopper.
Hoppers are effectively transporting mechanisms that players can use in hopes of getting items from room to room and into chests.
Hoppers are by far the best method when it comes to creating automatic farms, especially if players are planning on keeping hoards of Chickens.
WHY WOULD I WANT MY CAT TO STAND ON A CHEST?
The only reason I would use the cat sitting on Chest mechanic is if I was nervous that a Creeper was going to be able to enter my base.
Creepers can spawn in dark areas and will sometimes spawn under a player's base, especially if the player previously excavated the area below and did not properly light the area.
In cases like this, where a player is hoping to renovate the area around their base, it's a good idea to keep a cat beside you or on your Chests, just in case a Creeper pops up.
Is it worth doing? Probably not, cats aren't great at keeping Creepers from blowing up, but it's still worth a shot if you aren't doing anything else to prevent from the frustrating explodies.
CONCLUSION
So while it's not necessary for players to cat-proof their Chests, players will be happy to know that they can simply do so with some of the methods above.
So, I'm curious, what are some of your favourite ways of cat-proofing your Chests?
Does the method of your cat-proofing depend on what materials your base is made out of?