Dogydlidoo is a terrifying boss battle to come up against since it's going to be your first time dealing with an exceptionally tanky troll.
The Corrupted Doggy is the final boss of Floatopia and is joined by two Ozzy's.
This level will require you to move your Pixelings around strategically to make sure that you are optimizing your damage at all times.
Similar to the Barrel King, the faster you do damage, the higher the chance you're going to get a flawless score on the first run.
The following guide will take you through:
Boss Abilities & Battle Phases
Recommended Skills & Abilities
Recommended Pixelings to Use in Battle
Rewards and Bonuses from the Boss
BOSS ABILITIES AND PRECAUTIONS
I have to admit that the Corrupted Doggy messed me up time and time again before I was finally able to beat him.
The Corrupted Doggy is especially tricky because it is a Troll-Tank, which I believe is the first time we see this in the game.
ABILITIES
Charge Ability // Heavy Attack All / Deals 63 Damage to all enemies
Passive Ability #1 // Shield Breaker / Ignores and destroys Bubble Shields when attacking
Passive Ability #2 // Sabotage Immunity / Immune to Poison, Stun and Drain
PHASES OF BATTLE
The phases of Dogydlidoo are relatively simple, though you're going to want to be careful because the enemies use lots of poison during this level.
Unlike the battle against the Barrel King, all enemies are on the field as soon as the battle starts.
My ideal placements for Pixelings are as follows:
MELEE
RANGED
MELEE
The goal of the first few rounds is to kill one of the Ozzy Pixelings. Killing an Ozzy quickly will help make sure that your Pixelings don't take too much damage early on.
Rotate your Pixelings each round to attack, including melee ones.
It will never be necessary for you to place a melee Pixeling in mid-position since the Corrupted Doggy is a troll and will be able to hit them from anywhere.
It is recommended that you last-hit an Ozzy with Scorching Blast as this will ensure that you don't take unnecessary damage from the explosion or poison status effect.
The first time the Corrupted Doggy charges his ability, he will attack the Pixeling with the lowest health. The second time the Corrupted Doggy charges up, you have to be careful with Pixelings that are low on health.
Similar to the Barrel King, the Corrupted Doggy will do an AOE against all of your Pixelings; however, this time around, it will poison all of your Pixelings.
This is why it is important that all of your Pixelings are alive as if you want to progress or beat this level, you will have to swap out all of the Pixelings on the field.
Switching out your Pixelings will remove their poison status effect and will allow you to complete the boss battle.
During the final phase, after the poison, I usually use the following placement:
RANGED
MELEE
RANGED
RECOMMENDED SKILLS AND ABILITIES
I recommend taking Scorching Blast and Healing Touch into this level.
These two are my favourite abilities for progression content because they give you a little bit of a cushion whenever you need it.
Scorching Blast especially comes in handy when you are trying to last hit the enemy Ozzys. Last hitting an Ozzy with Scorching Blast will ensure that your Pixelings don't take unnecessary damage.
Healing Touch can come in handy when your Pixelings are getting low or if they get poisoned by an Ozzy or the Corrupted Doggy.
Alternatively, you can bring in Lightning, though I'm not a massive fan of randomization. I'd rather wait for an extra turn to use an ability so I can choose which Ozzy to kill.
Since the Corrupted Doggy nullifies shields, there is no point in bringing the Bubble Shield into this level.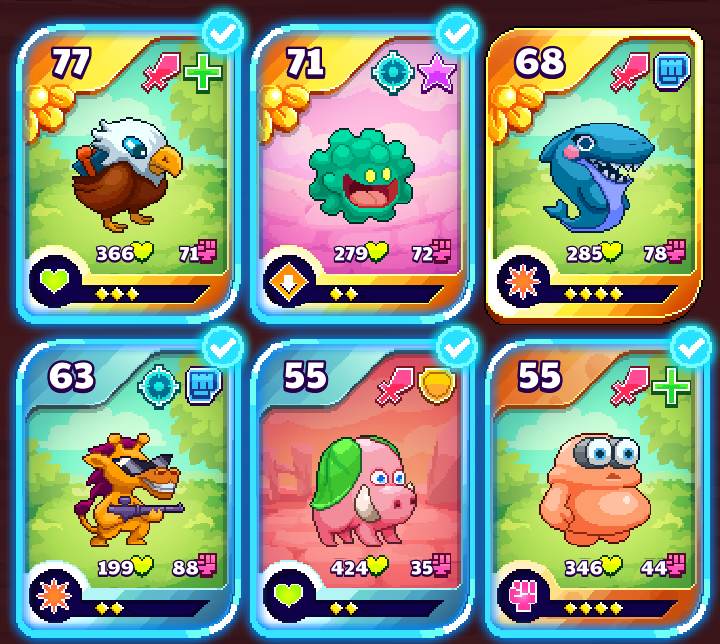 RECOMMENDED PIXELINGS TO USE IN BATTLE
At this point in the game, you should have a good selection of Pixelings to choose from.
I currently have 3 Rare Pixelings, being Shannon, Ozzy and Sponsy.
The most important thing is that your Pixelings are around Power Rank 55-63, with at least one around 68-77.
I strongly recommend having 3 Melee Pixelings and 2 Ranged Pixelings, but dependant on which Pixelings are available to you, feel free to substitute.
The following is my preferred build:
TUSKI (UNCOMMON)
Charge Ability // Heal Self / Gives Health to itself
Turns to Charge: 2
Hello again to you!
As you may know, I'm a big fan of Tuski because it can take massive blows and heal itself frequently.
Currently, my Tuski is the lowest level Pixeling I have on my team, but even with that being the case, it does an excellent service for the team.
Tuski should do the majority of the tanking on your team and should always be paired up with Sponsy.
If Tuski takes the majority of the damage, Sponsy's charge ability will always heal Tuski.
This should increase the amount of time Tuski can survive on the field and will also ensure that damage can be mitigated fairly well, especially if you also choose to take Healing Touch.
SPONSY (RARE)
Charge Ability // Heal Lowest / Gives Health to the ally with the lowest health
Passive Ability // Frenzy / Has 50% chance to gain 1 Charge point every time it receives damage
If you can get your hands on Sponsy, do it as soon as you can.
While Sponsy is not technically a tank, it can act as one or can be an excellent cushion for supporting the rest of your team.
When Sponsy is powered up, it can heal quite a bit, which will especially be important if you get poisoned at this level.
Not only is poison an issue, but due to the fact that the Corrupted Doggy is a troll, chances are one of your Pixelings is going to get bursted down.
Truthfully, Frenzy isn't going to trigger a whole lot during this level, especially if you end up getting drained, but it's still nice to have just in case.
Heals are going to be extremely important in this level.
FALCON (UNCOMMON)
Charge Ability // Heavy Attack / Deals Massive Damage
Turns to Charge: 2
Falcon is the bread and butter of PewDiePie's Pixelings.
Falcon charges quickly, does massive damage and doesn't come with any gimmicks. It's no wonder everyone uses it in PVP.
If you're feeling ballsy, pairing Falcon up with Energize will deal a ton of damage that no other Pixeling can really provide at this tier.
Just hope that Falcon is in your first three options at Pixelings, because Ozzy sure isn't going to be able to burst down the enemies.
OZZY (RARE)
Charge Ability // Drain / Remove 2 Charges
Passive Ability // Poison Burst / Upon defeat inflicts a critical hit and Poison to its attacker
I'll be blunt in saying that Ozzy isn't great during this level, but since it is one of the best Pixelings I have, I always choose to lead with it.
Ozzy, in general, is usually great. If you can get Ozzy to get it's charge ability off before the enemy Ozzy does, you're absolutely golden.
Ozzy's drain, however, will not affect the Corrupted Doggy, so don't get your hopes up.
I would use Ozzy as a substitute if you don't have Falcon or if Falcon dies.
BOB (COMMON)
Charge Ability // Strengthen Back / Increases Attack by 25% for the Pixeling(s) in the Back Position(s) (Max 100%)
Turns to Charge: 4
Bob makes a comeback, and still everyone questions why anyone would put Bob on their team.
The reason that Bob is so powerful is that he is one of the most farmable Pixelings in the game.
I currently have him at Rank 5, which places him at the same level as my Tuski.
I tend to use Bob as a sub, just because he doesn't heal himself or anyone else, but his Charge Ability does come in handy when you get a chance to get it off.
If there is a way to swap Bob in during the final phases of the battle to give your Pixelings a 25% Attack buff, do it.
This will stack especially well when you get into the double damage phase.
REWARDS FOR DEFEATING THE CORRUPTED DOGGY
Upon completing the Dogydlidoo you will unlock the Medium Mode of Floatopia.
You will also unlock the next world, though, at the time of publishing this post, the new world is not available to play.
You will also receive a new spell/ability called Rejuvenating Spring.
Rejuvenating Spring gives 121 health to a target ally and costs 6 mana.
This is currently the best heal in the game.
CONCLUSION
It seems like BroTown was exceptionally easy in comparison to Floatopia.
I didn't have much difficulty beating the Barrel King, but I can't deny how frustrated I got with the Corrupted Doggy.
All-in-all, you're going to have to do a lot of levelling before you defeat the Corrupted Doggy as this will make defeating him a lot simpler.
So, I'm curious, how many times have you tried battling the Corrupted Doggy?
Did you get him on the first try?
Who did you use on your team?
Let me know in the comments below!