At this point it's no secret that I'm a massive Kirby fan who will essentially buy every Kirby game that comes out.
I was pleasantly shocked that I received this game upon release as my preorder from Amazon said that I wouldn't get it until early next week, so as soon as my doorbell rang I scurried to answer the door and begin prepping for my Twitch stream that day.
I have to say that I am so pleasantly surprised with the gameplay of Kirby and the Forgotten Land as it offers a great variety of gameplay elements that have never been seen before in a Kirby game, including swallowing up large items with the Mouthful Mode mechanic. While players may have thought that this was the most noteworthy mechanic, they are mistaken as players will also have the opportunity to upgrade all of their abilities into stronger ones, both changing the way that they function and dealing some extra damage for those tough battles ahead.
One of the biggest changes to Kirby and the Forgotten Land is that players now have access to Missions that will help them save Waddle Dees that will essentially open up a variety of shops that they can utilize to become more powerful.
Some of these shops also include minigames that the player can access whenever they want to take a break from the main story, adding some extra gameplay and replicability to the game.
The following guide will take you through everything you need to know about A Trip to Alivel Mall, which is the fourth map players can access in Kirby and the Forgotten Land. PLayers can also use this guide to find the multiple Capsules that are available to them.
CLEAR THE STAGE
As is with all other maps in Kirby and the Forgotten Land, players will have the opportunity to score themselves 3 Waddle Dees simply for completing the level.
While 3 Waddle Dees is nothing to scoff at, I strongly recommend that players try to get all the Waddle Dees in the level as 3 will not be nearly enough to unlock the various shops early enough.
Luckily for players, the Alivel Mall Missions are pretty straight forward, for the most part.
SAVE THE HIDDEN WADDLE DEES
WADDLE DEE #1
After players have received the Invincible Candy they must go down the hallway to find a Bomb Block.
Attack this Bomb Block with any ability that you have and go up the pathway.
The Waddle Dee is located on the right hand side beyond a spike enemy.
WADDLE DEE #2
The second Waddle Dee is extremely easy to find and is hidden in a chest on a platform in the center of the first main cafeteria players go through.
If only looking for all Waddle Dees was this easy, we wouldn't need guides!
WADDLE DEE #3
When players are at the square conveyer belt they will find some crates that need to be destroyed by using an ability.
Upon breaking those crates players will find a blue button with a star in it that will open a hidden area that a Waddle Dee comes out of.
Players do not need to be quick about getting this Waddle Dee as it will come back and forth until the player rescues it.
WADDLE DEE #4
When players reach the cafeteria with the rainbow stage they will be met with three chests.
The final Waddle Dee is located in the center chest.
EAT 4 DOUGHNUTS
DOUGHNUT #1
Above the area where players can collect the first Capsule, players can locate a table with a doughnut sitting on top of it.
This is above the section with a metal platform and boxes covering an entrance.
Players can take the escalator up to get here.
DOUGHNUT #2
When players reach the square conveyer belts they will have to find a glowing orb on the bottom right of the the square.
Players will need to be close enough to this area to see the orb appear.
As soon as players interact with it they will receive a bunch of coins as well as a Doughnut.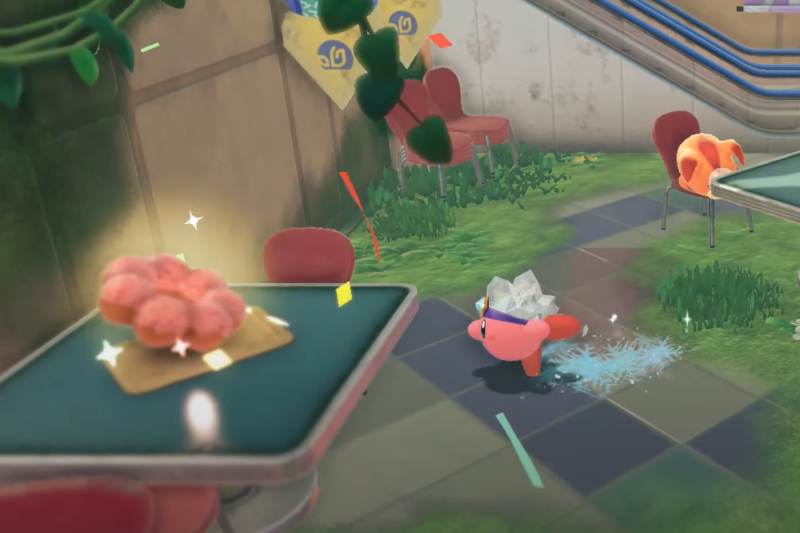 DOUGHNUT #3
Shortly after players locate the fourth Waddle Dee they will need to jump on a table with glowing sparkles.
Similar to all glowing sparkles, players will have to be close enough to it for it to appear.
Interacting with it will provide players with the third Doughnut.
DOUGHNUT #4
Doughnut four is quite easy to miss as it is located right at the very end of the level.
Players will become excited that it is the end of their journey, however, players should head to the right of this area to climb a ladder that will take them to the final doughnut.
EAT AN INVINCIBLE CANDY
When players have moved beyond the first capsule and doughnut they will be met with a barricade where they will see a Lollipop which they can interact with in order to become Invincible.
Most players will immediately grab this thinking that it is a regular food, but to their surprise they will be able to kill all enemies simply by touching them.
NAVIGATE THE MALL WITHOUT GETTING LOST
While getting around the mall isn't the toughest thing to do, players will have to be aware of what clues they can receive.
Essentially, players will have to use their Mouthful Mode in order to locate two three lockers that state the paths to take.
The following are the solutions:
After finding the first Waddle Dee there is a locker that reveals a map that tells you to travel to the Burger Shop.
Players will have to locate two lockers after they finish the part with the square conveyer belts. One is pink and one is green. Both are incomplete maps which will essentially tell you to travel through the top left cake shop. For clarities sake, this is the cake shop closest to the windows.
CAPSULE LOCATIONS
CAPSULE #1
Fairly early on players will locate a ledge with a few metal looking boxes on it. Players will be able to break these boxes with any ability and will locate a Capsule behind them.
CAPSULE #2
After players have passed the Frosty boss they will be met with multiple conveyer belts.
On the biggest one there will be 3 boxes that appear. The capsule is in the final box that comes down that line.
CAPSULE #3
Beyond the square conveyer belt are two lockers. Players must interact with both lockers (one being pink and one being green).
The green locker will reveal a secret room which gives an ice cream cone as a clue for travel.
In a box to the bottom right is a hidden capsule. Break the box with an ability.