The time has come and PewDiePie's new game Pixelings has come out.
Off the bat, we knew this game was going to be filled with tons of memes and adorable animations, some of which come from PewDiePie's premier game Tuber Simulator.
But what exactly is Pixelings?
Pixelings is a turn-based battle game where players get to choose 3 Pixelings who get to engage with 3 enemy Pixelings.
There are two types of Pixelings: Melee and Ranged, but each Pixeling also has a subclass. For example, PewDiePie is a ranged-assassin.
Overall the gameplay has been smooth and pleasant, but I'm going to breakdown what my first-day experience was kind of like.
MY THOUGHTS ON THE TUTORIAL
Sometimes what makes or breaks a game for me is whether or not I fully understand gameplay.
Luckily, PewDiePie's Pixelings takes you through a fairly thorough tutorial.
The tutorial covers the basic concept of how to play and how the different types of Pixelings work.
The tutorial also takes you through some of the places you're going to want to regularly visit to level up your Pixelings and complete the main storyline.
I honestly don't think that there was anything I had to find myself, other than quests and PVP, though those are things that I figured out fairly quickly on my own.
So, kudos to the team for writing a great tutorial.
THE MAIN STORYLINE
I'm personally not someone who really cares about main storylines in general.
I'm an avid FFXIV player and even though I've heard time and time again how great the storyline is in that game, I still haven't come around to actually sitting down and reading it.
So, this game's storyline is actually pretty great for me.
It's short, it's to the point and it includes some voice-over work featuring PewDiePie.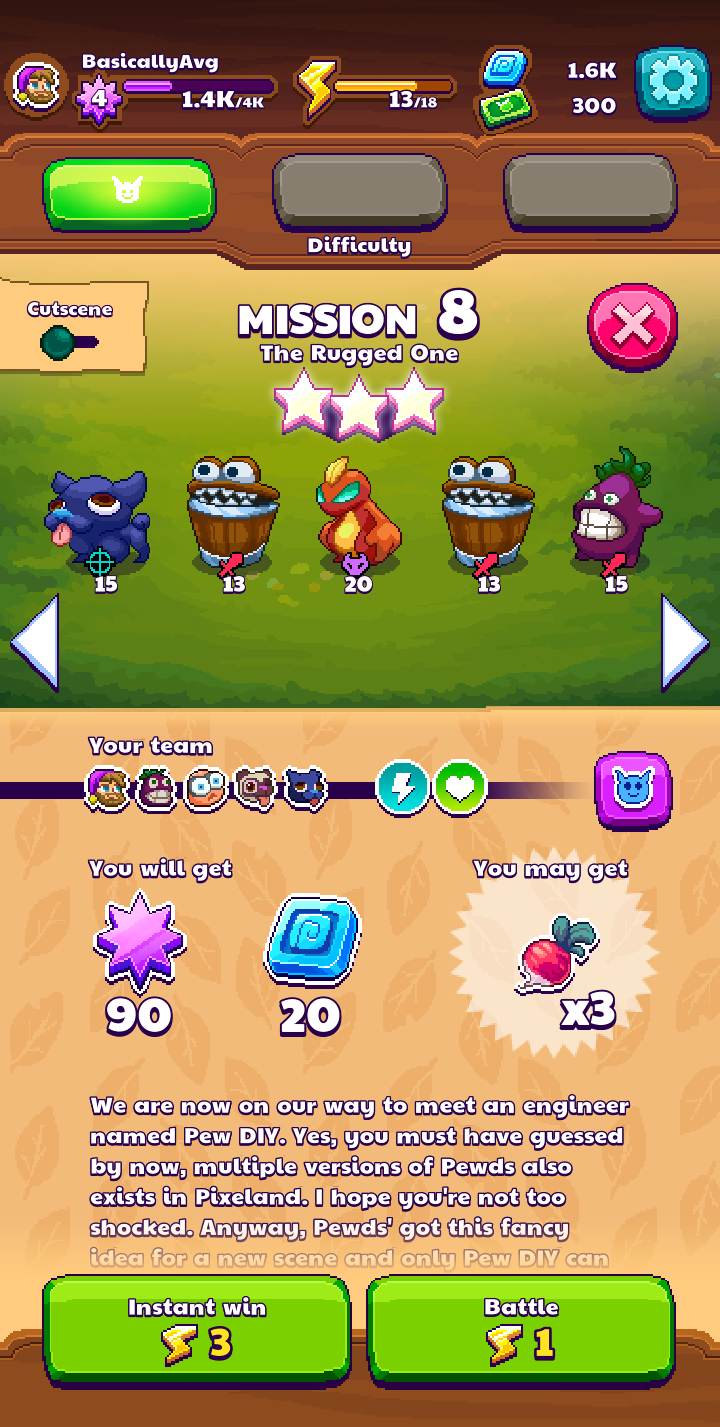 ABOUT THE GAMEPLAY
As mentioned Pixelings is a turn-based battle game where players are allowed to select 3 different Pixelings to sit on the field and battle for you.
Every Pixeling has different characteristics and stats dependant on what their abilities and functionalities are.
Maya, for example, is a support character who heals her allies every few times her ability charges.
Truthfully, that's the one aspect to the game that I don't fully understand as it seems like Pixelings don't always use their charged abilities.
There is also a mana gauge in the game which allows you to cast two spells from a long list of spells.
I currently only have the first three spells, one of which is a heal, the other being damage abilities.
You are limited to the number of times you can play the main storyline, similar to games like Puzzles and Dragons, by a resource called energy.
As you level up your player level, you gain more space to store energy and your energy will also overfill if you already have full energy.
If you have completed a level and did not lose any of your characters you will unlock the "Instant Win" functionality for that level.
This function costs 3 energy to use, but gives you the resources and experience you would get if you played the level and completed it.
This is a great way to level up while you're at work, want to kill your energy before bed or aren't in the mood to play the game.
This also comes in handy if you haven't collected your daily extra item, which is available once per day for each level.
Extra items include coins, Pixelings, and food.
Extra items are not guaranteed upon win, so you may have to complete a dungeon a few times before you get the extra reward. This is also when "Instant Win" comes in handy.
It does not seem like you are limited to how many times you can play PVP, thus making PVP the expected way to grind XP and resources in this game.
HOW YOU PROGRESS
There are a few ways that you can progress in this game.
As mentioned, you get some experience every time you play a level or PVP match, whether you win or lose.
Obviously, if you win a match you get more coins and rewards than if you lose the match.
Pixelings can also be powered up by collecting duplicates of your Pixelings with a few coins (1000+ Coins)
Rewards such as Pixelings, coins, etc can also be collected from chests, which are special loot from levels.
Chests can be incubated once at a time, though more spaces will unlock as you level up.
Chests will take a minimum of 4-hours before they are ready to open and contain Pixelings and coins.
You can only hold a limited amount of chests at a time before you are no longer able to collect a chest.
In-game currency can be spent on speeding up this process and you also have the option to watch an ad every few hours to speed up the process.
Chests in PewDiePie's Pixelings are what Eggs would be like in Pokémon Go.
MY OVERALL THOUGHTS
Pixelings seems like a pretty interesting game, though I'm not fully invested in it yet.
I have to say it's much better than Tuber Simulator was since Tuber Simulator didn't feel like it needed any skill or thought.
The game currently feels fairly basic to me, though I'm sure as I get further into the game it will become even more challenging.
I'm personally currently sitting at player level 5, have beaten up to the 12th map and have played a good amount of PVP.
Currently, PVP is the most interesting, though I'm really feeling the need to power up my Pixelings or get new ones soon because most of the players I'm up against are much further in the game than me.
I will say, this game does seem like it's going to help me kill a lot of time on the subway or bus, but I feel like it's going to be easily shelved, though the "Instant Win" function might be the thing to win me over altogether.
I'll keep you all updated on what I think, but for now, I'll give this game a 4/5.
How about you? What do you think of the game so far? Let me know in the comments below!