I have to admit, I'm a bit of an addict when it comes to grinding out video games. Even before my full-time job was writing about and streaming video games on Twitch, I was constantly finding myself playing grindy games when I got home from work.
Although I've slowed down on playing games that are inherently grindy, such as Trove and Genshin Impact, I still have the habit of making non-grindy games… well… grindy.
For example, right now I'm back to focussing on FFXIV and even playing some Fall Guys and while both are games that you can take at whatever pace you'd like… well… I want to get as many Jobs up to level 90 in FFXIV and want as many Crowns in Fall Guys as I can before the next Season's Pass. I do have to say, the feeling for both games are very different than the requirement to complete dailies for grindy games in order to keep up.
Though with every big patch in Final Fantasy 14, players will be required to complete dailies in order to get their Tomestones, eventually becoming weeklies to upgrade their Tomestone Gear further; the reality is that players can put down FFXIV at any point without the fear of falling too far behind.
I have to say, I think this is the most appealing aspect of playing FFXIV as I'm someone who takes breaks from the game between major patches to focus on other games.
Now, as implied earlier, if I'm in the mood to play FFXIV in between major patches I tend to farm up different glamours because as we all know "the end game is Glam" or I focus on getting my Jobs up to level 90 by FATE grinding.
There was one job that I completely disregarded though because I didn't think it would be worth levelling up and that was the Blue Mage.
The Blue Mage is a limited Job that cannot be levelled up as high as the other Jobs in the game, also experiencing some other limitations such as being unable to do the following content:
Duty Roulettes
Field Operations
Squadron Missions
Deep Dungeons
PvP, including duels. Though players can enter the Wolves' Den as a blue mage.
Stone, Sky, Sea
Hall of the Novice
Now while these limitations exist, there are a ton of great uses for the Blue Mage which made me somewhat regret not levelling it up sooner, but I'm sure that's a big reason why you're here.
The following guide will take you through everything you need to know about the Blue Mage, including the best uses for it, how to level it up as well as what Spells I would recommend you learn and where to find them.
HOW TO UNLOCK THE BLUE MAGE
The Blue Mage requires a player to complete a good amount of content in order to unlock. Players will first need to be at least level 50 and will have to have gone through enough of the A Realm Reborn to complete "The Ultimate Weapon" quest line.
The quest players will need to complete is called "Out of the Blue" and it is located in the Limsa Lominsa Lower Decks from the Zealous Yellowjacket (X: 9.9 Y: 11.0).
WHAT ARE SOME OF THE BEST USES FOR THE BLUE MAGE?
The Blue Mage is extremely powerful for solo play, being able to take down Overworld mobs in a matter of hits (depending on what Spells you have.) While players may not see the usefulness of being able to defeat Overworld mobs quickly, players who are trying to grind Fragments for Bozja or are simply trying to get Minions or Glams from FATES will thank me for this.
Admittedly, not every mob will be affected by the most powerful Spells that a Blue Mage has, but even a good portion of the "medium" Spells will deal more damage than any other Job due to the way they function. If ever you're in the market for speedy grinding, definitely get to this.
Another really great use for this is grinding out Dungeons while queuing with a group of 4 other Blue Mages. This comes in most helpful whenever the Moogle Tomestones are out and players need to quickly get as many as they can to get some sweet loot.
Now, players need to note, due to the restrictions on the Blue Mage, players will need to enter Dungeons with premade groups as a player cannot be put into a random group with Blue Mage equipped. Now, this isn't really a problem for players with friends as you can easily complete most Dungeons with a couple other Blue Mages as a full party is not necessary. Depending on the level of the content I would recommend between 2-3 Blue Mages minimum, though no other Jobs need to be present as Blue Mages can heal extremely well, though will not be able to res.
Finally, Blue Mages are extremely useful for the Masked Carnavale they unlock as it will provide players with Allied Seals as well as Poetics. Although players have plenty of ways to get these currencies as well as similar currencies, the Allied Seal grind from the Masked Carnavale is the best way to get Aetheryte Tickets to teleport around the world for free. While Gil isn't the hardest resource to collect, there's really no reason not to reduce the amount that you spend on something as simple as teleports, especially as costs rose in Endwalker.
Unfortunately, the Masked Carnavale comes with a variety of challenges, with some being much easier than others. Typically, for my Basically Average self I am only able to complete a maximum of 2 challenges per week, and have never completed all the challenges that don't rotate. Although it can feel like a struggle, players don't actually need to complete all the challenges to make use of the Masked Carnavale and even completing one or two of the challenges should score you enough Aetheryte Tickets.
ITEMS YOU WILL WANT BEFORE YOU BEGIN LEVELLING
When players level up any Job they're going to want to make sure that they have a few items available for them to adventure with, these include the following:
Earrings that boost experience, which are typically given to players who have purchased expansions pre-release. Not everyone will have these, but if you enjoy the game and know you're going to continue for the next exapansion I strongly recommend you pre-buy. The experience Earrings will typically raise a player's experience by 50% up to the level of the current expansion. (ie. Earrings for buying Endwalker early will give you Earrings that boost experience until Level 80.)
The best thing about these Earrings is that they will give you stats based on your level, so you don't have to worry about any loss from them.
The Friendship Circlet which increases Experience by 20% when under Level 25. This is only available for players who have recruited a friend to FFXIV, which admittedly shouldn't be that difficult. The unfortunate thing about the Friendship Circlet is that it is a Level 1 item that provides no bonus stats, so be ready to have to question whether or not your other Gear can carry you.
If players have decent other Gear it tends to be fine, however if all of the player's Gear is underlevelled, the Friendship Circlet can feel like a bit of a burden to players, especially beyond Level 15.
Luckily for players, low level Gear is very inexpensive to purchase for Gil and even easier to farm from unsynced dungeons, so don't stress too much.
Alternatively, depending on whether players prepurchased A Realm Reborn Collector's Edition they would have received the Helm of Light, which provides 20% experience up until level 10, which admittedly… isn't much, so if you're a newer player, don't fret. The Friendship Circlet tends to be better anyways and is easier to get when you have friends.
The Brand-new Ring is only gained from the Hall of the Novice from completing DPS Training – Exercise 7: Final Exercise, Tank Training – Exercise 8: Final Exercise or Healer Training – Exercise 5: Final Exercise. I can't say that all players will have this Ring, but it does give a whopping 30% boost on experience until level 30. If you don't already have it, I wouldn't really recommend going out of your way to get it for the Blue Mage, but if you have a good portion of Jobs that are under Level 30, I strongly recommend getting it.
I strongly recommend that players always have Food on them, even though they only give a 3% experience boost. Depending on the Food you eat it can be relatively cheap (I personally always munch of Raisins), however if players have a Culinarian or don't mind spending a bit of Gil on the Marketboard, they can get some Food that will actually help them fight faster, especially if you're on your own. I would pop Raisins if you're on your own and better food that is closer to your level if you're fighting on your own.
Squadron Battle Manuals are typically ignored by most players, but they can really be helpful as they will give you a 15% experience boost for 120 minutes (2-hours) on any battle Job. So, even if you're not spending all of your time on the Blue Mage, you can still level up a side job.
You can get these by completing the Imperial Recon or Infiltrate and Rescue Squadron Missions which are a minimum of Level 40.
IMPORTANT NOTE ABOUT THE BLUE MAGE'S WEAPON
Contrary to all other Jobs in the game, the Blue Mage doesn't actually need a different Weapon than the one they get upon unlocking the Blue Mage.
Players will not actually gain any stats from the Weapon, even if they get a different one. While weird, the reality is that the Blue Mage has much more powerful spells than other Jobs, meaning that it doesn't even matter if you don't get the stats from a Weapon.
I personally still rock the first Weapon I was given as the Blue Mage, but there are currently 6 Weapons in the games that are purely for Glam (even though they have required levels and iLevels.)
HOW TO GET SPELLS FOR THE BLUE MAGE
Getting Spells for the Blue Mage can be a bit confusing. Essentially, players will have to find mobs in the Overworld or in dungeons that perform specific spells and must witness the Spell being cast in order to learn them. After players witness the Spell being cast, they can then kill the mob.
While most Spells will be learned the first time a player sees it being cast, there are some situations that will require a player to witness a Spell multiple times before they learn it. These situations are typically in Dungeons or Trials where a boss has the Spell. If players complete either of these synced, they are guaranteed the Spell upon witnessing it; however, if players are unsynced, there is a good chance they will not get the Spell.
Now, this can be very frustrating, especially for Blue Mages, who don't have a group of four people to play with, as it will essentially make it so the player has to keep grinding the same Dungeon or Trial again and again. I think when my husband and I were grinding by ourselves, it took us 10 tries to get one spell unsynced… frustrating, though admittedly quite quick since we were unsynced.
I would strongly recommend only doing unsynced Dungeons or Trials with friends until you have enough Spells to carry you through these alone. The only time I would say it's "safe" to do Dungeons or Trials alone without many spells is when you out level the content enough. In these situations it doesn't really matter, especially if you have a strong Heal on your Blue Mage, otherwise given the time it takes to defeat mobs and the average length cast times, you may die pretty quickly.
Although I'll cover the best Spells to learn for the Blue Mage, if you're a completionist and want them all, I strongly recommend checking out this Wiki post on how to get them all.
Players will need to note, in order to level your Blue Mage on higher mobs the Blue Mage will have to initially target/taunt the mob, but will not need to actually burst down the mob to get the experience. The best spell for this is the Flying Sardine due to its range and the fact that it will interrupt the mob.
Players can gain access to Flying Sardine at any level, though will need help from their friends as it will require players to either kill the level 30 Apallu in Eastern La Noscea (X:27, Y:35) or kill the Bloody Mary Rank B Elite Mark in Eastern La Noscea.
Players can literally get by all the way till level 70 this way, though it is not recommended, especially if you are planning on completing the Blue Carnavale missions.
If players are not able to find a consistent friend to play with, players can use Duty Finder to find groups of Blue Mages to run dungeons with, especially when a spell is found in Dungeons or Raids.
I spoke to my husband about this and he confirmed that it was pretty quick to make groups, though this will vary from server to server and time of day.
HOW TO EQUIP SPELLS ON THE BLUE MAGE
The Blue Mage works very differently than all other Jobs in the game and actually has many more Spells than a player can equip.
A players will only be able to equip a maximum of 24 spells and must start equipping Spells by opening their Blue Magic Spellbook
Players must begin by toggling the Spells they desire on and then they will appear in the Active Actions tab at the bottom of the Spell Book. You're not done here, you must then drag your Spells onto your hotbar and if you ever untoggle a Spell you will have to remove it manually from your hot bar or it will simply take up space.
The Blue Magic Spellbook is found in the Character Menu.
HOW TO LEVEL UP A BLUE MAGE QUICKLY
Levelling up a Blue Mage can be pretty tedius, especially if you don't have any friends to complete content with. The main reason for this is that players will not be able to complete Dungeon content in the roulette, which tends to be the quickest way to get your all of your side Jobs levelled up.
Now, there is a bit of a trade-off with this as players will gain extra experience for simply defeating enemies in the Overworld, meaning that if players have a friend they can simply tag an enemy with one of their spells and have the friend burst down the enemy. The best place to do this in is Khoulsia, though Amh Araeng and Il Mheg are also good for this.
Players will want to grind regular mobs and make sure that they don't get stuck in FATES as they will reduce the amount of experience the player gains and will often have the player level-sync, defeating the purpose.
Players will need to note that they will incrementally get more experience as they get closer and closer to the level of the mobs they defeat as a team, so if your friend is willing to help, I would strongly suggest spending this time grinding out different areas at first, specifically those that can provide you with a step forward in Dungeons or in the Masked Carnavale.
If your friend is not willing to help out, it should be easy enough to get these Spells later on, especially if you are a high enough level, as the level required to obtain these Spells isn't very high. Nonetheless, the Spells you pick up will highly depend on what it is you're trying to do with the Blue Mage, so don't stress yourself out too much to get every single spell in the book. Chances are, you won't need them.
I will cover all you need to know about how to acquire spells for the Blue Mage as well as which spells I would recommend getting and in what order.
HOW TO LEVEL UP A BLUE MAGE QUICKLY IN SOLO CONTENT AND WHAT SPELLS DO YOU NEED?
Being that not all of us have friends who are able to drop everything to hang out with us and help us grind, there's going to be a good amount of time that players will have to try to level up on their own.
I would strongly recommend focussing on completing your Job Quests when you're playing solo as not only will it give you a good amount of experience, but there are a number of very important Spells you can get this way, the main one being the White Wind heal.
LEVEL 1 TO AROUND LEVEL 25
Players will begin their journey as a Blue Mage with at least one Spell, Water Cannon. Although this Spell quickly becomes pretty useless, players will want to rely on it for the beginning of their journey.
Initially players will want to head to Central Thanalan and kill any mobs they can find, trying to focus on the mobs that are either their level or a bit higher.
Players should quickly be able to blitz to level 10 and depending on their skills will want to head to the northeast of Central Thanalan to find the Sun Bat which will have the first spell you're going to want to learn.
1ST SPELL – FAZE
Although a Spell that I would never really use, Faze allows players to stun enemies in a cone in front of them for 6 seconds.
Players will need to get it from one of the following mobs:
A level 4-9 Qiqirn Shellsweeper in Central Thanalan (X:16, Y:19)
A level 13 Qiqirn Eggdigger in Lower La Noscea (X:18, Y:35)
A Level 30-32 Qiqirn Gullroaster in Eastern La Noscea (X:26, Y:32)
Although players will have plenty of opportunities to get this Spell, I would strongly recommend grabbing it as early as you can so you can forget about it. As mentioned, you probably won't be using this Spell at all, but it is required for the level 30 Blue Mage quest.
2ND SPELL – ICE SPIKES
Players can make their way to Central Shroud at X:27, Y:24 to pick up Ice Spikes from a Trickster Imp.
This attack happens randomly and has a Cast Bar
Ice Spikes is quite useful as it will counter an enemy with ice damage any time the player takes physical damage. Admittedly, it won't do that much damage as it only has 40 potency; however, the duration is 15 seconds, and it has a 50% chance to slow the enemy by 20% for 15 seconds.
3RD SPELL – ACORN BOMB
Acorn Bomb is a very situational Spell in regular Combat, but works extremely well in the Masked Carnavale.
Essentially players will be able to put any mob to Sleep for 30 seconds, providing protection to players in situations where there are too many mobs, or in Caravale instances where a mob is going to explode and kill you in one shot.
Acorn Bomb can be obtained from the Treant Sapling in North Shroud at X:27, Y:28 and the Treant Sapling will randomly cast it. Players can tell if it is being cast by the Treant Saplings cast bar, so it shouldn't be confusing if you witness it or not.
4TH SPELL – BLOOD DRAIN
The Sun Bat is located near X:22, Y:20 and has a random Cast Condition. The unfortunate thing about this Spell is that players will not be able to see a Cast Bar, so it might be harder to tell if you've seen the spell and can burst down the enemy.
Players can head to their Battle Tab in their chat window to see whatever enemies Cast, making this a bit easier. After a player sees the cast, blitz down the Sun Bat.
Blood Drain isn't really a useful Spell as it will deal unaspected damage with a potency of 50 and restore some mana. However, it is essential for players to get it if they want to complete the level 10 Blue Mage quest line.
5TH SPELL – MIND BLAST
Mind Blast is a pretty good AoE spell that I will typically use if I want to paralyze enemies for 30 seconds. It deals 200 potency damage to the enemy that is targeted and 50% less damage to all the other enemies.
You will need to get this from Galvanth the Dominator from level 16 Dungeon The Tam-Tara Deepcroft, from the Mindflayer – Rank S Elite Mark in South Shroud or Blaster from Alexander – The Burden of the Son.
I strongly recommend grabbing it from The Tam-Tara Deepcroft as this is the easiest way to get it and will allow you to do it unsynced very easily.
The main reason I recommend grabbing this Spell is that it is required to unlock the level 20 Blue Mage quest.
6TH SPELL – STICKY TONGUE
Also in Central Thanalan, players will have to head to X:27, Y:20 in order to locate the Toxic Toad. Similarly there is no Cast Condition for this ablity, however, after a player gets pulled in by the Toxic Toad they know they have seen this spell.
Sticky Tongue is quite a useful Spell as it will Draw an enemy towards the player and stun the mob.
Continue grinding mobs until you are around level 25 as the next location is Southern Thanalan where mobs are in their mid 20s.
Again, this is going to be up to your comfort. If you haven't gotten any Spells other than the ones mentioned above, I would recommend farming until level 24-25, but if you've got some OP spells from farming with friends, you should be set by level 20.
LEVEL 25-30
As mentioned, you're going to want to spend some time in Southern Thanalan to grind your next few levels. Though you will need to farm a variety of mobs in order to get enough levels to get to the next stage, there are some Spells you can get pretty quickly.
7TH SPELL – 1,000 NEEDLES
The first Spell you're going to want is called 1,000 Needles and is given by the Sabotender Bailaor at X:13, Y:14. This is going to be a pretty easy Spell to tell is being casted as the Spell has a Cast Bar.
Players will want to make sure that they witness the full attack as if they intterupt the attack early or or kill it before the cast is complete, they will not get the Spell.
The 1,000 Needles is going to be an attack that players use for a long while as it deals 1,000 physical damage to all enemies around the player.
Players will also need 1,000 Needles for the level 40 Blue Mage quest.
SPELL COMBO FOR LEVEL 20-50
Now farming becomes extremely easy. Essentially players will want to Sticky Tongue any enemy they want to kill and immediately cast 1,000 Needles.
1,000 Needles will kill enemies under level 30 in one cast, up to 40 with two casts and under level 50 will take three casts.
This combo will typically be what you want to use until Level 50, especially because you will be able to easily solo mobs that are a much higher level than you. The only issue with attacking enemies that are a higher level than you is the worried that you will get bursted down by them.
Take some time to practice this combo with mobs around your level and see how often you get hit. Typically, if players time this correctly they should never get hit, but if players attempt to attack multiple enemies without stunning them with Sticky Tongue, they may end up dying.
I would strongly recommend always using Sticky Tongue and not risking it. Even though it "saves time" to simply use 1,000 Needles to kill enemies, Sticky Tongue's stun lasts just long enough for players to cast 1,000 Needles making it extremely useful for defeating higher levelled mobs.
Typically, I would fight mobs that are about 10 levels higher than you at maximum.
OTHER SPELLS YOU SHOULD TRY TO ACQUIRE BEFORE LEVEL 50
Although the Sticky Tongue/1,000 Needles combo is going to be good until level 50, players are going to want to make sure that they have some powerful Spells in order to defeat mobs in the future. Players will also want to spend this time prepping by getting Spells that are required for their Blue Mage quests.
This section will break down some of the best spells to get in general as well as the ones that you need for your Blue Mage Quests up to level 50.
8TH SPELL – TOAD OIL
Toad Oil is not really the most useful Spell to have, but it can be utilized in dungeon content as it will increase evasion by 20% for 180 seconds.
If players want this Spell they will have to head close to a Giggling Gigantoad in Western Thanalan at X:15, Y:7.
9TH SPELL – PLAINCRACKER
Coming in at level 29, players will want to locate a Sandstone Golen in Southern Thanalan at X:24, Y:13.
At random, players will witness the Sandstone Golem do a traditional Cast of Plaincracker and this attack is similar to all other AoE attacks with the Blue Mage, though it deals earth damage.
Plaincracker deals 220 potency damage to the first enemy and 50% less for all other enemies.
10TH SPELL -FLYING SARDINE
If you haven't already gotten Flying Sardine by now, I strongly recommend getting it as it is one of the most useful Spells for all Blue Mages.
While Flying Sardine deals only 10 potentcy damage, it will interrupt most casts, providing a great amount of safety to players both in instances and the Overworld.
As mentioned, Flying Sardine is obtained from the Apkallu in Eastern La Noscea at (X:27, Y:35) and has no cast.
This is perfect forinstances against too many mobs that are casting, but especially when players are being carried by friends for experience grinding.
11TH SPELL – BASIC INSTINCT
Located in Upper La Noscea at X:9, Y:21 players must defeat a Master Coeurl to acquire Basic Instinct.
This attack is the first thing the Master Coeurl will do in battle and increases the movement speed of the player by 30% as well as healing and damage by 100%.
This is a great buff for all Blue Mages and is especially helpful for farming experience in dungeons, especially because it will ignore the damage penalty inflicted by Mighty Guard (which I will cover shortly).
The unfortunate reality of Basic Instinct is that it is only available in duties that are for two or more players while the player is alone or if all members are incapacitated.
So, this is only useful if you're soloing dungeons or trials, even unsynced.
The coolest thing about Basic Instinct is that players will only need to turn it on and it will not be turned off until players leave the instance or someone else joins the instance.
Note: You need Basic Instinct for the level 63 Blue Mage job quest.
12TH SPELL – BAD BREATH
Bad Breath is an extremely useful attack to have when it comes to soloing content as it will provide a great number of status effects on mobs, providing you with some defense while still dealing damage.
Bad Breath is obtained from the Stroper in Central Shoud at X:12, Y:23and it is randomly casted, appearing with a Cast Bar.
Bad Breath will inflict a 20% Slow, 40% Heavy, Bind and Paralysis. It will also Poison an enemy, dealing 20 potency damage for 15 seconds.
Players can also interrupt the target with Bad Breath.
Stropers are level 43.
13TH SPELL – GLOWER
Glower is a Spell that can feel a bit difficult to get as both of the ways a player gets it are pretty tedius. Players can either get it from the level 47 Dungeon, The Aurum Vale or from the Brontes, which is a Rank S Elite Mark in Central Thanalan.
I personally got it from the Coincounter's attack and have to advise you to be careful with this battle as it happens midway through the fight and players will need to witness the straight line Glower, not the Arc one. Make sure you do not interrupt this attack as it will not provide you with the Spell.
I personally really like Glower as it deals 220 potency AoE lightning damage in a straight line, though it deals 50% less to all other mobs that are affected.
Whether you end up liking Glower, you will need it for the first level 50 Blue Mage Quest, so make sure you get it, especially if you want that juicy experience from Job quests.
14TH SPELL – PECULIAR LIGHT
For players who have patience, Peculiar Light is a great buff to give your Blue Mage, though I typically do not use it, because… well I simply don't care.
Peculiar Light will increase magic damage taken by all enemies for 15seconds, though has almost a minute long cooldown, which is why I typically don'tcare.
Players cannot reduce the cooldown of this buff and it only shares a recast timer with Off-guard.
If players want this Spell they can head to the Lentic Mudpuppy in Mor Dhona at X:13, Y:10 and will be able to tellthat it is being casted with the Cast Bar.
15TH SPELL – WHITE WIND
Purchased at the Wayward Gaheel Ja, players will want to purchase White Wind as soon as they can.
Players will need to obtain 10 Spells before they head to Ul'dah located at X:12.5, Y:13 as this is the only way to unlock it. I would strongly recommend acquiring any Spells from the Wayward Gaheel Ja, even if you're not planning on using them.
These will count towards the Spell limits you need for other Spells, but back to White Wind.
White Wind is one of the most powerful heals in the game, especially if you have multiple Blue Mages together using it.
With White Wind players will restore their own HP and the HP of all nearby party members equal to the current amount of HP the Blue Mage who casted it has.
This means that if players are in a group of Blue Mages, the Blue Mage with the most health will want to heal the group as it will keep the group up better.
16TH SPELL – MIGHTY GUARD
Although not useful at this level, players will want Mighty Guard for their future endeavours as a Blue Mage.
Also purchased from the Wayward Gaheel Ja, located at X:12.5, Y:13 in Ul'dah, players can obtain Mighty Guard after they have learned 10 Spells.
Mighty Guard reduces damage taken by 40%, though it does reduce damage dealt by 40% as well. It is most useful for Blue Mages who are planning on tanking as it raises enmity generation and prevents inerrupts via damage taken.
The cool thing about Mighty Guard is that it is a single cast and is only turned off when players re-cast it.
I mean, as much as I said it wasn't going to be useful at this level, it could still be useful in tandem with 1,000 Needles as it will not reduce the damage output of the attack, but will protect you a bit more.
17TH SPELL – THE RAM'S VOICE
After you've gotten the Spells above, I strongly recommend running back into the Cutter's Cry Dungeon as you should have everything you need to actually survive it on your own.
The final Boss the Chimera has an attack called The Ram's Voice which deals 220 unaspected ice damage to all nearby enemies, dealing 50% less to all other enemies.
Not only does this attack deal damage, it will also place all enemies into Deep Freeze for 12 seconds.
I personally ran this dungeon unsynced and it took me about 8 attempts to get the attack, even though I had seen it. That's the terrible thing to running dungeons unsynced for Spells, however, if you can get a group of friends to do it synced with you it shouldn't take long at all.
18TH SPELL – THE DRAGON'S VOICE
Located in the same dungeon, The Dragon's voice is another one of the Chimera's attacks. Instead of dealing Ice Damage though, it deals 200 lightning damage to the first enemy with 50% less to all other enemies.
Due to the fact that this attack deals Lightning Damage, look forward to a 9 second paralyses to your enemies and get excited for this…
If enemies have Deep Freeze on they will receve 400 potency damage instead, though they will lose the Deep Freeze status effect.
This by far is the best Combo for the Blue Mage, especially at this level, though you're going to need to note that not every enemy can be affected by both of these attacks.
19TH SPELL – ERUPTION
This Spell was also an annoying one for me to get because it requires players to enter the Bowl of Embers Trial, which is typically better to complete unsynced.
This one took me a good 30 kills to get, even though I had seen the Spell cast every single time and to be honest, I don't know if it was worth it.
Admittedly, Eruption deals some of the best damage a Blue Mage can deal, being 300 unaspected damage to all enemies, including ones you didn't target, but it has a longish cooldown of 30 seconds.
I can't say I use it very much, even though there's no reason not to as it is an instant cast.
LEVEL 50-60
Unfortunately, as soon as players hit level 50 they will kind of have to restart again with their Spells as the 1,000 Needles is pretty weak against level 50s.
Thing is, it's at this level that you're actually going to get one of the best Spells in the whole game, especially for Overworld grinding. To be honest, this Spell was actually the main reason I decided to pick up the Blue Mage as it made FATE grinding incredibly easy, especially because I needed a number of the Lost Memories for Bozja.
20TH SPELL – CHOCO METEOR
Choco Meteor is a spammable ability that I strongly recommend for any player, whether or not you're going to be doing group content.
While Choco Meteor is not useful at all in dungeons, it will deal 200 unaspected damage to all enemies with 50% less to the remaining enemies. How is this any good, you may ask? Well, if you have your Personal Chocobo out, you will deal 300 unaspected damage, being some of the highest damage we see in all of FFXIV.
Typically I get by spamming this at all times in FATES and can complete them much faster than any other Job.
Players will need to find Courser Chocobos in The Dravanian Forelands at X:34, Y:28 and the ability will be cast randomly, being clearly stated with a cast bar.
I don't really use many other Spells at this point of the game, unless I really need to, but that doesn't mean there aren't other Spells that will be important, especially for the Masked Carnaval.
21ST SPELL – NORTHERLIES
Although not a necessary Spell at this point for damage, players will need Northerlies for their level 53 Blue Mage quest.
Northerlies can be obtained from level 56 Slate Yetis in Coerthas Western Highlands at X:17, Y:27 or the level 60 Elite Rank Mirka.
Northerlies will deal ice damage to all enemies in a cone dealilng 220 unaspected damage to the first enemy and 50% less to all other enemies.
Players will freeze any enemies that have Dropsy on them, removing Dropsy and leaving them frozen for 20 seconds.
22ND SPELL – WHISTLE
Whistle can be useful, though it really depends on what kind of damage you're dealing and enjoy. Essentially Whistle is a buff that increases the potency of the next physical damage cast by 80% and lasts for 30 seconds until it is used.
Unfortunately, players cannot stack this with Boost, and realistically… I've never used it.
The reason I bring up Whistle is because it is requireed for the level 55 Blue Mage quest.
Players can get Whistle by defeating the Level 56 Dhalmel in the Sea of Clouds at X:16, Y:32, the Level 68 Jhammel in the Peaks at X:26.5,Y:28.5or the Nenaunir in Slaughterwife-five FATE in the Peaks at X:23, Y:30.
I'd get this from the Dhalmels, even if you are a much higher level, because… well why waste time?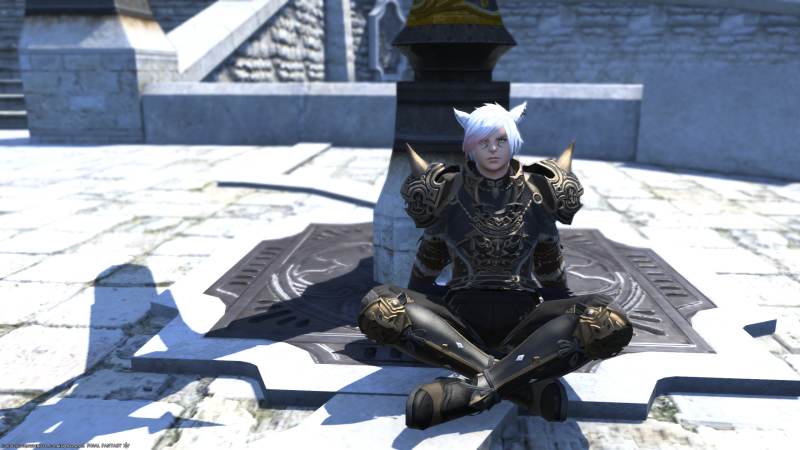 MY RECOMMENDATION FOR FARMING UP TO LEVEL 60
I strongly recommend that players simply focus on killing enemies that are in the wild versus completing FATES as wild mobs will still provide players with a much higher amount of experience than FATES.
I personally chose to complete FATES because I wanted to complete Bozja content, so if you're in the same boat get to FATE grinding. However, if you're not, honestly stick to the regular mobs that are a bit higher level than you because the experience is so substantially different.
My rotation for damage consisted of Dragon's Voice for freezing and group of enemies and then Choco Meteor until they were all defeated. This works out really well as it will keep enemies from harming you for extended periods of time and will also make use of that extra damage you get from having your Chocobo out… which you always should!
Although Dragon's Voice and Ram's Voice deals more damage together, the safety you get from doing Dragon's Voice and then Choco Meteor is much more important to me, especially when you're dealing with enemies much higher than you.
23RD SPELL – EXUVIATION
Quite frankly, the Exuviation spell isn't one that I would care about, but it can be useful for players who are acting as the healer in their Blue Mage party.
Essentially, Exuviation heals both the Blue Mage who casts it and all nearby party members with a cure potency of 50, unless the Blue Mage has Aetheric Mimicry: Healer. If players have Aetheric Mimicry: Healer on, they will heal at a potency of 300.
I encourage players to get this Spell, even if it's not great as it will be necessary to complete the level 58 Blue Mage quest.
Players can acquire Exuviation in two ways, either the Wamoura that are level 50-58 in the Sea of Clouds at X:9, Y:17 or the Wamoura in The Lost City of Amdapor. Either would do, but I don't recommend running The Lost City of Amdapor unsynced.
HOW TO LEVEL 60-70
Level 60-70 is really straight foreward as you have all of the Spells you need in order to actually make it through.
Realistically, you don't need any other Spells, though I would recommend one last one to get as it great for farming dungeons unsynced.
24TH SPELL – ULTRAVIBRATION
Ultravibration is by far the most overpowered Spell to have in the game, however, it's not good when a player is farming for experience as it requires players to utilize it on enemies that are the same or lower level than them.
Players will need to locate a Kongamato, which is in The Peaks at X:11, Y:25, though it is a pretty high level, being 68.
While I would recommend that players wait until they are a higher level, players can get by with their Chocobo, their latest combo and White Wind, though you'll have to keep your eyes open for damage.
You will 100% want to keep your Chocobo Companion on healer if you are a lower level than the Kongamato.
With Ultravibration players will be able to execute all enemies that are afflicted with either Deep Freeze or Petrification. I find it easier to use Deep Freeze. Unfortunately this will rarely be used in Overworld settings, unless you're running FATES for Bozja.
The saddest reality to this Spell, though it makes sense is the fact that its recast takes almost two minutes. "So what's the use?" you may be asking… well, use it for dungeon bosses, especially if you are synced.
Ultavibration works best when there are multiple Blue Mages and tends to be the way that players farm out Moogle Tomestones really quickly.
If players are hoping to utilize Ultravibration in the Overworld there is a little tip I can give you. You can actually cheat the system and make the cooldown reduce to 0 simply by jumping into any unsynced dungeon. This forces all of your cooldowns to go back to 0, though you're going to want to immediately move to a new location once you leave that dungeon.
This is extremely useful if you want to brainlessly grind levels as depending on your farming locations and your prefererance on farming, it can be just as fast as killing mobs that are a higher level than you.
I personally get really bored trying to complete this method, so I'd prefer to spam Choco Meteor and run around.
The biggest issue with the Ultravibration tactic is that you're going to need to find large groups of clumped mobs which can be hard to come by.
It should be noted, Ultravibration is required for the level 68 Blue Mage quest.
25TH SPELL – FROG LEGS
Frog Legs is going to be important for players who want to act as the Blue Mage Tank as it will help players place themlseves on the top of the enemity list and provoke all enemies to them.
Frog Legs has a really short cooldown, coming in at 2.5 seconds and is an AoE attack, making it reliable for tanking.
I strongly recommend grabbing this Spell as it is required for the level 60 Blue Mage quest and it can be obtained from the level 59 Poroogo in the Dravian Hinterlands at X:12, Y:34 or from the Bero Roggo in the Toad Alone FATE in the same location.
26TH SPELL – TINGLE
Although a pretty useless attack, Tingle is a requirement for the level 65 Blue Mage quest.
Tingle is a pretty weak as an attack and will only deal 100 potency lightning damage to the first target and 50% to all other targets. The only kind of interesting thing about this attack is that it will increase the potency of the next physical damage attack by 100 potency.
Tingle is obtained by the Ebisu Catfish in Yanxia at X:28, Y:6. These are level 67, so be prepared for this tougher battle. Players can also kill the Gyorai Quickstrike which is a Rank B Elite Mark in Yanxia.
27TH SPELL – AETHERIAL SPARK
It's funny that up until now we haven't talked about DoTs for the Blue Mage, so get yourself strapped in cause this one is pretty good.
Aetherial Spark is a DoT that deals 50 potency unaspected damage to all enemies in a straight line before you. It lasts for 15 seconds and is perfect to place on groups of mobs while farming.
It is required for the level 70 Blue Mage job quest and will probably be one of the last Spells you get, simply due to how difficult it can be to obtain.
Players can only get this from the level 69 Salt Dhruva in The Locs at X:22, Y:22, Luminare the Rank A Elite Mark in The Lochs or Rusalka the Rank A Elite Mark in The Tempest.
CONCLUSION
By this time you should easily have a level 70 Blue Mage as well as a good portion of Spells to use. Although you have a good set of Spells to use, I hope that you knnw that this list is not comprehensive of the Spells that I don't think are as worth it as I'm not a player who has gotten every Blue Mage Spell in the game.
There are some bonuses to getting all the Spells for your Blue Mage, including achievements, but that's a job for my husband, not me.
But I'm curious, did you find another way to level up your Blue Mage or did you use the same tactic as me? Do you feel like the Spells I mentioned were good enough to carry you through the Blue Carnavale or do you think others need to be added to the list. Let me know in the comments below!