When it comes to setting up kill boxes, I have to admit that I have a massive soft spot for Grinders.
I don't know if it's simply because I loved grinders in the previous versions of Orcs Must Die or if it's simply because I like the aesthetic of the Grinder as the reality is that Grinders aren't the most powerful or even anywhere near the most powerful trap that players can place.
The sad reality of the Grinder is the fact that players will have to essentially force mobs to walk directly in front of them to deal any damage, making players who don't focus on creating mazes or don't focus on pushing mobs onto the sides of a wall to lose a great deal of damage with these traps.
Many strategists place a Grinder low on the list of Traps you should purchase first, however, I feel like they are being less than fair in these assumptions as when Grinders are used correctly they can really help aide a player on their quest of defeating all types of Mobs.
Essentially, if a players is planning on using a Grinder they are going to be looking at a variety of other costs in order to make sure that they get the most damage they can.
Players will have to utilize other Traps such as Barricades for pathing and Tar Traps for ensuring that a mob stays directly in front of the Grinder for long enough periods to take enough damage from the Grinder before it is on cool down.
The following guide will take you through everything you need to know about the Grinder in order to help you choose whether or not this Trap is for you.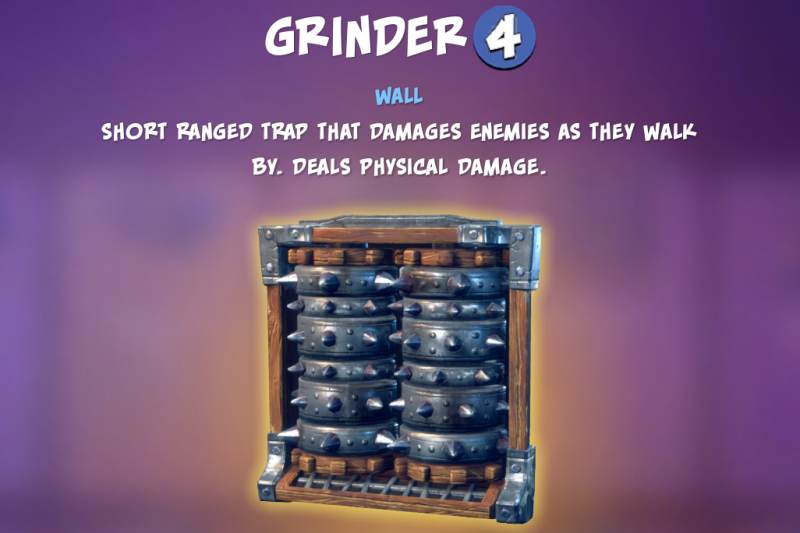 HOW TO UNLOCK THE GRINDER
The Grinder is unfortunately not a Trap that players simply unlock and instead must sacrifice 7 Skulls in order to unlock.
Being that the Grinder is a Trap that requires a good amount of Skulls to unlock, players are recommended to think long and hard on whether or not the Grinder is suitable for them or if it fits into their playstyle.
As mentioned, the Grinder essentially requires players to always set up a kill box or a maze using Barricades, thus it is not as noob friendly as other Traps are for players.
Admittedly, in many cases the Grinder is not useful especially if players are uncertain whether an area has a enough wall space for them, making them mid-to-low on my list of priorities to purchase.
That being said, I was excited to see the Grinder and immediately bought it, simply because I have used them in the past and being someone who only co-op players (for the most part) having a Grinder on your load out often comes in handy.
GRINDER STATS
The Grinder is a Trap that takes up 2 squares of Height on the map and 3 Squares in Length, essentially being a standard height with a 1.5 width, denying a bit of space for players who are trying to be symmetrical about their kill boxes.
While the Grinder continuously deals 50 damage per second, it does get jammed every so often, requiring a 13 second cool down to occur.
Whenever a player is curious of when this cool down may be happening they can hover over the Grinder revealing a "health bar" that shows how full it is and giving an idea of when it will be down.
Essentially, the Grinder is only up for 5 seconds, making it questionable whether or not they are helpful to use in most scenarios.
The Grinder is quite pricy to place and will require players to use 1,000 Coins in order to place.
GRINDER UPGRADES
As is with all other standard Traps, players will have access to two different types of upgrades for the Grinder, being the Level Upgrades and Unique Upgrades.
Level Upgrades can be acquired immediately, though players will have to deal 5,000 damage using a Grinder in order to unlock it's Unique Upgrades.
LEVEL UPGRADES
Any of the Level Upgrades players choose to acquire will reduce the Grinder's cool down, essentially making sure that it has more uptime in the game.
The sad reality is that there is no way to make the cool down of the Grinder any lower than it's active time, being fairly similar to other Traps, though admittedly much clearer with this Trap than other traps.
The following are the cool down upgrades players can access when upgrading the Grinder:
The first upgrade costs 5 Skulls and will reduce the cooldown from 13 seconds to 12 seconds.
The second upgrade costs 6 Skulls and will reduce the cooldown from 12 seconds to 11 seconds.
The third upgrade costs 7 Skulls and will reduce the cooldown from 11 seconds to 10 seconds.
UNIQUE UPGRADES
As mentioned earlier, the Grinder will require players to deal 5,000 damage in order to unlock the Unique Upgrades.
Honestly, the Unique Upgrades aren't anything too special, so pushing to unlock them isn't going to be a priority for players.
The first Unique Upgrade costs 7 Skulls and will allow players to slow Enemies by 50% when in front of the Grinder.
Realistically, this is a great upgrade for players who are not looking to put Tar Traps in front of the Grinder, ensuring that players get as much damage out of the Grinder as possible. Though, if players are using Tar Traps these should be good enough to use, allowing players to make the other upgrade.
The second Unique Upgrade is by far my favourite upgrade as it will essentially raise the amount of time the Grinder is active.
While admittedly not by much, turning in 7 Skulls will increase the active amount of time from 5 to 6 seconds. This can be extremely powerful for a player as this will ensure that mobs take 50 extra damage from the Grinder.
IS THE GRINDER GOOD?
Realistically, I'm a big fan of the Grinder, though I have to confirm that many other users find this Trap to be useless.
The reality is that if overused, the Grinder will get destroyed, leaving players with an empty slot, though if players are smart with their placement of this trap, it will not get destroyed and instead will reset every time there is a "Go Phase."
No matter what, players are going to have to be smart about where they place a Grinder as it has a very short range, only affecting mobs directly in front of it, though affecting them in an AoE fashion. So, players will have to Barricade in order to shove mobs against a wall.
This trap is absolutely useless if players are not shoving mobs against a wall, so don't think about doing this or you will regret your investment of 1,000 coins.
I'd place this Trap into a "niche" category versus saying that it's useless or always useful, because admittedly it's powerful, but not as versatile as other Traps.